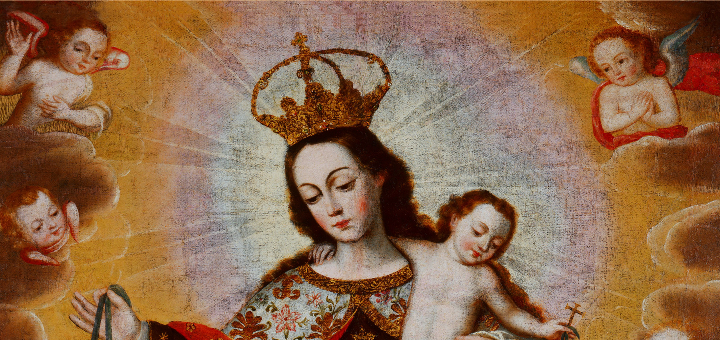 By Pariztia -

Own work

, Public Domain, Link[/caption] Today the church celebrates Our Lady of Mt. Carmel. This is one of the little highlights of the liturgical year for my family, smack dab in the middle of summer! Another big Marian feast is coming next month with the Feast of the Assumption. Altogether there are 19 major and optional feast days honoring the Blessed Mother through the liturgical year, and that's without counting the month of May that is dedicated to her, or the month of October for the Holy Rosary. In a busy, modern, Catholic family with different schedules and obligations, how can we honor Mary as a family in our homes in a meaningful way without busting the budget? Here are 14 quick little ways to keep a Marian Holiday with your family on big feast days or favorite optional feasts.
Go to Mass. This is one of the best ways to keep the feast day with your family. If the Mass falls on a regular weekday, you may find the informality of that more agreeable with younger children.
Pray The Little Office of the Blessed Virgin Mary. The prayers are short and beautiful. This is a perfect way to pray the office with a family, or just choose some of the prayers to say with your littles.
Say a Rosary, even if it's just a decade or two.
Place a statue of Mary on your table, or in a prominent place. All of my statues of Mary were gifts, or from tag sales. My daughter has made some sweet ones as peg saints. If you don't have a statue, a nice picture or print will do!
Place Mary's statue or picture on a pretty, simple, white tablecloth in remembrance of her purity.
Surround your Marian statue with seasonal flowers, real or silk! I cut flowers from my own garden when they are blooming, but I also have a beautiful silk mum for the table in the fall and some silk tulips for the spring. They have even been mistaken for the real thing, but because I paid for them once and use them every year, they were definitely a bargain. They also make my makeshift Marian altar extra special.
Read a book about Mary or a few passages. Hail Holy Queen by Scott Hahn is one of my favorites.
In keeping with a white theme for Mary, have a nice white cake or cupcakes for desert, or even a small piece of white chocolate. For Our Lady of Mt. Carmel we have ice cream or brownies with melted caramel candy.
Your entrée can be white too! Maybe chicken or fish on white rice. We change this up for Our Lady of Guadalupe when we have more of a Mexican theme.
Listen to or sing a Marian Hymn like Ave Maria; Salve Regina; or Hail Mary, Gentle Woman.
Mary's name means Star of the Ocean. Maybe say your Rosary outside on a Marian Feast day at night, under the stars, or hang some decorative stars in or around your home.
Say a Novena to Mary prior to her feast day.
Watch a movie about Mary like Song of Bernadette, or the first part of Jesus of Nazareth.
Wear the Brown Scapular or Miraculous Medal.
Image credit: Copyright 2019 Isadora LaVictoire. Used with permission. All rights reserved.[/caption] Happy Feast Day!
---
Copyright 2019 Elena LaVictoire This article contains Amazon affiliate links; your purchases through these links benefit the author.
About the Author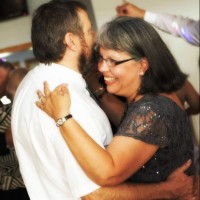 Elena LaVictoire is a graduate of Baker College and a retired medical transcriptionist. She is married and homeschooled six children. Elena is a public speaker on the topics of marriage, homeschooling, and confirmation preparation. She was also a contributing author to The Catholic Mom's Prayer Companion. Elena practices and performs with her flute and records with the Peace Together Choir. She blogs at MyDomesticChurch.com.