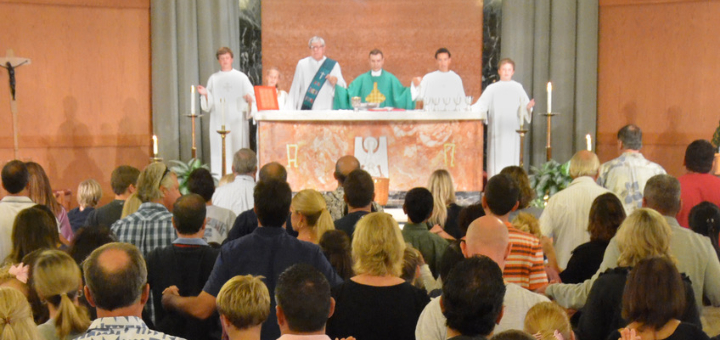 Courtesy of American Martyrs Catholic Community, Manhattan Beach, CA. Used with permission. All rights reserved.[/caption] In the month of July there are a lot of observances associated with family that are both secular and sacred. From Cousins Day to Uncles and Aunts Day on the secular side to the sacred feast of Sts. Anne and Joachim, the parents of The Blessed Virgin Mary. There is even a day for our furry family members on Pets Day! Our parish family becomes a bit splintered with summer vacation, as many will travel to places that take them away from their home parish to visit others. One of the best parts of being Catholic is that you can easily find a house of worship away from home. During my recent CatholicMom Hangout I talked about the experience of visiting parishes when traveling. Two months ago I joined the staff of my parish, serving as their social media consultant. One of the benefits of working at the parish is you can head to Mass during the lunch hour. In the early days when my contributions were not being well-received, my feelings would be hurt. It took me back to elementary school when kids were mean to me and I would run to the empty church as a place of refuge. It's a practice that I've carried into adulthood, to always attend Mass in times of despair. So I went to Mass to pray for discernment, and the message one day during the homily was to have fortitude. Whoa! That was the Holy Spirit for sure telling me to steel myself for this new role. So many people who serve as staff or volunteers at a parish level feel the sting of hurt feelings associated with their contributions not being appreciated, and it causes them to leave a parish or in some cases the Church itself. In our biological families, we experience hurt feelings and because of the blood connection we have, we may be more apt to forgive and accept interactions that aren't always pleasant. I think if more of us realize how the Blood of Christ binds us to one another as the bonding agent of our Church family, we would have more vibrant parish communities. This month is dedicated to the the Precious Blood of Jesus, and as such it is the perfect time to offer prayers for members of our Church family, from priests at the pulpit to the person in the pew. There are a variety of prayers that can be offered this month for the healing of those who have been wounded by the actions of their parish family. For me one of the most powerful types of prayers are litanies. The chant like nature of invoking a litany stirs my soul. The Litany of the Precious Blood is so powerful. There is also a Chaplet of the Precious Blood, that helps us to contemplate more fully how the blood of Jesus is poured out for us vividly during his crucifixion. Lastly, an Act of Consecration to the Most Precious Blood is also a powerful way to focus on how we are bound to Christ through his Most Precious Blood. Every time I receive the Blood of Christ at Communion it reminds me that I am a precious child of Jesus, a beneficiary of the promises of Christ and a lifetime member of His Catholic Church. I felt the universality of the Church most profoundly when attending Mass at the Vatican, where it is said in Latin. As a Post-Vatican II kid who is not familiar with the Latin Mass, the cadence of it is the same in any language. While pilgrims from all over the world attend these services I heard the Confiteor, Our Father, Holy Holy, and Lamb of God in a variety of languages invoked in unison.
Courtesy of American Martyrs Catholic Community, Manhattan Beach, CA. Used with permission. All rights reserved.[/caption] Whenever there are crises in the lives of my friends and family, our culture draws us into personal prayer in the form of a Rosary, Adoration or Mass attendance. It is a part of Catholic DNA! This month, don't just celebrate and re-connect with your biological family members. Also, celebrate your membership within your church family and pray for unity within our communities around the world and openness in the hearts of those who have been hurt by members. Lastly, let us remember to pray for the cause of sainthood for the venerable Fr. Peyton, who inspired families to pray.
The family that prays together stays together. (Fr. Patrick Peyton, C.S.C.)
---
Copyright 2019 Sherry Hayes-Peirce
About the Author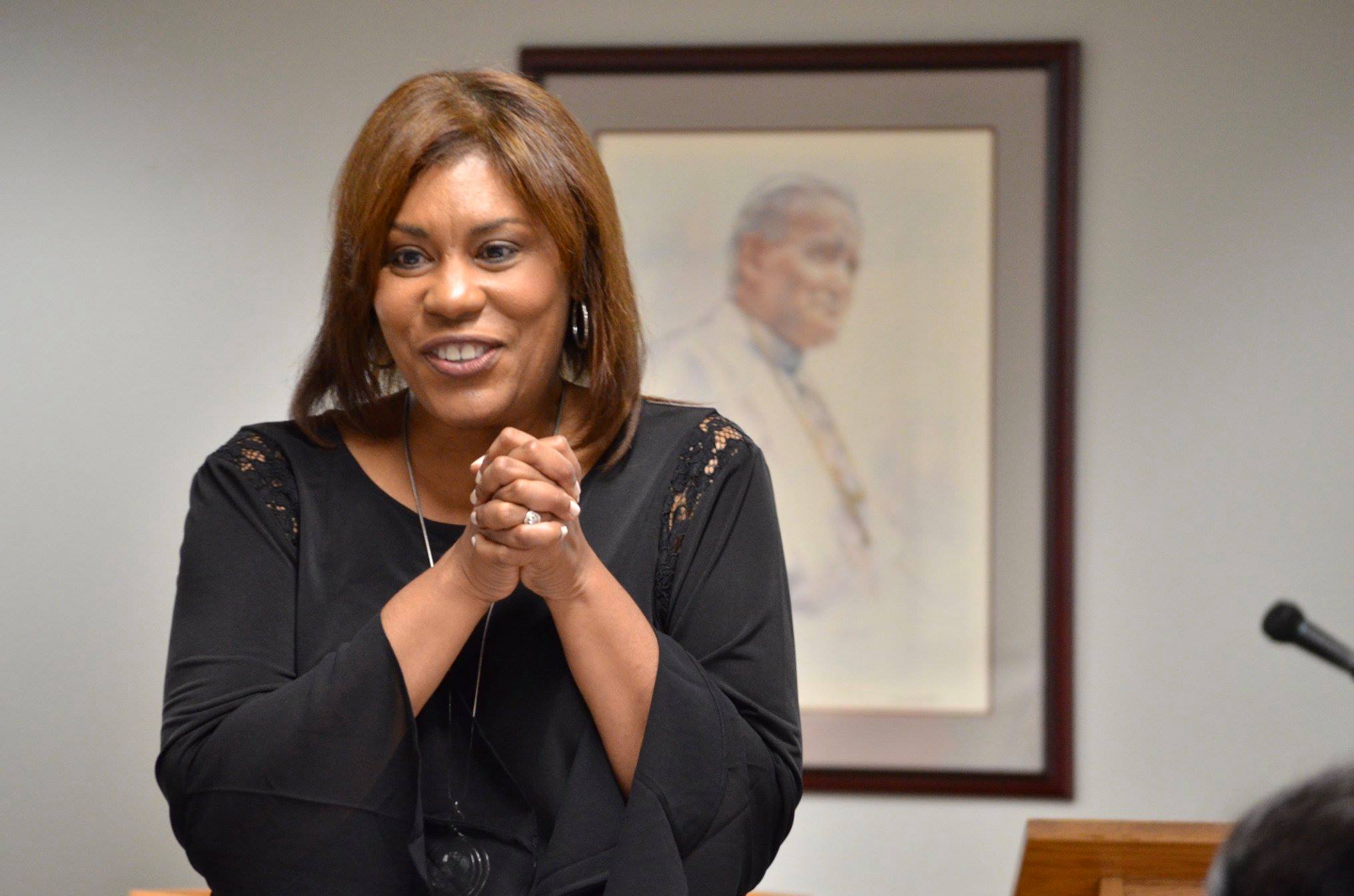 Sherry Hayes-Peirce is a Catholic social media strategist, blogger, conference speaker, podcast guest and contributing author of the Ave Prayer Book for Catholic Mothers. She serves as Digital Engagement Coordinator for American Martyrs Catholic Community in Manhattan Beach, CA, and St. Monica Parish in Mercer Island, WA. Sherry has a devotion to the Sacred Heart of Jesus and is grateful to be a digital disciple of Christ.