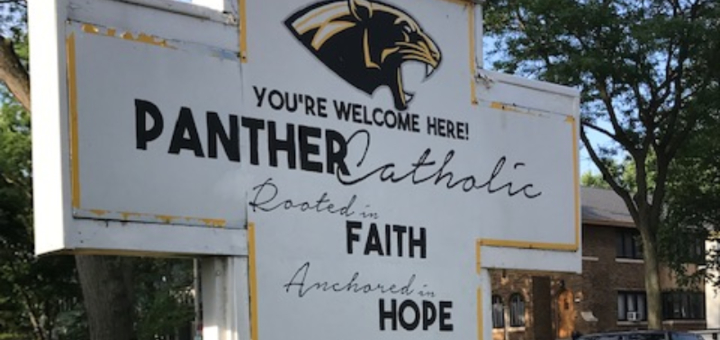 Copyright 2019 Merridith Frediani. All rights reserved.[/caption] A year ago I had a nasty encounter with my boss that left me rattled and unemployed. That he is a priest added an additional layer to the hurt. I could not bear to attend Mass at my home parish any longer. After being members for over 15 years, we walked away. In addition to leaving a job I loved, I left a community I loved and friends I loved. Praise God, the Mass is the same at every Catholic church, so while we felt homeless, we could still receive Communion each Sunday. I know Mass is not about the music or the homily. It's not about the beauty of the church building or the people around us. It's about Jesus and remembering and honoring the sacrifice He made so we sinners can join Him in Heaven. But. We become attached to place. Different types of space speak differently to our hearts. Beauty is important and the Mass is meant to be celebrated in community and as community, praising and petitioning our God, united as his people. It's a visceral reminder that our personal relationship with Jesus is a subset of a larger relationship with God and his people. We are one body of Christ. So while Jesus is the reason for our gathering, the building, people, and community that come with are a legitimate part of the experience. When I left my cherished parish, I left a space I loved and weekly encounters with people I cared about. I left that couple who sat near us with their toddler and a baby on the way, who smiled when we shook hands. I left the older couple with the wife with early Parkinson's, the family with the three kids who keep getting bigger, the parents of friends, the guy who bought the speaker at the rummage sale, the lady who runs Scrip. These were the people I shared the Eucharist with -- known, kind of known, unknown -- and I cared about them. When I left my job and the parish I left the priest, but I also left a bunch of awesome people. Being unemployed has advantages. It is nice to sleep in a little and read the whole newspaper in the morning. It is good to stay on top of the laundry and cleaning. It's fun to meet friends for coffee. The biggest advantage, the one I worried I would miss when I figured out my job situation, was daily Mass at the Newman Center two blocks from my house. Going to Mass with a bunch of college students and 20-somethings became a blessing impossible to measure. As the days grew short and dark, these Millennials became a bright light of love. This particular Newman Center is home to the Brew City Missionaries -- recent college grads who spend a year (or two) in service evangelizing. They receive extensive formation and develop a life centered in prayer. They are poured into so that their spiritual tank is full when they go out to the college campus to invite students in. I've known the various men and women who have come through the program since its start five years ago and am in awe of the joy they share and the good work they do. They are changing the lives of college students through their infectious witness. In my time of darkness, they gathered me in and loved me despite the fact that I have been out of college longer than some of them have been alive. I heard my name proclaimed with exclamation points every time I walked in the door. They joked with me after Mass and asked how I was doing. They hugged me. The Newman Center became my worship community. At a time when I felt unmoored, I found an anchor. These young adults have big faith, wise faith, joyous faith. They feel no embarrassment about humbling themselves before the Lord. They are contagious. They want to share God's love and they do so with enthusiasm. I had a young adult tell me that Millennials are responsible for evangelizing three generations: their own, their children's and their parents'. There's a drought of properly formed, on-fire Gen Xers and Baby Boomers. Much could be said about why that is, but I am grateful beyond words for the Millennials, because the ones I have the great blessing to know have taught me more about how to be a Christ loving daughter of God over the past five years than thirteen years of Catholic education did. My faith has awakened and exploded because a band of young adults in their 20s and 30s is open to the Holy Spirit. The statistics regarding the decline of practicing Catholics and the increase of the "nones" are disheartening. Millennials get a bad rap from many, but my experience with today's young Catholic adults has brought me great hope for the future of our Church. They are filled with love and devotion and are committing themselves to sharing it with the world. These are dark times for the Church, but in Milwaukee, Wisconsin, there is a young adult community that is going to change the world. Wait and see.
---
Copyright 2019 Merridith Frediani
About the Author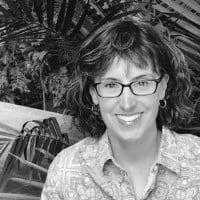 Merridith Frediani loves words and is delighted by good sentences. She also loves Lake Michigan, dahlias, the first sip of hot coffee in the morning, millennials, and playing Sheepshead with her husband and three kids. Merridith writes for Catholic Mom, Diocesan.com, and her local Catholic Herald. Her first book, Draw Close to Jesus: A Woman's Guide to Adoration, is available at Our Sunday Visitor and Amazon. You can read more at MerridithFrediani.com.