I recently encountered a book that I know will be a true gift to mothers. Journey in Love: A Catholic Mother's Prayers after Prenatal Diagnosis is a companion for mothers whose babies have received a prenatal diagnosis during pregnancy. The author, Kathryn Casey, is a devout Catholic mom whose openness to life is to be admired. She began her motherhood journey with easy conceptions and pregnancies, but along the way suffered miscarriages and after having three regular pregnancies, was given a diagnosis for her son Peter of a cleft lip and palate. After birth, the doctors began to notice other medical conditions. While still caring for her infant son and practically living at the hospital with him, she found out she was pregnant again. This ultrasound revealed that her daughter Celeste had a condition called anencephaly, a condition in which the baby is born without parts of their brain or skull.
In what must have been an unthinkable time in her life, Kathryn used her trauma to bring a gift into the world. She carried her daughter full term, while caring for her medically fragile son and her three older children. In all of this, she found time to express her journey in writing and the gift that this book will be to mothers on this same path is priceless. Journey In Love begins by describing the tasks of grief. The author enlightened me on grief, when explaining that it's not always measured in stages, as some people skip stages or don't flow through them in an order, but rather grief should be measured in tasks that are worked through. She introduces the tasks as acceptance of the reality, processing the grief, adjusting to the new world and finally connecting with what was lost. Each section is a quick, easy read that begins with Kathryn's personal experience with the stage of grief, then moving into a reflection on the process through the eyes of motherhood. Using her education in psychology and her skills as a life coach, she encourages the reader of God's love and of their own ability to work through the diagnosis and the loss of their expectation of motherhood. After addressing grief, she moves into the second part of the book, which discusses living in the moment through three areas; the need to reach out to friends, to continue self-care regardless of the situation and to work to find God in the beauty around us. The third part of the book delves into prayer. Kathryn offers a list of Catholic prayers, then enters into the Rosary through offering a personal, relatable reflection for moms. Each station begins with Scripture, then Kathryn briefly addresses a mother's personal connection to each station, and ends with a prayer by St. Francis de Sales. After the stations, she offers an opportunity to reflect through the gift of the Scriptures and the implementation of hymns and songs. Finally, Kathryn ends her book with a reflection of the seasons of the liturgical year, in relation to the suffering of motherhood. What truly struck me in encountering this book were the variety of topics as well as areas of suffering in motherhood that were discussed. Grief, fellowship, prayers, the Rosary, the Stations of the Cross, Scripture, and the liturgical season are all addressed in terms of motherhood and specifically in receiving a prenatal diagnosis. Not to sound cliché, but you really can't judge this book by its cover. It's a small, easy-to-read book, but it's overflowing with education and ways to pray. It offers something for every type of person and guides them through each stage of the process. Having never been pregnant myself, I could actually relate all the points and steps of grief that she spoke about to my struggle with infertility, receiving learning disability diagnosis for my adopted children, and I could even relate her book to the feeling I experience in dealing with the loss of mother. It's revealed a universal journey of trauma but one that, I believe is often overlooked and not discussed in relation to motherhood. Obviously, this book was created for mothers with a prenatal diagnosis, but I would honestly recommend it for all mothers. The idea of detaching from our expectation of motherhood will penetrate many hearts. In reading through this book, I was most inspired by the way the author took a time in her life that could have completely crushed her, and brought light and beauty into the world for other's to cling to during those same trials. It inspired me to remember that our faith reminds us that suffering is not lost on us and that if we allow it to be, suffering can be redemptive. Kathryn had the courage to take this awful suffering and use it help other mothers. As a bonus, Our Sunday Visitor offers Journey in Love: A Catholic Mother's Prayers after Prenatal Diagnosis as a free e-book! Please take a moment to find the book online. Even if you have not received a prenatal diagnosis, it's a relatable journey of grief and struggle. It's also a resource that we need to offer to those struggling through a prenatal diagnosis.
---
Copyright 2019 Courtney Vallejo
About the Author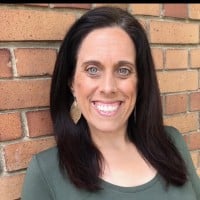 Courtney Vallejo is a convert to the Catholic faith, who is currently living in Arizona. She and her husband, homeschool their three adopted children. She is the cofounder of AMomRevolution.com, whose mission is to inspire, encourage, and reclaim joy in motherhood. She also writes for her own blog, CourtneyVallejo.com. Courtney holds a Master's degree in Film Production and a California Multiple Subject Teaching Credential. Follow her Gluten Free/Dairy Free adventures on Instagram: @aglutenfreerevolution.