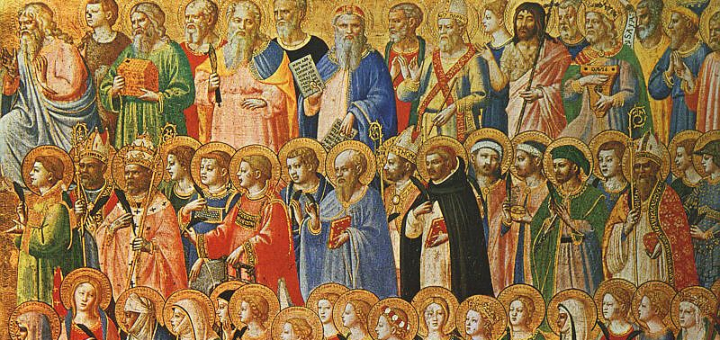 By William-Adolphe Bouguereau -

Unknown

, Public Domain, Wikimedia Commons[/caption] The coming of November ushers in the holiday season and many people make plans to visit family. Some will drive a few towns over while others fly to faraway places. Still more, perhaps unable to make the journey, will connect with family over the phone or with FaceTime. For those who have passed on, we visit the cemetery, bringing Thanksgiving planters and evergreens. The urge to return home is strong at this time of year. The Church, in remembering the dead during the month of November, is mindful of this longing to reunite with loved ones. Our parish has a Book of Remembrance where we can write down the names of loved ones who have passed away during the year. The book is displayed in a public place to remind us to pray, both for their souls and for those who mourn for them. As we long for our earthly home, do we also long for our heavenly one? To see our Creator, face to face for the first time? Now in my early 60s, I find myself reflecting on that possibility more and more. While I have no idea what it will be like, I enjoy meditating on the idea. In the popular Christian song, "I Can Only Imagine," the songwriter contemplates reaching heaven and how he will react, wondering if he will dance for Jesus or be so awestruck as to be rendered speechless. Our parish had a Memorial Mass on Sunday, November 3rd, with a special ceremony to recall those who had passed away during the last year. A small candle was lit for each name that was read; afterwards I performed a solo of Gabriel Fauré's "Pie Jesu" as we gazed upon those flickering lights, symbolic of lives lived, of people well-loved and deeply missed. Later, our choir intoned "Going Home," based upon Antonin Dvorak's "Largo" theme (played on an English horn, from his New World Symphony). The simple, homespun words are moving and I had a hard time singing it without becoming choked up. It made me think of my dear elderly friend, still with us, whose own voice is embodied in those lyrics. I can just hear her saying, "See his smile! See his hand! He will lead me through."
By Fra Angelico - Originally from en.wikipedia; description page is/was here. Transfer was stated to be made by User:richardprins, Original uploader was Sampo Torgo at en.wikipedia, Public Domain, Wikimedia Commons[/caption] Passing through death into eternal life is the great trial of every human being; there are few who are spared the immense suffering that accompanies it. But while singing "Be Not Afraid" at Mass, I fixed my eyes on the crucifix as I reflected on the words: "Be not afraid, I go before you always. Come, follow me and I will give you rest." Jesus went ahead of us, suffering and dying on the cross, only to be raised to life again in a glorified body. This is His promise to us, that even though the act of dying is difficult, the reward of Heaven is great if we but say "yes" to his invitation. The thief on the cross next to Him became the first to enter Heaven even as he made a last-minute bid to acknowledge Jesus as Lord. The same promise applies to those who mourn the loss of family and friends: If we have faith in Jesus, we will see our loved ones again. And we will live for eternity in the physical presence of God. "Going home, going home ..." As our hearts lead us back home over the holidays, let us keep in mind the heavenly home that will someday beckon, and the eternal reunion that awaits us all.
---
Copyright 2019 Susan Bailey
About the Author