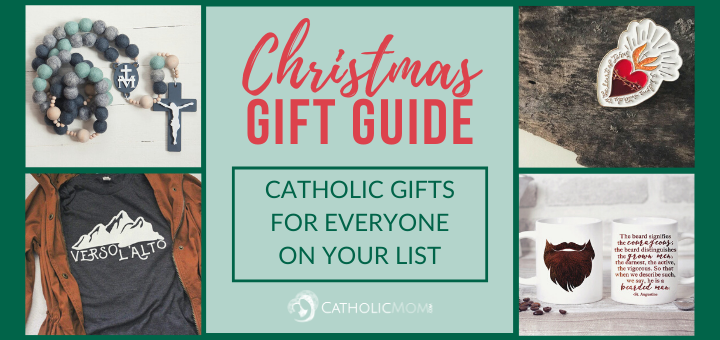 While it's only mid-November, it might be a good idea to start thinking about Christmas gift giving. Why? Because shopping early provides the best selection and fewer crowds. It also gives us a stress-fee experience, because we're not rushing around and feeling overwhelmed. Plus, it frees up our Advent for prayer, peace, quiet, and time to prepare for Jesus' coming into this world … and into our hearts on Christmas. But instead of buying just any gift, this Christmas, why not consider meaningful items that will encourage your loved ones to grow in their faith? Below is a list of more than 20 Catholic gift ideas that will inspire each recipient on your gift-giving list. From newborns to adults and everyone in between, these gifts are fun, meaningful, whimsical, and memorable. Most importantly, they will draw your family and friends closer to God and His immense love for them, which is the real gift of Christmas after all.
20+ Catholic Gifts for Everyone on Your List
Baby's First Christmas
My Catholic Keepsake: A Baby Memory Book by Thy Olive Tree captures developmental and faith milestones from birth to age 18. This book documents all the important moments in a child's life—from baby's first step and first time going to Mass all the way to Confirmation and high school graduation. Silicone Rosaries by Chews Life come in a variety of shapes, styles, and colors. They are safe for teething babies, and with larger beads, they are great for teaching young children the Rosary prayer. Swaddle Blankets by Be a Heart allow the new baby in your life to be wrapped in God's love quite literally. Coming in three designs: Sacred Heart, Our Lady of Guadalupe, and St. Francis, these blankets offer cozy warmth and heavenly comfort.
Cool Catholic Kids
Wool Felt Pennants by Providential Co. make a great gift for the sports-enthusiast on your list. Choose from a variety of Catholic sayings, such as "Jesus, I trust in you" or Padre Pio's famous quote, "Pray, hope, and don't worry." Pair with a new baseball (or softball) glove, and hit a homerun with this gift. Kids will love to watch the Christmas story unfold, brick by brick, with a nativity "Lego" set by Nativity Bricks. Comes with an array of Christmas characters, animals, and building structures, plus, full-color instructions. The Catechism of the Seven Sacraments by Kevin and Mary O'Neill is a must-have on every Catholic bookshelf. Set in a vivid comic-book format, this book makes deep theological concepts accessible to Catholics of all ages. It sheds light on the parallels between the Old and New Testaments, as well as the sacraments instituted by Christ that we experience today.
Teens
A T-shirt by Brick House in the City is a wonderful way for your fashionista to express her faith in style. A variety of styles and an assortment of Catholic themes make it easy to give the perfect gift. For the new driver on your list, a Catholic saint key chain by Rosaries for Love is a great reminder that we can ask for our patron (or favorite) saint's intercession on a regular basis (like every time we get in the car)! Personalize it with an initial and birthstone. For the college student in your life, a Collegiate Catholic Box from The Little Catholic Box helps him or her to keep their faith active and alive, even away from home. The box includes a devotional item, snacks, and more.
Women
Wall Rosaries by Small Things Great Love make a wonderful gift for the Catholic woman who enjoys bringing beauty into her home. Made with felt balls, natural wood, and a variety of colors, these rosaries are a beautiful way to incorporate the Catholic faith into any home's decor. A necklace from Telos is a meaningful and unique gift option. These modern designs incorporate Catholic tradition and emphasize the beauty of our faith. For the coffee lover in your life, a mug cozy by The Cozy Wife will keep her drink hot and her hands warm, too, on the coldest winter days. Choose from an array of colors and inspirational quotes. Pair one with a pound of beans from Mystic Monk for the ideal coffee-themed gift.
Men
The Bearded Man Quote Mug by Just Love Prints is a must-have for the bearded man in your life. It includes a quote from St. Augustine and a whimsical illustration. Pair with a beard balm from Catholic Balm Co for the perfect, manly gift. The Catholic Gentleman: Living Authentic Manhood Today is a new release from author Sam Guzman. Ideal for this day and age, this book offers solid, practical guidance. Short, approachable chapters include topics on authenticity, virtue, tradition, and holiness. For the hard-to-shop-for man, have a little fun with his gift by picking out a unique pair of Catholic socks by Sock Religious. Many fun designs to choose from.
Stocking Stuffers
Enamel pins by Rakstar Designs add flair to a jacket or backpack. Choose from a variety of designs, including the Sacred Heart and Holy Spirit. The artist behind these, Rakhi McCormick, is also a CatholicMom.com contributor! Beautifully designed stickers by Made for Christ are a daily reminder of God's love. Affix them to a water bottle or notebook, and they are a great way to evangelize, too. Jesus is the Balm lip balm from Blessed Is She will put a smile on your face every time you use it. Flavored with spearmint and made with organic ingredients, it is a great solution to winter's dry weather. Charms by Tiny Saints keep the saints close by, no matter where you go. Clip to a backpack, lunchbox, or pencil case. Details about the saint's life and patronage are on the back of every package.
Do you shop early for Christmas? Are you inspired to do so this year? What faith-based gifts will you give this year?
---
Copyright 2019 Sarah Damm
About the Author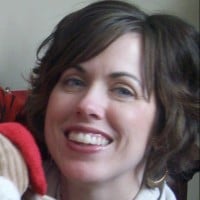 Sarah Damm is a Catholic wife and mother of six children, living in Minnesota. She spends her days running errands, helping with homework, and keeping up with laundry and the family schedule. Sarah loves her faith, coffee, and good books. You can find out more about her at SarahDamm.com.