The more I learn about Saint John Henry Newman (canonized October 13, 2019) the more inadequate I feel to review Prayers, Verses and Devotions, a beautiful book comprising his prayers, devotions, meditations, and poetry. How often are we given a glimpse into the intimate spiritual life of a saint? We are given one here.
The book is divided into three main parts with many subsections. The first is "The Devotions of Bishop Andrewes." These are private devotions of Bishop Lancelot Andrewes (1555-1625), an Anglican. Newman, of course, was an Anglican until his entry into the Catholic Church on October 9, 1845 at the age of 45, a decision that cost him a great deal. His feast day is now October 9, commemorating that date. The following year he was ordained a priest. Newman was so taken with the private devotions of Bishop Andrewes that he translated then from the original Greek so all could benefit from the wisdom. In the introduction by Louis Bouyer to this volume, we learn that Saint John Henry Newman, even as a cardinal, kept these devotions on his kneeler for prayer before and after saying Mass. They comprise the first main part of the book. The second part is entitled "Meditations and Devotions." In the preface by W.P. Neville we learn that these include "nearly all of the Cardinal's devotional papers." He would write notes on thoughts that occurred to him while meditating. Writers will smile to learn from Neville that Newman said he "could meditate best with a pen in his hand." We are privileged to read the thoughts that came to the good cardinal's mind at those moments! There is a wealth of reflective material here, including thoughts on each of the titles of Mary in the Litany of Loretto, divided into daily meditations for the month of May. What a beautiful way to grow in our love for Mary during her month. Devotions on the Litany are followed by a "Memorandum on the Immaculate Conception" and a "Novena of Saint Philip" to end the day before his feast day of May 26. Each day of the novena includes some biographical information about Saint Philip and a prayer. Saint John Henry was very devoted to Saint Philip and held him as his special patron. He writes, "If Philip heard of anyone having committed a crime, he would say, 'Thank God I have not done worse.' At confession he would shed abundance of tears, and say, 'I have never done a good action.'" Here is Cardinal Newman's prayer to Saint Philip on the first day of the novena:
Philip, my glorious patron, who didst count as dross the praise, and even the good esteem of men, obtain for me also, from my Lord and Savior, this fair virtue by thy prayers. How haughty are my thoughts, how contemptuous are my words, how ambitious are my works. Gain for me that low esteem of self with which thou wast gifted; obtain for me a knowledge of my own nothingness, that I may rejoice when I am despised, and ever seek to be great only in the eyes of my God and Judge.
Part Two of "Meditations and Devotions" begins with meditations on the Stations of the Cross and twelve meditations for Good Friday. What a wonderful book to have on hand as we contemplate the Passion of Jesus. There are over 60 pages of rich thoughts, ideas and reflections. For example, Newman suggests that Mary's prayers "sent Veronica as well as Simon — Simon to do a man's work, Veronica to do the part of a woman." What a lovely thought that it was the Blessed Mother's prayers for help for Jesus that resulted in Simon's and Veronica's service to the Lord. What follows are a number of litanies, some familiar and some composed by Saint John Henry. I particularly like a verse called "The Heart of Mary." Prefaced with the line: Written to place under a picture of the Heart of Mary It reads: Holy the womb that bare Him, Holy the breasts that fed, But holier still the royal heart That in His Passion bled. Then there are "Meditations for Eight Days," a lovely instruction on lectio divina. Each day starts with the gentle instruction, "1. Place yourself in the presence of God, kneeling with your hands clasped. 2. Read slowly and devoutly." Then, a Scripture verse is referenced and an example of what might come to your mind. Such gentle instructions. Part Three consists of 23 "Meditations on Christian Doctrine," with numerous subheadings. There is so much content here. Meditations on The Paraclete, The Ascension, Sin, The Sacred Heart, and various aspects of the nature of God, just to give a sampling. The book concludes with more than 200 pages of poetry by Saint John Henry. I'm sure you will have your favorites. The Pillar of the Cloud" struck me with the first verse:
Lead, Kindly Light, amid the encircling gloom Lead Thou me on! Keep Thou my feet; I do not ask to see The distant scene — one step enough for me.
"The Dream of Gerontius," the final poem, is a gripping and sweet depiction of how it might feel to die. Here is just part of a verse:
I went to sleep; and now I am refresh'd, A strange refreshment; for I feel in me An inexpressive lightness, and a sense Of Freedom, as I were at length myself, And ne're had been before. How still it is! I hear no more the busy beat of time, No, nor my fluttering breath, nor struggling pulse; Nor does one moment differ from the next.
This collection of keen, spiritual insights of the great saint John Henry Newman belongs on the bookshelf with other treasured classics. We are given a glimpse of the inner spiritual mind of a saint. We see how he prays. We see how he meditates. And we can have a sense of his holiness. I myself will reference this book frequently, I hope, to reap the harvest of this great mind, this soul who has given himself to Christ. Prayers, Verses and Devotions would make a great Christmas present for the philosopher in your family, the theologian, the one striving for holiness. Yes, it would make a great gift for anyone. I highly recommend getting to know better this newly canonized and great saint John Henry Newman. Would you like to know how a canonized saint prayed, how he meditated, how he drew closer to God?
---
Copyright 2019 Rosemary Bogdan
About the Author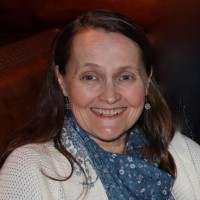 Rosemary Bogdan is a wife, mother of six adult children, and a grandmother. She homeschooled her children when they were young and currently substitute teaches at her favorite Catholic school. When not spending time with her family, Rosemary writes at A Catholic Mother's Thoughts and Catholic365.com.