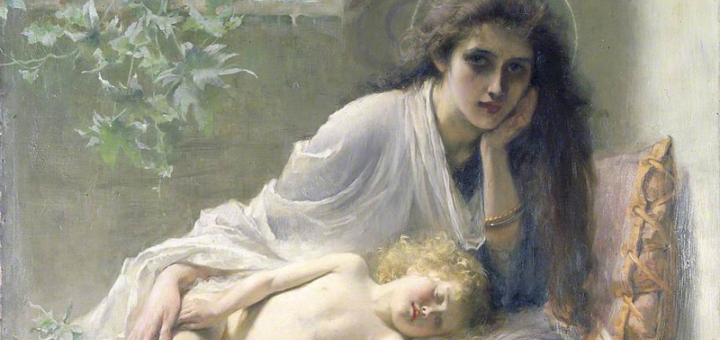 Alice Havers [Public domain], via Wikimedia Commons[/caption]After years of praying and waiting, Anne and Joachim's prayer was answered in a most incredible way. Despite their advance years, they had a baby. Because of their virtuous patience and faith, she was no ordinary child. Conceived in the normal, biological way, spiritually, the child's soul was pre-redeemed by God. Because of the extraordinary role she would have in salvation history, she was born without the stain of Original Sin. God chose their daughter, Mary, to become the Mother of His Son, the Savior of the world. When she was a young betrothed teen, she conceived this Son, not in the ordinary biological way, but through the power of the Holy Spirit, for as the angel proclaimed, "the child to be born will be called holy, the Son of God" (Luke 1:35). So, yes, Mary knew that when she kissed her little baby, she kissed the Face of God. Mary knew that as God, her Jesus walked where angels trod. Indeed, He was sent from Heaven. Knowing that Jesus was the Son of God did not make it any less mind-blowing. Holding Jesus, gazing into His Face, must had led her to deep meditation on how the Great "I Am" deemed to become a little child. The Lord of all creation was now totally dependent on her and Joseph. The Ruler of the nations was obedient to His parents. The awe and wonder of such thoughts surely increased Mary's love for God. Mary was not a typical teenage girl. She, who was prepared from the beginning of time to be the new Eve, loved God more than any other human being who lived on this earth. She knew Scriptures. Tradition tells us that Mary was raised in the Temple. As a Temple Virgin, Mary took care of the sacred vestments and vessels. She also learned to read and meditate upon the Law and the words of the prophets. God gave her the knowledge necessary to fulfill her vocation. That does not, however, mean that Mary saw into the future and knew how everything would play out. Nonetheless, she must have anticipated the days when Jesus would make the blind see, the deaf hear, the lame leap and the dumb speak. She knew the writings of the prophet Isaiah which declared:
Then the eyes of the blind shall see, and the ears of the deaf be opened; Then the lame shall leap like a stag, and the mute tongue sing for joy. (Isaiah 35:5-6a)
Mary knew the Messianic prophecies would be fulfilled by Her Son. While I cannot find any prophecies that predicted the Messiah would calm storms or walk on water, I do not suppose that when these stories got back to Mary they shocked her. After all, she knew He was Lord of all creation. She trusted in this fact so much so that when the couple at the wedding feast in Cana ran out of wine, she turned to Jesus for help. She told the servers, "Do whatever He tells you," bolstering their faith in Jesus as He told them to take jugs filled with water to the headwaiter (cf. John 2:5-8). Surely the stories of all the miracles Jesus was performing would not have surprised Mary but would have made her rejoice in God, the Savior. Of course, Mary knew the Suffering Servant prophecies as well. She was familiar with the mysterious 53rd chapter of Isaiah. Perhaps while pondering Simeon's words to her (cf. Luke 2:34-35), Isaiah's words came to mind. No one could imagine all Jesus would have to suffer in order to redeem us. Yet, Mary knew Jesus came to save us; she knew he would have to suffer. Watching Him make all things new (cf. Revelation 21:5 & Isaiah 43:19) through His Passion and Death pieced her heart. Every prophecy she had ever heard about the Messiah was fulfilled in Her Son. Mary knew, but that didn't stop Her Heart from breaking. I love the song "Mary, Did You Know." I belt it out every time I hear it. It has led me to many wonderful contemplations about our Lady and her relationship with Her Son, some of which I have shared with you here. I have really only one complaint about the song. There is one error that makes me cringe when I sing along: "This child that you've delivered, will soon deliver you." The Holy Spirit has made it known to the Church that Jesus pre-redeemed His Mother because of the important role she plays in the redemption of the world. Mary was delivered before time by the God who is outside of time. That is what we celebrate today. How awesome is our God! How beautiful is our Mother!
---
Copyright 2019 Kelly Guest
About the Author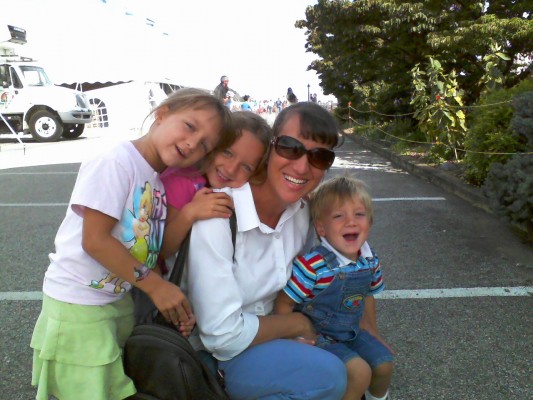 God has given Kelly lots of wonderful opportunities to follow Him. She was a Dominican Sister of St. Cecilia in Nashville, an education coordinator for a Catholic Charities' program for pregnant teens, a middle school teacher, a director of religious education and is now a youth minister. Her most challenging and rewarding calling, though, is wife and mother of ten children. What she has learned, she blogs at CatholicMom.com. Kelly's book, Saintly Moms: 25 Stories of Holiness, is due out October 2021.