I'm a little late to The Light Series by Catholic author Jacqueline Brown, but the advantage is that I don't have to wait on new installments. I've got five books ready to be read right out of the gate! The tagline "Who do you become when the world falls away?" gets to the heart of matter and allows the reader to imagine a life devoid of the modern conveniences and hectic pace we've become accustomed to and focus on what really matters and how that knowledge affects the way that we live.
The Light is a bit different from the previous Christian dystopian series that I've read in that the reader never learns what forces are behind the inciting moment – an EMP (electromagnetic pulse) that wipes out all the gizmos and gadgets, plunging life back into the early 19th century. Maybe that comes in later books in the series; this book is about the characters. Bria, we learn, is a hurt and broken young woman, punishing herself by remaining in an abusive relationship. She and her three friends are stranded on the highway in North Carolina when the EMP hits. As luck (or God) would have it, they meet up with a brother and sister (Jonah and Eden) heading to their nearby home. When they arrive at Jonah and Eden's homestead, they are welcomed by a warm and loving family with some revelations that will rock Bria's entire world well beyond the changes the EMP has wrought. As they learn to survive in a drastically different world, they remain ever-wary of their threatening neighbor, Mick. Faith — or lack of it — plays an interesting role in the story as Bria is an atheist and her friends are nominal Christians, at best, while the family they're adopted into is unabashedly Catholic. Jonah is a seminary student and his older brother is a priest. Some incidents stretched my ability to suspend disbelief regarding both the family's utter isolation, history, and entanglements, but, again, this story is definitely character over plot. The Light ends with hearts broken open and a new way of life forged. I'm interested in seeing what the second book in the series brings. Book 1 in the series, The Light Book 2 in the series, Through the Ashes Book 3 in the series, From the Shadows Book 4 in the series, Into the Embers Book 5 in the series, Out of the Darkness
Courtesy of Jacqueline Brown. All rights reserved. Used with permission.[/caption]
---
Copyright 2019 Carolyn Astfalk This article contains Amazon affiliate links; your purchases through these links benefit the author.
About the Author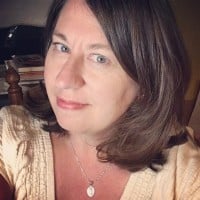 Carolyn Astfalk is a wife, mother of four young children, and a writer. Her contemporary Catholic romances are available at Amazon.com. She is a member of the Catholic Writers Guild, a Catholic Teen Books author, and blogs at My Scribbler's Heart. Visit CarolynAstfalk.com.