Made For Greatness: A Growth Mindset Journal for Courageous Catholic Youth by Ginny Kochis; illustrated by Claire Peterson
Courtesy of Ginny Kochis. All rights reserved. Used with permission.[/caption] Are you looking for a book that will help you tackle one of the toughest jobs we have as parents? Ginny Kochis' Made for Greatness: A Growth Mindset Journal for Courageous Catholic Kids offers stories, questions, quotes and scripture verses that can be used in a variety of ways to help our kids progress on their journey towards heaven. Each of the seven chapters focuses on a different virtue lesson. While brief and doable, the lessons are rich in spiritual inspiration for both you and your child. In each chapter you will find a saint story, scripture passages, saint quotes, stories of spiritually heroic contemporary young people, and tips on applying each virtue to everyday life. There are also some "Just For Fun" questions to lighten the mood when needed and keep your kids' minds engaged. I love the flexibility of this journal. Each lesson could span over a week, a month, or longer. You can pull out one of the saint stories when you sense your child needs some inspiration to live a certain virtue, or use the scripture passages to pray and meditate together. Older kids can work their way through the journal on their own in an adoration chapel or during a little prayer time each night in the solitude of their own room, or you can progress through the journal one on one with a younger child. The book could even be used to inspire some good dinner conversation with your whole family. Ginny takes a step by step approach to living a virtuous life and makes holy living relevant to today's kids. She also includes a list of "Say This, Not That" to encourage positive and virtuous thinking in our children--an inner dialogue that will help our kids to believe they can become saints! I have seven children, ages 15 years down to 1 year, and I am looking forward to using this book with all of them. The book has something for children of all ages, from elementary school age on up into the teen years. Made for Greatness is an indispensable tool for parents in a world that is at war with virtuous living. Ginny Kochis helps parents put into words those lessons we know we should be teaching our children. And she offers those lessons in a format that can be tailored to suit any family.
---
Copyright 2019 Charisse Tierney
About the Author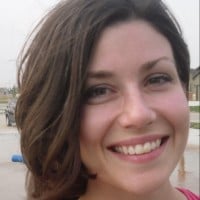 Charisse Tierney lives in Wichita, Kansas, with her husband Rob and seven children. Charisse is a stay-at-home mom, musician, NFP teacher, and a Catechesis of the Good Shepherd catechist. She is also a contributing author to The Catholic Mom's Prayer Companion and Family Foundations magazine. Charisse blogs at Paving the Path to Purity and can be found on Facebook.