Charisse Tierney and her children explain why they enjoyed Kathryn Griffin Swegart's new book, Rescued! True Stories for Catholic Kids.
---
Rescued! True Stories for Catholic Kids is a collection of captivating short stories about heroic Catholics throughout history, written by Catholic Mom contributor Kathryn Griffin Swegart. It is filled with adventure, life and death risks, and evidence of the power of faith.
I am always searching for books that will draw my children in with great storytelling while simultaneously educating them broadly from a Catholic perspective. This book does all of that and more. Kathryn Griffin Swegart does a wonderful job of capturing the reader's attention from the first sentence of each story. She brilliantly intertwines historical facts, geographical details, and even science into stories that highlight the heroic effects of a staunch faith life.
The stories span from early figures like St. Brendan from the 500's, to more modern heroes and saints like St. John Paul II. This book was a great read aloud for our family. I learned new stories about lesser-known heroes and enjoyed watching my children's rapt attention as I shared stories I already knew. Even my rambunctious 5-year-old and 3-year-old were quiet as I read the enthralling stories!
Kathryn also includes an appendix with additional facts about each story. We found this fascinating, as her stories often left us wanting to know as much as possible about the people and events.
We were able to read each of the stories in one sitting, so they made an inspiring start to our day after our Morning Offering.
Rescued! is a wonderfully versatile book, perfect for family read alouds, a child who loves adventure stories, or for yourself!
My children wanted to share a bit about why they love this book, as well:
"The stories are very interesting. I like that the stories are true. My favorite story was 'The Holy Veil of Manoppello.' It is really cool that Jesus saved a kid from an earthquake." (Faith, age 9)
"I like how there are a lot of little stories in one book and how you can read one or more stories in one sitting. My favorite story is 'Barry the Rescue Dog.' It is a story about a dog who saved a boy buried in an avalanche. I also like how all of the stories are real." (Henry, age 11)
"I enjoyed this book a lot because the writer wrote nonfiction stories in a very compelling way. I felt like I was reading really good fiction stories. The author's story telling style made me pay attention and enjoy the read. The stories are also short enough that I never lost interest. I also liked that each story could be read in one sitting. Overall, I think this is a great book if you like adventures, cool facts about saint history, and good stories about everyday heroes' lives." (Hazel, age 13)
---
Copyright 2022 Charisse Tierney
Images: Canva
About the Author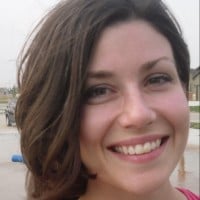 Charisse Tierney lives in Wichita, Kansas, with her husband Rob and seven children. Charisse is a stay-at-home mom, musician, NFP teacher, and a Catechesis of the Good Shepherd catechist. She is also a contributing author to The Catholic Mom's Prayer Companion and Family Foundations magazine. Charisse blogs at Paving the Path to Purity and can be found on Facebook.