Copyright 2018 Carolyn Astfalk. All rights reserved.[/caption] Welcome to the January 2020 edition of An Open Book, hosted both at My Scribbler's Heart AND Catholicmom.com! An Open Book is all about what my family is reading this month, from the adults down to the little kids. Share what you're reading by linking up your blog post below. Simply write about what you're reading. You can make it personal or, as I do, extend it to the whole family. Your post can be as simple as a few lines about the book or as in-depth as a 700-word review. That's entirely up to you. You can even forego writing all together and record a video or simply post cover photos. No blog? No problem. Please share what you're reading in the comments.
While he's preparing for Marian consecration, my husband has been listening to/reading Jesus and the Jewish Roots of Mary: Unveiling the Mother of the Messiah by Brant Pitre. Part history, part Catholic apologetics, the Old Testament Marian typology presented in this book has been fascinating to him. I've seen some accolades for this book on social media too, and I'm looking forward to reading this one myself.
I've been reading Dracula by Bram Stoker for a long, long time. In fact, my daughter recently asked why I was reading a "Halloween book" at Christmas! I'll finish it soon, I promise. In the meantime, I've been listening to several books as well. The Thorn Keeper by Pepper Basham, while being the second book in her Penned in Time series, is the first historical novel of hers that I've read. This World War I novel has the feel of a dramatic saga akin to a soap opera in parts. The characters are lively and engaging, and its redemptive message is a good reminder to try to see others as Christ sees them, as they are, not as they were. Change happens.
Maybe the final days of Christmas preparations made me a bit Grinchy, but I wasn't feeling A Christmas by the Sea by Melody Carson. The contrived contemporary Christmas romance novella is akin to a Hallmark movie in print form, but the romance was so abrupt, it ruined the story for me. Being sensitive to authors' feelings, I think this may be the first time in years or reviewing that I've used the work "schlock."
Kill Shot by Anne Patrick is a Christian romantic suspense novel teaming a Maine sheriff with a combat veteran to discover who wants to see the former Army medic dead. I'm only a few chapters in, but I see some chemistry brewing between this pair, and the story is moving at a nice clip.
For Christmas, my sixteen-year-old received Drive! by Corinna Turner. This dystopian dinosaur adventure is sure to please Jurassic Park fans. I quite easily bought the dinosaur-inhabited world with secured city dwellers separated from hunters and farmers living beyond the safety fence. Somehow, the author nicely adds a bit of faith as well, even ascribing a patron saint to these rugged adventurers.
My sixth grader recently read a book her older brother and I both loved: Treachery and Truth by Katy Huth Jones. This is the fictionalized story of Good King Wenceslas of the famed carol told from the point of view of his servant Poidevin. This is a great one to re-read at Christmas time—or anytime.
In class, my daughter is also reading Number the Stars by Lois Lowry, a Holocaust book set in Denmark. I'd love to see how it compares to Bright Candles by Nathaniel Benchley, which is similarly set. (More about that book in Sabbath Rest Book Talk from July 2017.)
In her big ol' heap of chapter books lying around here, the eight-year-old found The Ember Stone: A Branches Book by Katrina Charman, the first book in The Last Firehawk series. I asked for a summary and got a laundry list of animals on some kind of adventure that included a barn owl and a squirrel. And an egg that might have combusted. She seems to be enjoying it.
She's also begun Lisa Hendey's Chime Travelers series. I thought being the Christmas season, she'd like to read The Strangers at the Manger, but she wanted to start at the beginning, so she read The Secret of the Shamrock, a story involving Saint Patrick, first. Her sister also enjoyed these books that I'd describe as a Catholic Magic Treehouse series with a brother-sister pair traveling through time to experience the lives of the saints.
Being Christmas, one of our favorites resurfaced. My husband picked up Jolly Old Santa Claus by Mary Jane Tonn years ago because it reminded him of the Christmas Little Golden Books from our childhoods. This is a cute story about Santa Claus's Christmas workshop preparations with the help, of course, of his elves (called brownies here). For extra fun, you can find Santa's cat, Lady Whiskers, on most pages. One Winter's Day
by M. Christina Butler came home from school with my youngest son, but I think we have our own copy on a shelf here somewhere. (Shows you how well organized our books are.) No matter which copy we read, it's a cute tale of a hedgehog who generously gives away his warm scarf, mittens, etc. to friends in need. Want more details on An Open Book? You can also sign up for An Open Book reminder email, which goes out one week before the link-up.
Check out the archives of An Open Book!
---
Copyright 2020 Carolyn Astfalk This article contains Amazon affiliate links; your purchases through these links benefit the author.
About the Author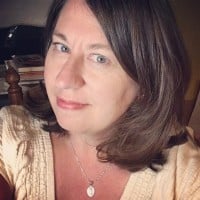 Carolyn Astfalk is a wife, mother of four young children, and a writer. Her contemporary Catholic romances are available at Amazon.com. She is a member of the Catholic Writers Guild, a Catholic Teen Books author, and blogs at My Scribbler's Heart. Visit CarolynAstfalk.com.