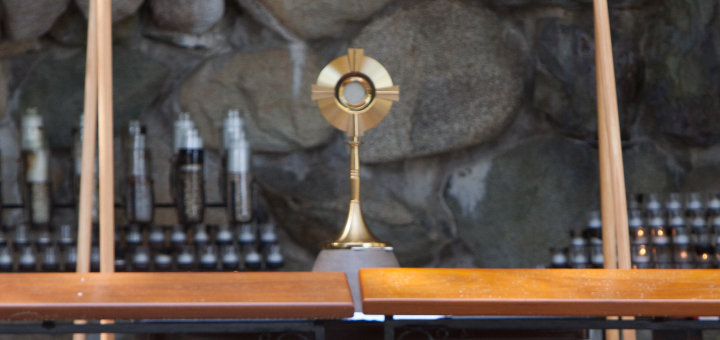 But that ethereal view isn't visible from every stance. In fact, when we step out into the world away from His presence, there are many vantage points that angle out the eternal perspective.

We can't commune with eternal souls through glowing screens; we are unable to minister to Christ himself when we turn away from the faces that bear His image, faces of poverty and pain that make us uncomfortable. The endless compulsion to acquire more leaves us with less and less assurance of spiritual wealth. The over-extended and margin-less lives we live leave no room for contemplating eternal realities.
Yet … when we find ourselves at such hopeless vantage points, we may always accept God's gracious invitation of re-entry into true reality. He is there for us when we choose to step into those moments of grace and locations of His presence. Whether an hour in silent Adoration, a Sabbath Sunday's inactivity and rest, or the quiet of early (or late) moments in the personal prayer of our "interior castles," the Father is waiting to change our hearts, right our course, and renew our view of what is eternally real for our human souls.
We go back into our physical reality with fresh life and clear vision. We live our vocations and look on the people in our lives with eyes of faith:
The one who began a good work in you will continue to complete it.

(Philippians 1:6)
I came home from Adoration with the image of that heavenly glow radiating from around the Eucharist, and as I tucked little people into beds, I was aware of that veil of re-entry and the grace extended to see with heavenward vision.
---
Copyright 2020 Jessica Ptomey