Copyright 2018 Carolyn Astfalk. All rights reserved.[/caption] Welcome to the MONTH YEAR edition of An Open Book, hosted both at My Scribbler's Heart AND Catholicmom.com! An Open Book is all about what my family is reading this month, from the adults down to the little kids. Share what you're reading by linking up your blog post below. Simply write about what you're reading. You can make it personal or, as I do, extend it to the whole family. Your post can be as simple as a few lines about the book or as in-depth as a 700-word review. That's entirely up to you. You can even forego writing all together and record a video or simply post cover photos. No blog? No problem. Please share what you're reading in the comments.
Once Christmas Day passed, I had an opportunity to do a bit more reading, including reading Charles Dickens' A Christmas Carol for the first time.
From there I dove into a variety of books, including an advance copy of Danielle Bean's Giving Thanks and Letting Go: Reflections on the Gift of Motherhood, which releases this week. In her usual personal style, the author provides encouragement to mothers embarking on a different but equally-challenging stage of life in their vocations as mother and wife. A quick read filled with hope.
The Bright Unknown by Elizabeth Byler Younts is a beautifully written, thought-provoking novel set in an early 20th century mental institution (though Brighton, the protagonist, is not mentally ill and neither are some others forcibly committed to the institution where she resides.) Stellar fiction that is imaginative, multi-layered, and marked by persistent hope amid suffering.
The Last Shot by Amy Matayo is the third book in her Love in Chaos series, each book being set amid a calamity: lost at sea, a tornado, and now an active shooter during a country musician's concert. I've enjoyed each book so far, and this one didn't disappoint. I love how deeply the author gets into each character's head. Lots of chemistry in this one and some heated kisses.
Jeff Goins' The Art of Work: A Proven Path to Discovering What You Were Meant to Do was a short listen in the car. His advice for discovering what you're called to do rang true with my own experience in discovering what to pursue in college and in life. I like that the stories shared incorporate faith and that his approach includes a well-balanced life that is about much more than work but faith, family, and service as well.
Denise Hunter's contemporary Christian romances are consistently well-done, and Lake Season is no exception. This story's hero, Adam, stands out as the nerdy love interest – something we see little of in romance. I say, give us more real men that have a variety of interests, aren't perfect-looking, and don't play sports or have six-pack abs.
I completed the final read-through of my own novel coming out next week: Come Back to Me. It's a sequel of sorts to Stay With Me, but can stand alone. This one is a little different for me. It's shorter than any novel I've written (less than half the size of all but Rightfully Ours), and not a conventional romance. This one falls more readily into the general Christian fiction category, though a marriage is at the center of the story. Come Back to Me shares the point of Chris's older brother Alan, who is separated from his wife, and Megan, another minor character from Stay With Me who, like Alan, is forced to re-think her approach to life.
My oldest son found Seneca's Letters from a Stoic boxed with my old college books and has been reading a letter here and there. Seneca was one of my favorite Roman writers (along with Cicero), and I'm so glad that I hung onto this book (in English, not Latin), and it's getting some use!
With Christmas cash, he also picked up the Star Wars The Rise of Skywalker: The Visual Dictionary by Pablo Hidalgo, which is fun for the whole family to flip through, looking up races or characters here and there, especially as some have resurfaced in Disney's The Mandalorian.
My tween went on a reading binge starting with Cynthia Toney's 8 Notes to a Nobody, a story well-suited to her age. Wendy, on the verge of starting high school, deals with changing friendships and interests, a blended family, and some not-so-nice classmates. Oh, and she loves puppies! Great start to the Birdface series.
From there my daughter launched into Raymond Arroyo's Will Wilder series starting with The Relic of Perilous Falls, and read the three books in the series very quickly! It sounds as if it's set up for four additional books, but I couldn't find any indication that more are in production. She's encouraged me to read these stories of a boy battling demons in his town.
I had to keeping digging new books out for this child and finally handed her Leslea Wahl's debut novel, The Perfect Blindside. She really loved this story of a cocky snowboarder and a high school photographer who team up to solve a mystery in their Colorado town. Mystery, adventure, faith, and a little romance – a perfect combination for my young lady!
Somewhere in there, she also read It Happened in the White House: Extraordinary Tales from America's Most Famous Home by Kathleen Karr. As you might expect, it include ghost sightings and a variety of interesting tales gathered over the centuries. Her favorite story was of newly inaugurated Ronald Reagan wanting to ride his horse back to the White House. For protection, a steel-lined hat and bulletproof long johns were provided to him, only for him to change his mind about the horseback ride.
My second grader hops from book to book and back again, and Sisters of the Last Straw's The Case of the Christmas Tree Capers by Karen Kelly Boyce has been carted around the house with her. These are cute chapter books with an endearing cast of imperfect religious sisters who solve a little mystery. I see there is an Easter-themed book on the way too!
True to her puppy-loving self, she also has been reading The Adventures of Wishbone book The Mutt in the Iron Muzzle by Michael Jan Friedman. (It's a retelling of The Man in the Iron Mask by Alexandre Dumas, in case you didn't guess.) This takes me back decades to my nephew, who loved watching Wishbone after school. A cute series whether in books or on TV.
My little boy read Tornado by Betsy Byars at home and with his class. This simple chapter book is a story within a story as the tale of discovering a lost dog during a tornado is retold from inside a storm shelter. Want more details on An Open Book? You can also sign up for An Open Book reminder email, which goes out one week before the link-up.
Check out the archives of An Open Book!
---
Copyright 2020 Carolyn Astfalk This article contains Amazon affiliate links; your purchases through these links benefit the author.
About the Author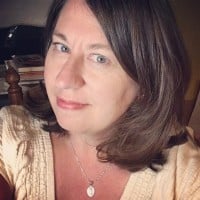 Carolyn Astfalk is a wife, mother of four young children, and a writer. Her contemporary Catholic romances are available at Amazon.com. She is a member of the Catholic Writers Guild, a Catholic Teen Books author, and blogs at My Scribbler's Heart. Visit CarolynAstfalk.com.