The Island of Two Trees by Brian Kennelly is not a book that I would have probably picked up on my own. Up until reading "The Lord of The Rings" series when I was in college and then later C.S. Lewis, I had no interest in science fiction and fantasy literature. I'm still not really into it, thus why I wouldn't have picked up this book on my own. I received this book to review and was open to it in that I knew it was from a good Catholic publisher (TAN Books) and would hopefully not have any objectionable material to share with my son.
The first chapter was more interesting to my 6 year old than to me, but soon I was so engaged in the book with my son that as soon as I picked him up from school, all the both of us wanted to do was to read it and see what was up next. This book exceeded my expectations in every way except one. There were a few typos, which I was disappointed in, but the content, and engaging story line as well as the obviously Christian (and Catholic, but not "too" Catholic where our non-Catholic brothers and sisters would feel left out) material was great for building conversations with my son and exploring the battles between good and evil that continue to this day. I loved a particular part in the book where the author used a hypothesis from the Garden of Gethsemane to explore how bitterness literally takes root and how even the smallest and weakest can play a large part in God's story. The Island of Two Trees was a great book in that my son and I were both engaged and challenged together. I sometimes have a hard time reading youth fiction because it just seems so predictable. This book was possibly one of my favorite books I have read this year and it was great to share it with my son. You know the sign of a good book when a child would rather listen to you read it than watch TV or play with their toys. I am grateful for the unexpected opportunity to have read this book, and I think many others from age 6 (a mature 6) and up would get a lot out of this book.
---
Copyright 2020 Meg Herriot This article contains Amazon affiliate links; your purchases through these links benefit the author.
About the Author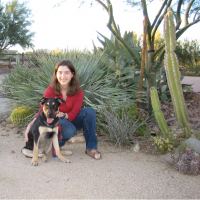 Meg Herriot is a veterinarian and Third Order Dominican. She enjoys spending time with family, friends, and pets and blogging at All Creatures Great and Crazy about being a veterinarian, mother, wife and most of all a Catholic trying to grow closer to God in a chaotic world.