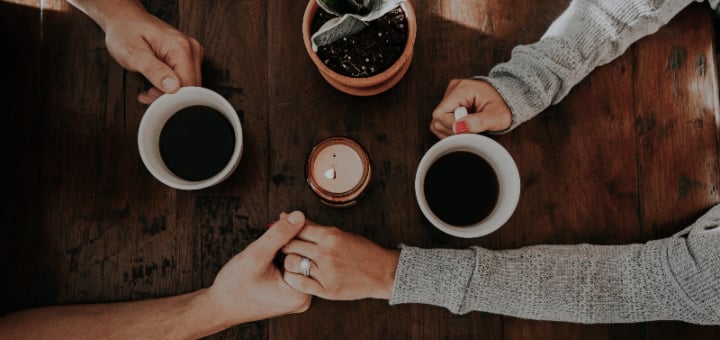 Image credit: By Taylor Hernandez (2018), Unsplash.com, CC0/PD[/caption] When I was a child, Valentine's Day was one of my favorite days of the year. I loved making my personal Valentine's mailbox for the school exchange. I enjoyed special treats and heart-shaped candy. I appreciated the red cut-out hearts affixed to paper doilies my mom gave me, reminding me of her love, as well as God's love, for me. In junior high through college, boys didn't ask me to be their Valentine. In fact, during those years, I continued to exchange "Galentines" with my friends. I was never bitter about this, wearing black in protest of the day's red and pink. Perhaps I knew, deep down, that Valentine's Day was not the pinnacle of romance or true love. Early in our marriage, my husband and I had to talk about how we would celebrate Valentine's Day. He assumed it would not be a big deal, while I thought it could be a little bit more special than the average day. We worked through our expectations and arrived at a solution that felt good to both of us. Over the course of our 18-year marriage, we found our Valentine's Day groove. It is not the "be-all, end-all" of our relationship. And yet, the day is special. We honor each other. We celebrate as a family. And we try to incorporate the most important love of all: God's unconditional love for each one of us.
The Importance of Connection
No matter how you feel about Valentine's Day, I think we can all agree that from time to time, it is really important to connect with our spouse. In the midst of family life, marriage can end up in last place on our list of priorities. More often than not, helping with homework, buying new shoes, or tending to illness or tween tears takes the place of quiet conversation, going out for coffee, or getting away for a weekend with our spouse. After a while, this lack of connection takes its toll on our own spiritual and emotional needs as well as our relationship's well-being. So, this Valentine's Day, let's make it a priority to reconnect with our spouse. Perhaps Valentine's Day can be the springboard for more regularly-scheduled times of connection.
Simple Ways to Connect With Your Spouse This Valentine's Day
Here are a few simple ways to connect with your spouse. These ideas require no preparation and very few resources.
Share Your Heart
Provide a sheet of paper and pen to you and your spouse. Take time to answer the following prompts:
I appreciate that you …
I honor you for …
Please pray for me ...
When both of you are finished writing, exchange papers with each other. This exercise gives us the time and space to share things that we often take for granted, like what we appreciate about the other person. All of us want (and need) to hear affirmations from our spouse, but how often do we initiate that type of conversation? This exercise also gives us insight into what's on the other person's heart, what's meaningful to him, and what he is concerned about. Of course, this exercise isn't exclusive to Valentine's Day. Perhaps it is something you can incorporate into conversation on a regular basis.
Pray Together
Taking the cues you receive from the exercise above, make it a priority to pray for one another, individually and also together. If you don't regularly pray with your spouse, this could be a great time to begin. Here are a few easy steps to get started:
Make the Sign of the Cross
Thank God for each other
Pray for the things each of you asked for in the exercise above
Pray for your children
Close with the Lord's Prayer, a Hail Mary, or a Glory Be
Make the Sign of the Cross
Play a Game
Put away Candyland and Go Fish, and dust off a game that requires strategy, insight, and intelligence. Make a batch of popcorn to go with the candy hearts, and have some fun with your spouse. Here are a few games that you might find in the back of your game closet and a few new ones to add to your wish list or to give as a Valentine's Day gift:
Plan a Date
Now that you and your spouse have spent part of Valentine's Day reconnecting, take some time to plan a date. Pick a day and time. Hire a sitter, if necessary. Write it on the calendar (in ink). Some simple (and affordable) date ideas include:
Going to a movie
Eating at a new restaurant
Bowling
Seeing a play at the community theater
Ice skating or snowshoeing
Visiting a museum
While Valentine's Day is not the pinnacle of married love, it can still be a wonderful day to reconnect with your spouse. It can also act as a springboard for more regular and meaningful times of connection throughout the year. What are some ways you have connected with your spouse recently? How do you plan on celebrating Valentine's Day with him this year?
---
Copyright 2020 Sarah Damm This article contains Amazon affiliate links; your purchases through these links benefit the author.
About the Author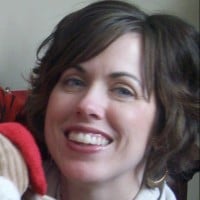 Sarah Damm is a Catholic wife and mother of six children, living in Minnesota. She spends her days running errands, helping with homework, and keeping up with laundry and the family schedule. Sarah loves her faith, coffee, and good books. You can find out more about her at SarahDamm.com.