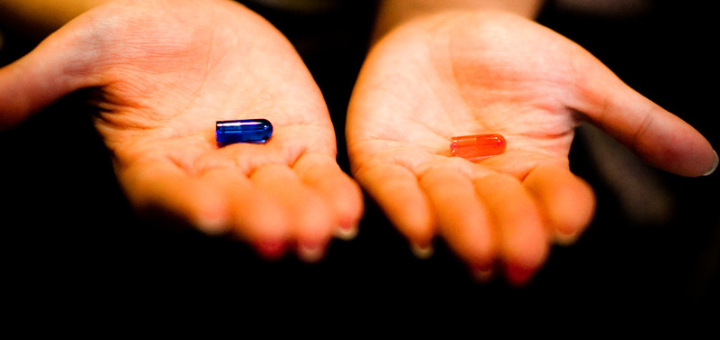 Image credit: By Hector Garcia (2010), Flickr.com, CC BY-NC-SA 2.0[/caption] Flávia Ghelardi writes from Brazil in English and Portuguese. Jump to the Portuguese version of this post. I believe that everyone knows the film The Matrix, where an intelligent and artificial system manipulates people's minds and creates the illusion of a real world while using the brains and bodies of individuals to produce energy. The character Neo, however, realizes that something is wrong and, helped by Morpheus, decides to take the "red pill" and finally sees the reality: Much of humanity is a slave to the Matrix and does not even realize it. I would like to use this science fiction to make an analogy with our life in this world. When observing our society, we realize that a large number of people live their lives as if they were reduced to what they can perceive: material goods and pleasures. They work, strive to achieve the things that should make them happy and fulfilled. And when life comes to an end, it just ends, period. Unfortunately, many Catholics, without realizing it, live that way. Although theoretically they believe in God and in the future life, they behave as if they do not believe, living quietly in the "Matrix." They end up becoming slaves of the self, of their wills, of sin and do not stop to think that our life here serves to prepare the passage to where our soul will be for all eternity. We need to "take the red pill" and wake up from this "trance"! See that if we don't fight, we will always be slaves to sin. See that this world is fleeting and when we least expect it, we will give an account of our life before the Just Judge. We also need to help other people to see this reality, bring them to the truth and show that only then, living in this world but as if we were not from this world (John 17:15-16), they will be really happy. We must also know that living this way is not easy, as everything conspires so that we remain connected to the "Matrix." However, our Holy Mother Church has a whole range of sacraments that help us to remain steadfast in real life, from the perspective of Heaven. Regular and frequent confession and Eucharistic communion, together with a life of prayer, are the most effective means so that we can live with the awareness that our goal is Heaven. In the film, when Neo wakes up in the real world, this is a post-apocalyptic horror. For us, this can be a far worse reality: hell. When we die, we will be faced with eternal life that will be according to the choices we made while we were in the world. And if we don't struggle to prepare for our eternity in Heaven, we will end up living in a sea of ​​eternal torment. We should not be afraid to talk about Hell, because it exists and so do demons. Our Lady came to us and showed Hell to three children in Fatima. Now, if our Mother used this pedagogy to alert all her children asking for the prayer of the Holy Rosary and penances to free souls from hell, how can we avoid this very serious matter? We need to wake up and wake each other up! Let us live in this world, work, use the things that God provides for our lives, but be aware that our real life, the one that will last forever, is not here. We were created for Heaven, but we need to strive to get rid of selfishness, self-love, futile concerns, to get there. In other words, to love God above all things and neighbor as ourselves.
Be sober and vigilant. Your opponent the devil is prowling around like a roaring lion looking for [someone] to devour. Resist him, steadfast in faith, knowing that your fellow believers throughout the world undergo the same sufferings. (1 Peter 5:8-9)
---
VIVEMOS NA "MATRIX"?
Acredito que todos conhecem o filme "Matrix", onde um sistema inteligente e artificial manipula a mente das pessoas e cria a ilusão de um mundo real enquanto usa os cérebros e corpos dos indivíduos para produzir energia. O personagem Neo, porém, percebe que algo está errado e ajudado por Morpheus, decide tomar a "pílula vermelha" e finalmente enxerga a realidade: grande parte da humanidade é escrava da Matrix e nem se dá conta disso. Gostaria de usar essa ficção científica para fazer uma analogia com a nossa vida nesse mundo. Ao observarmos nossa sociedade, percebemos que um grande número de pessoas vive suas vidas como se elas se resumissem ao que conseguem perceber: os bens e prazeres materiais. Trabalham, se esforçam para conseguir as coisas que deveriam torná-las felizes e realizadas. E quando a vida chega ao fim, simplesmente acaba, ponto final. Infelizmente muitos católicos, sem se darem conta, vivem dessa forma. Apesar de teoricamente acreditarem em Deus e na vida futura, se comportam como se não acreditassem, vivendo tranquilamente na "Matrix". Acabam se tornando escravas do próprio eu, das suas vontades, do pecado e não param para pensar que a nossa vida aqui serve para preparar a passagem para onde nossa alma ficará por toda eternidade. Precisamos "tomar a pílula vermelha" e acordar desse "transe"! Enxergar que se não lutarmos, seremos sempre escravos do pecado. Ver que esse mundo é passageiro e quando menos esperamos iremos prestar conta da nossa vida diante do Justo Juiz. Precisamos também ajudar a outras pessoas a enxergarem essa realidade, trazê-las para a verdade e mostrar que só assim, vivendo nesse mundo mas como se não fossem desse mundo (Jo 17, 15-16), é que serão realmente felizes. Devemos saber ainda que viver dessa forma não é fácil, pois tudo conspira para que permaneçamos ligados à "Matrix". Porém, nossa Santa Mãe Igreja, possui toda uma gama de sacramentos que nos ajuda a permanecer firmes na vida real, na perspectiva do Céu. A confissão regular e frequente e a comunhão eucarística, junto com uma vida de oração, são os meios mais eficazes para conseguirmos viver com a consciência de que nossa meta é o Céu. No filme, quando Neo acorda no mundo real, este é um horror pós apocalíptico. Para nós, isso pode ser uma realidade bem pior: o inferno. Quando morrermos iremos nos deparar com a vida eterna que será de acordo com as escolhas que fizemos enquanto estávamos no mundo. E se não lutarmos para preparar nossa eternidade no Céu, acabaremos por viver num mar de tormento eterno. Não devemos temer falar do inferno, pois ele existe e os demônios também. Nossa Senhora veio até nós e MOSTROU o inferno para três CRIANÇAS, em Fátima. Ora, se nossa Mãe usou dessa pedagogia para alertar todos os seus filhos pedindo a oração do Santo Rosário e penitências para livrar as almas do inferno, como podemos nos esquivar desse assunto tão sério? Então precisamos acordar-nos e despertarmo-nos mutuamente! Vivamos nesse mundo, trabalhemos, utilizemos das coisas que Deus provê para a nossa vida, mas tenhamos a consciência de que nossa vida real, aquela que vai durar eternamente, não é aqui. Fomos criados para o Céu, mas precisamos nos esforçar para nos livrarmos do egoísmo, do amor próprio, das preocupações fúteis, para conseguir chegar lá. Em outras palavras, amar a Deus sobre todas as coisas e ao próximo como a nós mesmos. "Sejam sóbrios e vigiem. O diabo, o inimigo de vocês, anda em redor como leão, rugindo e procurando a quem possa devorar. Resistam-lhe, permanecendo firmes na fé, sabendo que os irmãos que vocês têm em todo o mundo estão passando pelos mesmos sofrimentos." 1 Pedro 5,8-9
---
Copyright 2020 Flávia Ghelardi
About the Author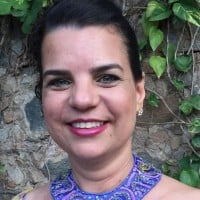 Flávia Ghelardi is the mom of four, a former lawyer already "promoted" to full time mom. Flávia published her first book FORTALECENDO SUA FAMÍLIA and is a member of Schoenstatt´s Apostolic Movement. Flávia loves to speak about motherhood and the important role of women, as desired by God, for our society. She blogs at www.fortalecendosuafamilia.blogspot.com.