Copyright 2018 Carolyn Astfalk. All rights reserved.[/caption] Welcome to the MONTH YEAR edition of An Open Book, hosted both at My Scribbler's Heart AND Catholicmom.com! An Open Book is all about what my family is reading this month, from the adults down to the little kids. Share what you're reading by linking up your blog post below. Simply write about what you're reading. You can make it personal or, as I do, extend it to the whole family. Your post can be as simple as a few lines about the book or as in-depth as a 700-word review. That's entirely up to you. You can even forego writing all together and record a video or simply post cover photos. No blog? No problem. Please share what you're reading in the comments.
My husband recently listened to An Exorcist Explains the Demonic: The Antics of Satan and His Army of Fallen Angels by Fr. Gabriele Amorth (renowned exorcist of Rome). He found its insights into the evil forces in our world both enlightening and frightening at the same time.
You may see some repeated themes in the books my husband reads. (See above.) Another one of them is alcohol, though I promise no one here has a drinking problem! Last Call: The Rise and Fall of Prohibition by Daniel Okrent, however, is I book I first picked up many years ago and for some reason not related to the book's quality, did not finish. But this book isn't about alcohol. Not really. It's about the culture and politics related to America's failed experiment with prohibition. My husband walked away from it with a new understanding of the racist, anti-immigrant, and anti-Catholic motivations behind the temperance movement. A fascinating read.
Moonshine: The Celebration of America's Original Rebel Spirit by John Schlimm is about alcohol. It tells the tale of moonshine's origin in Appalachia on through prohibition to today. This book includes recipes too.
The Solid Grounds Coffee Company by Carla Laureano is the final book in the Saturday Night Supper Club series. The author does a great job uncovering the hero and heroine's muddled pasts and fears and breaking open their hearts to foster healing and hope (even if I don't totally dig the millennial hipster vibe in this series).
Courtney Walsh has become one of my favorite Christian contemporary romance authors. She excels at taking well-developed, complex characters through the paces of self-realization, making peace, and falling in love against a backdrop of interesting minor characters, and, in the case of If For Any Reason, a beautiful ocean side setting.
The Ring by Sarah Anne Carter is a sweet romance and an honest look at the challenges faced by military families. The reader glimpses everything from decisions about dating, marriage, and family to deployments, moves, benefits, practical support, and loss.
The second book in the Kaely Quinn Profiler Series, Fire Storm by Nancy Mehl, is a fast-paced contemporary suspense/mystery novel. Kaely Quinn is an intriguing, if somewhat self-absorbed character, but I still managed to like her. The mystery kept me guessing, and I only figured it out shortly before the big reveal. I was a little disappointed that Kaely's FBI partner/love interest remained on the sidelines, but hopefully we'll see more of him in the next novel.
The Dating Charade by Melissa Ferguson juxtaposes light humor and banter with the heavy issues of childhood neglect, abuse, and abandonment in a way that didn't quite work for me. I like both Cassie and Jett though, and the humorous scenes of children's antics are the best parts of the book.
My high school son is reading The Great Gatsby by F. Scott Fitzgerald, a book I haven't read myself since high school. Maybe when he's done we'll watch the recent movie adaption. The only reactions I've gotten thus far are about it being about "a bunch of rich people."
After reading Leslea Wahl's The Perfect Blindside, my middle school daughter moved right on to Extreme Blindside, which we gave to her for her birthday. She zipped right through this teen mystery, coming to me occasionally with her suspicions as to whom was putting the extreme winter athletes in jeopardy. A fun book!
She's also begun reading Little Women: The Original Classic Novel with Photos from the Major Motion Picture by Louisa May Alcott, another birthday gift. I took her and her little sister to see the movie adaption after Christmas, and it was time for her to read the source! I suspect a lot of irritation at Jo's choices by the time she gets to the end.
My youngest daughter snapped up a copy of Saint John the Baptist: A Voice Crying Out in the Desert by Ezekiel Saucedo and quickly read this graphic novel from Pauline Kids. She lingered over the (very appropriate, discreet) illustrations of Herod being presented with the saint's head on a platter. She gives this a thumbs up!
One of her favorite books, one that is toted all over the house all the time, is National Geographic Kids Dog Breed Guide: A Complete Reference to Your Best Friend Fur-ever by T.J. Resler and Gary Weitznman. This girl wants a puppy, and she is the most puppy-educated kid I know! Every day she shows me pictures of this or that breed, sharing details about its grooming needs or intelligence. Worth every penny she spent on it!
With the littlest boy in the house, we've been reading God the Father and the Best Day Ever by Gracie Jagla. It's an Easter book with a twist. Instead of focusing on the earthly events following the crucifixion, this fun rhyming book follows those souls awaiting the opening of the gates of Heaven and their joyful reception following Jesus's resurrection.
Milk Goes to School by Terry Border has come home from the school library a couple of times now. On first read, I didn't care much for this one, but as we read it again, I got a few smiles out of the anthropomorphic foods and beverages in the classroom, including milk. (She's spoiled.) A cute read aloud picture book. Want more details on An Open Book? You can also sign up for An Open Book reminder email, which goes out one week before the link-up.
Check out the archives of An Open Book!
---
Copyright 2020 Carolyn Astfalk This article contains Amazon affiliate links; your purchases through these links benefit the author.
About the Author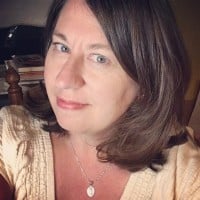 Carolyn Astfalk is a wife, mother of four young children, and a writer. Her contemporary Catholic romances are available at Amazon.com. She is a member of the Catholic Writers Guild, a Catholic Teen Books author, and blogs at My Scribbler's Heart. Visit CarolynAstfalk.com.