This liturgical year, I have been reading the works of and about several mystics. As I journey through their thoughts, ideas, and lives, the beauty of how the Lord works in varied ways in people's souls has stood out to me, fosters a great sense of hope, and enkindles love. I just finished reading Adrienne von Speyr's Three Women and the Lord, which just came back into print from Ignatius Press with a foreword by Kris McGregor. Rather than von Speyr providing glimpses into her own life, she highlights the intimate relationships between three individual women (Mary Magdalen, The Woman Who Was a Sinner, and Mary of Bethany) and the Lord. She reveals how each of those relationships informs understanding of the theological virtues -- faith, hope, and love. At 124 pages and written with accessible language, the book is a quick read; nonetheless, it is intended to be read slowly and prayerfully. Though I was not able to learn about the author's experiences through reading the book, I was able to see the fruit of her own life of prayerfully reading Scripture.
I loved reading this book and praying through aspects mentioned related to relationship with the Lord. I especially appreciated how it illuminated the loving hand of providence in how relationships unfold and what is revealed and veiled in different moments. It also featured dispositions conducive to allowing God to enact His will in our lives. I appreciated the description of the special role of a spiritual director in aiding a soul. Reading is a transaction between the author, reader, and the Lord. Lectio divina is a powerful means to more deeply enter into the experience of reading. This book is formatted in a manner that it models carefully pondering Scripture as verses are provided in italics, followed by von Speyr's insights into those lines, leading the reader step by step through the Gospel accounts. Her ideas helped me to see these familiar interactions through new eyes. Various layers of this book moved me and helped me to better understand my past and present. It affirmed aspects that I have been pondering lately about God's will in my life. The book is also ideal for growing in a solid sense of God's love for each of us as individuals. Three Women and the Lord is a perfect book to read during the Lenten season as we are intentionally focusing on cooperating with God's grace as He seeks to draw us closer. The experiences of the three women provide multiple layers to ponder and consider implications for our own lives. It would be ideal for small group discussions among faith-filled friendships in order to process through how God is working in lives alongside each other.
---
Copyright 2020 Amanda Villagómez
About the Author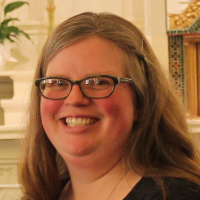 Amanda Villagómez is a wife, mom of 6, and teacher educator. On her personal site, she focuses on the beauty of becoming who God created us to be by celebrating the process of change and growth.