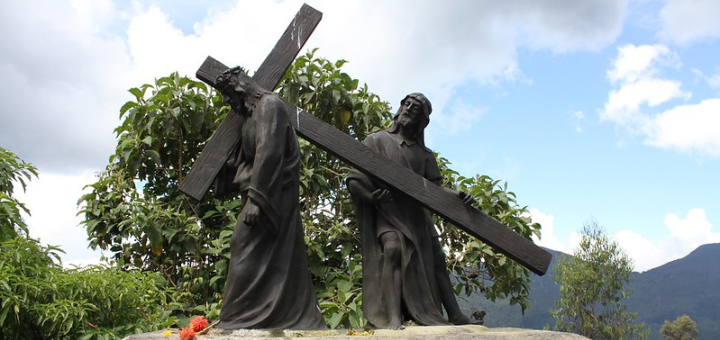 Image credit: By Eli Duke (2011), Flickr.com, CC BY SA 2.0[/caption] I write this on the Solemnity of St. Joseph, but you won't be reading it for several days yet. I cannot imagine what the world will look like even in that short time span, so perhaps my words are dated by the time you read this. Even so, I will share with you two ideas we are implementing as laypeople to encourage prayer and community. Prayer Vigil When I became aware of the widespread ramifications of Covid-19, one of the urgent things I prayed for was for God to raise up a Catholic person in our area who would be brazen enough to process around the limits of our county bearing an image of Our Lady. Inspired by historical events such as the Battle of Lepanto (Our Lady of the Rosary), the Battle of New Orleans (Our Lady of Prompt Succor), and protection from fire in Franken, Wisconsin (Our Lady of Good Help), I desired to see God's power and glory made manifest through public, "crazy" displays of faith and petitioning. "Lord, send us a saint," I prayed! (I did consider, in case you are wondering, if I were supposed to be the bold Catholic marching around the perimeter of our county, and the answer, I felt, was no. With five children, it is not feasible.) But within a couple of days, someone from our parish men's group contacted my husband to ask about organizing a 24-hour prayer vigil at the Marian grotto outside of the rectory. My husband passed the idea along to me, and with the help of an online signup form, we are asking for people to pray for one hour each for a period of five days (one person at a time except in the late-night hours, when there will be two people who will keep proper distance). This isn't as crazy as my original idea, but it is bold enough to make me uneasy. A hundred "what ifs" flood my mind, but I choose to trust in Our Lord and Our Lady. You can do it too. Neighborhood Way of the Cross As has probably been the case at your parish, all public events have been cancelled. Oh, the heartbreak of not receiving Our Lord at Mass! Why did I not receive You, Lord, on all of the weekdays when I could have? I offer this fast as penance for those many days when I could have gone to Mass and didn't. But I refuse to let Satan win when it comes to not keeping Our Lord company during His Passion. Though we can't be in the church praying the Stations of the Cross as a community, why not make a Way of the Cross around the surrounding neighborhood? Visit Family Feast and Feria to print out beautiful Stations of the Cross cards. Laminate them or adhere them to thin boards and seal. With your pastor's approval, start and end the stations at your parish and put the intervening stations at various parishioners' houses in the neighborhood. At each station, make a note of the address where the next station can be found. This is a display of our faith that is all the more beautiful and profound in its public nature. I see so many opportunities for God's glory and power to be made manifest. As a culture, we are being stripped away of so much that many people now ask themselves the essential questions: who are we? Is there a God? Is science actually omnipotent? What is truly important in life? What is my duty to neighbor? Let us be bold in our faith, in our love for each other, and in our peace. For this is truly the peace people long for: the peace of God and of knowing we are His beloved children.
---
Copyright 2020 Amanda Woodiel
About the Author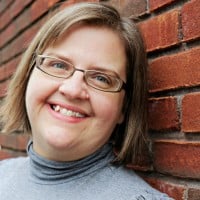 Amanda Woodiel is a Catholic convert, a mother to five children ages 11 to 3, a slipshod housekeeper, an enamored wife, and a "good enough" homeschooler who believes that the circumstances of her life -- both good and bad -- are pregnant with grace. She leads a moms' group at her parish that focuses on simple and meaningful ways to live the liturgical year at home. Amanda blogs at In a Place of Grace.