One powerful instrument of protection is, of course, the Rosary! Holy Cross Family Ministries is streaming the Rosary every day at 11:30 AM Eastern on their
Facebook
page with one of the Holy Cross priests. I have been praying it on my own each day, with a candle lit and inviting my family to join me, hoping my family comes out of this ordeal praying the Rosary together as Father Peyton always encouraged us to do -- for "A World at Prayer, is a World at Peace."
Please join in prayer!
Our Own Facebook Live Rosary: Monday, March 30
Join us Monday, March 30, at 1 PM Eastern as we pray the Rosary together on Facebook Live! The Mary, Mother of the Church Chapter of the Father Peyton Guild will pray the Rosary together during this Facebook Live event. To participate, visit Facebook.com/CatholicMomCommunity in time for the live event, or pray along with us afterward, whenever you can, by finding the live video in our Facebook feed! All are welcome to pray with us! I would be honored to include any of your special intentions when we pray the Rosary. Please just email them to me at dwyerm88@yahoo.com and I will be sure to include them at the beginning of the Rosary. With my kids all home, I am very much hoping to get my family to pray with me -- perhaps you could encourage yours to join us as well -- near or far. We look to the Blessed Mother to intercede for us, and to lead us closer to her son Jesus Christ and our heavenly home. Have courage and know that you are not alone! All of us are praying for you at Catholicmom and Holy Cross Family Ministries are praying for you.
Find out more!
Learn more about the Father Peyton Guild and find out how to join our virtual chapter: it's free! You will receive a welcome kit and regular communication on Father Peyton's cause for canonization. Allison Gingras and Margaret Dwyer Hogan discuss the Father Peyton Guild on Facebook Live.
---
Copyright 2020 Margaret Dwyer Hogan
About the Author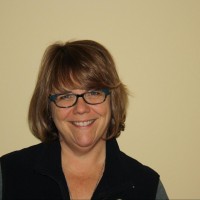 Margaret Dwyer Hogan is a mother of four, married for 20 plus years to Michael Hogan. In 1998 at the gentle invitation of a friend, she learned to pray the mysteries of the Rosary using a card published by Holy Cross Family Ministries. This led to a radical change in her family life. Margaret now promotes devotion to Family Rosary however she can! At CatholicMom.com, Margaret coordinates the Sunday Gospel Activities.