Image: By Mathis Volquardsen (2020), Pexels.com, CC0/PD[/caption] It has become quite a Lent for all of us. And yet, I have seen hope in ways I might never have noticed. Oh, the crocuses in the yard: Those give me hope and smiles every single year. Because February is the armpit of winter, and by the time the crocuses fight their way through the hard-packed earth and defy the cold by blooming, I'm READY for them. I told my husband, just the other day, that this fall, I'm going to make good on my promise to plant them everywhere on our property. But the amount of streaming Masses? I didn't expect that to fill my heart with so much hope. The images of drive-thru confessions and priests who are non-tech-savvy posting on YouTube? I would have never seen those coming. And the peace I have in the face of what may be the biggest terror I've ever faced? Knock me over with a feather, because that's a shock. I began Lent by committing to reading—slowly, not in my usual get-er-done way — The Imitation of Christ, by Thomas á Kempis. I stopped listening to audiobooks and tried to embrace silence in the odd moments, instead of filling that time with noise. And then the world broke. Life got still and chaotic and crazy. Our spring plans — which were many and varied and full — were canceled. Lent, it seemed, was going to be very, very, very long. But there were crocuses. On the second week of everyone at home — quarantined in a quite polite way, but we're not leaving — the daffodils exploded in my front bed, shouting yellow praises to the world. My kids have stripped them of their happy flowerbed home and put them in a vase for me.
Image: By Mathis Volquardsen (2020), Pexels.com, CC0/PD[/caption] In that act of love — and the knowledge they have of my love of these bright messages of hope — I am reminded of the fact that Holy Week is spitting distance away, that I have nothing for Easter baskets, that we probably won't be going anywhere for Easter anyway. "At least we didn't buy Easter outfits," my pragmatic fifteen-year-old remarked at dinner. "We can still dress up," I replied. Because, despite all of this — the pandemic, the fear, the statistics and possibilities and looming death — Easter will come. Jesus still died. And Jesus still rose. For two thousand years, Easter has come. For two thousand years, we have been an Easter people. In the face of plagues and persecution, despite treachery and sin, although we are all human — Easter. Has. Come. And Easter will come again. This year, and next year, and the next two thousand years. "Faith begins when we realize we are in need of salvation. We are not self-sufficient; by ourselves we flounder: we need the Lord, like ancient navigators needed the stars," Pope Francis said in his Urbi et Orbi blessing on March 27. And the Lord will come — has come — to each of us. Rest in that hope. Let him hold you in that hope. Embrace that hope.
Grant me your grace, O most merciful Jesus, that it may be with me, and work with me, and remain with me to the very end. Grant that I may always desire and will that which is most acceptable and pleasing to you. Let your will be mine. Let my will always follow yours and agree perfectly with it. Let my will be one with yours in willing and in not willing, and let me be unable to will or not will anything but what you will or do not will. Grant that I may die to all things in this world, and for your sake love to be despised and unknown in this life. Give me above all desires the desire to rest in you, and in you let my heart have peace. You are true peace of heart. You alone are its rest. Without you all things are difficult and troubled. In this peace, the selfsame that is in you, the Most High, the everlasting good, I will sleep and take my rest. Amen. (Thomas á Kempis, The Imitation of Christ)
---
Copyright 2020 Sarah Reinhard
This article contains Amazon affiliate links; your purchases through these links benefit the author.
About the Author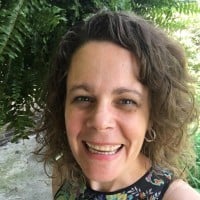 When she's not chasing kids, chugging coffee, or juggling work, Sarah Reinhard's usually trying to stay up read just one…more…chapter. She writes and works in the midst of rural farm life with little ones underfoot. She is part of the team for the award-winning Catholic Mom's Prayer Companion, as well as the author of a number of books. You can join her for a weekday take on Catholic life by subscribing to Three Shots and follow her writing at Snoring Scholar.