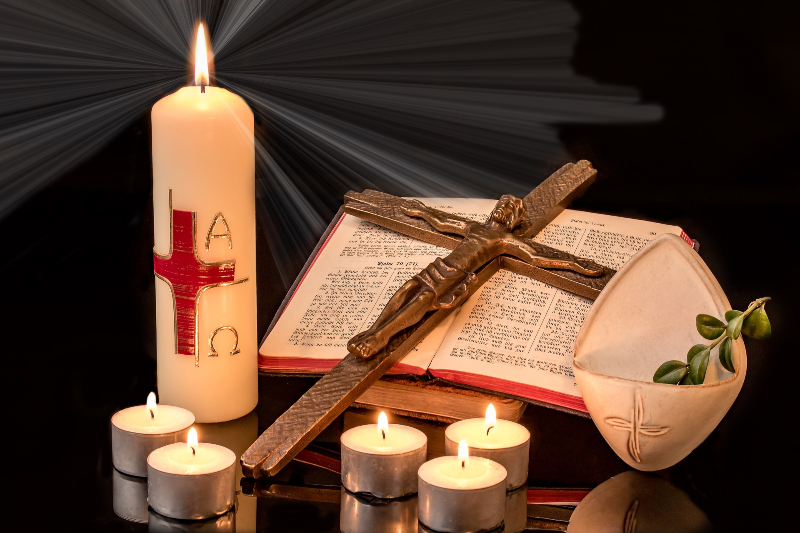 Image: Pixabay.com (2017), CC0/PD[/caption] In the final weeks of Lent, my grandmother passed away. She had suffered for many years and her death was not unexpected. What was unexpected was a global pandemic and the effect it has had on how we grieve and say goodbye. We were lucky that she was still able to have a small funeral Mass celebrated, and though we live many hours away, my little family gathered in the living room on Holy Tuesday for her funeral, live-streamed on YouTube. The birds-eye view drew my attention to things I'd not noticed about the funeral rite before, particularly the placement of the casket, covered in white cloth sitting before the lit Paschal Candle. My children asked about the white cloth and I tried to explain its connection to the white garment we receive at our baptism. And for the rest of the day I kept coming back to that image, and the reality that we are baptized not only in Christ's resurrection, but also his death.
"'[T]o baptize (Greek baptizein) means to "plunge" or "immerse"; the "plunge" into the water symbolizes the catechumen's burial into Christ's death, from which he rises up by resurrection with him, as "a new creature." (CCC 1214) Or are you unaware that we who were baptized into Christ Jesus were baptized into his death? We were indeed buried with him through baptism into death, so that, just as Christ was raised from the dead by the glory of the Father, we too might live in newness of life. (Romans: 6:3-4)
We celebrate the Paschal Mystery, which is the suffering, death and resurrection of Jesus, as one mystery. We can't separate them from each other. And we don't just celebrate this mystery, through our Baptism we are invited into this mystery. Now our suffering and death can be part of our redemption. It's why we can enter into Lent each year and take on our penances; we know that not only does Easter joy await us, but our sacrifices can be united with Jesus' on the cross. And it's why return year after year to the story of St. Thomas touching the wounds of the Risen Savior. We need to be reminded that they all exist together in the Paschal Mystery: the cross and the empty grave, the glorified body and the wounds. Our 40 days of Lent are behind us; we are now in the Easter Season. Alleluia! But, what if our Easter still feels very Lenten? What if our Easter celebration is bittersweet as we celebrate it while separated from family and friends, from our living rooms instead of our sanctuaries? What if on Easter Monday we found ourselves still wandering in the desert, anxious and overwhelmed? What if we are standing in front of the empty tomb but the tears of Good Friday still stream down our face? Sisters, take comfort. The Paschal Lamb is inviting us to a deeper understanding of what it means to be an Easter people. He invites us to ponder the wounds of his Glorified Body, to offer him our own wounds, and to let him redeem them.
---
Copyright 2020 Megan Swaim
About the Author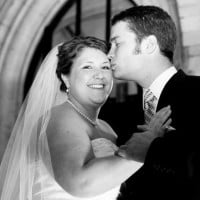 Megan Swaim is an Indiana girl on an east coast adventure. A former high school youth minister, she now gets to minister full-time to her three young daughters and her husband Josh. Megan spends her days homeschooling at the kitchen table, drinking iced coffee, and exploring coastal Virginia.