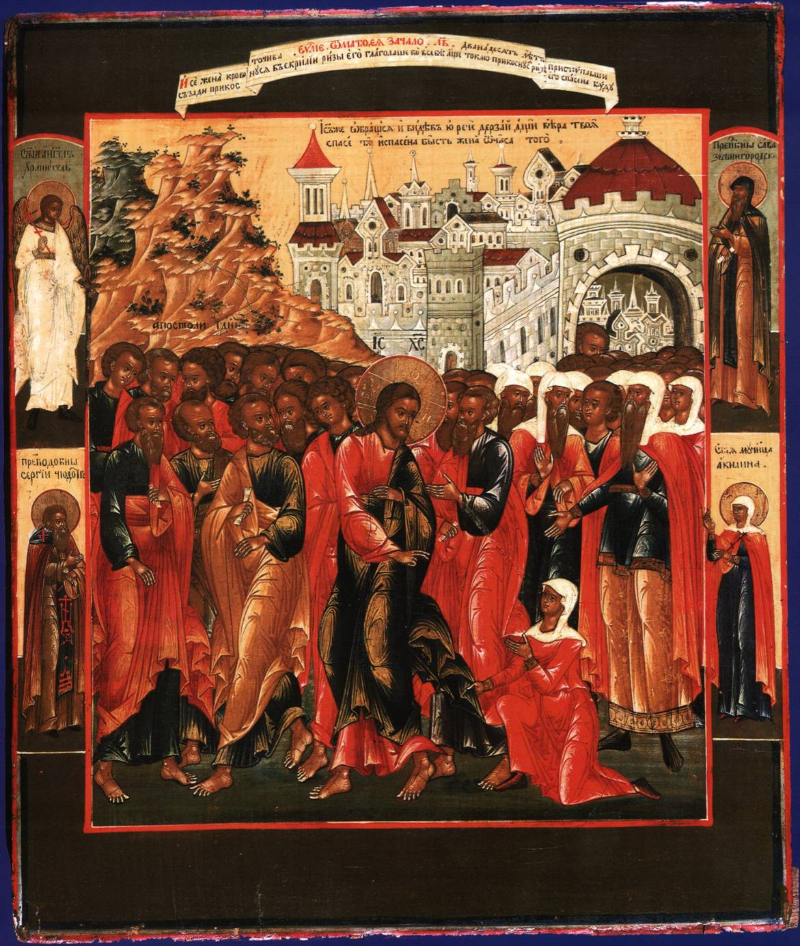 [caption id="attachment_170625" align="aligncenter" width="800"]
By anonimus master from Mstera - [1], Public Domain, Wikimedia Commons[/caption]There is a story about a woman who was in such pain and suffering from her sin that she accosted a priest on the street and begged him to hear her confession right then and there. She had been quarantined due to a medical condition, but her soul needed healing. Confession was her last hope. He was rushing on his way to administer last rites to the daughter of a friend and didn't hear her plea as much as he sensed her trouble, her woundedness. He stopped long enough to hear her confession, for her to show him her wounds. He assured her of her healing with the sweet balm that is absolution. It was a simple interaction that changed her life forever. She went home healed, able to dream and plan for her new normal.
Of course, this is a modern retelling of Mark 5:25-34 and Luke 8:43-48, the story of the hemorrhaging woman. It's a story we've read or heard about many times over the years. It's a story about a woman who is ill in a way that deems her to be unclean, unfit, sinful. And while we mostly understand this to be a story about how faith saves her, heals her, makes her well, I am struck in re-reading it by how closely her encounter with Christ models the sacrament of confession.
Moreover, I am shocked by how much I am she.
This woman had tried to heal using what the world had to offer her. How many times in my own life have I done this? When my wounds are too much to bear, I go for what I think are the safe, quick fixes of the world: tv, food, alcohol, attention seeking behavior, anything to push the wound deeper and not really deal with it. The world failed her, and it sure hasn't done much for me lately.
But, then Jesus.
The Catechism of the Catholic Church states that sin "wounds the nature of man and injures human solidarity" [1849]. If sin is something that wounds and injures us, confession is a place of cleansing, a place where we come clean so to speak. Confession exposes our wounds to love. That healing of our wounds begins with the balm that are the words of absolution imparted on us in the confessional by our priest who is personae Christe.
In these weird and trying times, I, like the rest of world have suddenly found myself with too much time on my hands, and for better or worse all that time has given the thoughts in my head plenty of room to both bloom – and fester. New ideas, which fuel my excitement for creating next steps for my new normal have quickly been crushed by old wounds and new ones in the form of self-doubt and fear, anxiety and sloth. This too much time then and no regular access to the Eucharist have left my soul in a state of disrepair, which is a slippery slope to despondency and despair. The absence of hope is not a healthy place to dwell. The absence of hope keeps our sins hidden; our wounds thus unhealed. Lack of hope keeps us tethered to the lies of our past; hope unbinds us and propels us forward.
Would that I look at my sins as Jesus does: as wounds rather than just awful behavior and a list of wrongdoings of which I should be ashamed. Would that I seek, as did the hemorrhaging woman, at all costs of social shame and embarrassment, that healing I desperately need. After all, it's the wounds that I carry that Satan uses to keep me back, to keep me quiet and in a fearful place. Satan knows those wounds so well because he helped them come about in me in the first place. Much like the woman in these gospels I am afraid my wounds will repulse our Lord. But desperate times call for desperate measures and deep down I know that if I am to truly heal, fully becoming who God created me to be, I need to show Him my wounds. I need what she experienced.
[caption id="attachment_170627" align="aligncenter" width="735"]
Copyright 2020 Laura K. Roland. All rights reserved.[/caption]
We all will no doubt experience a different Easter this year. No public Mass, no Eucharist, no community gathering in person. And yet I know in my heart of hearts, I can't let that stop me from getting well. I must, like the hemorrhaging woman, find a way to push through the crowds and find Jesus. She found him on the street. I meet Him in the confessional.
[tweet "I must, like the hemorrhaging woman, find a way to push through the crowds and find Jesus. By @encountergrace1"]
Seek and find. Unbind and be well. Confess and be healed.
---
Copyright 2020 Laura K. Roland
About the Author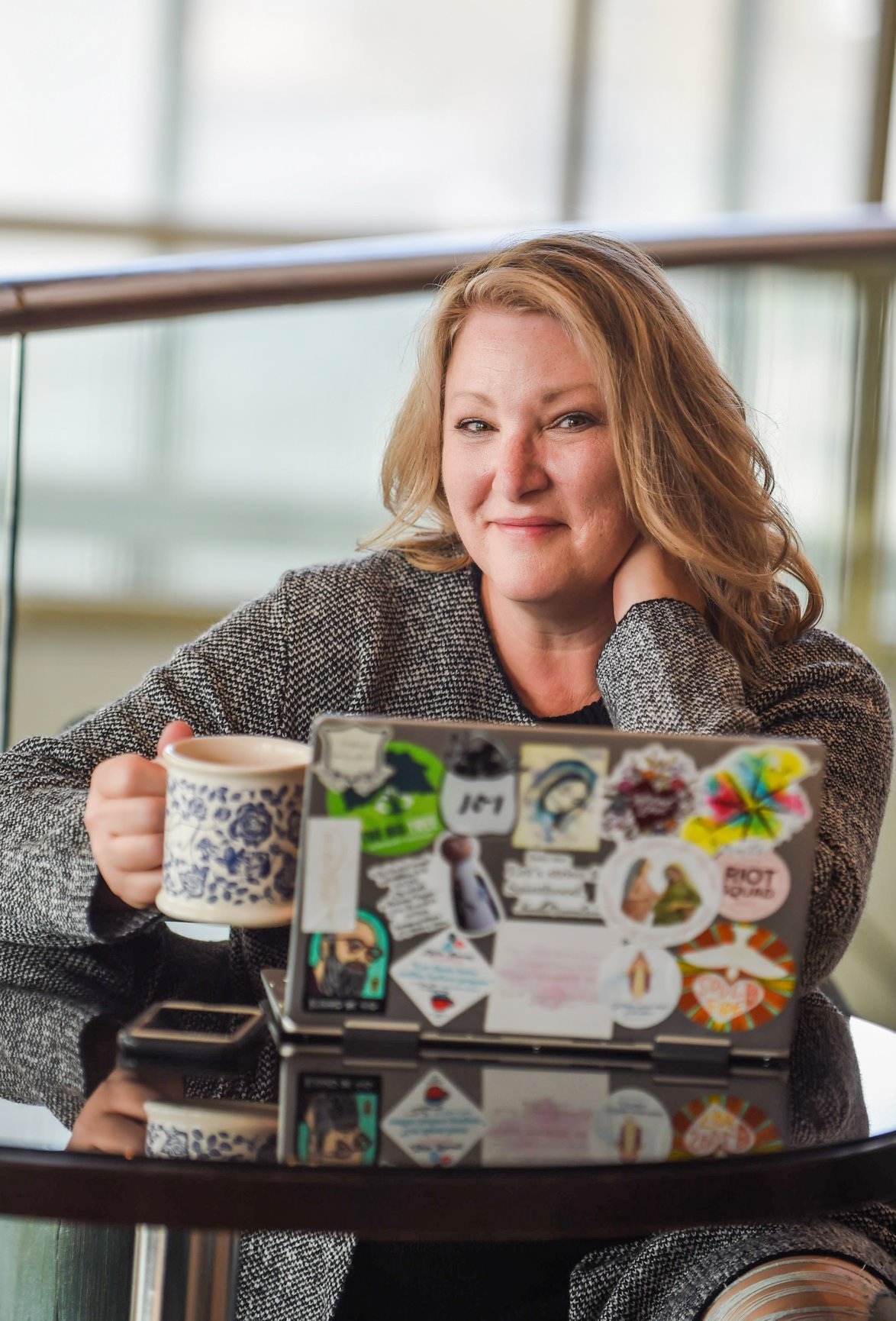 Laura K. Roland is a cradle Catholic. She and her husband of 31+ years have 3 children and have recently added a son-in-law and a daughter-in-law to their ever-growing family. A former Catholic educator, she co-founded the women's ministry Encounter Grace in 2018 and is a speaker, writer, mentor, and host of the new podcast, Short Story Longer.