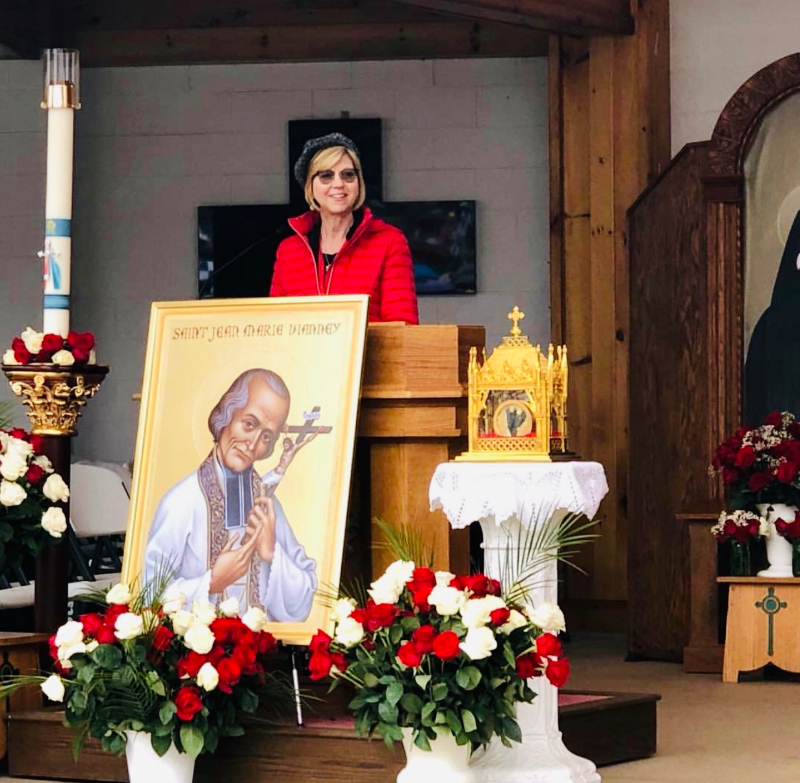 [caption id="attachment_170770" align="aligncenter" width="800"]
Copyright 2019 Donna-Marie Cooper O'Boyle. All rights reserved.[/caption]
We are in the midst of praying our Novena to Divine Mercy and Divine Mercy Sunday is rapidly approaching. With most all churches closed right now due to the worldwide pandemic, how do we prepare? How can we receive the special blessings and indulgences?
I will get to that shortly.
First, I'll share something from last year's Divine Mercy Sunday at the National Shrine of Divine Mercy in Stockbridge, Massachusetts. I was invited to give a speech about St. Faustina and Divine Mercy to an audience of about 20,000. It was a frigid day in the Berkshires. Nevertheless, I felt unbelievably blessed to be there and to share about my friend St. Faustina, once a simple freckle-faced Polish farm girl who was called by God to tell the world about God's unfathomable Divine Mercy.
[caption id="attachment_170771" align="aligncenter" width="800"]
Copyright 2019 Donna-Marie Cooper O'Boyle. All rights reserved.[/caption]
Those of us on the stage there, where the main altar is situated were using hand warmers to prevent frostbite. I was wearing many layers, two coats, big clunky boots, and gloves and a hat. Yet, I and others were still shivering in the cold. Nonetheless, the bitter cold couldn't deter us—God's graces seemed just about palpable on that special day.
As Fr. Donald Calloway, MIC finished up his speech, I quickly shed one of my coats, and after I was introduced to the audience, I quickly approached the podium.
Here is my short speech in case you'd like to take a listen.
You can see the image of St. John Vianney in front of the podium. That is because the relic of the esteemed Saint's heart had made its way to the Shrine at that time. It's on that pedestal on the right. What a blessing to be so near to it and have the chance to venerate it earlier.
[tweet "Encouragement for celebrating #DivineMercySunday in our own homes, taking comfort in God's promises. By @DonnaMarieCOB"]
Divine Mercy Sunday 2020
[caption id="attachment_170769" align="aligncenter" width="800"]
Image courtesy of the Marian Fathers and Fr. Chris Alar. All rights reserved. Used with permission.[/caption]
This year, Divine Mercy Sunday will be very different from those we have experienced in the past. However, Fr. Chris Alar, MIC, tells us not to be discouraged and not to worry. He gives us concrete straightforward instructions and helps us by telling us what we can do differently this Sunday (April 19, 2020) to make it a most important day in our life in receiving the Extraordinary Promise Jesus offers us on Divine Mercy Sunday.
Fr. Chris Alar, MIC instructs:
Do these three things on Divine Mercy Sunday with the intention to turn away from sin in your life:
Make an Act of Contrition
Since you are unable to get to Confession, make an Act of Contrition, instead. As the Catechism of the Catholic Church states, "Among the penitent's acts contrition occupies first place. Contrition is 'sorrow of the soul and detestation for the sin committed, together with the resolution not to sin again'" (1451).
You thereby will be completely forgiven of all sins, even "mortal sins if it includes the firm resolution to have recourse to sacramental confession as soon as possible" (Catechism, 1452).
Make a Spiritual Communion
Since churches are closed and you cannot receive Holy Communion, make a Spiritual Communion instead, asking God to come into your heart as if you received Him sacramentally — Body, Blood, Soul, and Divinity. For instance, you can say this:
Act of Spiritual Communion

My Jesus, I believe that You are present in the Blessed Sacrament.

I love You above all things and I desire You in my soul.

Since I cannot now receive You sacramentally,

come at least spiritually into my heart.

As though You were already there,

I embrace You and unite myself to You;

permit not that I should ever be separated from You.

Amen.
Again, do this act of trust with the intent to return to the sacrament of Holy Communion as soon as possible.
Lord Jesus Christ, You promised St. Faustina that the soul that has been to Confession [I'm unable, but I made an Act of Contrition] and the soul that receives Holy Communion [I'm unable, but I made a Spiritual Communion] will receive the complete forgiveness of all sins and punishment. Please, Lord Jesus Christ, give me this grace.
But there's much more that he has to tell us, and I encourage you to read the entire article.
As well, please watch Fr. Alar's video below.
Please also share this post to help others to prepare for Divine Mercy Sunday.
Jesus, we trust in YOU! Pray for the graces! God bless you and your family!
---
Copyright 2020 Donna-Marie Cooper O'Boyle
About the Author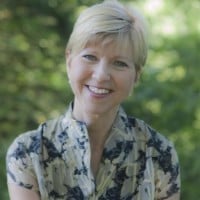 Donna-Marie Cooper O'Boyle is a Catholic wife, mother, grandmother, international speaker, pilgrimage leader, award-winning journalist, and author of over 30 books. She knew Mother Teresa, participated in a Vatican congress, and St. John Paul II blessed her work on Mother Teresa. She writes for L'Osservatore Romano, National Catholic Register, Magnificat magazine, Our Sunday Visitor Newsweekly, Catholic World Report, and more. Visit DonnaCooperOBoyle.com.