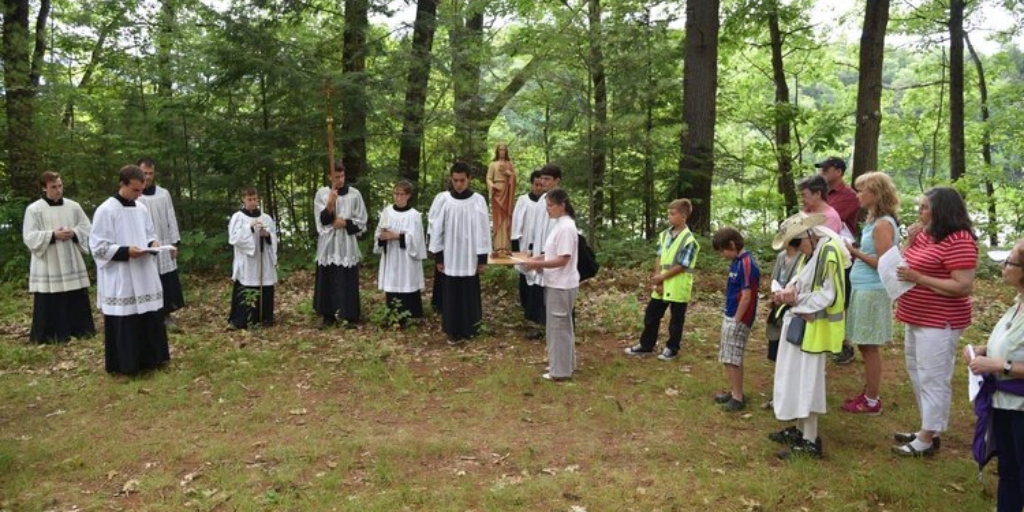 Kathryn Swegart describes her pilgrimage to the site of the 18th-century martyrdom of Fr. Sebastian Rale, the subject of one of her books.
I stood in the dazzling summer sun and watched the Kennebec River flow over rocks, weaving its way from Moosehead Lake in the north to Bath, Maine where it empties into the Atlantic Ocean. Other pilgrims gathered with me as we honored Father Sebastian Rale (1652-1724). We all were on a pilgrimage to remember a heroic Jesuit who lived among the Abenaki people for thirty years and was massacred by British militia on August 24, 1724. On that day, the Kennebec River ran red with blood as Abenaki men, women and children fled deadly shots fired by the British. An estimated 80 Abenaki were killed, some who stood before muskets to protect their beloved pastor.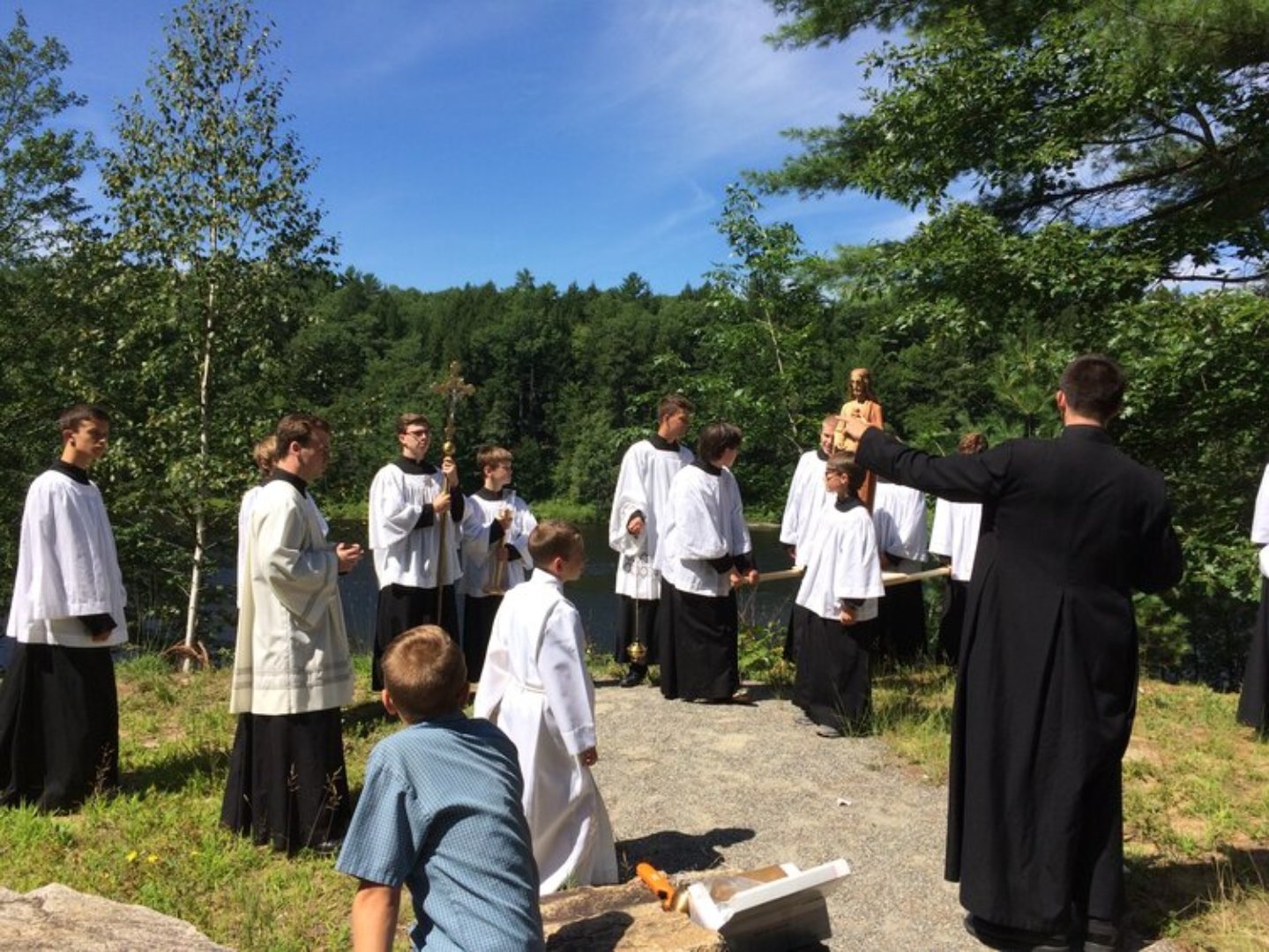 In researching my book, Martyrs, I read many letters written by the brave Jesuit, whose cause for beatification is under consideration. Every letter reveals his love for the Abenaki people and their love for him. All evidence points to British hatred toward this refined Jesuit, trained in the finest universities in France, friend of the Abenakis for thirty years. Father Rale became a lightning rod for hatred by the British in Boston who published pamphlets declaring Rale to be in league with the devil. A price of 200 pounds was put on his head. The British wanted his scalp, and they were determined to get it. Here is an account of one failed attempt to kill the priest, taken from a letter Father Rale wrote to his nephew. It was a surprise attack.
I had only time to consume hosts, to enclose sacred vessels in a small box, and to escape into the woods. I still experienced great weakness caused by a fall in which some years ago my thigh and leg were broken. It was not possible for me to run very far.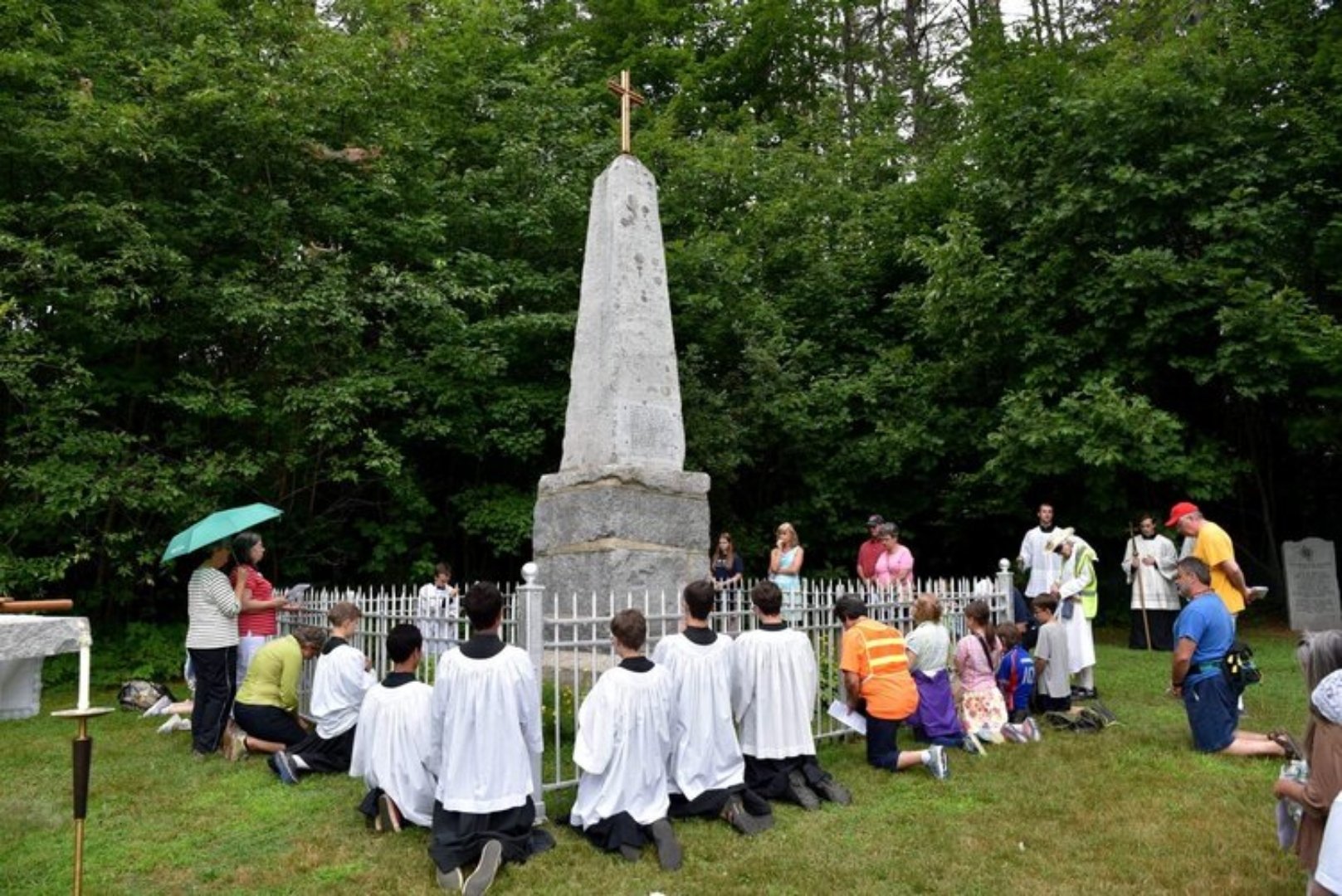 Father Rale hid behind a tree while British soldiers prowled near him, muskets in hand.
(The British) came within eight steps of the tree that was sheltering me, where naturally they must have perceived me, for the trees had shed their leaves, nevertheless, as if driven away by an invisible hand, they suddenly retraced their steps, and again took the way to the Village.
Miraculously, Rale escaped death. The British pillaged his house and the church "thereby reducing me to (near) death from starvation in the midst of the woods."
On the day of our pilgrimage, many of Father Rales' letters were read to us as we followed a path near the Kennebec River. We ended at a tall granite memorial marking the spot where the Jesuit is believed to be buried. On the site where he died, a sacristan read a description of Father Rales' death. He heard clamor, left his cabin, and stood before the enemy. Musket shots rained down on him and he fell at the foot of a large cross that had been erected in the village.
On this peaceful summer day, I closed my eyes and imagined this scene. Blood had drenched the grass where I now stood, still inspired by the life and death of Father Sebastian Rale.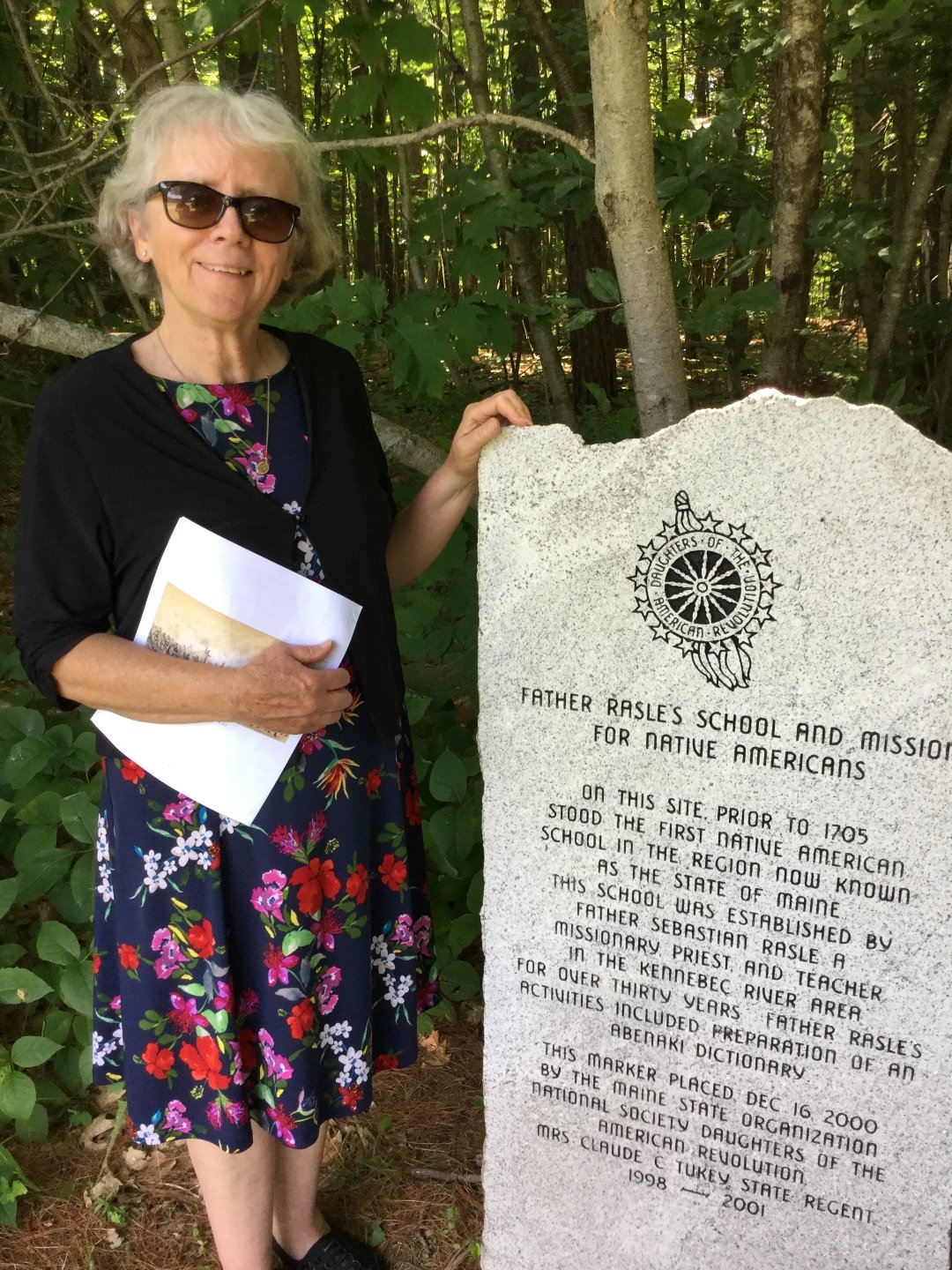 ---
Copyright 2021 Kathryn Swegart
Images: photo of the author copyright 2021 Kathryn Swegart, all rights reserved. All others courtesy of FriendsOfFrRale.org, all rights reserved, used with permission.
About the Author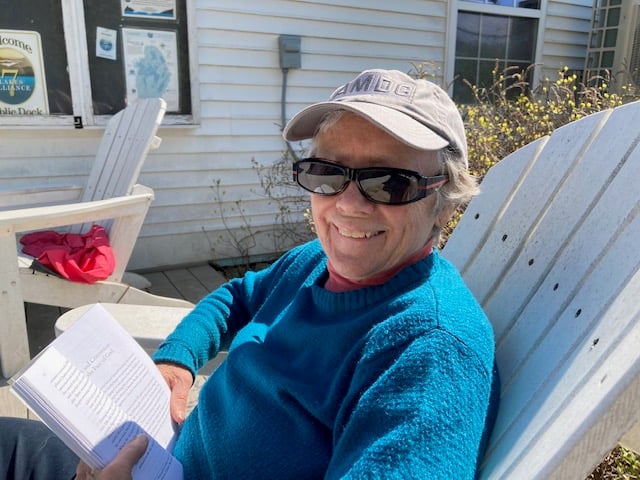 Kathryn Griffin Swegart and her husband raised three children on a small farm in rural Maine. Kathryn, a professed member of the Secular Franciscan Order, is the author of the bestseller Heavenly Hosts: Eucharistic Miracles for Kids Visit her website at KathrynSwegart.com.