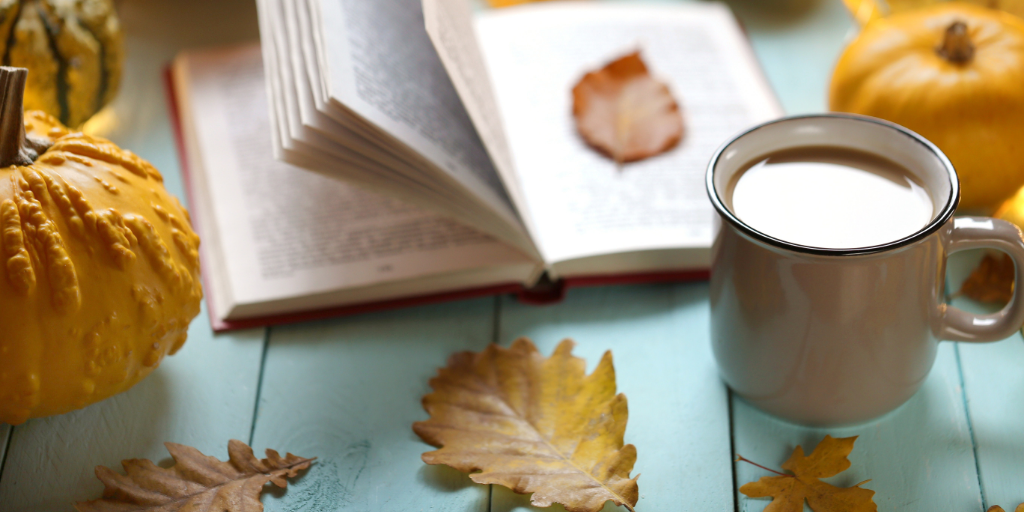 Carolyn Astfalk hosts the Open Book linkup: Share what you're reading and get recommendations from other readers.
Welcome to the October 2022 edition of An Open Book, hosted both at My Scribbler's Heart AND Catholicmom.com.
An Open Book is all about what my family is reading this month, from the adults down to the little kids.
Share what you're reading by linking up your blog post below. Simply write about what you're reading. You can make it personal or, as I do, extend it to the whole family. Your post can be as simple as a few lines about the book or as in-depth as a 700-word review. That's entirely up to you. You can even forego writing all together and record a video or simply post cover photos.
No blog? No problem. Please share what you're reading in the comments.
Click to tweet:
What are you (or your family) reading this month? Share in the #AnOpenBook linkup #catholicmom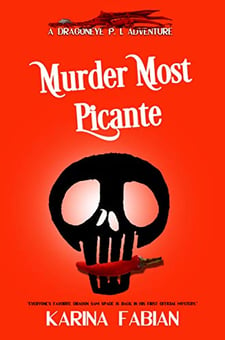 A cozy mystery. A fantastical dragon story. A comedy. Theologically-sound Catholic fiction. Murder Most Picante by Karina Fabian is all of these and more. I'm thoroughly enjoying the author's humor delivered via Vern the Dragon's first-person account of his trials in the world of the Mundane. (That's where we live.) Smart, short, and entertaining. Now I know what all the fuss about Vern is for!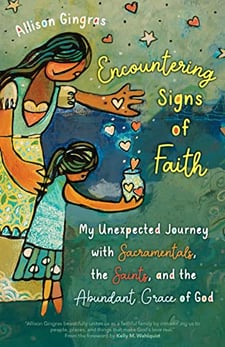 I'm a couple of chapters in to Encountering Signs of Faith: My Unexpected Journey with Sacramentals, Saints, and the Abundant Grace of God by Allison Gingras (soon to be released from Ave Maria Press). It's a cohesive blend of the author's experience adopting a profoundly deaf daughter from China, the Church's sacramentals, and the saints. It starts with probably my favorite sacramental: the Miraculous Medal. I'm looking forward to learning more about some sacramentals I may be less familiar with.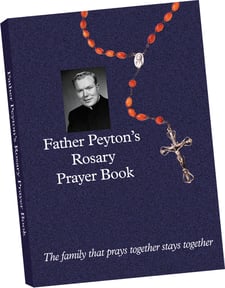 Since I received a copy of Father Peyton's Rosary Prayer Book: The Family the Prays Together Stays Together by Fr. Patrick Peyton, C.S.C., I've been taking it to weekly Eucharistic Adoration, when I have time to concentrate on the Rosary. Don't get me wrong—I'm distracted at Adoration too, but possibly less so than in other places as I'm not rushed. This book fits so nicely in my hands, and with its short reflections, slows me down and helps keep me on track. I highlight lines that I want to contemplate and spend some minutes mulling over or return to later.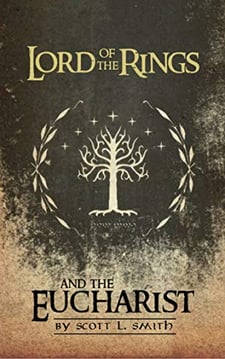 My husband has been reading The Lord of the Rings and the Eucharist by Scott L. Smith. As you'd likely guess from the title, the author examines author J.R.R. Tolkien's devotion to the Eucharist and its significance in his novels, particularly the Lord of the Rings series. I don't think my husband's very far into the book, so it's hard to say how this book fares in comparison to others that address Tolkien's Catholicism as woven throughout his work.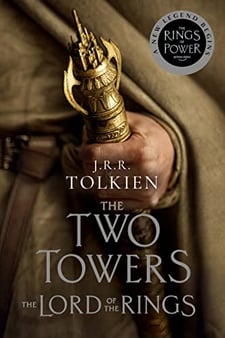 My oldest son has been reading The Two Towers, also by J.R.R. Tolkien. I think the anticipation of Amazon's Rings of Power series spurred his interest in reading the book after he'd listened to the first book of the trilogy, The Fellowship of the Ring, on audiobook. He's enjoyed the books much more than Amazon's LOTR-inspired series, The Rings of Power. While it's visually appealing, he's not enjoyed the TV series. (I asked why he keeps watching, and he says it's like a train wreck. He can't look away.)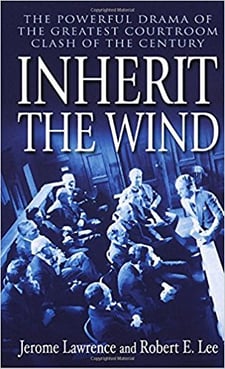 I last mentioned Inherit the Wind: The Powerful Drama of the Greatest Courtroom Clash of the Century by Jerome Lawrence and Robert E. Lee in 2017, when my oldest son read it. My daughter is now reading it for her Humanities class, which blends perfectly with her history studies. Some of her friends are also cast in the school's fall production of the play, so she'll truly be able to appreciate this story and its context. The play is based on the 1925 Scopes Monkey Trial regarding a teacher accused of teaching the theory of evolution.
In addition to reading some books I've already shared here as her older siblings read them, my fifth-grade daughter is reading I Survived the Great Molasses Flood, 1919 by Lauren Tarshis. I don't know how I made it to my forties without hearing of this disaster, but I've been absolutely fascinated by it since. (If you know a good book for adults on the subject, please share!) If you're unfamiliar, the flood occurred in Boston when 2.4 million gallons of molasses rushed through the streets. Twenty-one people died and 150 suffered injuries. Weird, wild stuff.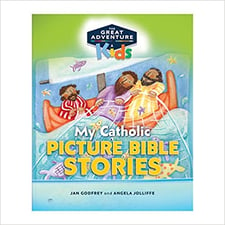 Ascension Press publishes many sturdy, colorful, useable books for young Catholic children. My Catholic Picture Bible Stories by Jan Godfrey and Angela Jolliffe includes one- to two-page Bible stories with big, bright illustrations to capture the attention of the littlest kids. They're organized and color-coded according to Ascension's Great Adventure Bible timeline. It can serve as a great introduction to the best-known stories and characters of the Bible from both the Old and New Testaments.
You can also sign up for An Open Book reminder email, which goes out one week before the link-up.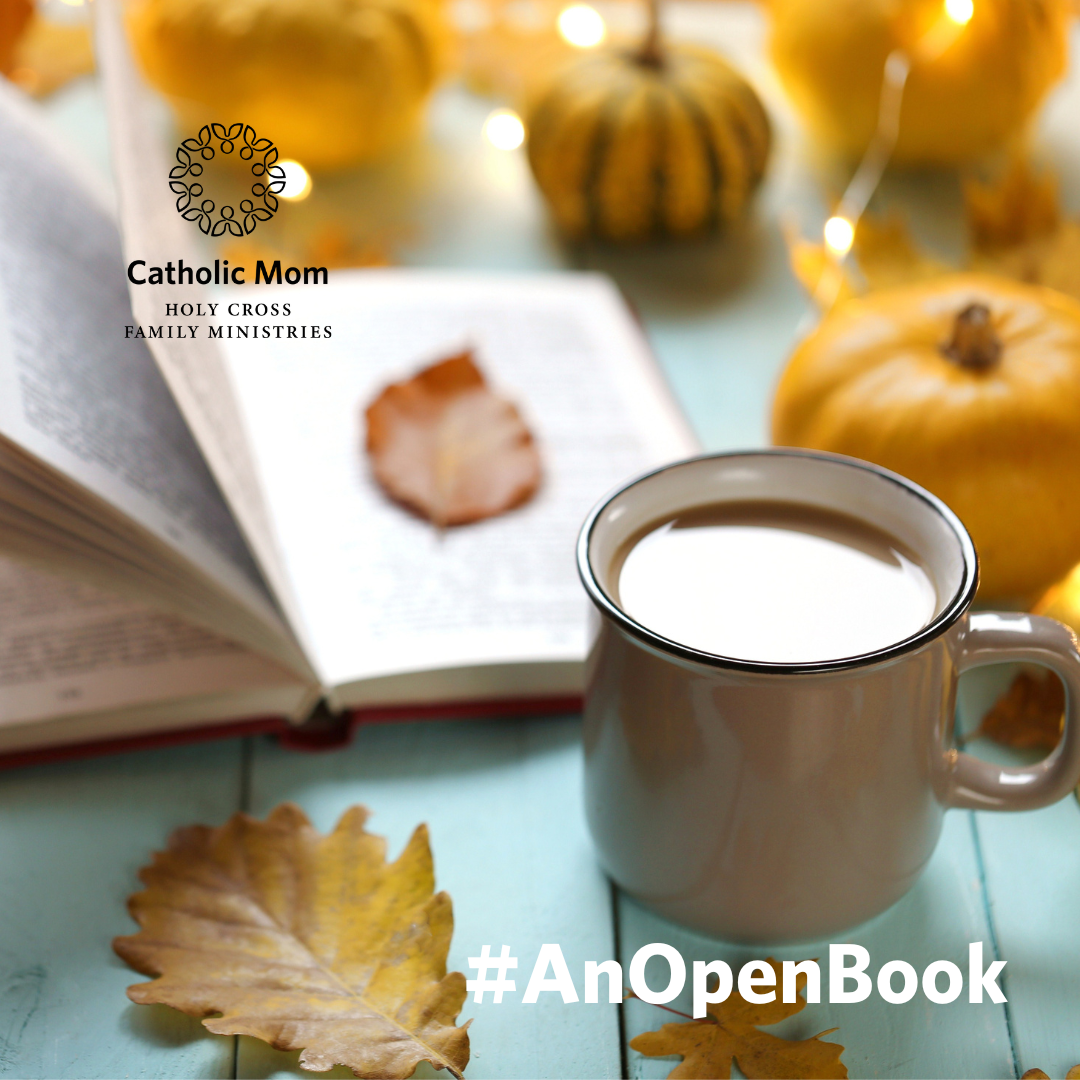 ---
Copyright 2022 Carolyn Astfalk
This article contains Amazon affiliate links; your purchases through these links benefit the author.
Image: Canva
About the Author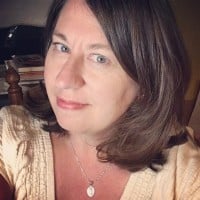 Carolyn Astfalk is a wife, mother of four young children, and a writer. Her contemporary Catholic romances are available at Amazon.com. She is a member of the Catholic Writers Guild, a Catholic Teen Books author, and blogs at My Scribbler's Heart. Visit CarolynAstfalk.com.