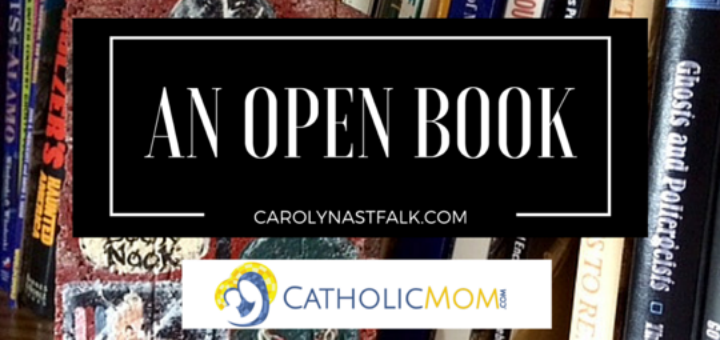 Welcome to the December 2016 edition of An Open Book, now hosted both at My Scribbler's Heart AND Catholicmom.com!
An Open Book is all about what my family is reading this month, from the adults down to the little kids. Share what you're reading by linking up your blog post below. Simply write about what you're reading. You can make it personal or, as I do, extend it to the whole family. Your post can be as simple as a few lines about the book or as in-depth as a 700-word review. That's entirely up to you. You can even forego writing all together and record a video or simply post cover photos.
No blog? No problem. Please share what you're reading in the comments.
[Tweet "Join #OpenBook linkup + share your current reads! Hosted by @CMAstfalk + @CatholicMomWeb"]
Now that December has arrived, the days are shorter and, at least it seems, busier! Despite the Christmas preparations, I love spending some extra minutes reading this time of year. Not much better than a good book, a warm blanket, and a hot cup of herbal tea. I'll spare you my envy of a roaring fireplace and simply be grateful for a warm house on a cold night.

My husband's between books, so I had to consult his to-be-read pile, and find out what he'd be reading next. Not sure if he's trying to score brownie points, but he said he wants to read my book, Ornamental Graces, next. 'Tis the season for Christmas romance and all. He's also eager to read a book he bought from the rack in the narthex of our church:
Love-Powered Parenting by Tom and Chaundel Holladay. It centers around six parenting principles: priorities, love, words, discipline and compassion, serving, and unselfishness. I don't know precisely why my husband picked this up, but what family couldn't use more love and unselfishness? Especially with us old, tired parents at the helm.

Sandwiched between books three and four of The Lunar Chronicles by Marissa Meyer (Cress and Winter), I snuck in two short Christmas reads. The first is 12 Days of Snowmen by Sarah Monzon. I've yet to read her novels, which are in my to-be-read pile, but this short was enough to solidify their place there. Like one of those puffy, red- and white-striped Christmas peppermints, this story is short and sweet. It'll dissolve quickly because at this length there's not a whole lot of substance, but sometimes that's what this busy Advent season requires. I followed that with Melissa Tagg's

One Enchanted Eve, which is the second in a series of Christmas romance novellas. I enjoyed One Enchanted Christmas last year, and this year's installment didn't disappoint. Hero Colin Renwycke is a simply a fun character, and I enjoyed revisiting his family's Iowa farm and following his story as he grows into the man he wants to be, falling in love with uptight culinary instructor/recipe stickler Rylan. I'm already looking forward to the third book in this series, which I expect will be available this time next year.

My eighth-grader's class is reading Charles Dickens' A Christmas Carol together.

How sad is it that I've never read that? Even though my husband bought me a lovely hardbound collection of Charles Dickens' Stories for Christmas to read aloud to the children years ago. Maybe I need to pull that book off of the shelf. My son's also reading a DK biography of Thomas Edison by Jan Adkins.I also just picked up Michael Vey 6: Fall of Hades by Richard Paul Evans from our local library, and I'm sure he's going to tear through that in no time.

I'm so happy to be digging out our Laura Ingalls Wilder books from the attic. My eight-year-old started reading Little House in the Big Woods after Thanksgiving. Best conversation starter in that book: how pig bladders apparently make good balloon-like toys! My daughter seems fixated on the fact that baby Carrie doesn't have a larger part in the story and would Ma just do something with that little girl. At least her preoccupation doesn't seem to be diminishing her enjoyment.

I'm having a hard time pulling the littlest ones away from the Skippyjon Jones books. After we met the author, Judy Schachner, at our library last month, we've been reading Snow What nonstop. I don't mind. It's a fun read aloud, and the author event was quite nice.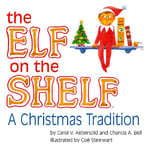 With the advent of Advent, I was able to persuade them to read The Elf on the Shelf by Carol V. Aebersold and Chanda A. Bell a few nights to help them remember the "rules" to our elf game. (By the way, the Q&A on this product is hilarious.)
[inlinkz_linkup id=681290 mode=1]
Want more details on An Open Book? You can also sign up for An Open Book reminder email, which goes out one week before the link-up.
Your purchase of the books mentioned here through our Amazon affiliate links help to support CatholicMom.com at no cost to you!
Check out the archives of An Open Book!
Copyright 2016 Carolyn Astfalk
About the Author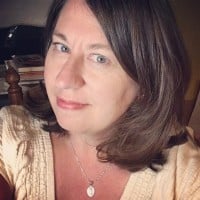 Carolyn Astfalk is a wife, mother of four young children, and a writer. Her contemporary Catholic romances are available at Amazon.com. She is a member of the Catholic Writers Guild, a Catholic Teen Books author, and blogs at My Scribbler's Heart. Visit CarolynAstfalk.com.