Sherry Hayes-Peirce recounts stories from a recent opportunity to be an "angel" for the elderly members of her parish.
As I sat in the Vigil Mass for the Solemnity of the Immaculate Conception last week, my mind was swirling with all the things I had said "Yes" to for this month - while listening to the Gospel about Mary's "yes" to the Lord.
The next day one of my sisters in Christ posted on her Facebook page a reflection about angels appearing in our lives and how we respond. Then I listened to my Advent reflections that also focused on answering God's calls to us.
My parish, like many others across the country, is grappling with how to celebrate Christmas in new ways in response to the current guidelines in place for our state. An example of this is our annual senior dinner. Clearly, with the attendees being the most at risk of contracting COVID-19 we had to re-imagine the experience and mobilize volunteers. Instead of them coming to the parish for a dinner, the parish would come to their front door with a Christmas dinner.
When the call went out for volunteers not only did I say "yes," but offered a "yes" for my husband too! Our 83-year-old pastor who contracted and survived COVID19 visits our seniors daily in their homes and in hospitals. He regularly shares with us how lonely and isolated they feel living through this challenging time. His stories inspired me to say "yes" to this volunteer experience.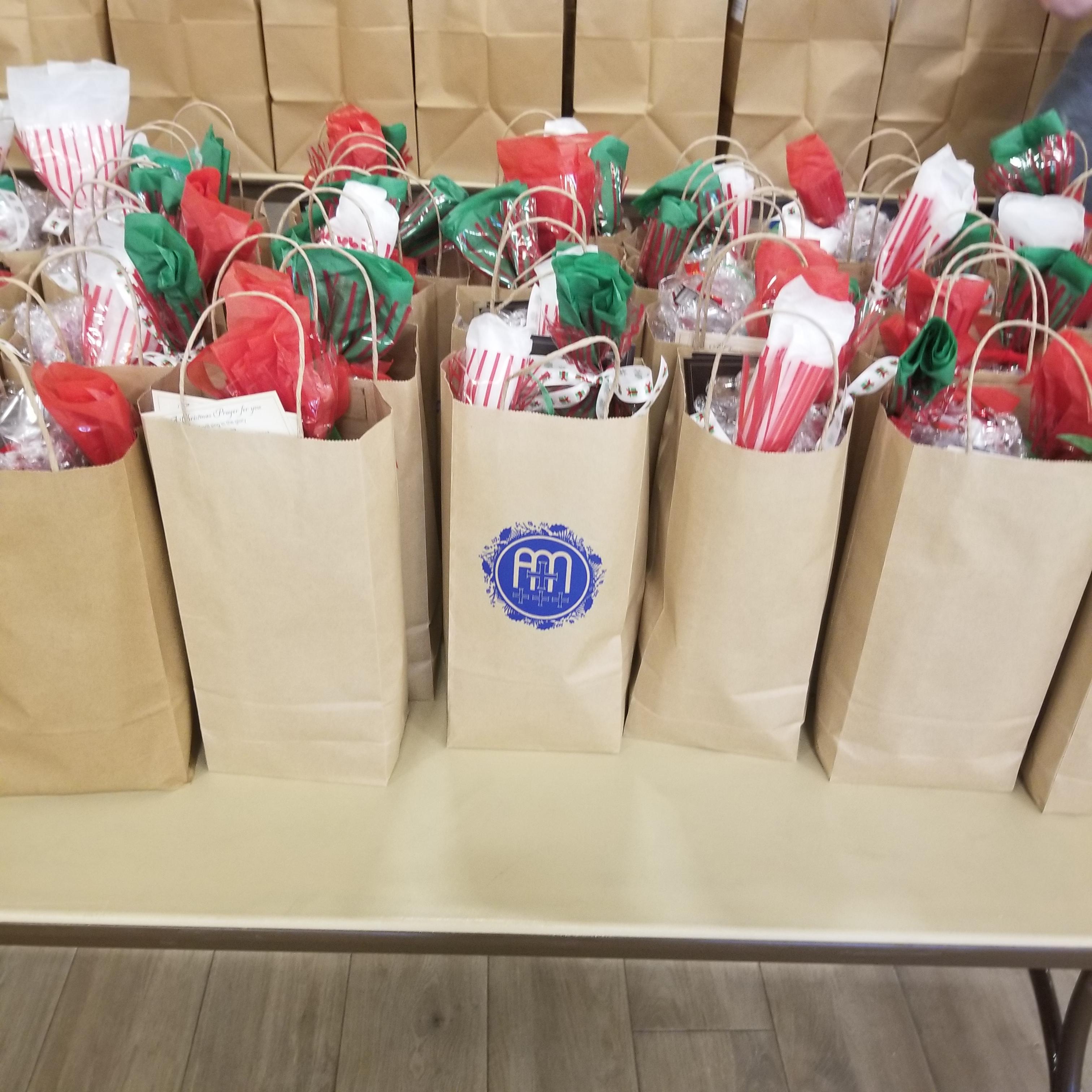 So, the evening arrived for us to load up our car with our eight bags filled with a turkey dinner with all the trimmings, sweets, spirits, and gifts to celebrate Christmas, delivered by messengers dubbed angels and elves. The first stop was a lady in her 90s, and she answered the door with a beautiful smile and when I announced where I was from and showed her the bag she said, "I have a thank you note already written." Then she went back into the house to look for it, but couldn't find it.
I told her that it was okay; we were just so happy to provide a little Christmas cheer. She continued to fret about the thank you note and promised that she would get it to her neighbor who had requested the meal for her, as she wasn't a member of our parish.
My next stop was to a parishioner whom I knew, and she was so happy to see me and was so thankful to receive the package, again her smile warmed my heart so much. Next on my route was to another lady who was not a member of our parish, but really appreciated the visit. She tried to give me a tip, which I obviously declined. Her little apartment was decorated with poinsettia plants and Christmas figurines, but no tree. She said, "I am so scared of getting the virus, and if it wasn't for sports on TV to watch, I'd be stir crazy."
My phone was buzzing, because my husband who was driving thought I was taking too long, but I ignored it as she talked about how she wishes things would be safe again -- she misses being with people. As I turned to leave, I reminded her about the NFL game the next day and she asked me who was playing and I told her the Rams vs. Patriots. She smiled very brightly as she said "Oh, that will be a good one!"
I said "Merry Christmas," and she said, "God bless you, dear, and be safe."
The last stop was a senior living complex and I knew all four of the people receiving the deliveries. Each of them pre-covid were daily Mass attendee,s and one had just retired as the cook for the priests at the rectory. The former cook invited me into her home and showed us the beautiful little tree she had decorated and she was all decked out to celebrate like she was attending the event in person. I introduced her to my husband, and she thanked us both for coming and she cried a little as she shared how much she missed cooking for the priests after doing it for 30 years.
The last delivery sparked a total emotional breakdown! On the door was a picture of the Divine Mercy Jesus with the words "Jesus I trust in You." I knocked on the door a number of times before the little lady answered the door. She opened the door and she immediately started to tear up and she said, "You are the lady with the Divine Mercy mask." She said that she remembered me wearing it at Mass and she was so scared to be out and risk getting covid, but when she saw my mask, she knew she was going to be safe. Wow! I presented the bag and she just started to thank me and my husband for coming, she appreciated it so much. She apologized for not being able to invite us in but, I interjected, "You want to be safe -- and we want you to be, too." I said "Merry Christmas, and I will see you at Mass one day soon," and left.
As my husband and I drove home for me to join a Zoom meeting with one of my parish small groups, my heart and mind began to settle into a calm place that helped me shed the feelings of anxiety and stress surrounding saying "yes" to too many things!
CLICK TO TWEET
Sometimes, like Mary, we women of God don't understand how we can do something we are called to do. #catholicmom
Sometimes, like Mary, we women of God don't understand how we can do something we are called to do. What is God inviting you to do? Trust if He asks, He will give you what you need to complete what is being asked of you. I learned this week that to eight seniors my presence at their door was akin to an angel appearing at their door. My "Yes" made me a messenger of God for a day!
Merry Christmas!
---
Copyright 2020 Sherry Hayes-Peirce
Image copyright 2020 Sherry Hayes-Peirce. All rights reserved.
About the Author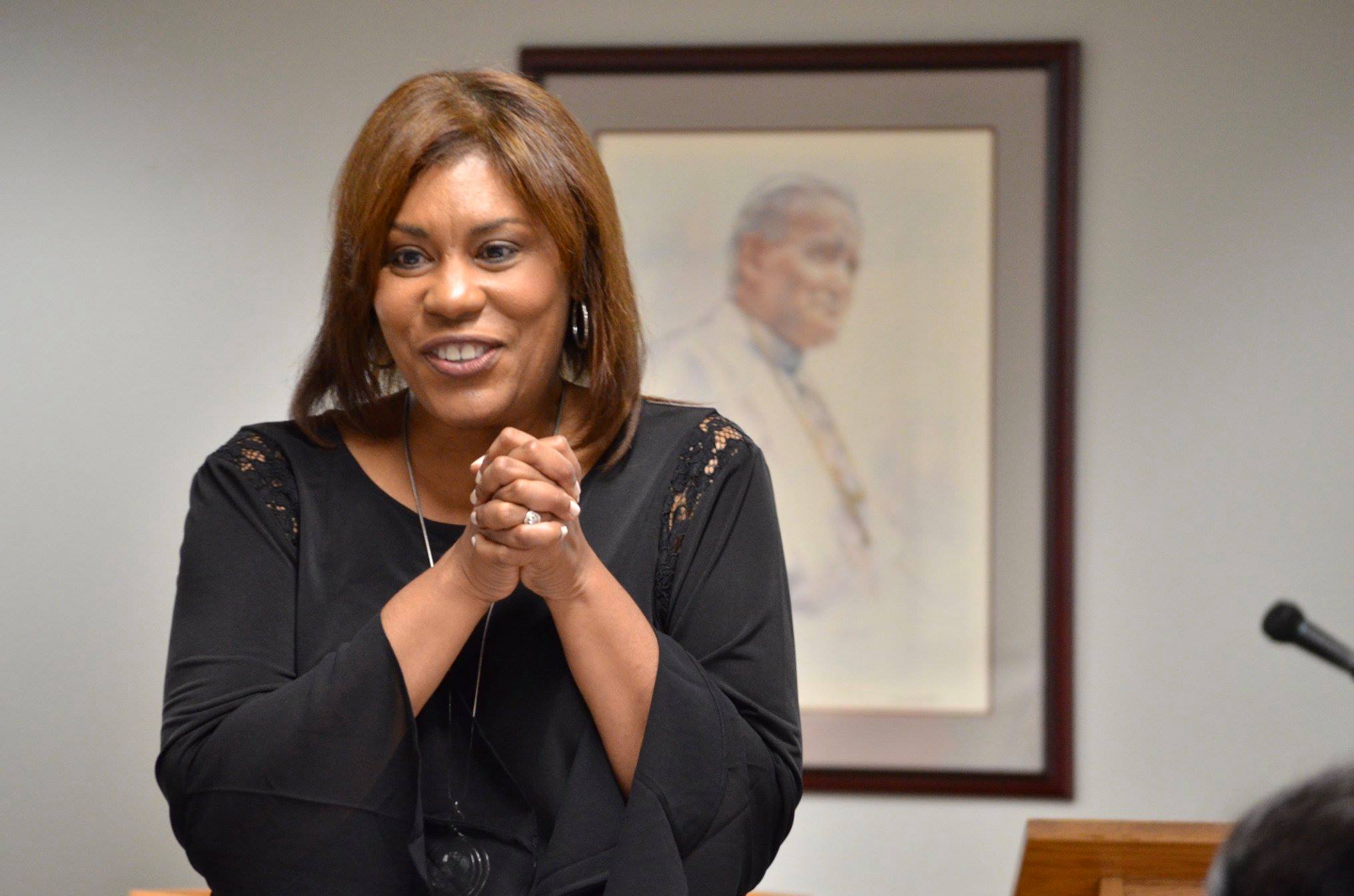 Sherry Hayes-Peirce is a Catholic social media strategist, blogger, conference speaker, podcast guest and contributing author of the Ave Prayer Book for Catholic Mothers. She serves as Digital Engagement Coordinator for American Martyrs Catholic Community in Manhattan Beach, CA, and St. Monica Parish in Mercer Island, WA. Sherry has a devotion to the Sacred Heart of Jesus and is grateful to be a digital disciple of Christ.