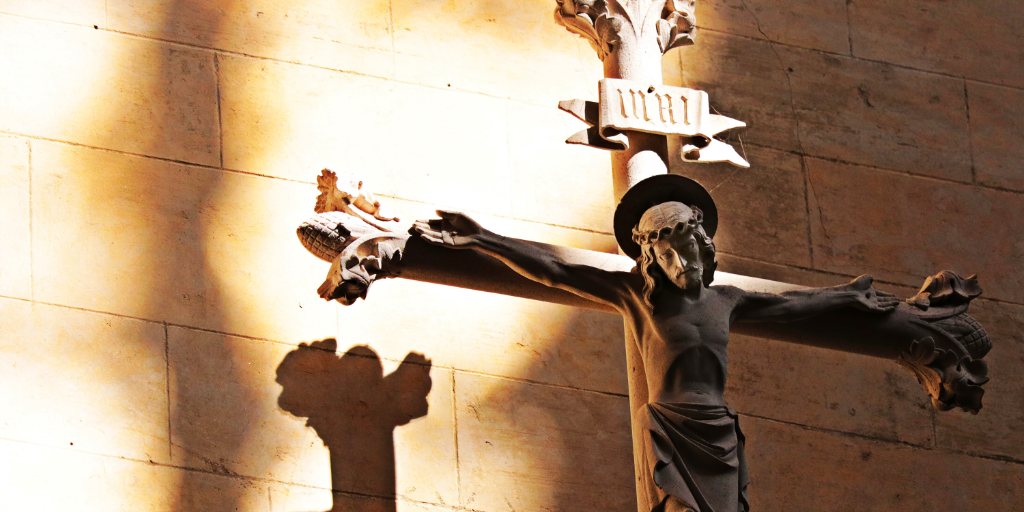 Carmen Lappe reflects on a difficult time at church with her son and the beauty of bringing all that we have to the Lord each week at Mass.
---
Recently, my family had the opportunity to bring forward the gifts at Mass. It was beautiful to watch my children participate in Mass in a new, profound way. While carrying the ciborium of hosts and basket with the collection is a novelty for them, it brought to mind the deeper theological truths behind this offering.
As mothers, we are acutely aware of the challenges endured when we bring our children to Mass. Though the importance of little bodies in the pews cannot be overstated, it is often easier said than done. That's where I've found myself more often than not, particularly during Mass a few weeks ago.
My 2-year-old son Damien was especially restless, wanting only to be held by his dad. Things only intensified when my husband left to distribute Communion. What began as a small cry in dad's absence escalated into screaming and full-on aggression toward me. We moved to the back of the church, then the vestibule, all the while enduring turned heads with eyes that bored into our struggle.
When it was time to join the procession for Communion, I felt my cheeks flush with humiliation and my eyes burn with fresh tears. The only prayer I could muster to prepare my heart to receive this heavenly gift was, "Lord, I'm sorry, but I just want to get out of here." After receiving, my feet couldn't carry me back to our pew fast enough. As my husband approached after distributing Communion, smack. Clearly having had enough, Damien struck me in the face, close to the eye. The sound reverberated throughout the church, and even caught the attention of our priest from his place on the altar.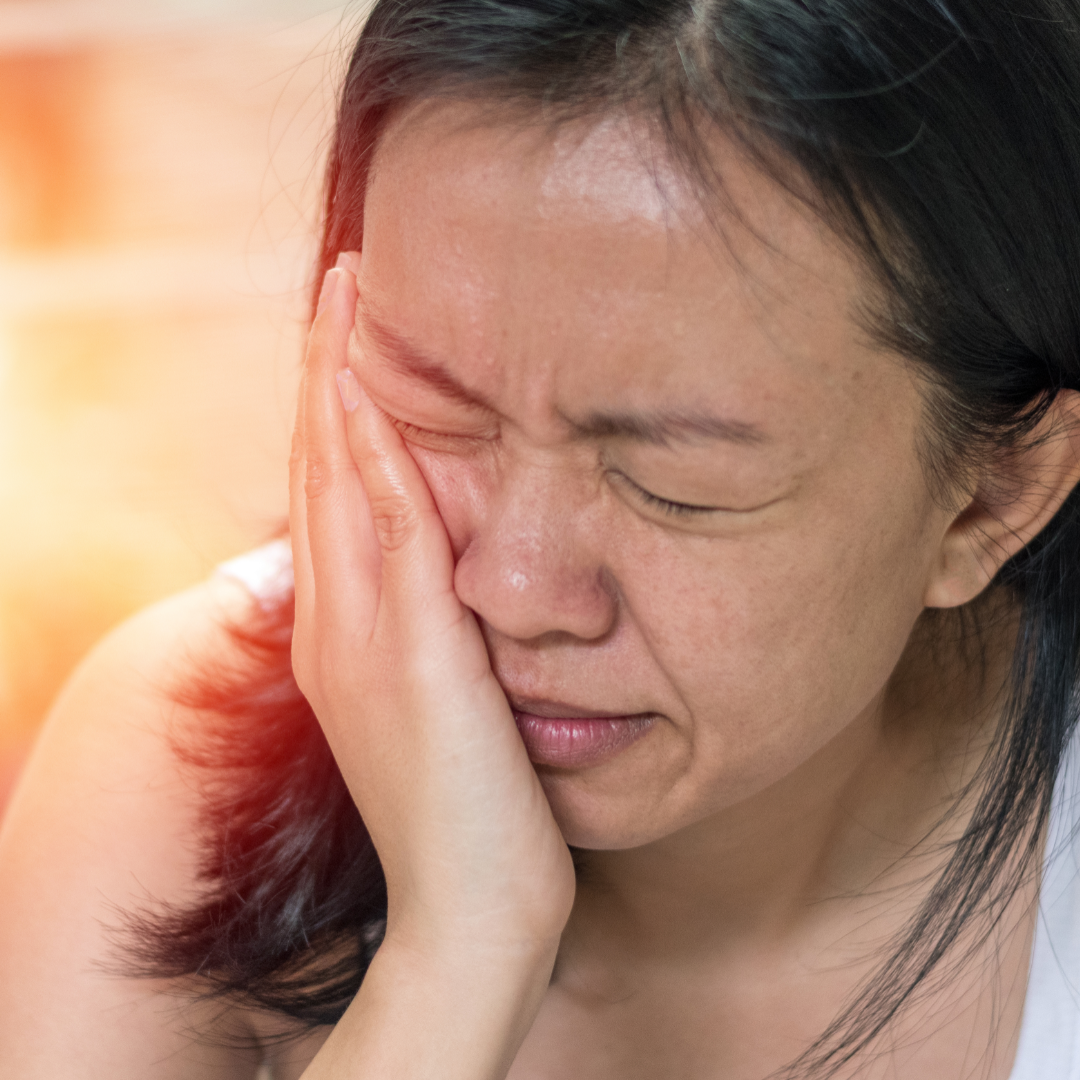 Damien was whisked away by his dad as I retreated to the usher's closet in the vestibule, searching in vain for tissues to dry my tears and a place to hide my embarrassment. Later that night, I told Jeff that I just couldn't do it anymore. It didn't matter if we had to go to Mass in shifts because mentally, I couldn't endure anymore. My anxiety was off the charts, often sending me into the throes of a panic attack.
"That is simply not an option for our family" was his response. I didn't have the strength to argue because deep down, I knew he was right: splitting up our family for Mass was not the solution. We are a team, and there's nothing we can't handle together. The following weekend at Mass, we were asked to take forward the gifts. Though mostly preoccupied with the hope that no one would drop anything, I was also struck by the value of bringing it all forward: the fruits of human labor in the bread and wine, the fruits of love in our children, and the labor of love that is bringing them to Mass.
When I shared the "smack heard around the church" story with one of my best friends, and my reluctance to return to Mass, he reminded me that sometimes, all we have to do is simply show up and God takes care of the rest. Though a beautiful consolation, it's a difficult reality to put into practice. The Sabbath practice of Mass is meant to be a time of rest, peace, and calm. Mass with children is often anything but that.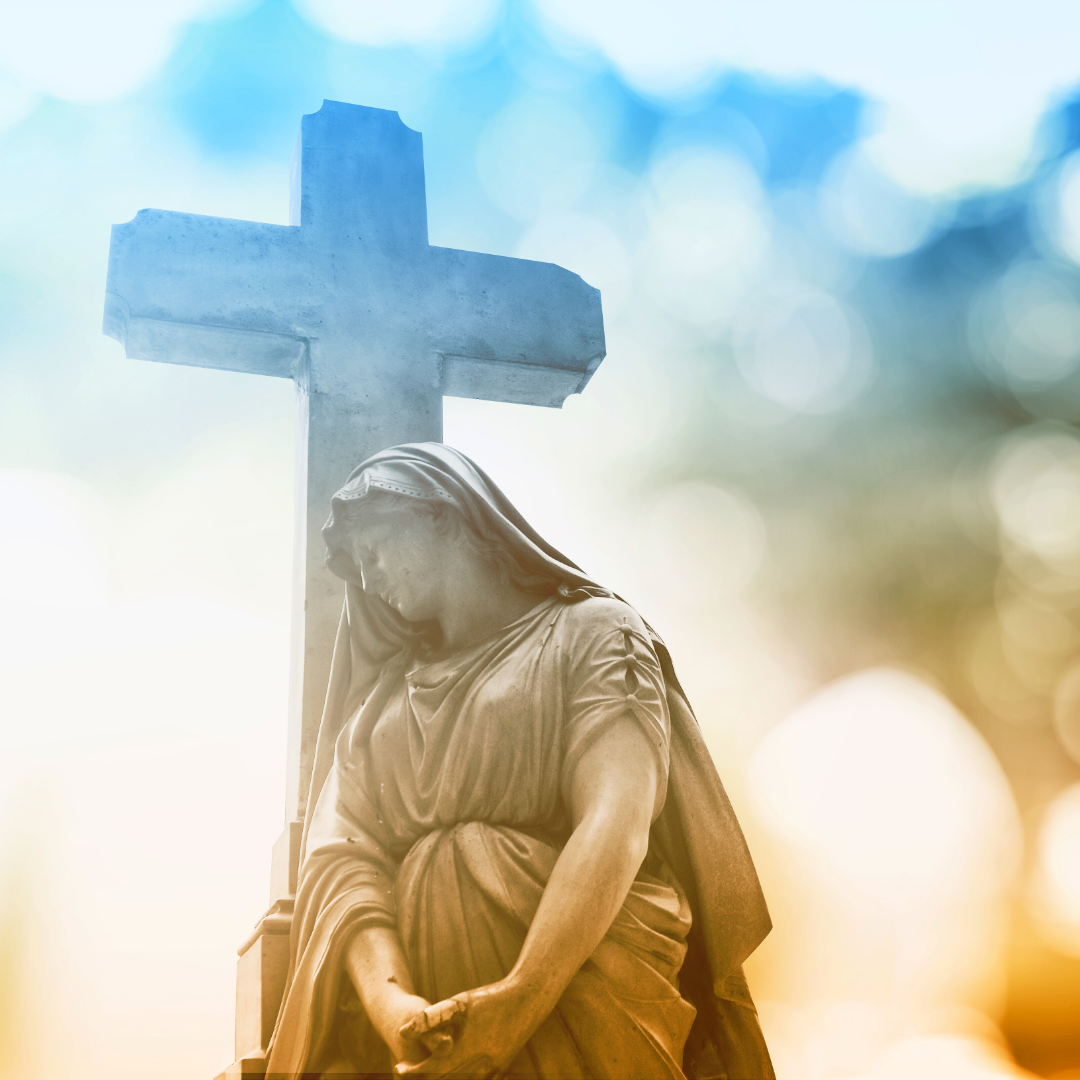 As mothers, I believe this is a perfect opportunity for us to take a moment and enter into the sorrows endured by our Mother Mary. In the midst of our anxiety, embarrassment, or even physical pain caused by a feisty 2-year-old, can we pause to reflect on all Mary endured?
The prophecy of Simeon. The flight of the Holy Family to Egypt. The loss of Jesus for three days in Jerusalem. Watching silently as Jesus carried His cross. Witnessing the horror of His crucifixion. Receiving His broken body from the cross. Tenderly laying Him in the tomb.
Click to tweet:
The Sabbath practice of Mass is meant to be a time of rest, peace, and calm. Mass with children is often anything but that. #catholicmom
We have no better advocate for our vocation as wives and mothers, and no one better to teach us how to offer all that we do out of love for God. The cross accepted and endured by Mary is likewise extended to each of us. It is an invitation, extended in pure love, to encounter Jesus in His most vulnerable, most loving, and most emptying moments. Ponder this emptying for a moment as we are reminded of St. Paul's letter to the Philippians:
Have among yourselves the same attitude that is also yours in Christ Jesus, Who, though he was in the form of God, did not regard equality with God something to be grasped. Rather, he emptied himself, taking the form of a slave, coming in human likeness; and found human in appearance, he humbled himself, becoming obedient to death, even death on a cross. (Philippians 2:5-8)
As mothers, we have an abundance of opportunities each day to empty ourselves in the service of our families. Can we, like Jesus, empty ourselves to the point of death? While we may not be asked to endure the same physical cross and death as Jesus, I believe we are called to the same death to self modeled in Christ. Yes, it can be uncomfortable, painful, and ugly. But in Christ, ugliness will always be made beautiful.
So let us bring it all: our hopes, our dreams, our weary hearts stained with embarrassment, shame, or pain of motherhood and lay it all before the cross. Like the bread and wine transformed into the Body and Blood of Christ, the money in the collection basket that symbolizes our weekly toils, and the petitions which collect all our spiritual and physical needs, let us bring our meek and humble offerings that the Lord may transform them into the divine remedy we need to carry on and raise some saints.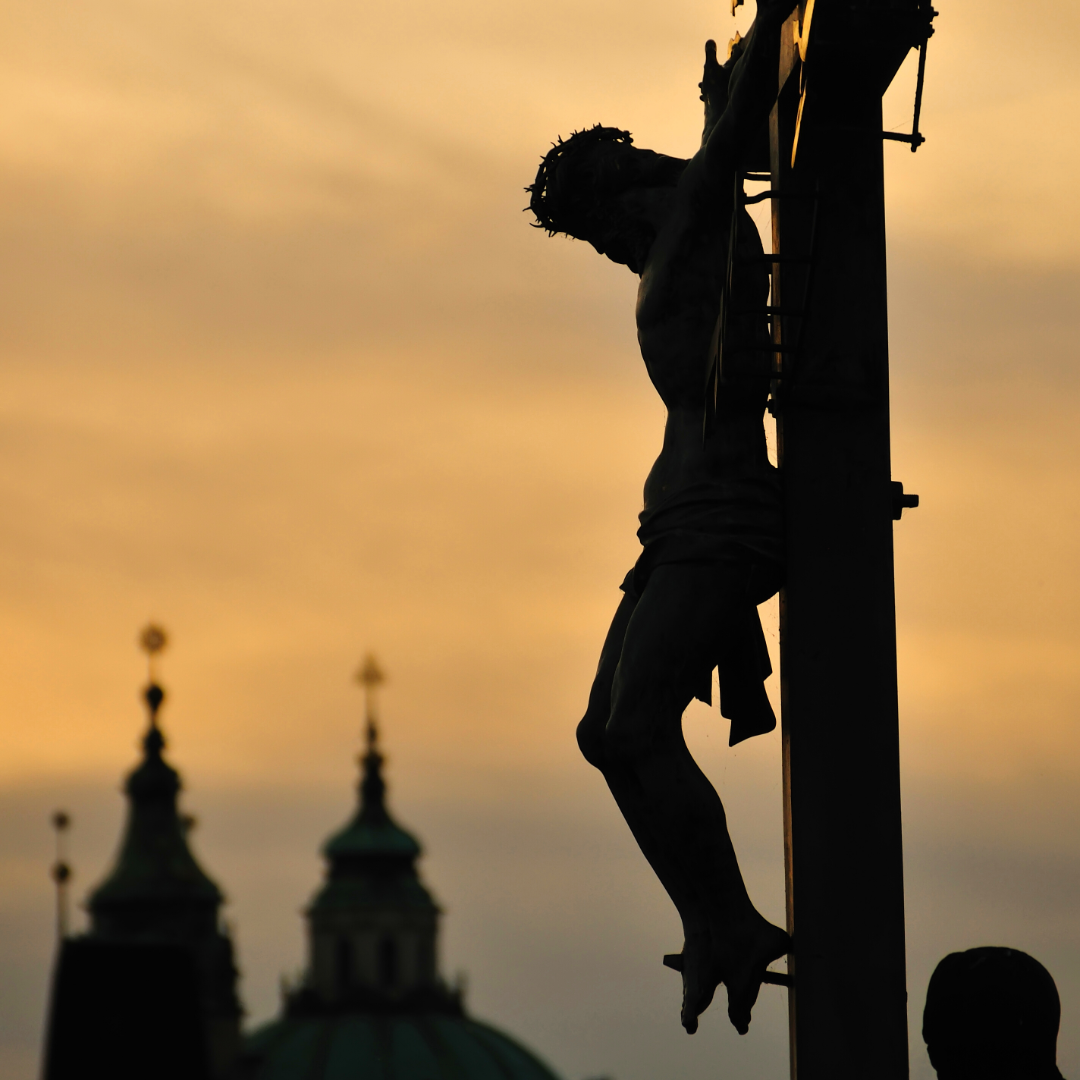 ---
Copyright 2022 Carmen Lappe
Images: Canva
About the Author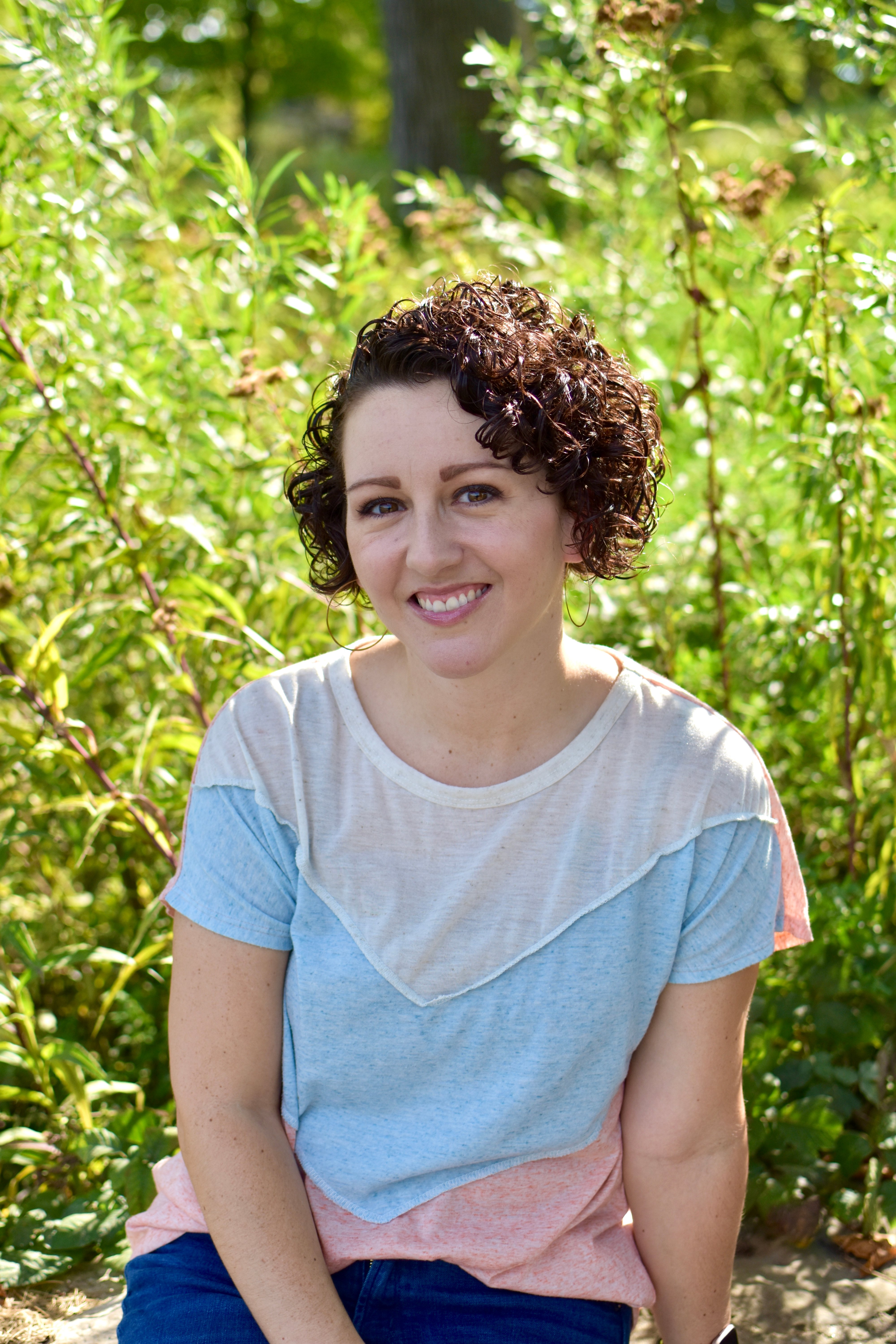 Carmen is a wife and mother of two in midwestern Iowa. She has a Master of Arts degree in Sacred Theology and has a special passion for writing about the grace of motherhood. In her spare time, she enjoys traveling with her husband and exploring breweries and baseball stadiums across the country.