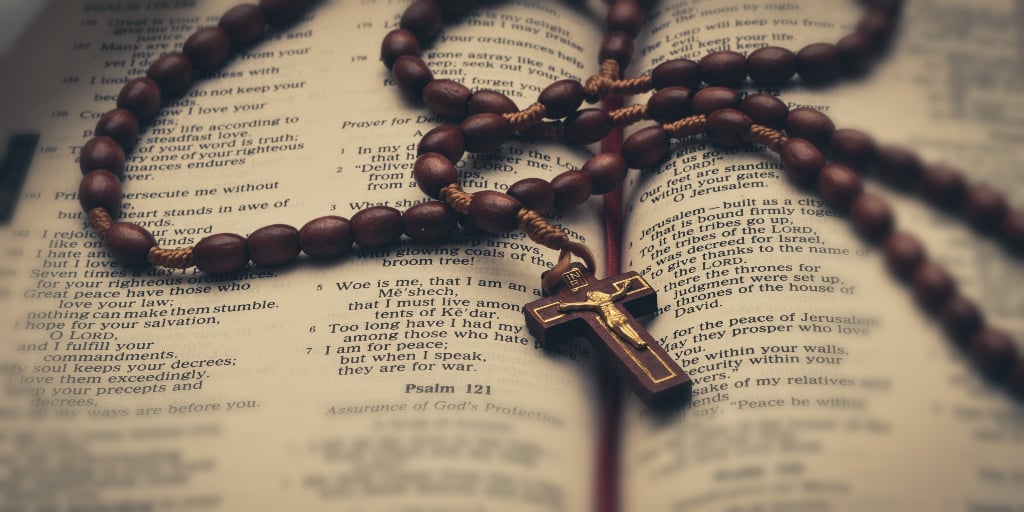 Susan Ciancio describes how she's benefited from the popular podcast by Fr. Mike Schmitz and a Facebook group for podcast listeners, run by Fr. Jim Chern.
For years, I have watched Fr. Mike Schmitz's videos on Catholic theology. In fact, I found the videos so captivating and so valuable that I began incorporating them into my children's religion classes when I homeschooled. Fr. Mike's unique way of engaging the viewer and the ease with which he explains the tenets of our faith inspire, and they lead to a greater enthusiasm for — and a greater understanding of — Catholicism.
So when I heard that Fr. Mike was planning to host what's called the Bible in a Year podcast, I was beyond excited! I have always wanted to read the Bible in its entirety, but I have never done so. Knowing that Fr. Mike would read it — and that I could follow along if I so desired — motivated me to sign up. I felt it was the perfect opportunity and a great start to the new year.
In every episode, Fr. Mike reads passages from the Bible, says a brief prayer, and then explains what he read. His captivating tone, his endearing prayers, his succinct explanations, and his encouraging words help us remember that we are not alone. Many times he has mentioned — with pride in his voice — the community of listeners. He tells us he prays for us. He asks us to pray for each other. He has a way of making us feel that we're part of something incredibly special. And we are!
Enter Fr. Jim Chern. I met Fr. Jim in 2013, when I joined a group of 30 people on a pilgrimage to Rome with Lino Rulli — SiriusXM's "The Catholic Guy." Back then, Fr. Jim co-hosted the radio show with Lino a couple days a week and would often accompany him on pilgrimages. I had the privilege of having many wonderful conversations with this amazing and outgoing priest who blessed us immensely by celebrating Masses in stunning venues such as the catacombs and St. John Paul II's tomb (pictured below).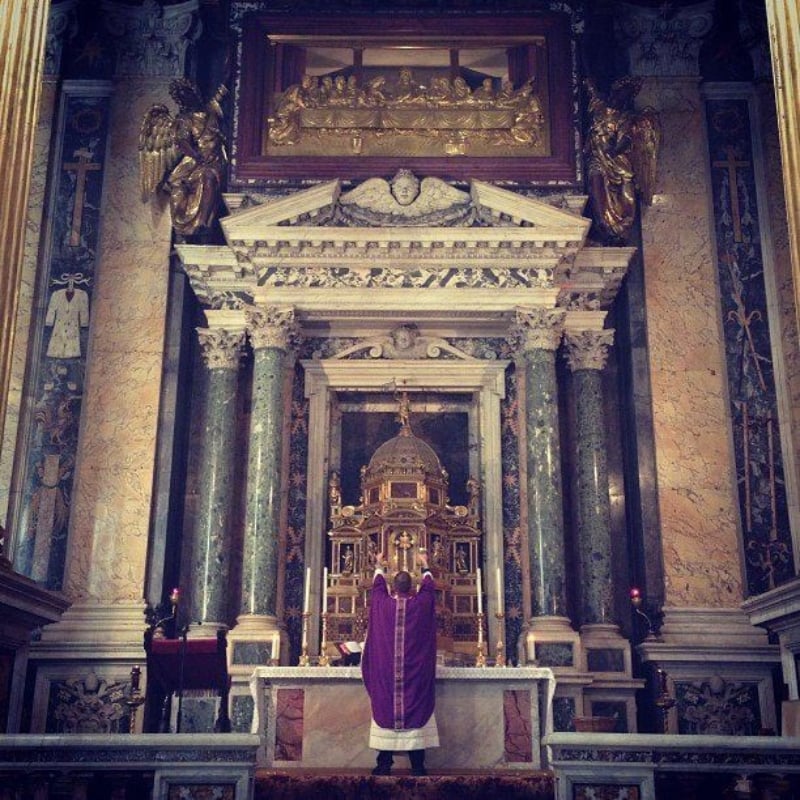 When the podcast started, Fr. Jim posted on his Facebook page that he was starting a Facebook group solely for people who listen to the podcast. Now I was doubly excited! I'd be able to talk with a community of people who are as passionate about the podcast as I am.
But it gets better! Every day, Fr. Jim writes his own reflection and explanation on the Bible readings for the day. Expounding on Fr. Mike's words and the words we read, Fr. Jim helps the group come to a greater understanding of the day's readings. He even takes the time to read and answer the hundreds of comments and questions that people post. His patience and his knowledge undoubtedly bring people closer, as discussions ensue, more questions arise, and our little community becomes more educated and the people feel more connected.
But we cannot call Fr. Jim's community little anymore. Just as the podcast took off and has stayed in the top five, this awesome community of listeners has grown exponentially. Fr. Jim's group now has over 2,000 members! And these members interact on a daily basis — posting supplemental materials to help fellow listeners understand the readings, asking questions, offering answers, and seeking fellowship and prayers.
As I read the daily posts and some of the comments, I can't help but burst with joy knowing that all of this is because people want to hear God's word. We have all come together to listen, to dialogue, and to deepen our faith.
Isn't this what God wants for us?
We should not stay away from our assembly, as is the custom of some, but encourage one another. (Hebrews 10:25)
And encourage one another, we all do.
People were not meant to be solitary beings. Nor were we meant to keep our faith to ourselves. We were meant to learn and then share that knowledge with others. This is what the Bible in a Year community does for us.
Because of these two wonderful priests, thousands of people are now part of something huge — a community of people who desire a greater closeness with God, who seek greater understanding of Scripture, and who help each other along the way. This is what our world so desperately needs today. God is surely pleased.
People were not meant to be solitary beings. Nor were we meant to keep our faith to ourselves. #catholicmom
At the end of each day's episode, Fr. Mike says: "I cannot wait to see you tomorrow." The tone of his voice tells us that he truly means it. And every day, I think to myself, I can't wait either.
Who would have ever imagined that a priest reading the Bible would take the country by storm as it has — with over 20 million downloads?
Fr. Mike frequently tells us what a blessing it is for him to be on this journey with us. I hope he realizes that we are the ones who are blessed.
Indeed, we are blessed to have such amazing leaders in our midst. We are blessed to be part of a community listening to and reflecting upon God's word. Our community exists because of them. And it grows stronger every day because of their efforts and because of the efforts of every single person in the community. Together, we make it strong.
Together, we build a culture of life here on Earth. And I cannot wait to continue this journey.
If you have not begun listening to the Bible in a Year podcast, I urge you to do so. It's never too late. You can start today and finish this time next year, or you can double up until you're caught up. Furthermore, anyone can join Fr. Jim's Facebook group to be part of this wonderful community. All are welcome!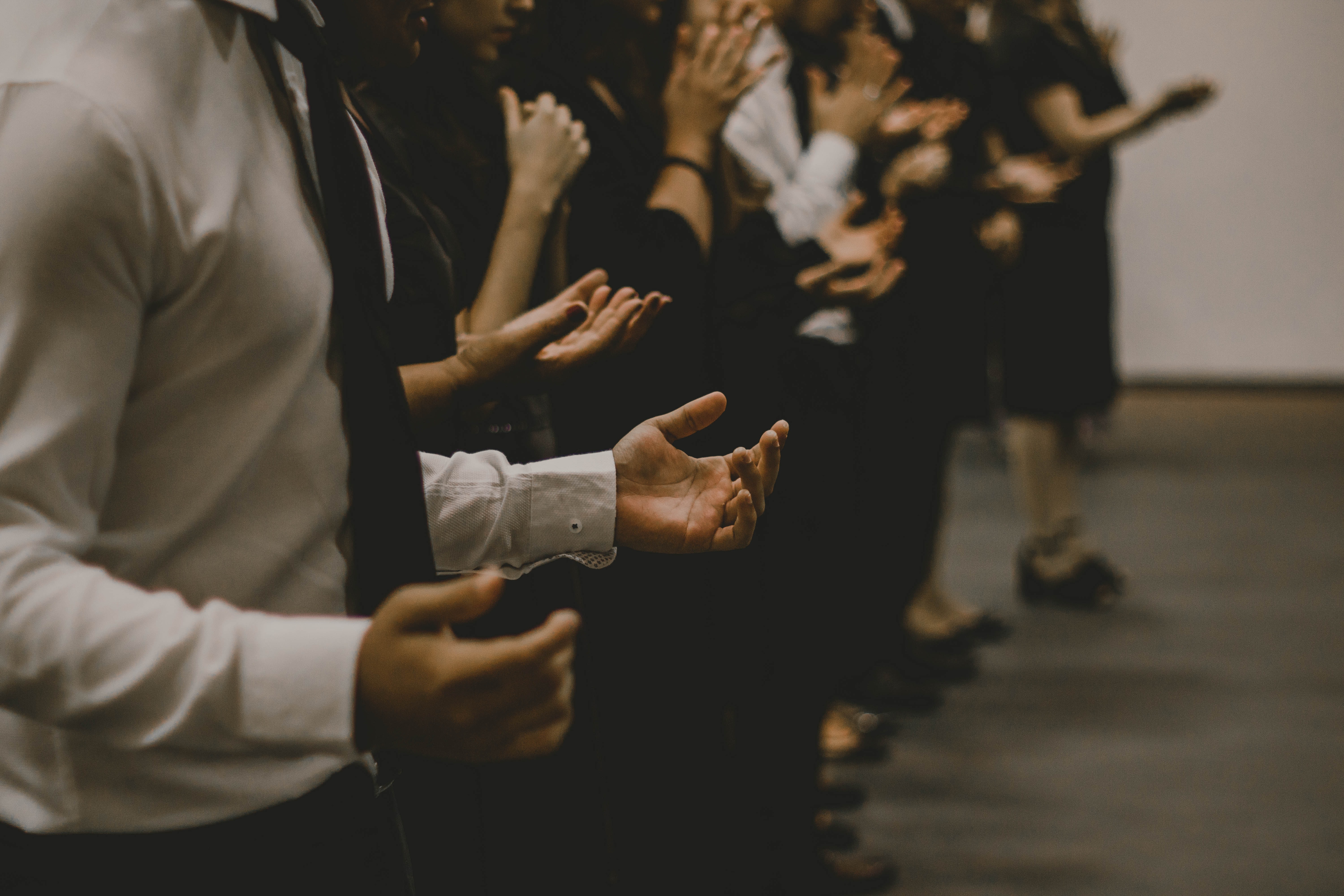 ---
Copyright 2021 Susan Ciancio
Images (from top): Anuja Mary Tilj (2019), Unsplash; copyright 2021 Susan Ciancio, all rights reserved; Pedro Dias (2018), Unsplash
About the Author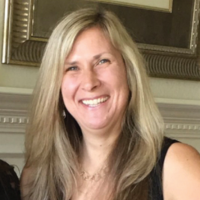 Susan Ciancio has a BA in psychology and a BA in sociology from the University of Notre Dame and a master's in liberal studies from Indiana University. For the past 17 years, she has worked as a professional editor and writer. She is executive editor for the Culture of Life Studies Program and editor of ALL's Celebrate Life Magazine.