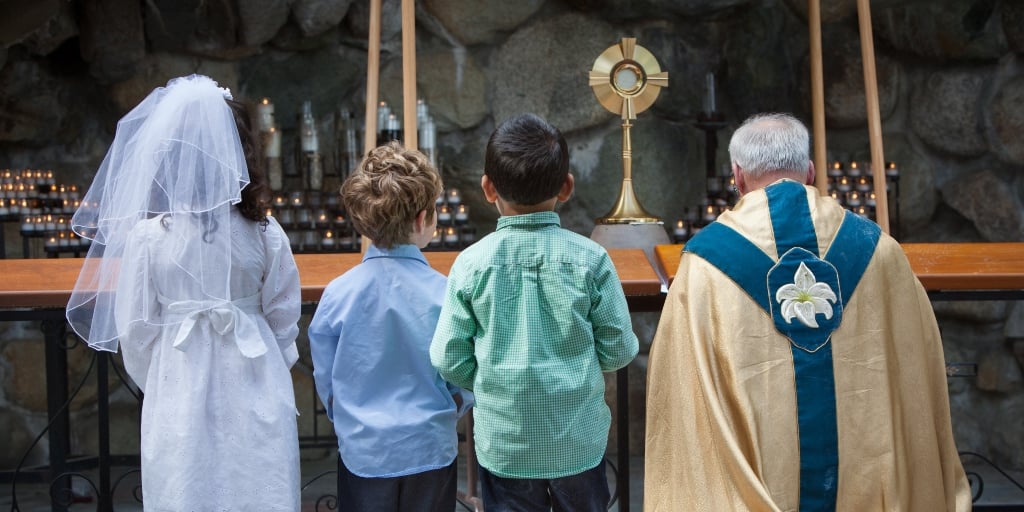 Catholic Mom writers share their recommendations for children's books about the Eucharist.
---
Recently, I shared a list of books about the Eucharist recommended by Catholic Mom contributing writers. Our writers also shared titles your children might enjoy.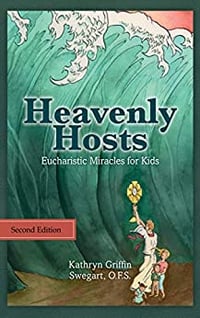 Catholic Mom contributor Kathryn Griffin Swegart is the author of Heavenly Hosts: Eucharistic Miracles for Kids. Intended for ages 8 to 12, this 79-page book is packed with more than a dozen extraordinary stories about the Eucharist. The stories are arranged in chronological order. This author's engaging style of storytelling will keep readers fascinated by these tales of miraculous events. Meg Herriot and Carolyn Astfalk both mentioned this as a must-read for middle-grade kids.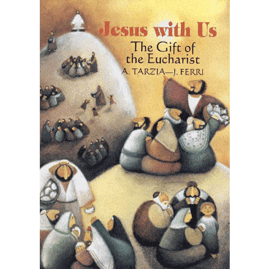 Allison Gingras recommends Jesus With Us: The Gift of the Eucharist by Anthony Tarzia and Julian Ferri, from Pauline Books & Media. The publisher notes: "is an excellent way to help children who are preparing for, or have already made, First Communion to understand the place of the Eucharist in history. Lively, full-page illustrations accompany each story." This book is written in simple language and intended for children ages 6 to 8.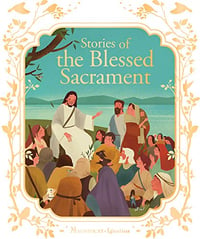 A second book recommended by Carolyn Astfalk is Francine Ray's Stories of the Blessed Sacrament (Magnificat). From the publisher: "This unique book tells twelve inspiring true stories that help children get to know Jesus truly present in the Blessed Sacrament, and encourage them to remain close to him in the Eucharist all their lives. From the multiplication of the loaves by Jesus in the Gospels to the heroic actions of a young girl in Nazi-occupied Poland, young readers will learn how the Real Presence of Jesus has led countless believers to lives of deep faith and devotion, strong compassion, and heroic bravery. Lavishly Illustrated." This book is targeted to children age 7 and up.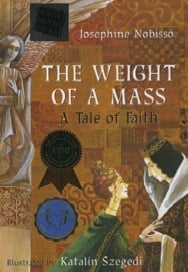 Deanna Bartalini's "go-to First Communion gift" is The Weight of a Mass: A Tale of Faith by Josephine Nobisso, illustrated by Katalin Szegedi. The publisher, Gingerbread House, shares: "Couched in the language and look of a fairy tale, and rich in solemn beauty, this tale of what happened when a destitute widow begs only a crust of bread in return for offering the Royal Wedding Mass is based on a true miracle." This publisher includes notes about the art and text of the book beneath the flaps of the book jacket on the hardcover edition, and the cover of the paperback has built-in flaps with the same information.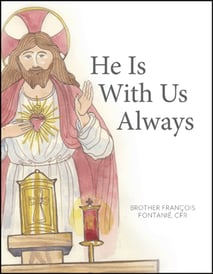 He Is With Us Always by Brother François Fontanié, CFR, is a favorite of AnneMarie Miller, who shared that it's "a gorgeous reflection on the Eucharist for kids. I highly recommend it!" This 32-page book is an excellent read-aloud. Our Sunday Visitor, the publisher, notes: "When Brother François invites two children to join him in visiting Jesus in the Blessed Sacrament, they learn all about the source and summit of our Catholic Faith. Written and illustrated to help children fall in love with the Eucharist, He Is With Us Always will become a treasured family favorite."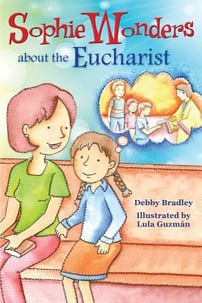 Jennifer Thomas describes Debby Bradley's book, Sophie Wonders About the Eucharist, as "simple and easy for kids to understand. I had a hard time trying to describe it to my own children and this was a tremendous help. It's conversational in how it's presented as well." Published by Liguori, this book is designed for children ages 7 to 9.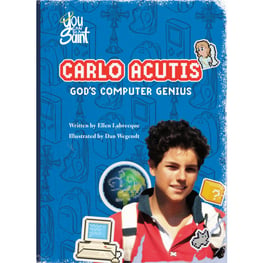 A list of children's books about the Eucharist wouldn't be complete without a mention of Blessed Carlo Acutis, a teenager who used his computer skills to create a website about Eucharistic miracles! For children ages 8 to 11, Pauline Books & Media recently published Carlo Acutis: God's Computer Genius by Ellen Labrecque (illustrations by Dan Wegendt). The book, designed to resemble a scrapbook with many stickers, illustrations, pixellated 1990s clip art, and informative sidebars, begins with the story of Carlo's beatification, then goes through his biography and eventual cause for canonization. A prayer to Blessed Carlo Acutis wraps up this colorful, fascinating book.
What books have helped your children learn about the Eucharist?
---
Copyright 2022 Barb Szyszkiewicz
Images: Copyright 2015 Holy Cross Family Ministries, all rights reserved.
This article contains Amazon affiliate links, which provide a small compensation to the author of this piece when purchases are made through the links, at no cost to you. Thank you for supporting our Catholic Mom writers in this way.
About the Author