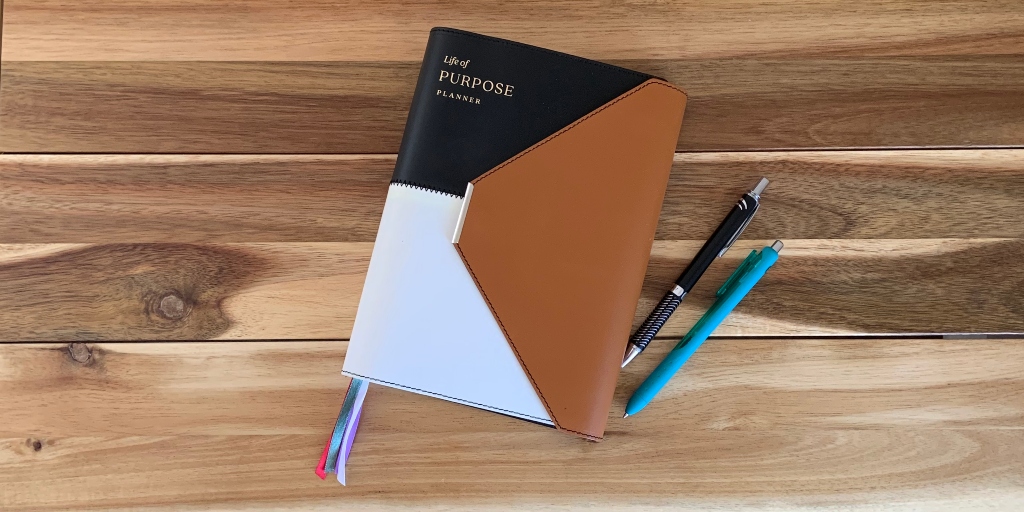 Win the planner you don't have to wait until January to use! We're giving away The Life of Purpose Planner to two Catholic Mom readers.
The Life of Purpose Planner is a "planner" in the true sense of the word. Other planners I have used are really date books, with places to keep appointments and some notes, but not much else. But this planner is different: with monthly, weekly, daily, project planning, and habit tracking sections, The Life of Purpose Planner functions as a workbook to encourage you to set and accomplish goals.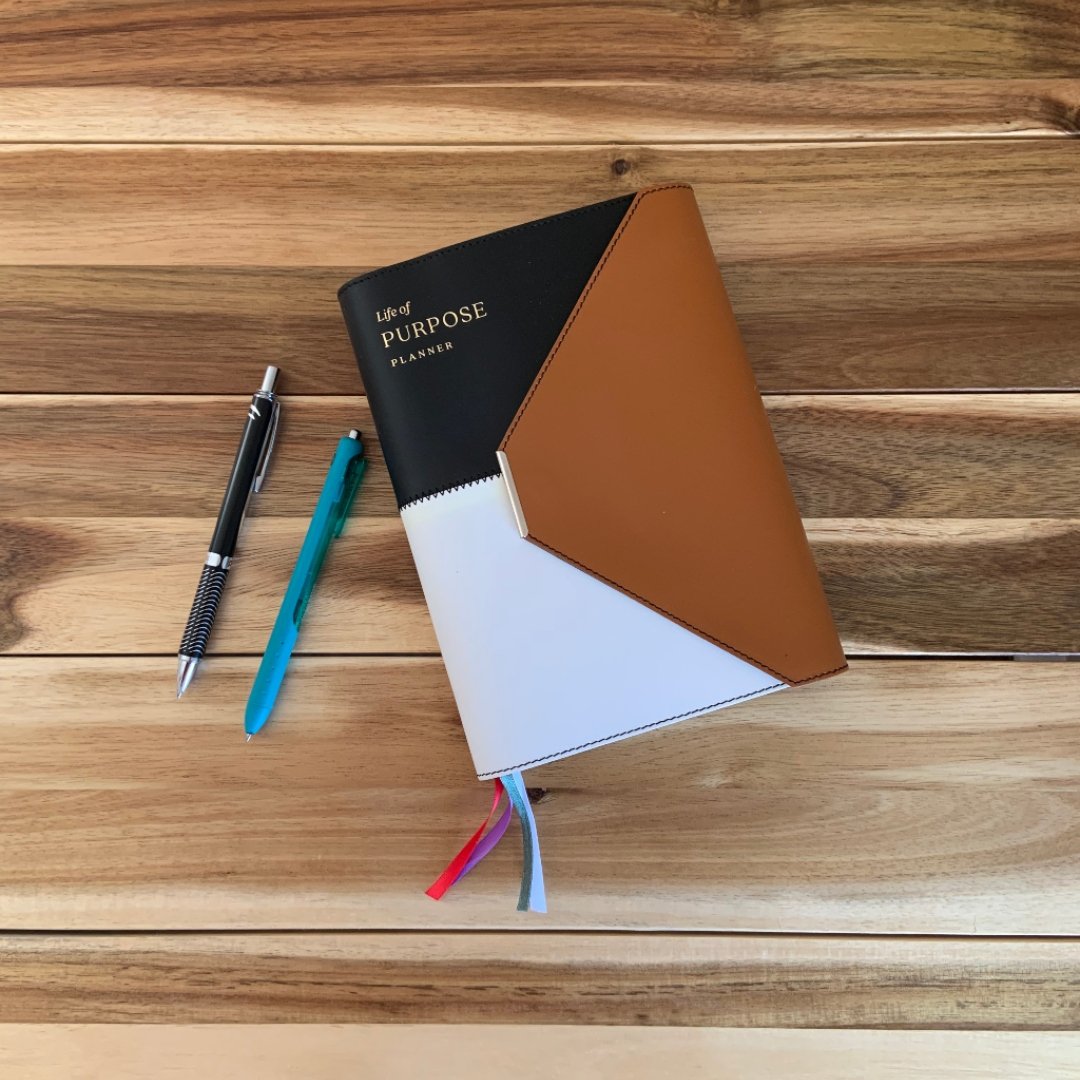 A few of the little touches I love about this planner:
The book lies flat while open
4 colored ribbons help you save your place in different sections
The planner cover is beautiful and functional, with a built-in pen loop and a pocket
The Life of Purpose Planner is an undated 3-month planner book that fits inside one of two beautiful custom cover designs. The best thing about undated planners is that you don't have to wait until January to start using them! You can begin right now. When you've filled the 3-month book, you slide it out of the cover and replace it with a new planner book.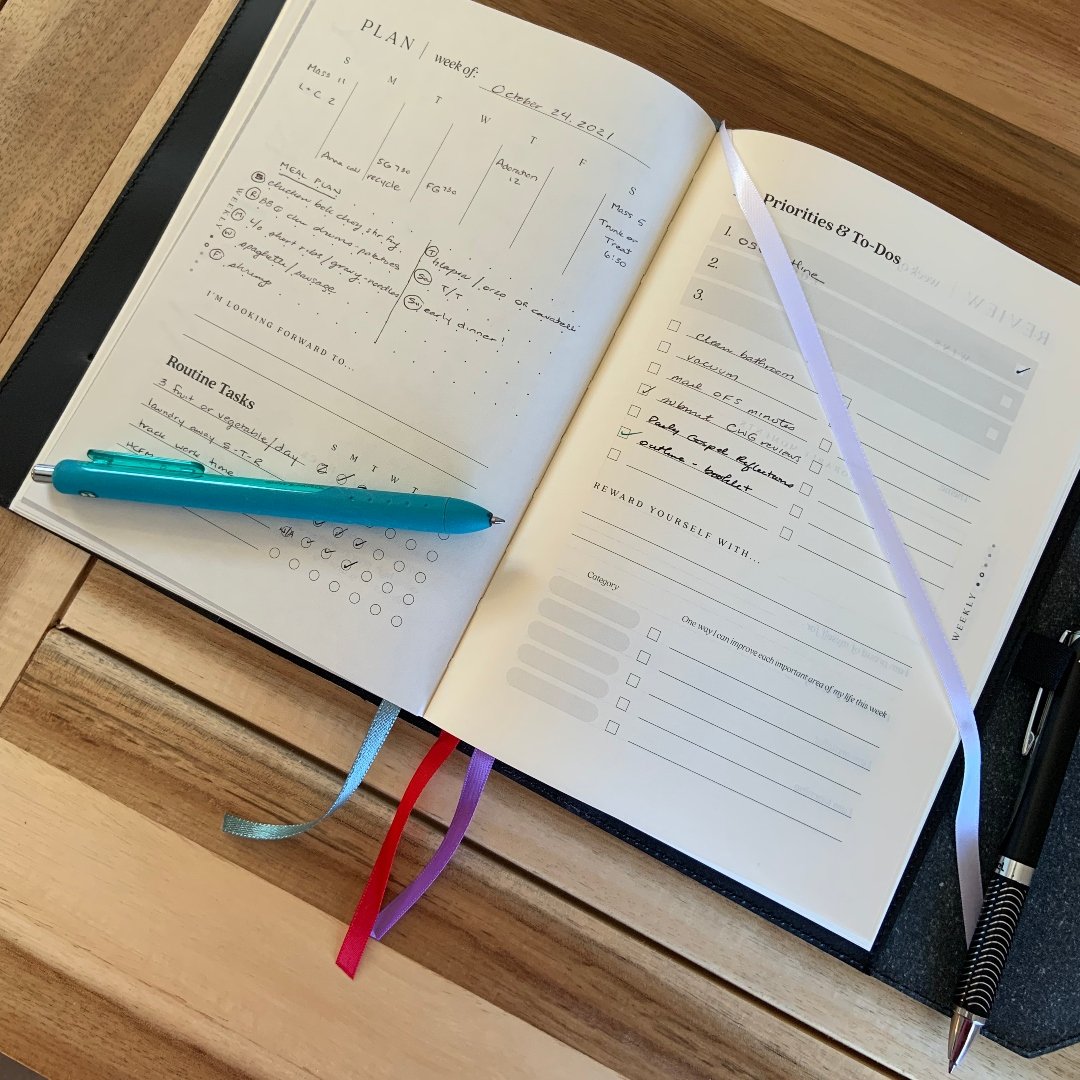 Using a goal-focused planner such as The Life of Purpose Planner took some getting used to. I'm already in the habit of noting appointments and my to-do list or reminders in my planner. I like that there is plenty of space for both in the weekly and daily page spreads. Using goal-setting prompts, however, is new to me -- but will be helpful. The weekly planning spread became a "brain dump" area for me. There's a small weekly calendar so I can see a thumbnail sketch of each day. The dot grid area below that became my meal-planning section. And it's very gratifying to check off routine tasks at the bottom of that page. The weekly spread also includes a place to write top priorities and to-dos and two prompts: "I'm looking forward to ___" and "Reward yourself with ___." And there's a spot for listing ways to improve important areas of my life.
Following each weekly planning spread is a weekly review spread. In this section, I can rate my accomplishments, record memorable moments, and ponder what I'm proud (and not so proud) of, what I'm grateful for, and what I'm learning. There is also space to write reminders to carry over into the next week.
The Life of Purpose Planner also contains a daily spread, with planning on one side and review on the other (plus some free space, which is great for notes. I can rate my day (that could be interesting) and write down insights and ways I'm grateful. I like that there's a schedule section, which runs from 6 AM to 11 PM (I do not run until 11 PM except during emergencies or when Notre Dame is playing a night football game) but doesn't take up a huge amount of daily planning space.
The project planning section contains a task organizer that's practically a spreadsheet with checkboxes. It's a really useful format. I might very well park my Christmas gift-shopping list in here (don't tell my kids). And the final section of the book is a habit tracker, designed in 4-week increments to help you make sure a new habit really sticks.
The section dividers feature quotes from saints, Scripture, and famous Catholics, with paintings and drawings by a variety of contemporary Catholic artists on the facing pages. The artists are mentioned by name, and links to their website, Etsy shops, and/or social media are provided in a useful but not distracting way. This is a lovely way for one Catholic creative to support many others!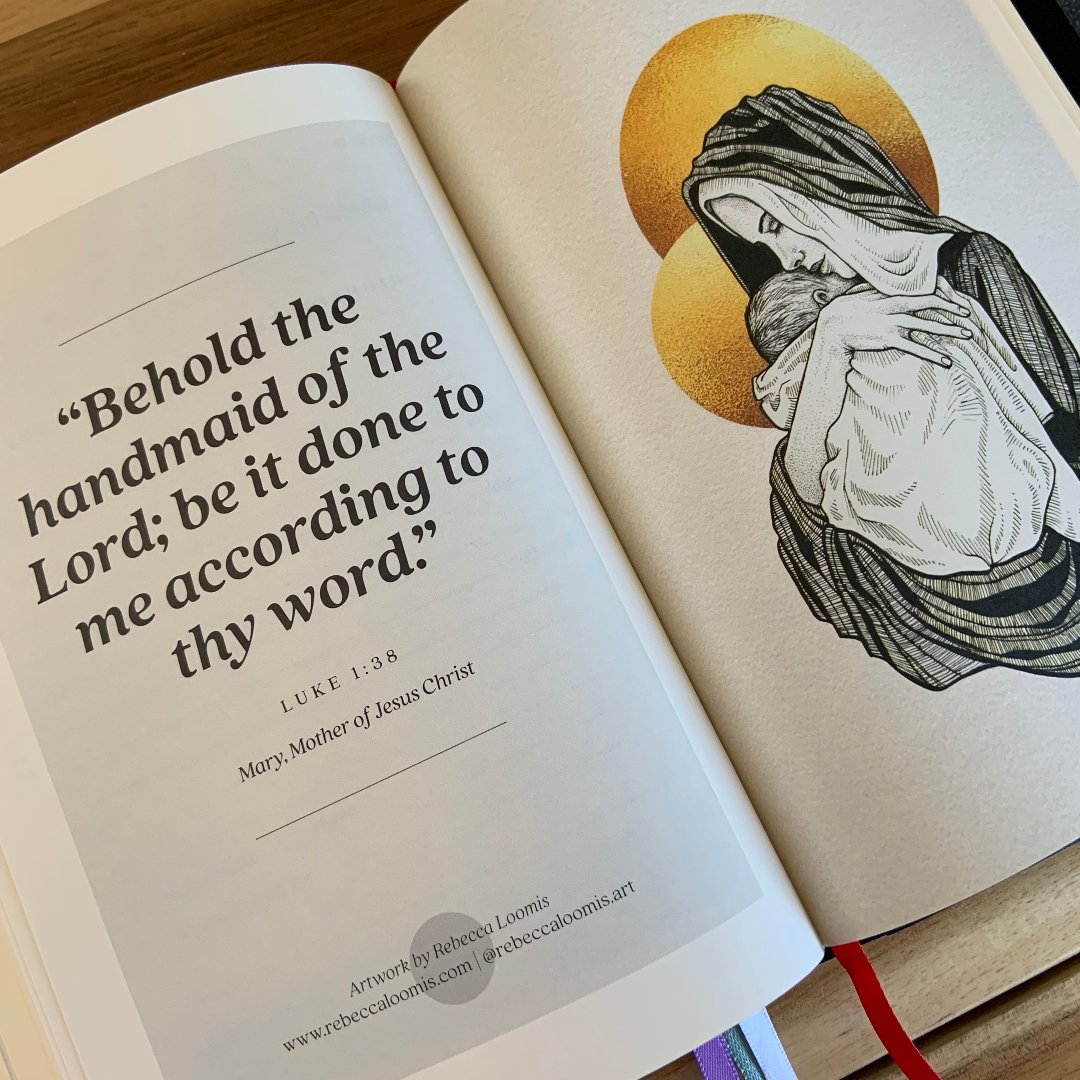 It was my pleasure to interview Monica Anyango, the Catholic entrepreneur who created The Life of Purpose Planner.
Tell our readers a little bit about your story and how you came to create this product.
I was a single mom, working full time as an emergency room nurse in a busy ER. I was going to daily Mass on days off. I was also a choir member at my parish in Los Angeles, and at the same time, I was working to launch another business and publishing a children's book. I wanted to use my God given gifts, but didn't want to feel overwhelmed by the things I was doing or feel anxious. After much research, using behavioral psychology, taking wisdom from my mom, examining the lifestyle of monks since they are considered the most productive, and studying productive strategy from high performing individuals in business and what worked for them, I set forth to take all these learnings and adapt it all into a strategy for my own life. Now I live my life spending time with my daughter but still being able to accomplish the things I am doing by way of mission and work, plus attending daily mass without feeling a sense of anxiety or overwhelm. That was really the inspiration for developing this. I also wanted to take what I learned and give it to the world - if it benefited me, it will benefit you!
I love that one of your motivations for creating this planner was to be an example for your daughter! What do you want her to learn from your work on this planner?
Beauty inspires me and we need to encourage people toward beauty so I want to point to beauty always. I want to encourage her to always have something to inspire her by way of art and friendship with the Saints (their wisdom) who help us in this life. I would like her to know that structure and accountability is important in whatever journey she pursues and I will encourage her always to submit to God and His mission and plan for her life - to allow Him to inspire her through developing an intimate relationship with Him. Do not be afraid to embark on what God presents to you! And finally, create things that can help people live better. This is a message for my daughter and all our children. I hope that my story can inspire other women to be moms who aspire to give their children everything that God has for them.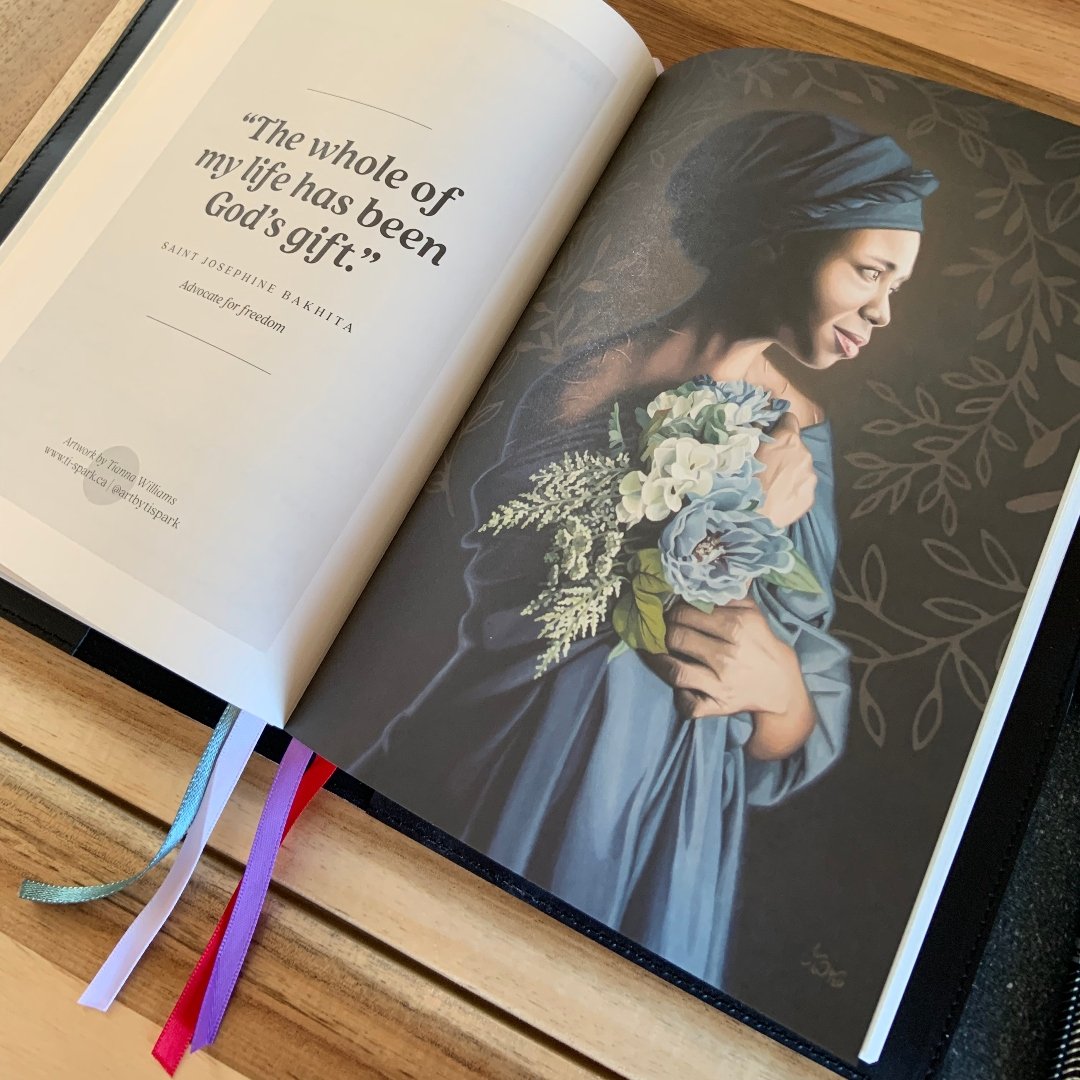 How can the goal-setting elements in your planner help anyone regardless of profession or vocation?
Each and every one of us needs structure and accountability. This planner is a way to give you accountability one day at a time. The planner requires that you write things down to clear your mind and have an overview, assess and track your progress. You can't know if you are making any progress without tracking and assessing. The 90-day plan is needed because it takes 90 days to make a permanent lifestyle change. I also believe that there is power in writing things down versus typing or scheduling in an iPhone. This is an old fashioned way to let your head and heart connect with God and bring that clarity and inspiration to the page in a concrete way.
How has working through these goal-setting exercises influenced you as a mom?
Well, first and foremost, everyone should know that I didn't create a planner without first taking myself through all of this! Moms have so much on their plate - in family life and if you work like me - the daily demands of work, life and home put a lot on us women. Overall, I have truly obtained peace of mind and more time to relax and enjoy time with my daughter which is my priority. I believe that any mom who goes through the Life of Purpose Planner will see your life change and be restructured so that your priorities are given the most prominence, but you will still be making great contributions to the world by using and unleashing your gifts.
How much time do you recommend someone devote to using this planner's goal-setting sections?
You have to spend time with yourself and assess who you are - I encourage you to spend time daily before the day starts to reflect or at least plan for the next day while auditing the day. Once you are able to track and improve you can then do a deep focus daily or once a week depending on how much time you want to allow yourself. We all need peace and clarity. This is a tool that allows you to cut out the noise, have a moment of silence, and even allow God to inspire you. Act on the inspiration once He inspires and create a plan of action.
Purchases of this planner support St. Francis de Sales School of the Deaf in Northern Uganda. Tell us about your connection with this school.
I am from Uganda. I am very familiar with the founder, the local area and her mission. I believe as a business it is critical to build that Catholic economy to support others who need help since that is our mission as Baptized Catholics. By supporting this school's mission, I want to instill the Gospel mandate to love others as we love ourselves. God has given me the opportunity and so I want to extend the same charity and generosity to others.
Click to tweet:
Win The Life of Purpose Planner: you don't have to wait until January to use it! #catholicmom
Would you like to win The Life of Purpose Planner? We have two planners to give away to readers in the USA: one brown leather with a wraparound closure, and one multicolor leather with a snap closure. Each contains one 3-month undated planner book.
To enter, leave a comment on this article answering this question:
What's your favorite feature of the Life of Purpose Planner?
This giveaway is open through 12:01 AM on Tuesday, November 9, 2021. Two winners will be chosen at random from all comments on this article during the giveaway period. Winners must have a USA mailing address. Winners will be notified by email and will have 48 hours to claim their prize. Unclaimed prizes will be awarded to alternate winners. Prizes will be shipped directly to winners by the prize sponsor.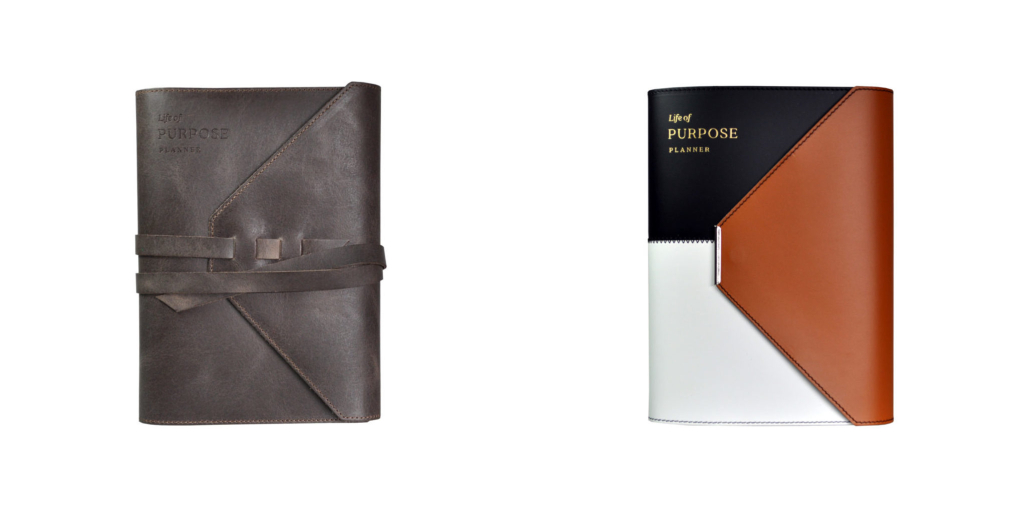 ---
Copyright 2021 Barb Szyszkiewicz
Images: copyright 2021 Barb Szyszkiewicz, all rights reserved
About the Author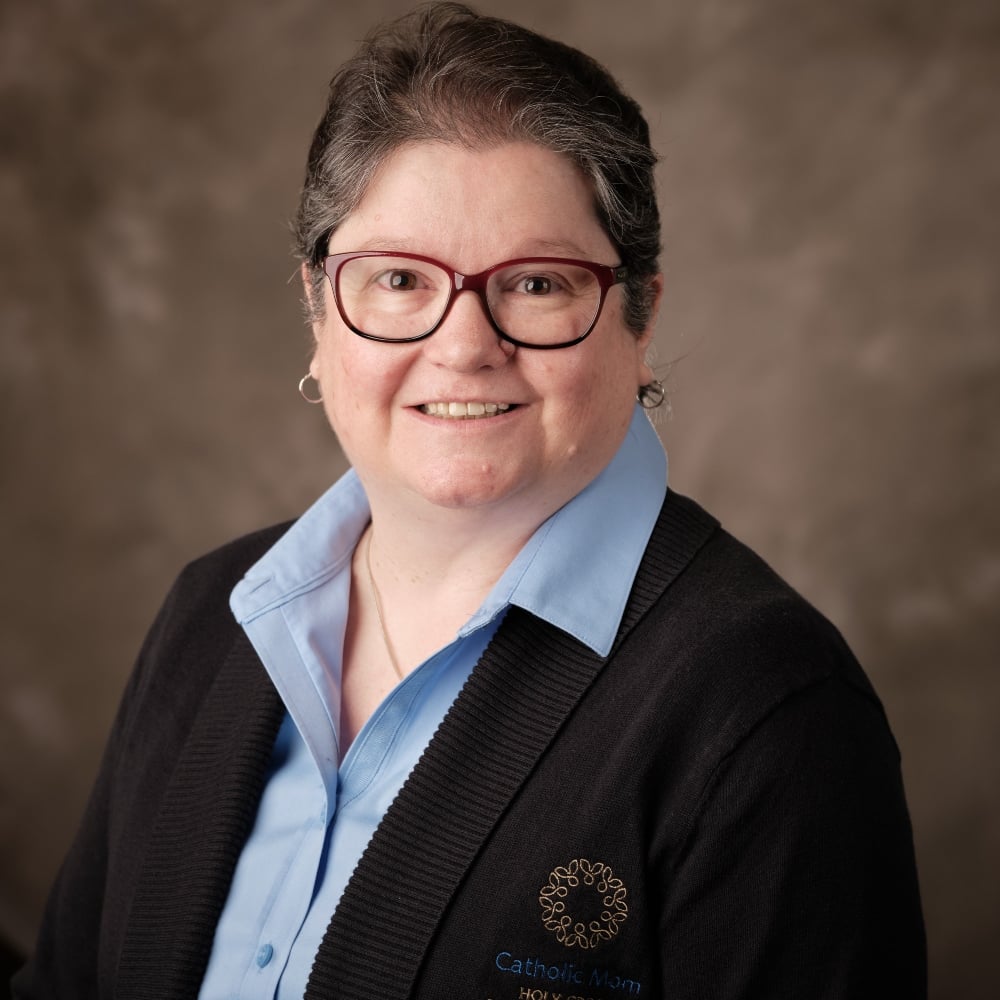 Barb Szyszkiewicz is a wife, mom of 3 young adults, and a Secular Franciscan. She is editor at CatholicMom.com. Barb enjoys writing, cooking, and reading, and is a music minister at her parish and an avid Notre Dame football and basketball fan. Find her blog at FranciscanMom and her family's favorite recipes with nutrition information for diabetics at Cook and Count. Her booklet, The Handy Little Guide to Prayer, is available now from Our Sunday Visitor.