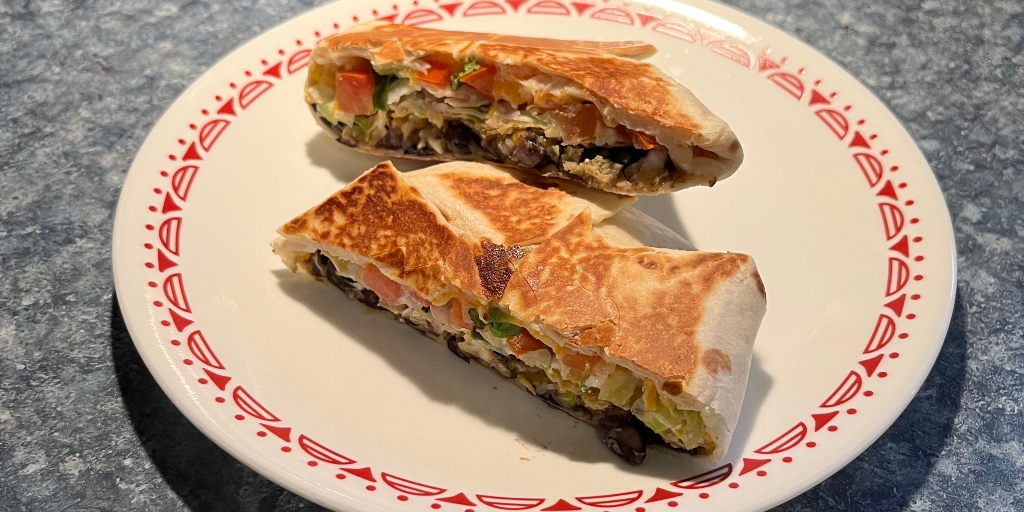 Barb Szyszkiewicz shares a copycat recipe for a meatless version of a fast-food favorite.
---
These meatless wraps are easy to make and to customize! We've tried several different filling combinations in this recipe.
To be sure the wraps will fully seal, it's important not to overstuff them. And the final ingredient layer needs to be cheese, because that's what makes the seal.
These are fun to make with kids. Set up an assembly line and cook enough for the whole family.
Black Bean Crunchwraps
Makes 4 servings
Ingredients:
1 can black beans
1/2 tsp chipotle chili pepper
4 large (10-inch) flour tortillas
1/2 cup chopped onion
2 cups Cheddar-Jack cheese, shredded
4 tostadas (about 4-5 inch size)
1/2 cup sour cream
2 cups shredded lettuce
1 cup diced tomato
1/4 cup fresh cilantro (optional)
Oil for the pan
Directions:
Place beans in a small saucepan (do not drain). Add chipotle chili pepper. Cook 15 minutes.
Spread large tortilla on top of a cutting board. Use a slotted spoon to add about 1/4 cup beans to the center of the tortilla. Top with 2 tbsp onion and 1/4 cup cheese.
Spread 2 tbsp sour cream on a tostada and place on top of the cheese. Top with lettuce, tomato, cilantro, and another 1/4 cup cheese.
Fold in the edges of the tortilla toward the center so all the filling is covered. (If you overstuffed your Crunchwrap, tear off a piece of an extra tortilla to fill in the gap.)
Heat oil on a griddle or skillet. Place Crunchwrap seam side down on the skillet and cook until browned on both sides. (I use a cast-iron burger press while cooking the first side, to ensure that the seam is sealed.)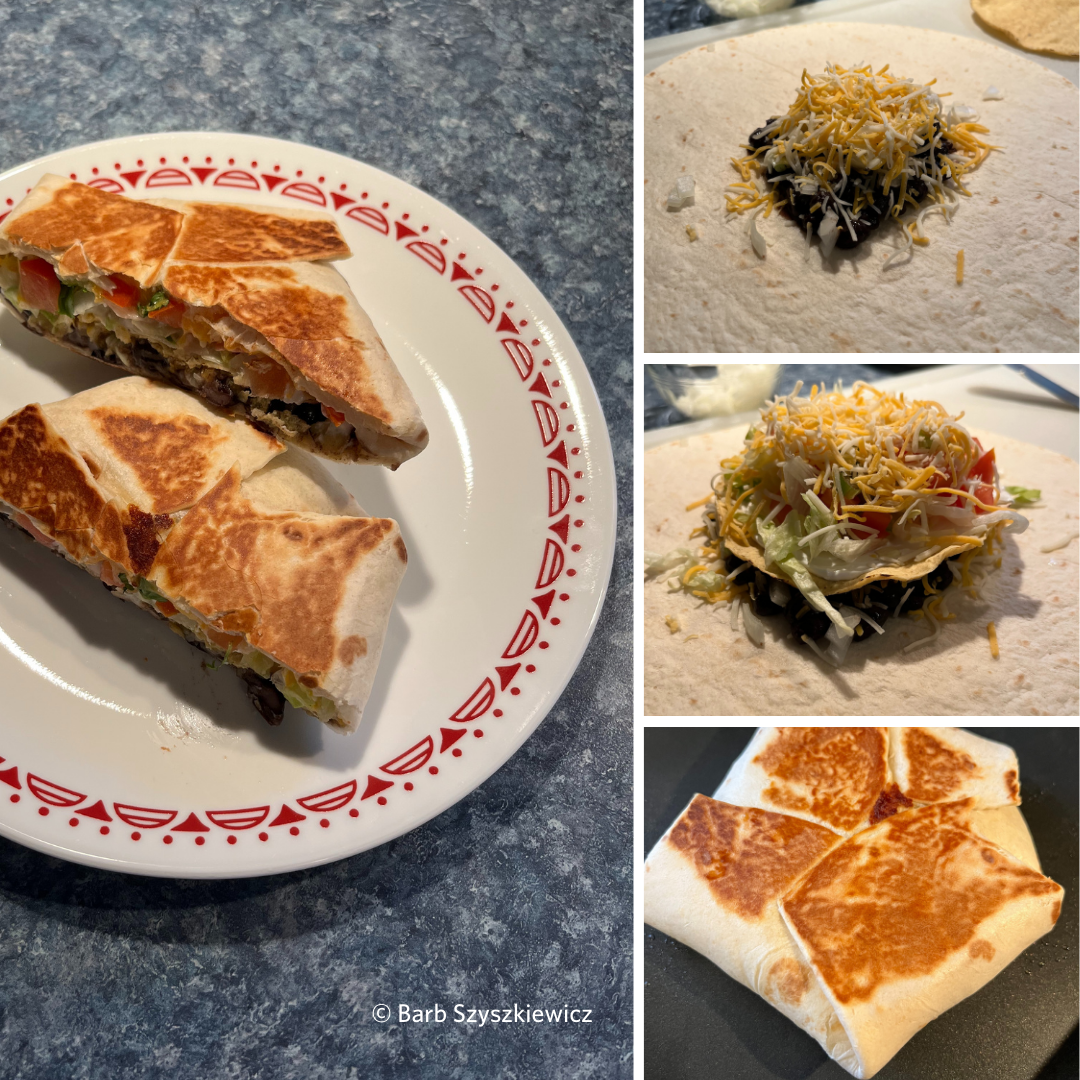 Click to tweet:
For #MeatlessFriday make this fast-food favorite at home with the kids #catholicmom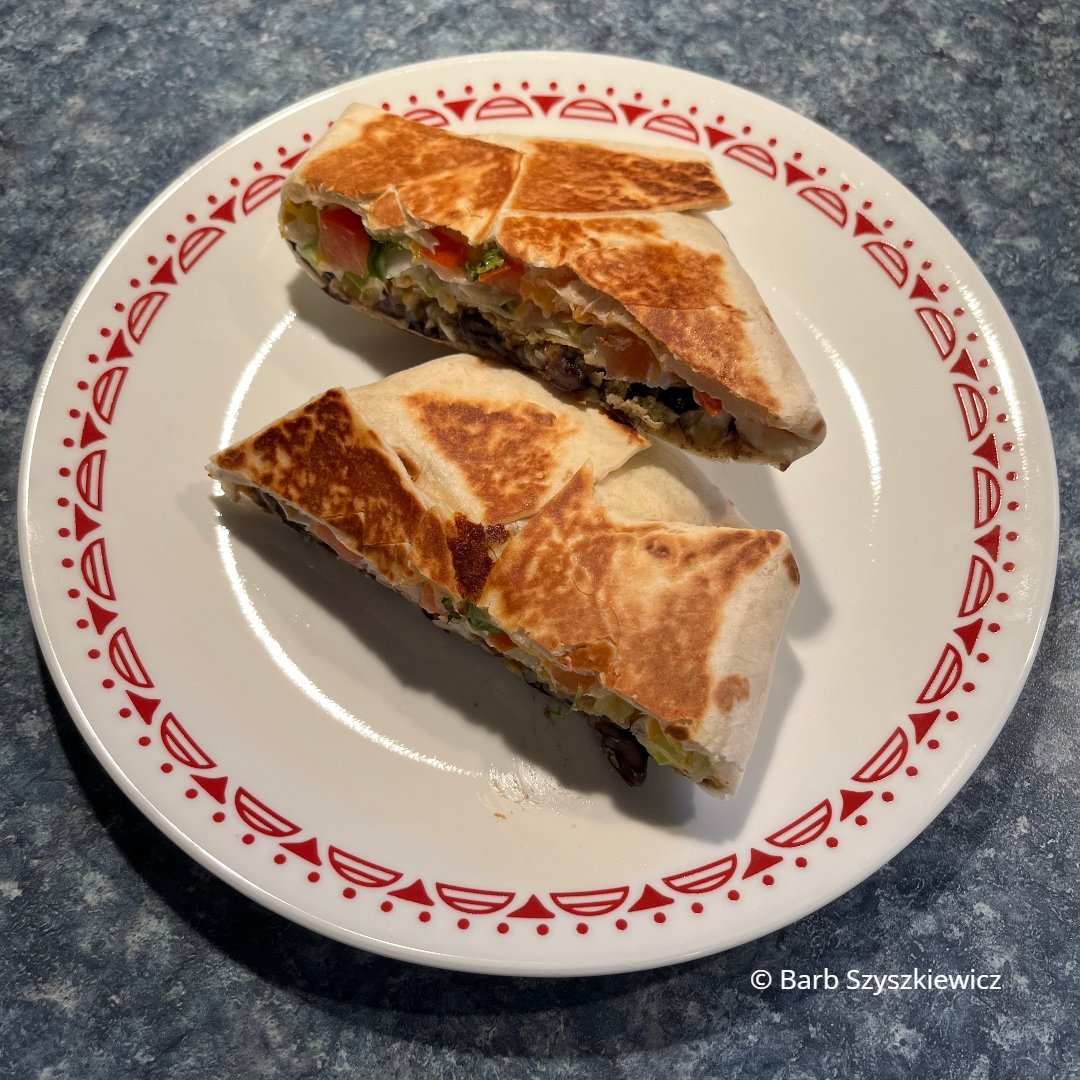 ---
Copyright 2022 Barb Szyszkiewicz
Images: copyright 2022 Barb Szyszkiewicz, all rights reserved.
About the Author