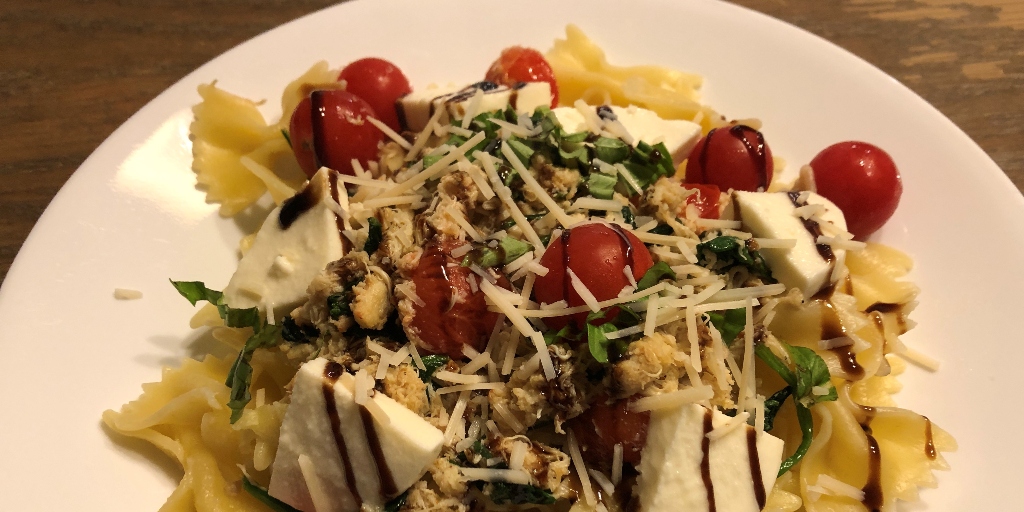 Karen Ullo presents a recipe for a festive meatless dish with traditional Christmas colors.
This quick, easy festival meal is meant to mimic the colors and shapes of a Christmas tree: bowtie pasta for the presents, cherry tomatoes for the ornaments, triangular mozzarella for the trees (or use pearls for more ornaments), with basil and parmesan for tinsel. But if you don't tell people that, you can serve it any time. It only takes about ten minutes to prepare and will delight your family or your guests.
If it's not a meatless Friday, try adding spicy sausage for an additional treat. The pictured one is shrimp and pork sausage, but any kind you like is fine. You can also substitute the pasta; the green one is a regular dry pasta made with spinach and other greens.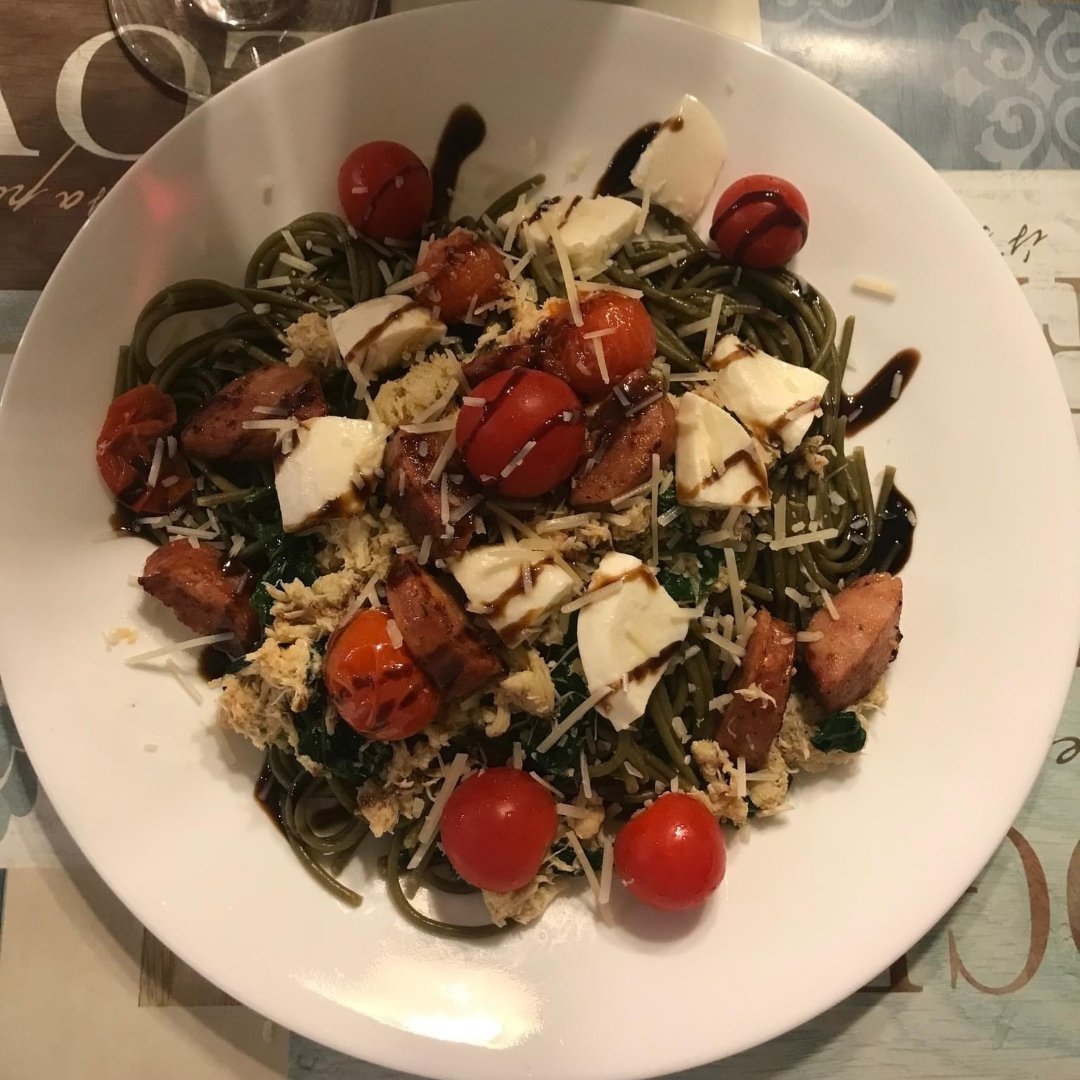 Click to tweet:
This quick, easy festival meal is meant to mimic the colors and shapes of a Christmas tree. #catholicmom
Christmas Crab Caprese Pasta
1 package bowtie pasta, prepared according to package directions (or substitute what you prefer)
For the crab:
8 oz lump crab meat
1 tbs. cooking oil
2 tbs. lemon juice
1 tsp. Creole seasoning (see note)
2 leaves basil, chopped
A handful of cherry tomatoes
A large handful of fresh spinach
Heat the oil in a sauté pan, then add crab, lemon juice, Creole seasoning, and basil. Sauté on medium high heat for 3-4 minutes, then add the vegetables. Continue sauteing until the spinach is wilted and the tomatoes begin to burst open, about another 3-4 minutes.
If using sausage, brown it in the sauté pan before cooking the crab so that the crab will absorb some of the pork flavor.
To plate:
Fresh mozzarella slices, quartered to make triangles (or use pearls)
Additional fresh cherry tomatoes
Additional chopped basil
Grated parmesan cheese
Balsamic vinegar glaze, store-bought
Place the pasta on the plate, then top with the desired amount of crab (and sausage if desired.) Add cheese and other topping as desired. Use a store-bought balsamic glaze to squeeze over the dish in a zig zag pattern—the one I use comes in a squeeze bottle and is sold near the vinegar.
That's it! Merry Christmas, and enjoy!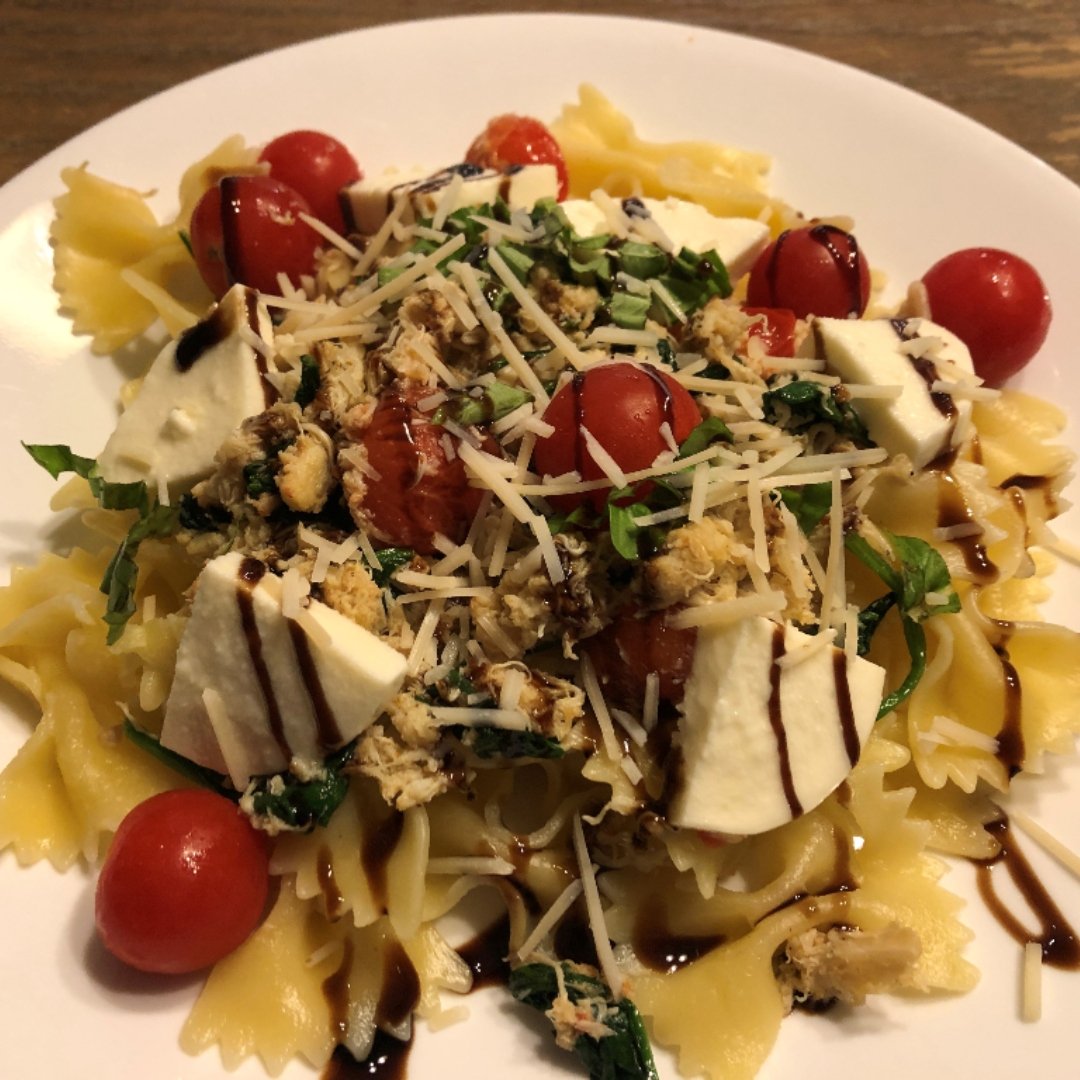 NOTE: Any time my recipes call for Creole seasoning, I like to give you the recipe for it, just in case. There are plenty of commercial brands available, but this comes straight from my Creole grandmother, and it's better.
Eileen's Creole Seasoning:
2 tbs. salt
1 tbs. ground red pepper
1 tbs. chili powder
1 tbs. garlic powder
1 tsp. black pepper
Place all ingredients in an empty spice bottle and shake to combine.
---
Copyright 2021 Karen Ullo
Images copyright 2021 Karen Ullo, all rights reserved.
About the Author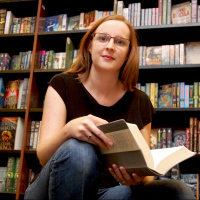 Karen Ullo is the author of two award-winning novels, Jennifer the Damned and Cinder Allia. She is one of the founding editors of Chrism Press, which is dedicated to publishing Catholic and Orthodox fiction, and the former managing editor of the Catholic literary journal Dappled Things. She's also a wife and mother of two. Find out more at KarenUllo.com.