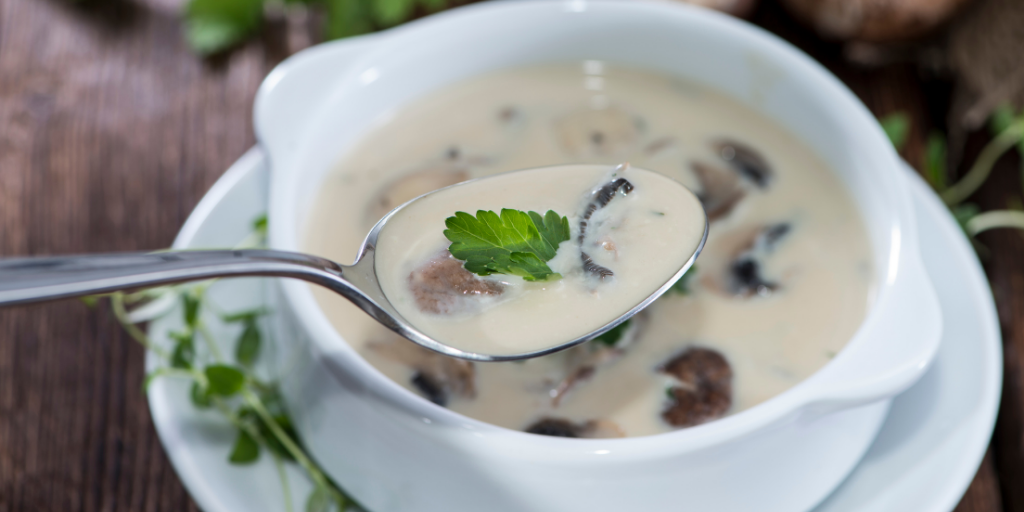 Margaret Rose Realy, Obl. OSB, shares a recipe and cook's tips for homemade cream of mushroom soup.
This is a rich soup full of flavor which I often served at the start of holiday dinners; it was presented with a small dollop of sour cream and a passing tray of assorted herb toppings (listed below) in little bowls.
A quick recipe to make that doubles easily, and can be frozen for up to three months. I often make 2 or 3 double batches to freeze when portabella mushrooms are marked down.
A few things to keep in mind about the mushrooms: buy sliced because they are cleaned, older mushrooms have more flavor so I buy those marked "reduced-for-quick-sale," and I prefer portabella mushrooms with beef bouillon paste and white mushrooms with chicken or vegetable bouillon paste. I've found that packaged stock or broth lack flavor, and bouillon cubes seem bitter and too salty.
Click to tweet:
For #MeatlessFriday try this freezer-friendly Cream of Mushroom soup. #catholicmom

Cream of Mushroom Soup
Makes 4 large servings as a main entre served with crusty bread or rolls to cut the richness, or 6 smaller stand alone second course servings.
Melt in soup pot 2 Tbl. butter, add 8 oz. sliced mushrooms and stir to evenly coat. Simmer until mushrooms release their juices and are slightly tender.
Add:
2 tsp. bouillon paste (vegetable, chicken, or beef) dissolved in 2 c. hot water
½ c. chopped celery
¼ c. chopped onion
¼ tsp. dry thyme
Bring to a boil, reduce heat and simmer for 20 minutes stirring occasionally. Roughly puree with immersion blender.
White Sauce:
2 Tbl. butter melted in a sauce pan
2 Tbl. flour whisked into butter until smooth and begins to bubble.
Remove from heat and rapidly stir in1 c. milk.
Return pan to heat and bring to a simmer, whisking constantly until thickened — about 2-3 minutes.
Slowly add white sauce to puree, whisking until well blended.
Add:
1/8 tsp paprika
1/8 tsp. nutmeg (Measure carefully! This spice really makes the soup but too much will make it nearly inedible.)
Simmer until thickened, stirring often, but do not boil.
Optional:
Serve topped with sour cream, fresh parsley, chives, or arugula.
Add ½ c. cooked brown rice mix … white rice is fine too.
---
Copyright 2021 Margaret Rose Realy, Obl. OSB
Image: Canva Pro
About the Author