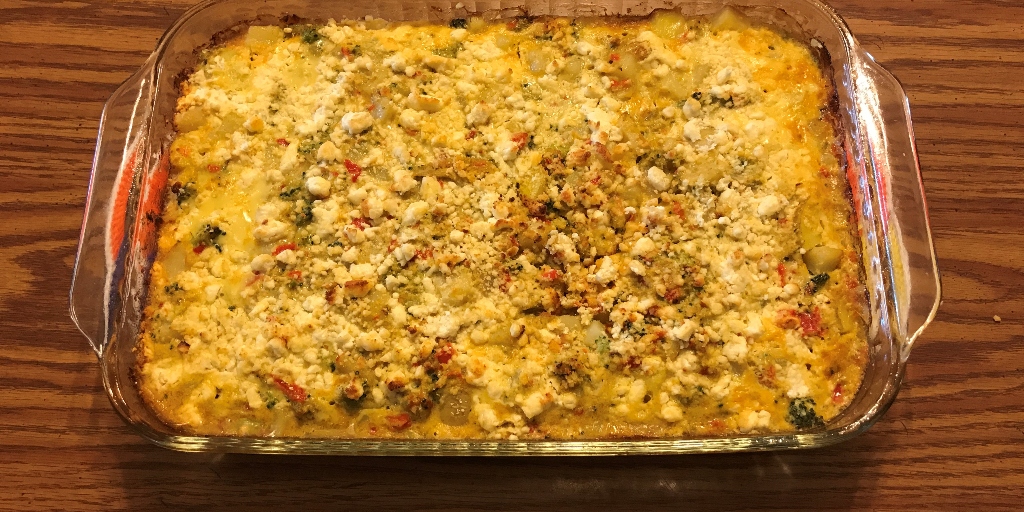 Charlene Rack shares a simplified breakfast-for-dinner recipe for big families.
---
I love potato frittatas, but I also like making bigger portions and keeping food prep simple, so here's my take on a family-style favorite for meatless Fridays. This recipe makes 8 to 10 servings.
Potato Frittata Casserole
Ingredients:
One large onion, diced
8-10 small red or yellow potatoes, diced, or 6-8 medium Idaho potatoes, diced
1 or 2 sliced bell peppers, any color
1 to 1 1/2 tsp salt
1 & 1/2 tsp dried thyme
1/2 tsp pepper
10 eggs, lightly beaten (in a large mixing bowl)
Olive oil for sautéing
Cheese of your choice for topping off the casserole (crumbled feta or crumbled goat cheese are perfect, found in 4 oz containers in the deli; or use grated cheddar cheese)
Directions:
Preheat oven to 400°.
In a large frying pan, sauté diced potatoes on stovetop in olive oil until fairly soft, then add onion, and bell peppers, along with salt (start with 1 tsp, add more later if desired), thyme, & 1/4 tsp pepper. Continue to simmer until vegetables are at a suitable "crunchiness" for your preference. Taste to adjust seasonings.
Remove the frying pan from the burner and stir for 5 minutes to cool mixture. Add the potato and vegetables mixture to the beaten eggs and stir well to coat, then pour into a large glass baking dish. Top with cheese of your choice, and bake in 400° oven for 15-20 minutes (until top is browned and eggs are set). Let casserole cool at least 5 minutes before slicing and serving.
Click to tweet:
A simplified version of a breakfast-for-dinner favorite for #MeatlessFriday. #catholicmom
If you're a bit silly, like me, you can sing this song I "made up," while you saute (sung to the tune of "Hakuna Matata," from the original Lion King movie, copyright 1994, Walt Disney Pictures) Your kids will love it.
"Potato Fritatta! What a wonderful phrase.
Potato Fritatta, ain't no passing craze.
It means no meat, because it's a Friday.
It's our sacrifice philosophy ... potato frittata!"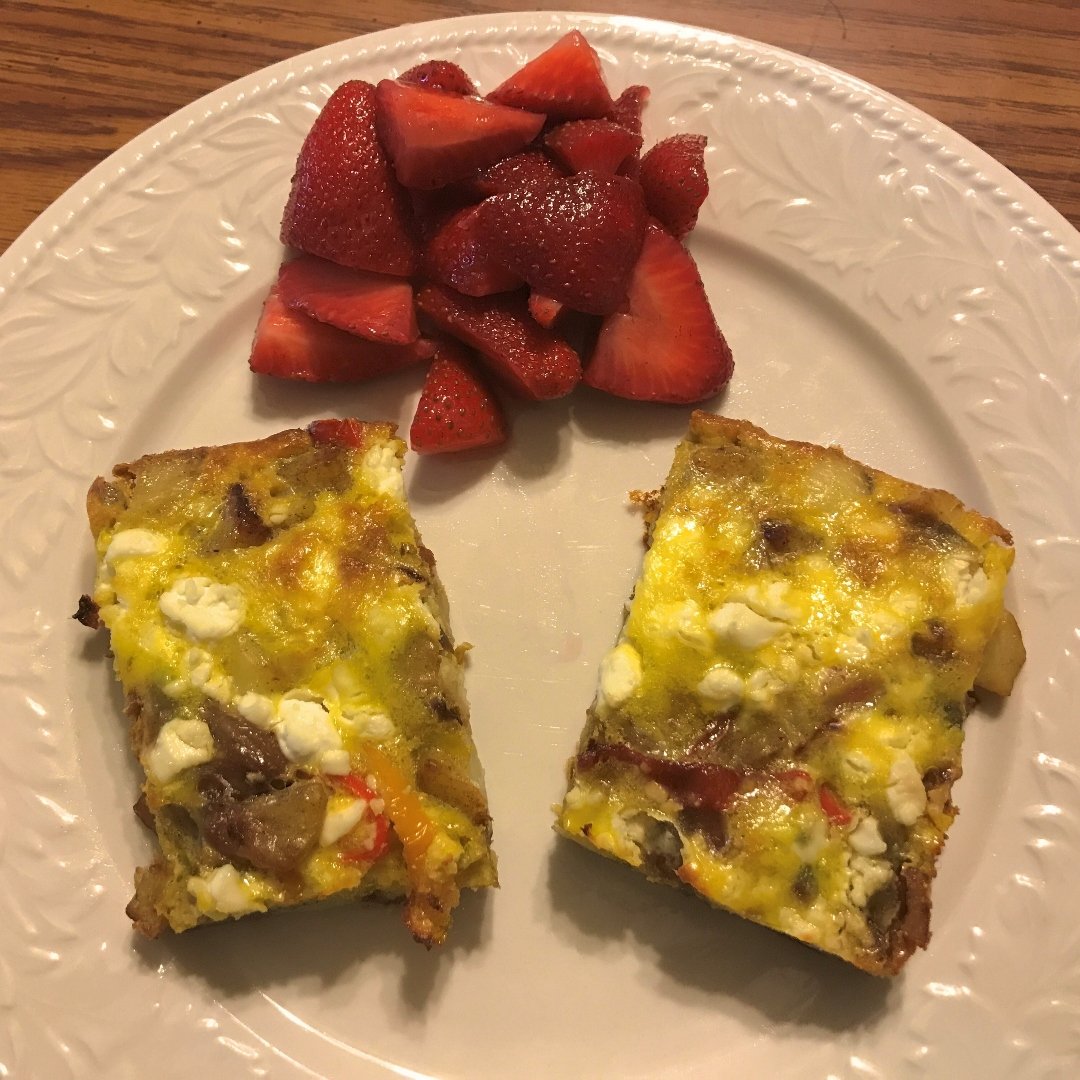 ---
Copyright 2022 Charlene Rack
Images copyright 2022 Charlene Rack, all rights reserved.
About the Author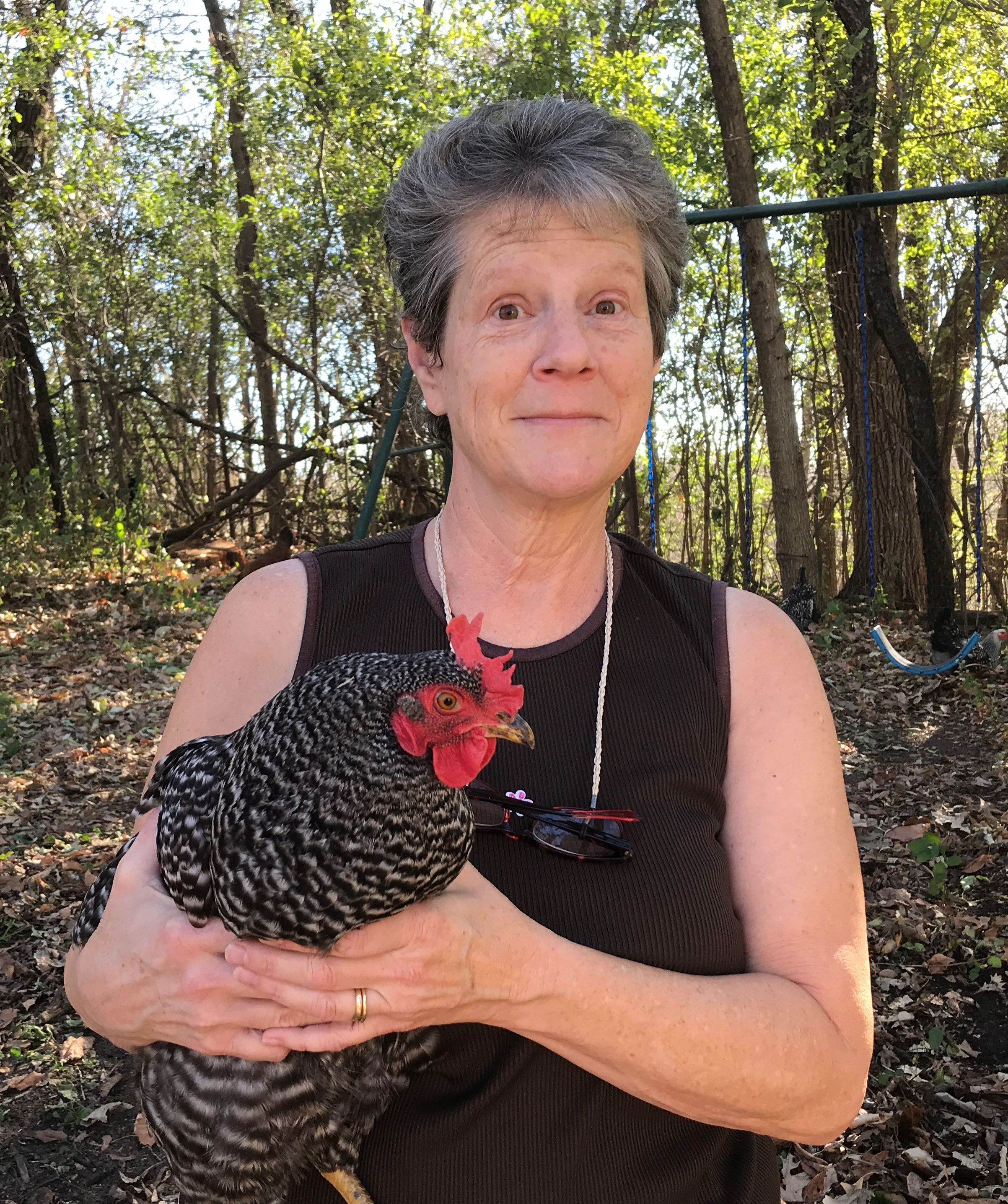 Charlene Rack grew up in the "heartland," moved south to Cincinnati, married a Catholic man, converted to Catholicism, and had three children. Along the way, she's planned many mission trips, youth groups, and pilgrimages to the March for life for teens and young adults - all carried out with her goofy sense of humor and her enthusiastic sense of adventure. Read her blog at Grandma's Coffee Soup.