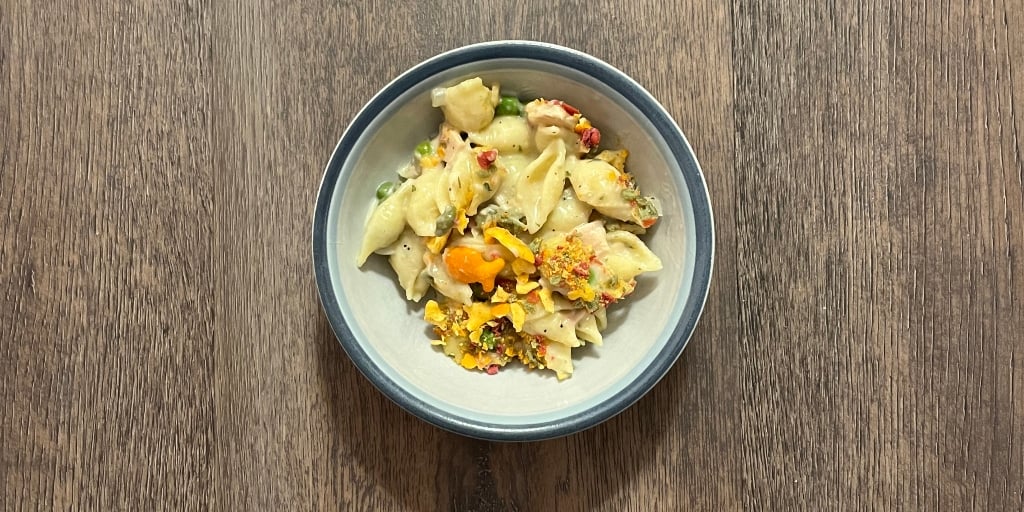 Skip the canned soup when you make Barb Szyszkiewicz's version of Tuna Casserole (topped with Goldfish crackers just for fun).
---
The only thing that comes out of a can when you make this Tuna Casserole is the tuna! I don't mind the kind you make with the cream-of-something soup, but there's a lot of sodium in that, and this was almost as easy and definitely checked all the comfort-food boxes. I used my own chicken broth, which is very low in sodium, so most of the salt in this recipe came from the tuna itself, the cheese, and the crushed Goldfish in the topping. You can season it however you like, and change up the vegetables, topping, and cheese.
I really liked that this recipe is freezable. As the only one in the household who enjoys Tuna Casserole, I made this once and baked one small pan, freezing the rest in two containers to bake for lunch another day. My younger son's girlfriend is a Tuna Casserole fan, so she eagerly took one of those frozen containers back to her college apartment to bake for herself. I just wrote the baking directions on the lid of the container and she's good to go.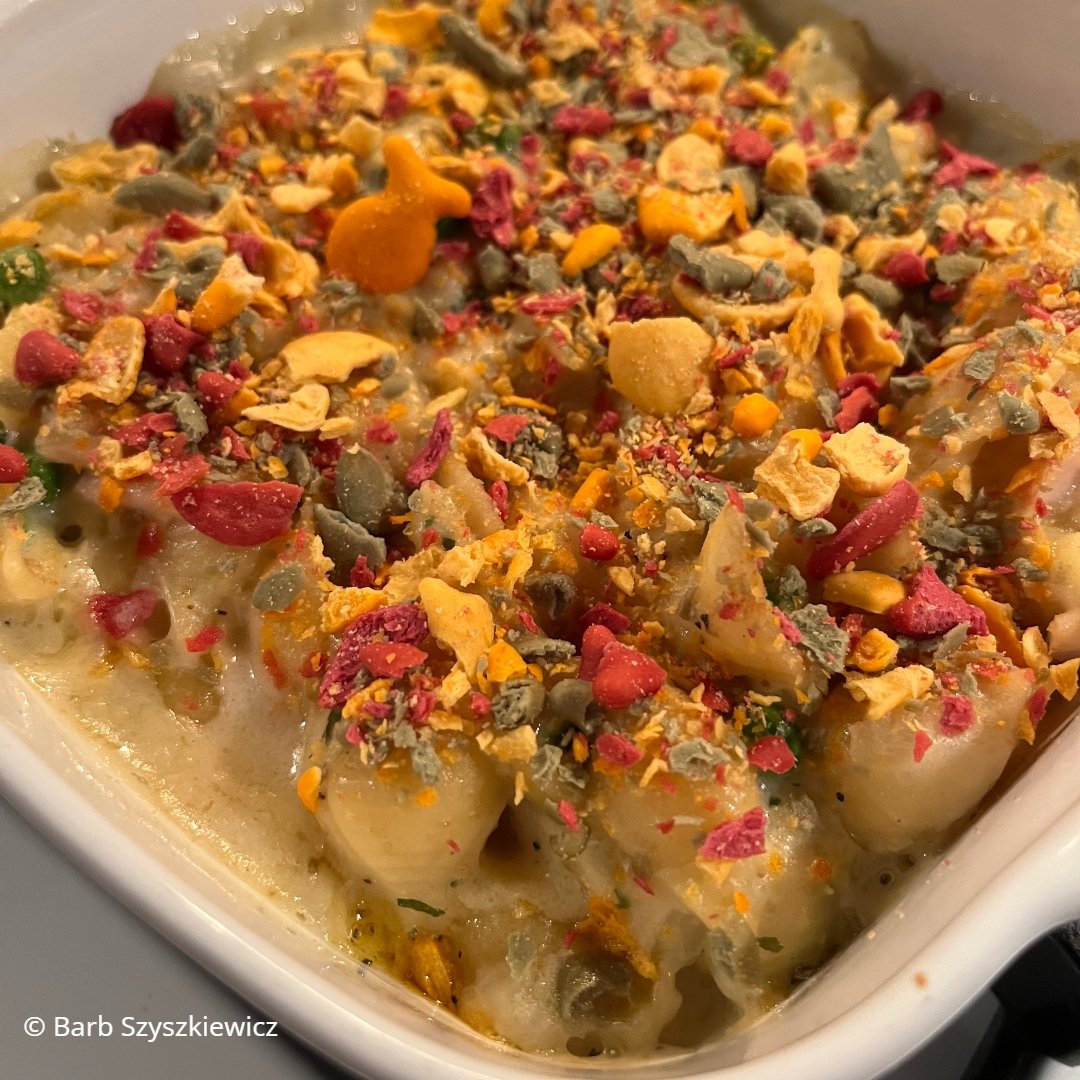 Soup-Free Tuna Casserole
Makes 6 servings
Ingredients
8 oz. pasta, cooked al dente (I used medium shells; spirals, elbows, or radiatori would also work well)
4 tbsp butter, divided
1/3 cup onion, finely chopped
3/4 cup frozen peas
1 clove garlic, minced
1/4 cup all-purpose flour
2 cups low-sodium chicken or vegetable broth
1 cup milk, warmed
1/4 tsp salt
1/4 tsp black pepper
1 tbsp dried parsley flakes
3/4 cup Cheddar/Jack cheese, shredded
5 oz can white albacore tuna (in water), drained
2/3 cup crushed Goldfish crackers for topping
Directions
Melt 1 tbsp butter in large skillet. Add onion and peas; sauté a few minutes. Add garlic and cook 1 minute more. Remove from pan.
Melt remaining butter in the same pan. Add flour and stir 30 seconds. Whisk in broth and milk slowly, stirring constantly until smooth. Bring to a low simmer and cook 2 to 3 minutes until thickened and bubbly.
Reduce heat to low and add seasonings and cheese.
Remove from heat and stir in pasta, vegetables, and tuna. Pour mixture into a 9x13-inch baking dish. Sprinkle with toppings and bake at 350 for 25 to 30 minutes.
Make-ahead: Do not add toppings before freezing. Thaw frozen casserole in refrigerator. Bake covered for 15 minutes, then remove cover, add toppings, and bake 20 to 25 minutes more until center is hot.
Click to tweet:
Skip the canned soup when you make this version of Tuna Casserole for #meatlessfriday! #catholicmom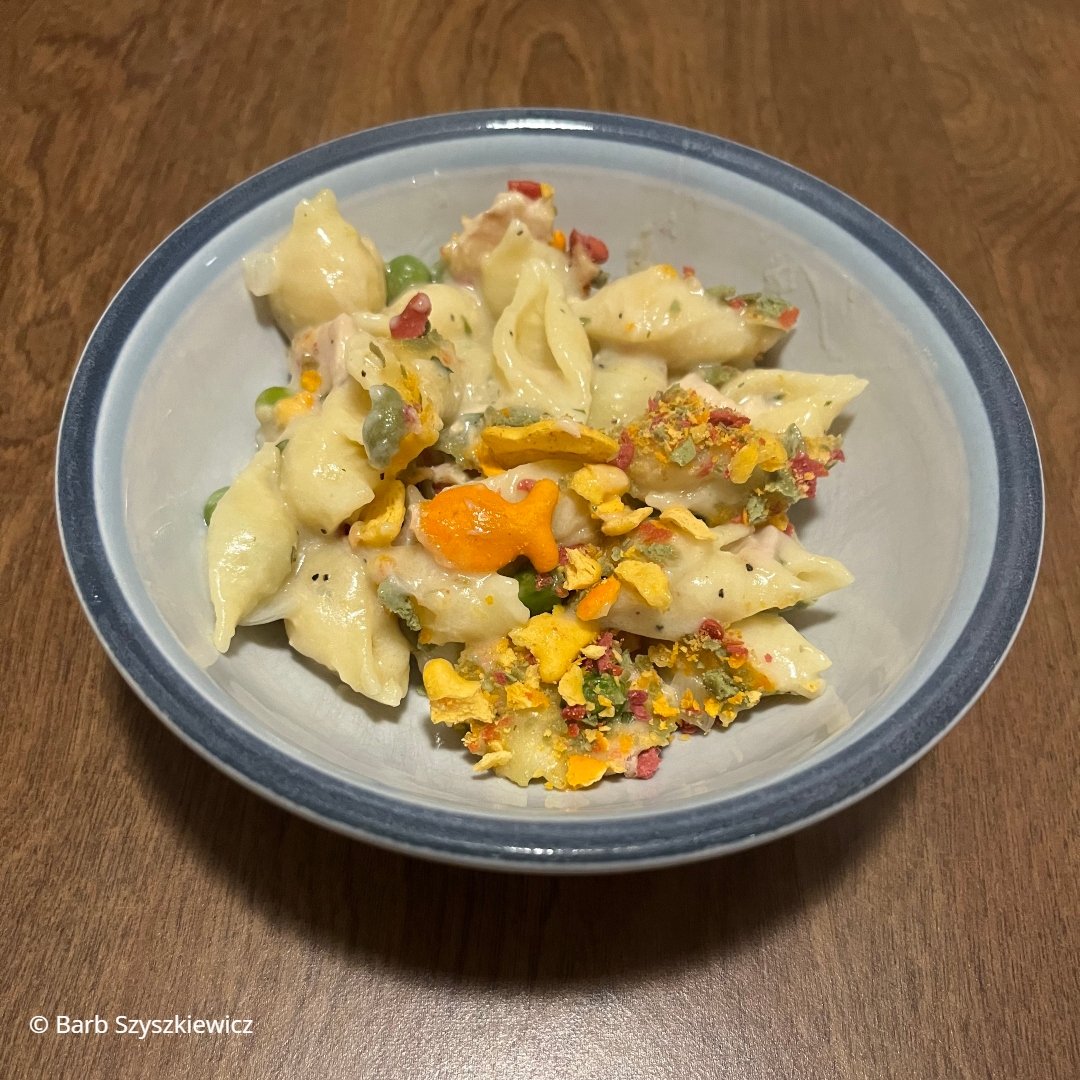 ---
Copyright 2022 Barb Szyszkiewicz
Images: copyright 2022 Barb Szyszkiewicz, all rights reserved.
About the Author