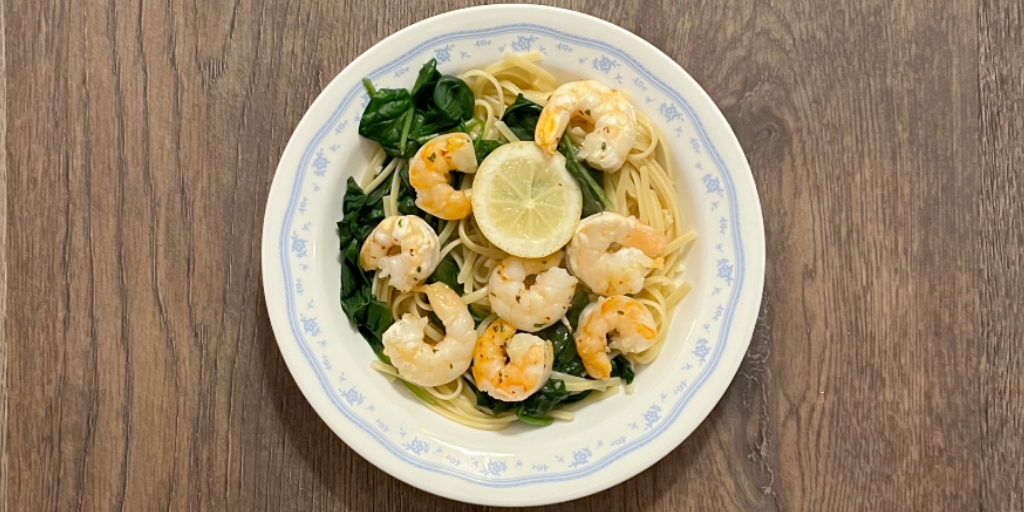 A pasta pot and a sheet pan are all you'll need to prepare this shortcut pasta recipe by Barb Szyszkiewicz.
---
I love to cook, but I'm not a big fan of cleaning up the mess afterward. If there's a shortcut to be found that will allow me to clean fewer pots and pans, I'm all for it. Recently, I learned that it's possible to cook spinach right along with pasta, and that eliminated another pan, lid, and steamer—and by roasting the shrimp in the oven, a foil-covered sheet pan made for easy cleanup there as well.
Spinach and Shrimp Pasta
Ingredients
1 pound raw shrimp, peeled and deveined, tails removed
3 tbsp olive oil
1/2 tbsp lemon pepper seasoning
1/2 tsp crushed red pepper (optional)
1/2 lb pasta of your choice
1 lb baby spinach
Lemon slices for garnish
Directions
Set water to boil for pasta in a large pot. Set oven at 425°F. Cover sheet pan with foil.
Combine shrimp, olive oil, and seasonings in a bowl. Pour onto prepared sheet pan. Scrape remaining oil over top of shrimp.
When water boils, add pasta to the pot. Put the shrimp into the oven and roast 8 minutes. Remove when done.
When pasta is nearly done to your liking, add spinach, a few handfuls at a time, and allow it to cook down while the pasta finishes cooking. When all the spinach is in, drain the water.
Return spinach and pasta to the cooking pot, add shrimp, and toss. Serve on plates or shallow bowls. Garnish with lemon.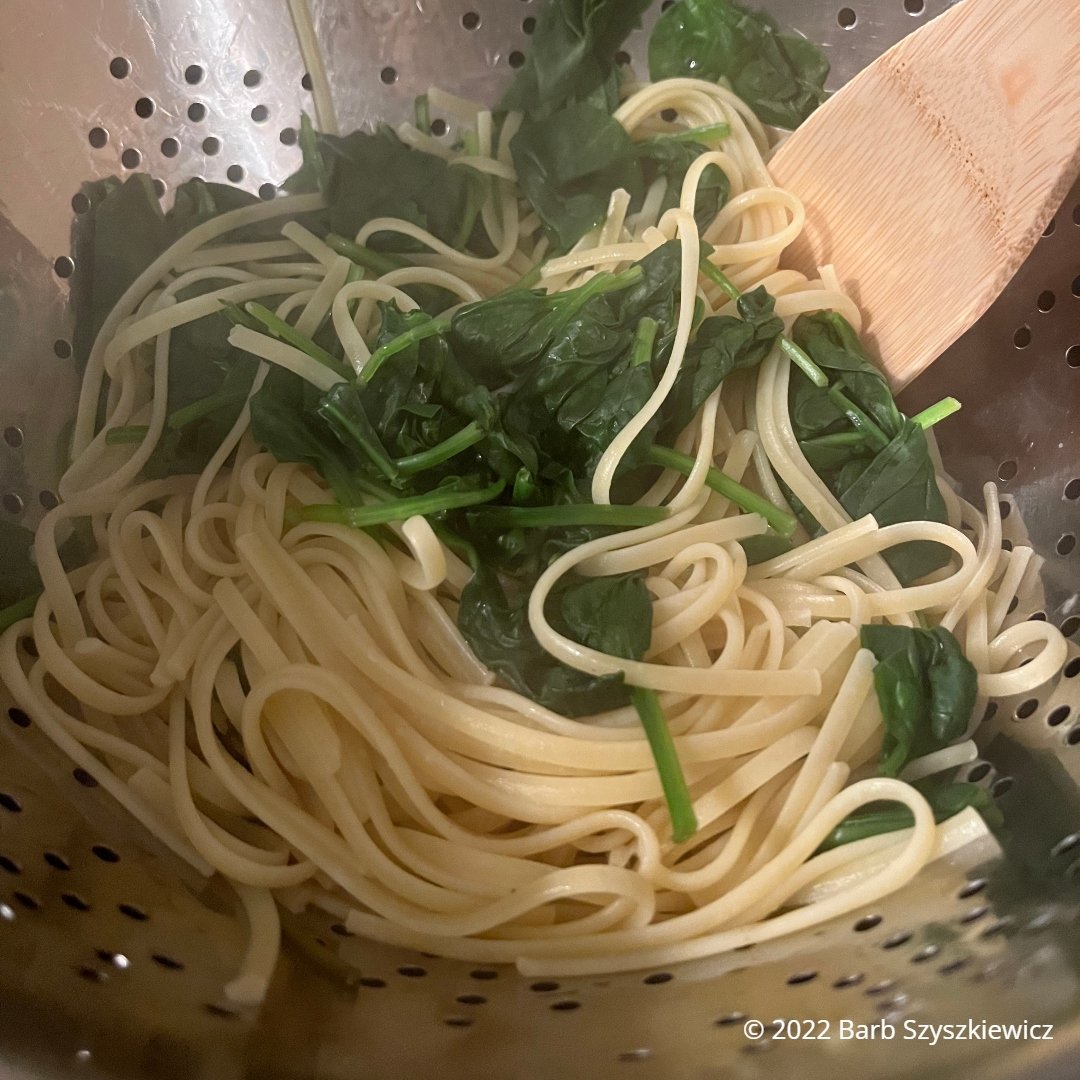 For #MeatlessFriday try this quick-to-prepare meal and save on cleanup time too. #catholicmom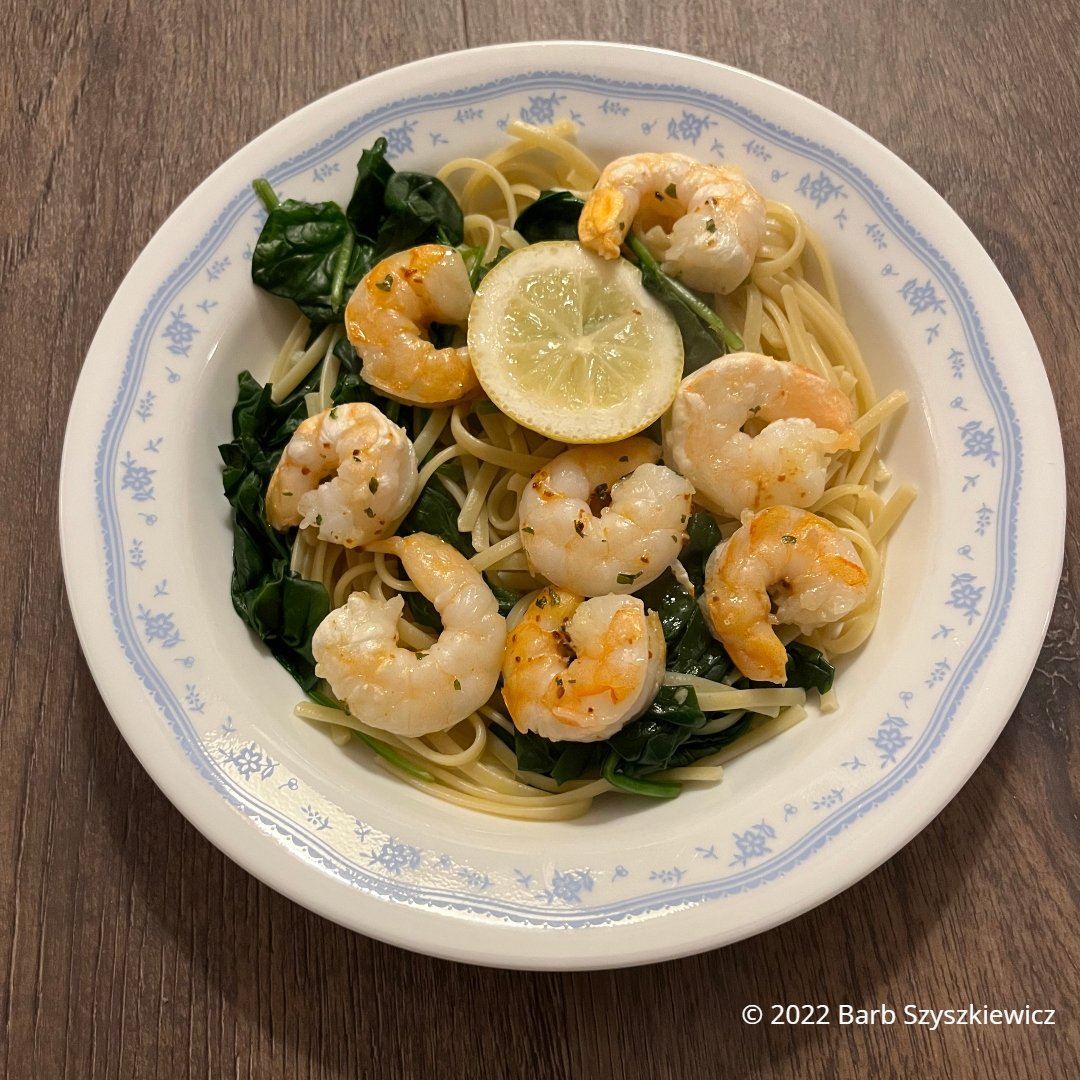 ---
Copyright 2022 Barb Szyszkiewicz
Images: copyright 2022 Barb Szyszkiewicz, all rights reserved.
About the Author