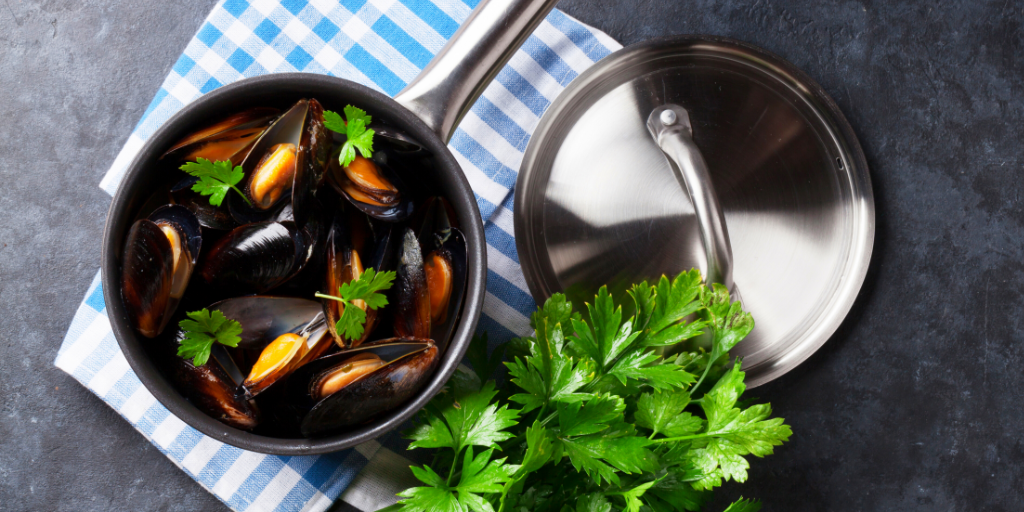 Jasmine Kuzner shares a recipe for steamed mussels that can be ready in minutes.
---
Mussels are just as versatile as shrimp when it comes to being the main star of a meatless Friday dinner. Delicious in soups, pasta, and casseroles, mussels can also be served simply in a bowl of their savory broth with a hunk of crusty bread.
Live mussels can be stored in the refrigerator for 2-3 days in a bowl covered with a damp paper towel, but they are best when cooked within a day of their purchase. For plump, juicy mussels, let them soak for 20 minutes in a bowl of water mixed with a tablespoon of flour prior to steaming. Soaking mussels in flour water allows them to clean out any grit and gives them a creamy, plump texture.
Pot size is important in steaming mussels. Make sure that your mussels do not take up more than two-thirds of the space in your pot; otherwise, they will not open properly.
Steamed Mussels
Ingredients:
4-5 lb. live mussels
3 TBS extra virgin olive oil
Half a yellow onion, diced
3 cloves garlic, sliced
½ to 1 TBS red chili flakes (depending on your preference for heat)
2 bay leaves
1-2 peels of fresh lemon rinds: be careful not to include the pith (white part of lemon)
1 ½ TBS kosher salt
Black pepper to taste
½ cup white wine or white wine vinegar
¼ cup water

Directions:
Clean mussels. Throw out any open or cracked mussels. Remove any beards (hairy part around rim) and scrub off any barnacles with a scouring pad or stiff brush. Rinse mussels in cold water. Place in bowl to soak in flour water for 20 minutes and drain (optional).
Heat olive oil in a large Dutch oven over medium heat. Add onions and sauté for 3 minutes, then add garlic and sauté for another 2 minutes.
Add chili flakes, bay leaves, lemon rind, salt, black pepper and sauté for a minute, taking care not to let the garlic get too brown.
Add drained mussels to pot and stir to coat with oil and aromatics. Increase heat to high.
Add water and wine (or wine vinegar) and put on the lid.
Check mussels after 2 minutes, stir, replace lid and then continue cooking until all mussels have opened, about 6-8 minutes. Enjoy!

Click to tweet:
For #MeatlessFriday, try a meal that can be ready in minutes: fresh steamed mussels. #catholicmom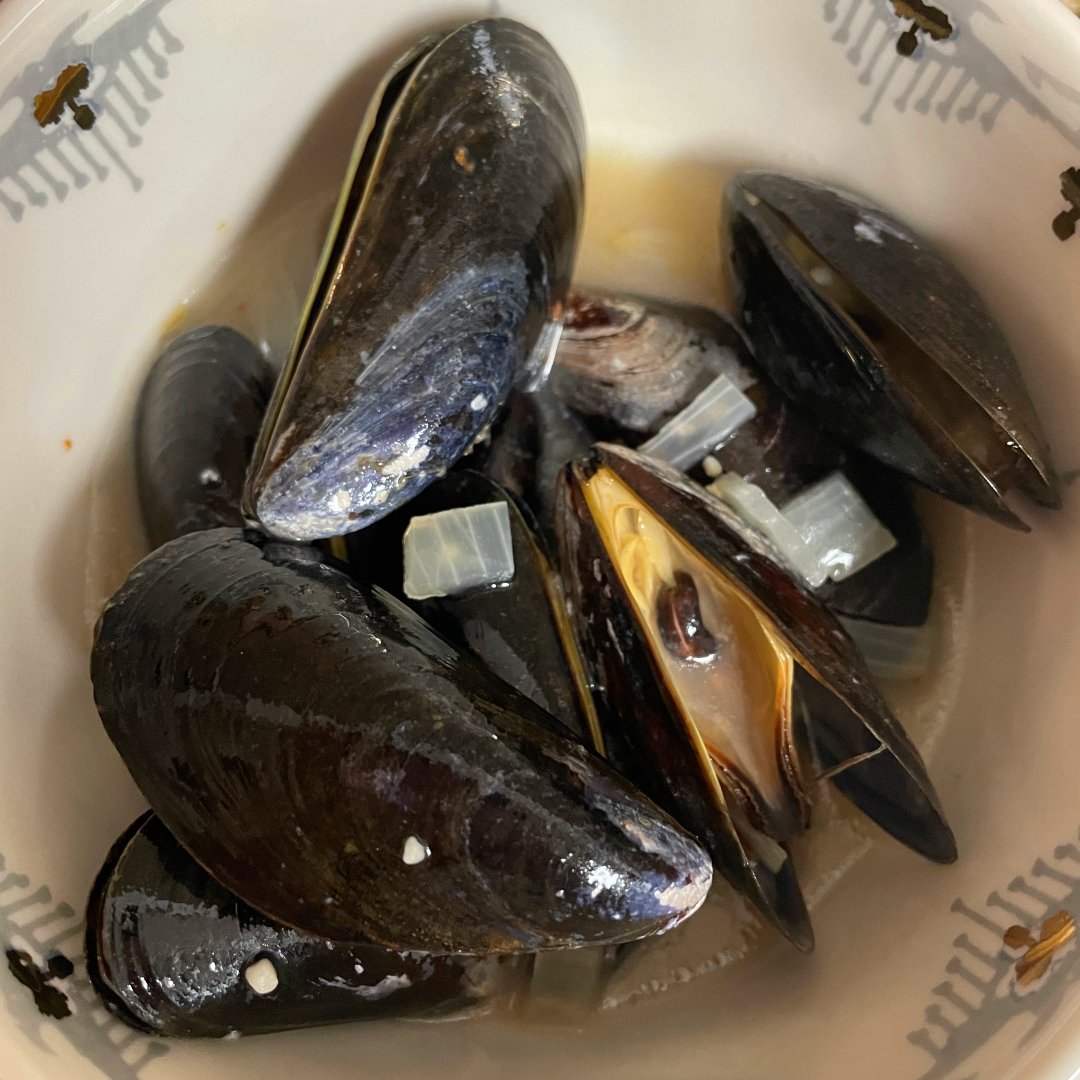 ---
Copyright 2023 Jasmine Kuzner
Images: (top) Canva; (bottom) copyright 2023 Jasmine Kuzner, all rights reserved.
About the Author
Jasmine Kuzner is a wife and mother to two beautiful, quick-witted children, and is the Director of Religious Education at Saint Bernadette Church in Silver Spring, MD. She is also a consultant for the Saint John Paul II National Shrine. She holds an M.F.A. from the University of Maryland, College Park, and has been published in Humanum Review, Busted Halo, and Catholic Mom.