Kate Taliaferro shares a recipe for a vegetarian egg bake that makes enough to feed a big family.
---
Not all families are the same size, you may be shocked to find out. So many recipes out there are set to serve 4 to 6. But what if your family needs more than that? Here's a vegetarian egg bake our family has been enjoying this Lenten season. For reference, our family is 2 adults and 6 kids (one is an infant, so technically only 5 kids eating). We usually get enough leftovers from this (because if we are going to make good food we should be able to eat it more than once) for 3 or 4 people at lunch the following day.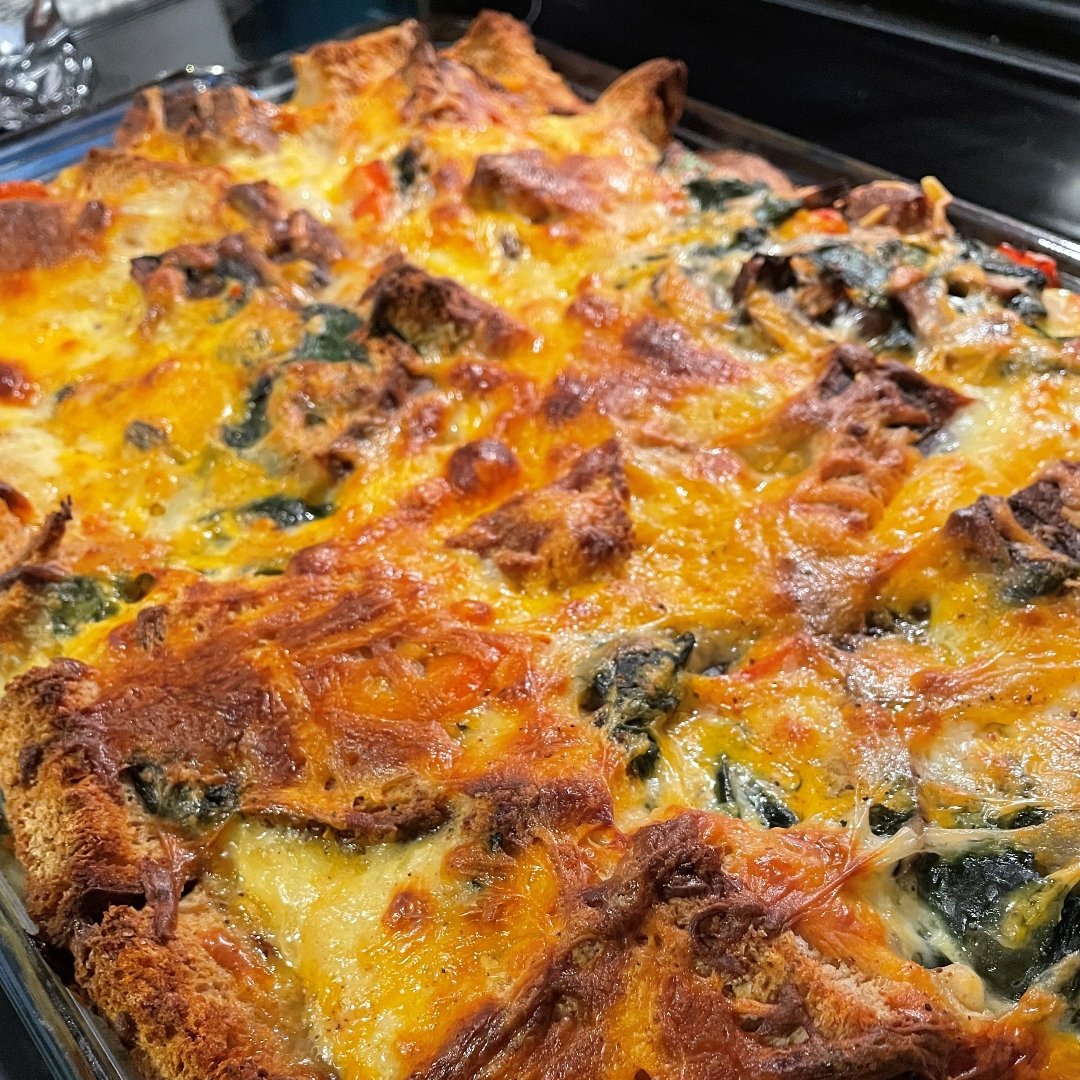 Veggie Egg Strata
Ingredients:
For the custard and basic bake
14 eggs
2 1/2 cups milk (whatever you have in your fridge percentage wise is fine)
1 1/4 cup half and half (but in a pinch, all milk is fine. Bake will be less creamy/custardy)
1 1/2 - 2 loaves of day-old French bread or other stale bread roughly equal in quantity
1 cup shredded mozzarella
1 cup shredded cheddar cheese
1 1/2 tsp kosher salt
1 tsp pepper
1/4 tsp nutmeg
Veggies (Add or subtract as desired. Be creative and use what your family likes.)
2 Tbl Olive oil
1 yellow onion, diced
3-5 garlic cloves, minced
8 -16oz mushrooms, sliced (depending on preference)
4 - 8oz spinach (again, preference)
2 sweet peppers, rough chopped
Method:
Cook veggies in advance: Sauté onions in olive oil for 3-5 minutes, until translucent. Add garlic, cook additional 30 seconds - 1 minute, until fragrant. Add mushrooms and peppers. Sauté 8-10 minutes until peppers are soft. Add spinach and cook until wilted. Set aside.
Grease 11x15" casserole (5qt) dish.
Mix together all custard ingredients except bread and cheese.
Tear or slice bread into slightly larger than bite size pieces. Place in dish.
Add cooked vegetables, mixing to combine and distribute evenly with bread.
Add half of each cheese to the top of the bread/veggie mix. Pour in custard being sure to coat entire surface. While not all the bread will probably be submerged, every piece should have custard touching it somewhere.
Add remaining cheese on top.
Cover with foil and put in the refrigerator for a minimum of 4 hours, overnight preferred. Or, if planning this meal for dinner, prepare before bed the day prior or first thing in the morning.
When ready to bake:
Remove casserole from the refrigerator BEFORE beginning to preheat the oven. Preheat oven to 375.
Bake casserole uncovered for 50-55 minutes or until golden and puffy.
Click to tweet:
For #MeatlessFriday, try this a recipe for a vegetarian egg bake that makes enough to feed a big family. #catholicmom
[Editor's note: Almost-empty-nesters like me would need to invite many guests to share this casserole. I cut down the recipe for me and my husband. This made enough for 2 dinners and lunch for one. - Barb]
Veggie Egg Strata (small version)
Ingredients
4 eggs
1 cup milk
1/2 cup heavy cream
3 day-old hoagie rolls, cubed
1/3 cup mozzarella
1/3 cup Cheddar
1/2 tsp salt
1/2 tsp pepper
pinch of nutmeg
1 tbl olive oil
1/4 cup onion, diced
2 cloves garlic, minced
4 oz mushrooms, sliced
4 oz fresh baby spinach
1/4 cup bell pepper, diced
Directions
Use a deep-dish pie plate for this recipe.
Prepare and bake as above, but bake only 45 minutes.
---
Copyright 2022 Kate Taliaferro
Images copyright 2022 Kate Taliaferro and Barb Szyszkiewicz, all rights reserved.
About the Author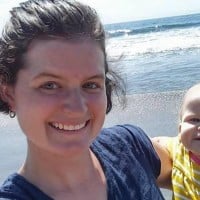 Kate Taliaferro is an Air Force wife and mom of 6. She has a Masters in Religious Education and tries to find God's presence in all parts of her day, be it cooking, cleaning or just the everyday ordinary. She enjoys homeschooling, stitching crafts and finding cheerios between the couch cushions. She blogs at Daily Graces.