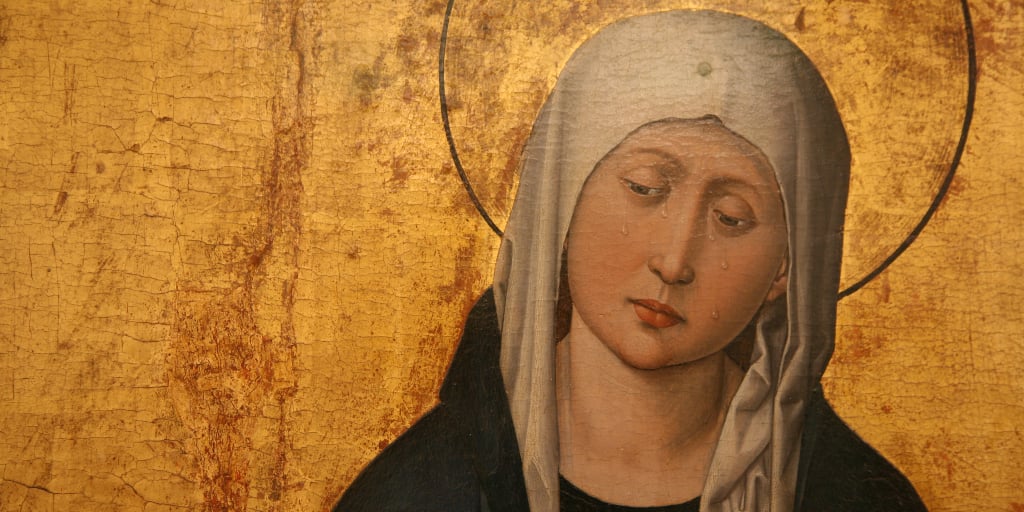 Rosemary Bogdan suggests a do-able devotion for busy moms: praying with the Seven Sorrows of Mary.
We are called to pray, fast, and give alms during Lent. Busy moms are often especially challenged to find designated times for prayer. The Seven Sorrows devotion takes away some of those challenges. It's only seven Hail Mary's while meditating on seven sequential events in Mary's life. If you're interrupted, you can just resume the next time you have twenty spare seconds.
Given to Saint Bridget of Sweden by Mary herself, this devotion includes seven promises. And they are no small promises. The first is: "I will grant peace to their families."
The following thoughts might help with your meditations.
First Sorrow: Simeon's Prophecy
And Simeon blessed them and said to Mary his mother, "Behold this child is destined for the fall and rise of many in Israel, and to be a sign that will be contradicted (and you yourself a sword will pierce) so that the thoughts of many hearts may be revealed." (Luke 2: 34-35)
A sword will pierce her soul. I imagine Mary glancing at her baby and holding him a little tighter as she wonders in sorrow what exactly that meant. In her heart, she surely knew it had something to do with Jesus. Perhaps Saint Joseph placed his hand on her shoulder, steeling his resolve to protect his wife and son at all cost.
Hail Mary ...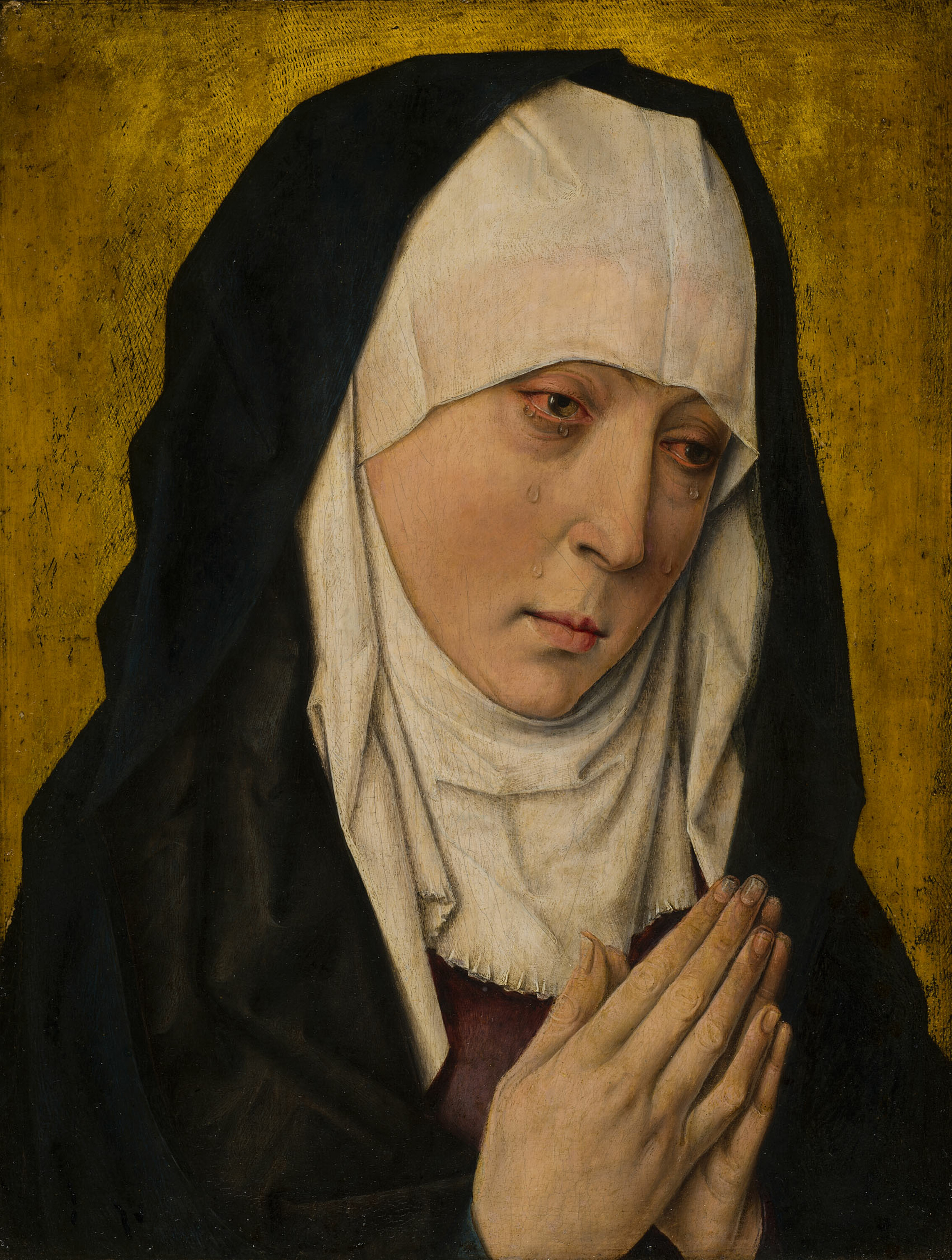 Second Sorrow: The Flight into Egypt
When they had departed, behold, the angel of the Lord appeared to Joseph in a dream and said, "Rise, take the child and his mother, flee to Egypt, and stay there until I tell you. Herod is going to search for the child to destroy him." Joseph rose and took the child and his mother and departed for Egypt. (Matthew 2:13-16)
Imagine Mary's sorrow. They left in the middle of the night. No chance for a good-bye or thank you to anyone. But the terror would be worse. Jesus was under a death threat. Were the soldiers coming right then? Was Joseph told to leave in the middle of the night because the threat might be imminent?
Surely Mary and Joseph remembered the prophecy:
A voice was heard in Ramah,
Sobbing and loud lamentation;
Rachel weeping for her children,
And she would not be consoled,
Since they were no more." (Matthew 2:18)
Such sorrow. And they were to travel to Egypt and stay there, without knowing for how long.
Hail Mary …
Third Sorrow: The Loss of the Child Jesus in the Temple
When his parents saw him, they were astonished, and his mother said to him, "Son, why have you done this to us? Your father and I have been looking for you with great anxiety."
And he said to them, "Why were you looking for me? Did you not understand that I must be in my Father's house?"
But they did not understand what he said to them. He went down with them and came to Nazareth, and was obedient to them; and his mother kept all these things in her heart. (Luke 2:48-52)
I cannot even imagine not knowing where my child was for three days. What was Mary thinking? Had he been taken? Was he alive? How many times did Mary and Joseph go up and down the streets of Jerusalem looking for him, all in vain. Was Mary in tears? I can't imagine that she didn't cry. She may have even wondered if this was the sword that would pierce her heart.
Mary "kept all these things in her heart." She trusted God, even without understanding. She accepted the cross of not knowing and embraced it.
Hail Mary ...
Fourth Sorrow: Meeting Jesus on the Way of the Cross
Imagine the horror of seeing your son bloody, and beaten. Mary probably only had a brief moment to reach out to Him and He to her. Perhaps she was barely able to stand. What grief to see your son so badly bruised and covered with blood, and to know that he was being taken to His death. She knew He had escaped other situations.
Did she dare to think He might pass through their midst? I think not. If he had not embraced this suffering, he would not have been carrying the cross. How she was able to endure the Passion is testimony to her boundless love for God and her trust in His almighty plan.
Hail Mary …
Fifth Sorrow: Mary witnesses the Crucifixion and the death of Jesus on the Cross
There she stood at the foot of the cross till the end, enduring the torment of watching her son, her only son, tortured to death. Her courage and strength are unimaginable. There was John no doubt supporting her emotionally, if not physically at times, lest she fall under the weight of such sorrow. And Mary surely was supporting the heart-broken John as well, with the endurance of her vast maternal love.
For three hours they stood. One can only imagine what strength was the Blessed Mother's.
Hail Mary …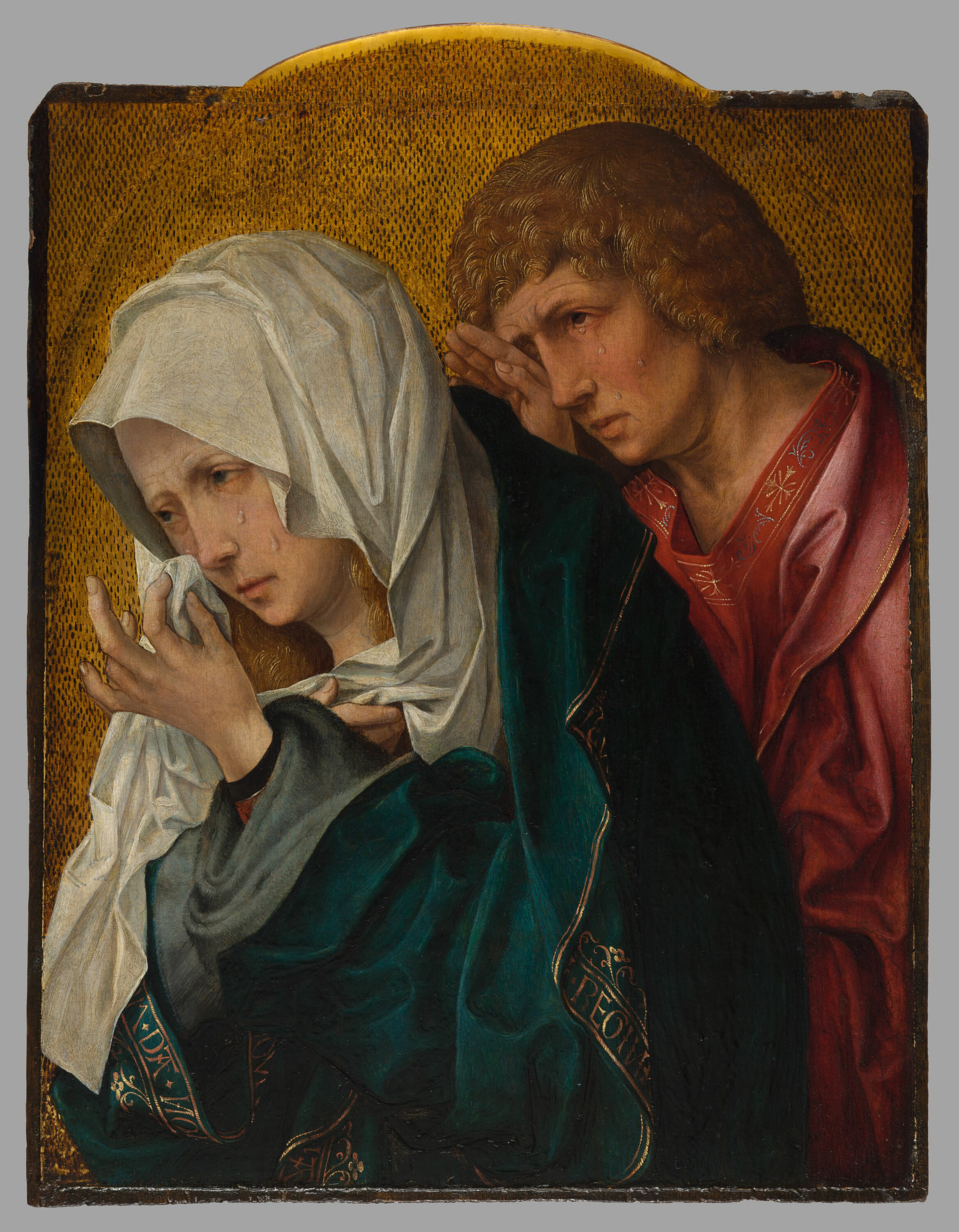 Sixth Sorrow: The body of Jesus is taken down and laid in the arms of His Holy Mother
The Pietà. There are really no words. His pain has ended. She is able to hold him, the hideous crown of thorns mocking his sovereignty no longer on him. It's impossible to know, or even imagine, what Mary was feeling. Was she numb? Could she feel nothing because feeling anything would be too much? It is finished. Her soul has been pierced. And while she does not know God's plan in full, she knows that He has one. Without being able to think or articulate anything, perhaps she knew that something monumental had just been accomplished. With Jesus' words "It is finished," perhaps she had a mystical sense of what His death had brought about.
Hail Mary …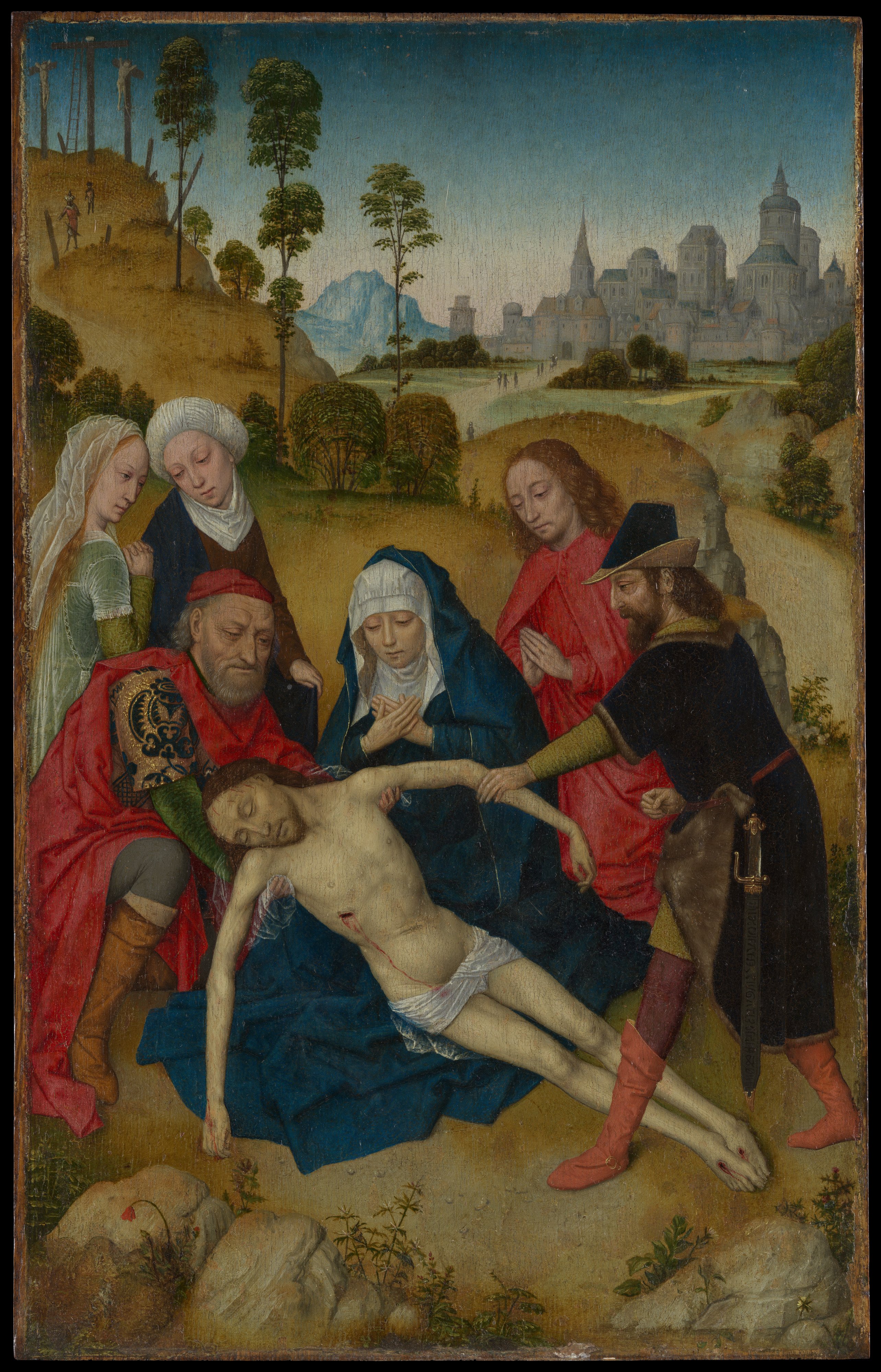 Seventh Sorrow: The Burial of Jesus, with Mary's tears and loneliness
Now in the place where he had been crucified there was a garden, and in the garden a new tomb, in which no one had yet been buried. So they laid Jesus there because of the Jewish preparation day; for the tomb was close by. (John 19:41)
I imagine that this is when the reality started to hit her. Perhaps it is now that she is able to ask herself what just happened. Leaning against the cold stone slab, touching the burial cloth, she realizes He is truly gone. Did she have a sense, a hint, that perhaps this was not the end of Jesus' story? We will never know in this life. We do know, though, her heart, the heart of the greatest mother there has ever been, has been pierced with a sword.
Hail Mary …
Have any of us as mothers experienced a sorrow so deep that there were no words? Our Lady of Sorrows, pray for us. #catholicmom
Have any of us as mothers experienced a sorrow so deep that there were no words? Our Lady of Sorrows, pray for us.
---
Copyright 2021 Rosemary Bogdan
Images (from top): "Descent from the cross" (Wikimedia Commons), Public Domain; Dierec Boots, Art Institute of Chicago, Public Domain; Jacob Cornelisz. van Oostsanen, Art Institute of Chicago, Public Domain; Simon Marmion, "The Lamentation of Christ," Metropolitan Museum of Art, Public Domain
About the Author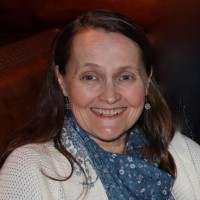 Rosemary Bogdan is a wife, mother of six adult children, and a grandmother. She homeschooled her children when they were young and currently substitute teaches at her favorite Catholic school. When not spending time with her family, Rosemary writes at A Catholic Mother's Thoughts and Catholic365.com.