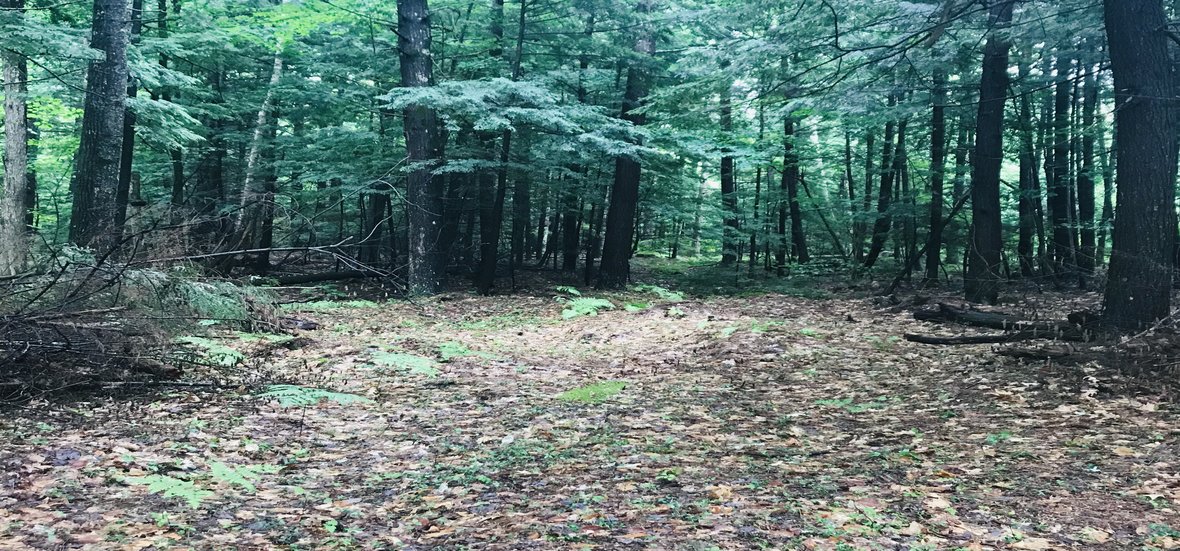 Danielle Bean shares about the making a simple Rosary prayer path in the woods.
Early this summer, I picked out my own birthday gift - something I really wanted, but that my family would probably never think to buy for me: a set of tiles featuring the mysteries of the Rosary that I could hang outdoors.
The tiles are made in Italy, so it took a few weeks before they arrived, and when they did, I kept them in the box for a few weeks more, as I was not sure yet where I wanted to hang them. Finally, I asked my 18-year-old son Stephen for his help choosing a place on our property to make a prayer spot. We live on 10 acres here in New Hampshire, and much of it is woods. Stephen loves to spend time outdoors, especially in our woods and on the trails that are part of the protected forest that borders our property. This kid knows the woods.
He suggested a nearby spot that is dry and far enough away from the house to be quiet, but also close enough to be easy to access. The following weekend, I took clippers, a bow saw, and a rake into the woods, and I got to work. I found three separate groups of trees that seemed suitable for the three sets of mysteries of the Rosary I had tiles for, and I cleared the spaces around them.
The work was much harder than I thought it would be. Hours later, I emerged from the woods, sweaty, blistered, and mosquito-bitten, but victorious. I had hung the tiles! The beginnings of my outdoor prayer space were in place. After hanging a few weather-proof Rosaries on the first tree, I was ready for business.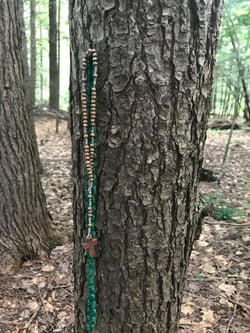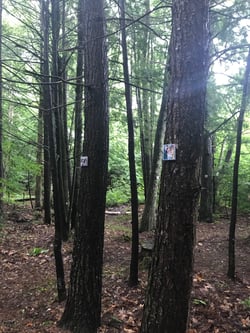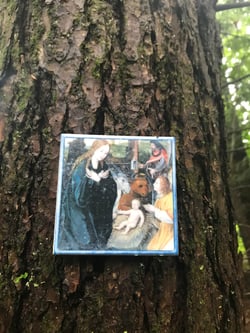 The first time I prayed in my woodsy spot, it was early in the morning. Sun shone through the trees, birds sang, and a gentle breeze rustled the leaves. I loved being there, surrounded by peaceful beauty, in the world God created. It is such a simple place, and yet a lovely way to escape the work and noise in my house and spend time in prayer. I made a short video so you can for yourself how simple it is (you can hear the birds in it!):
I'm now inspired to add to my Rosary path in the woods. I think a statue of Mary or the Holy Family might make a nice addition, and I'm already Googling to find some stations of the cross I can hang outdoors.
How about you? Do you have a place you like to pray outdoors? How do you make it your own? I was excited to see that the Museum of Family Prayer is sponsoring a Mary Garden contest so that we will be able to see many different kinds of outdoor prayer spaces that people have created, especially during this time when many of us cannot go into churches to pray. Fr. Jim Phalan, CSC, shares more details about the Mary Garden contest here. I hope you will consider submitting your prayer space in the contest because I can't wait to see yours!
Do you have an outdoor prayer space? Danielle Bean shares a simple one she made in the woods. #catholicmom
---
Copyright 2020 Danielle Bean
All images copyright Danielle Bean, all rights reserved
About the Author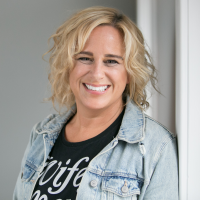 Danielle Bean is an author, speaker, podcaster, and brand manager at CatholicMom. She and her husband Dan have 8 children and live in New Hampshire.