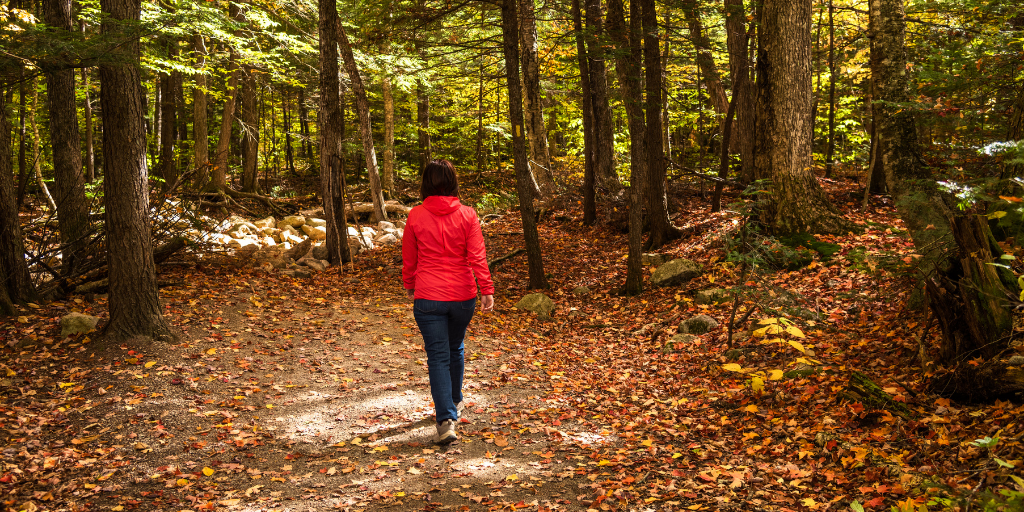 Sherry Hayes-Peirce writes of her struggle to let go of things belonging to her recently deceased husband.
My husband's daughter, Brianna booked a flight for October 1st to come to my house to go through Dude's things. I told her I wasn't ready to let things go, but happy for her to go through his things and take what she wanted.
In my mind the most important thing was the pictures. Brad and I had a bin that we kept both sets of our beloved pictures in and as I sifted through it, to separate his family pictures from mine, there were tears. She had not been to our home since he died; she opted to stay at a hotel instead of staying with me. Brianna thought it was too hard to be in the space where she had only been with him when he was alive, being here was so hard for her.
I dropped her at the hotel that first night and in the morning picked her up to come to the house. She looked around and then we started going through the pictures, it was not as hard as I thought it would be. My deepest desire was for her to find things she wanted to keep that in my mind would keep him alive in her memory and her children. So once the pictures were divided we moved on to some family heirlooms.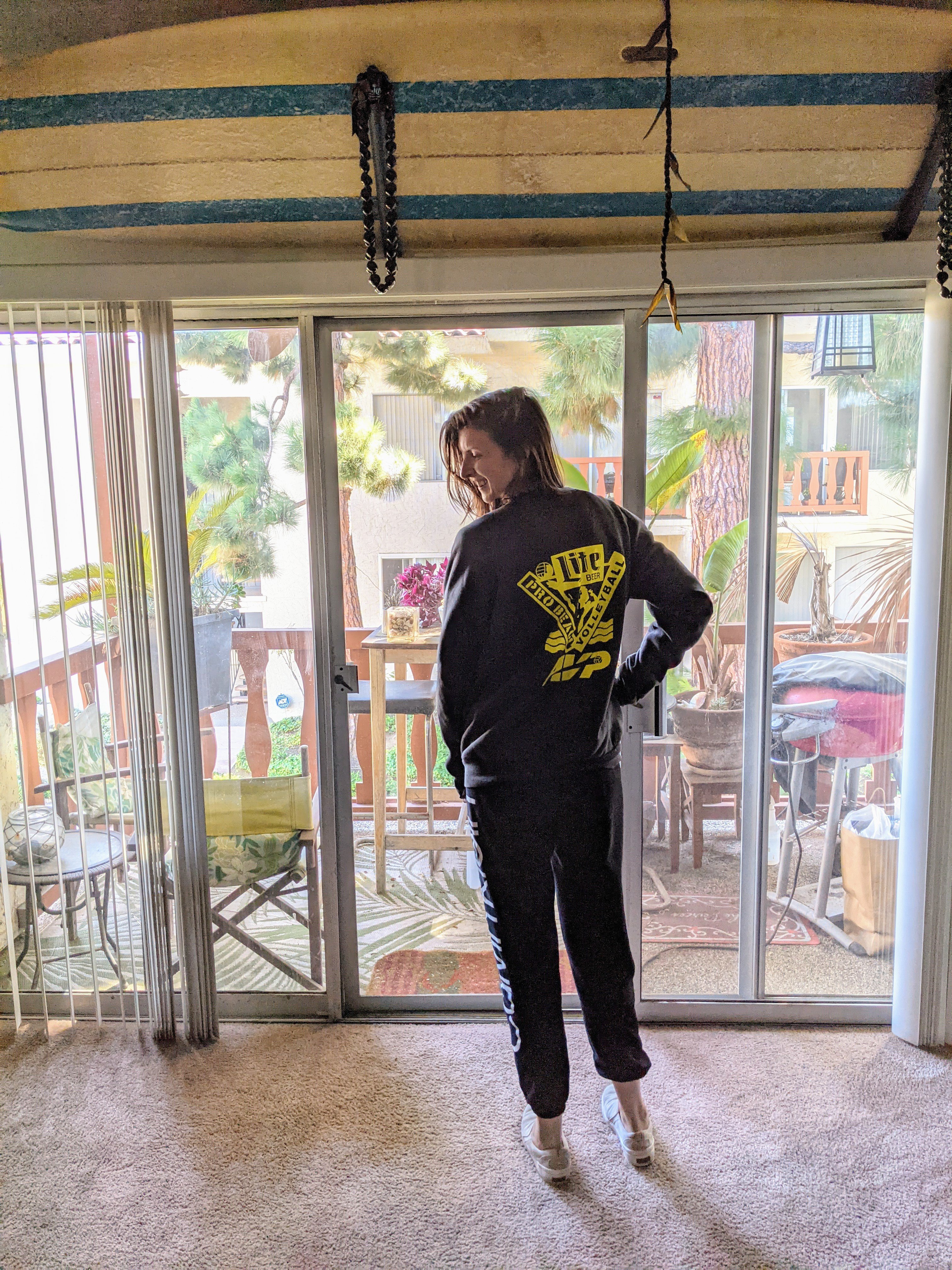 Brad's mother died when Brianna was a few months old, so she didn't really know her and there were some items he had kept of his mother's that I hoped she would connect to. The first thing that I shared with her was the dress her grandmother wore to the wedding of her parents -- she loved it! She so loves vintage and she immediately wanted it. The next thing was a fur from her grandmother and she thought our granddaughter Addison could play dress up with it -- yay! The next item was a snow suit that her Dad wore in an iconic picture that was just the right size for her husband to wear. Then there was all of his swag from his days of playing professional volleyball; she found a sweatshirt that fit her perfectly that she opted to keep.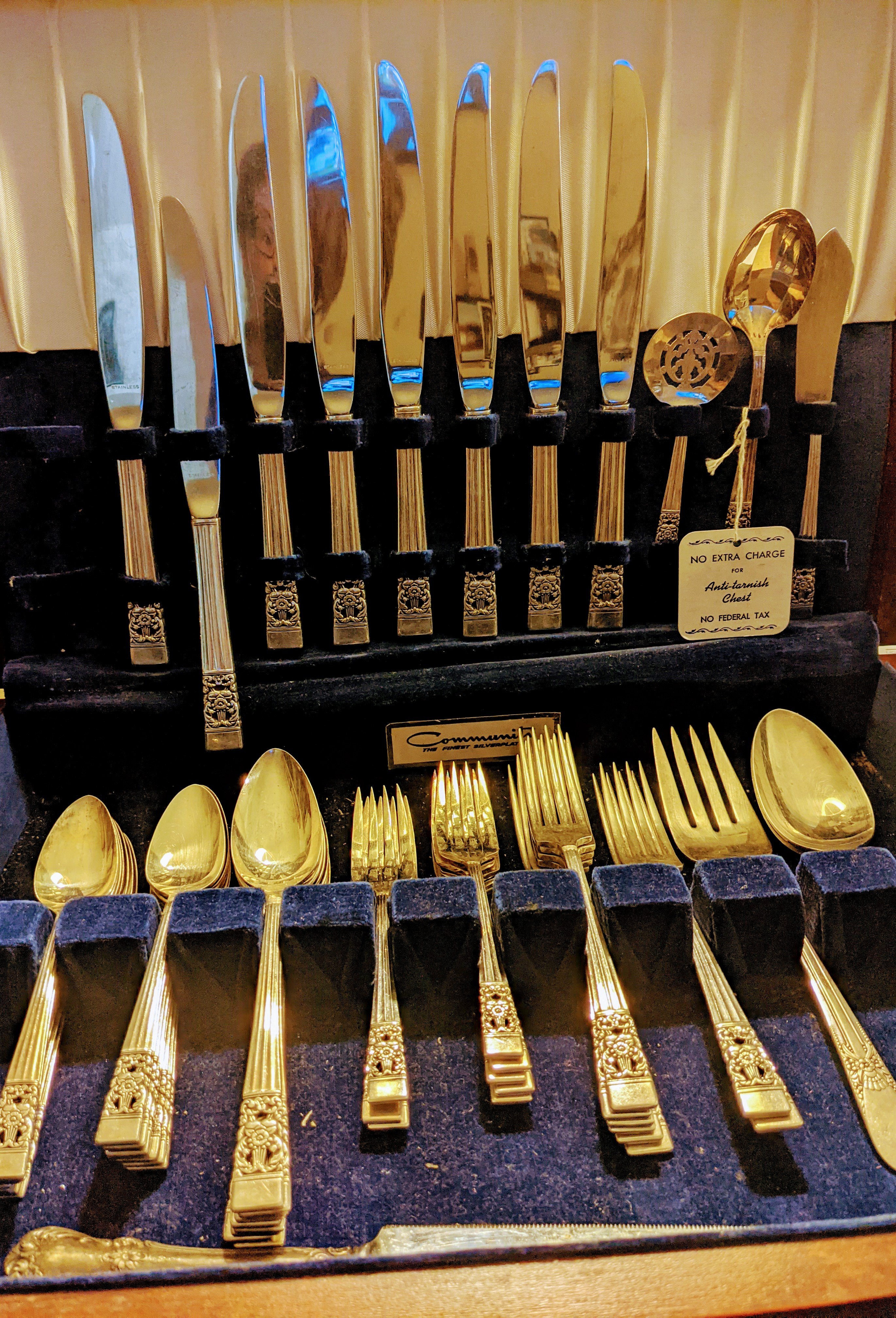 One of the family traditions we started was to use the Schroeder family silverware and 100-year-old English china at Thanksgiving and Christmas. Brianna decided to take the silverware and will set the table at her house this year for the holidays. I will be there with her family along with her mom and stepfather to celebrate my first Thanksgiving without my Dude.
All in all, we started the process of letting go and it wasn't too bad. It felt good to know that precious items would live in a new home and provide tangible connections to his memory. It was really easy to let all those things go, because I knew the person who had the items loved him and would take good care of them. As for the rest of his things I struggle with the thought of them going to total strangers, not going to the family, not going somewhere that they would have meaning or purpose, but the worst is the thought of throwing them in the trash where they will be gone forever.
Dude and I would watch Hoarders marathons, and in every episode the person's hoarding began as a result of a loss. A divorce, loss of job, empty nesting, but for most, the trigger for their hoarding was the death of a child, parent, or spouse. We instituted rules about limits on keeping things. One of the rules was that if I bought a new pair of shoes I had to throw one pair away. Things like pictures and greeting cards were kept in boxes, and they will be cherished forever.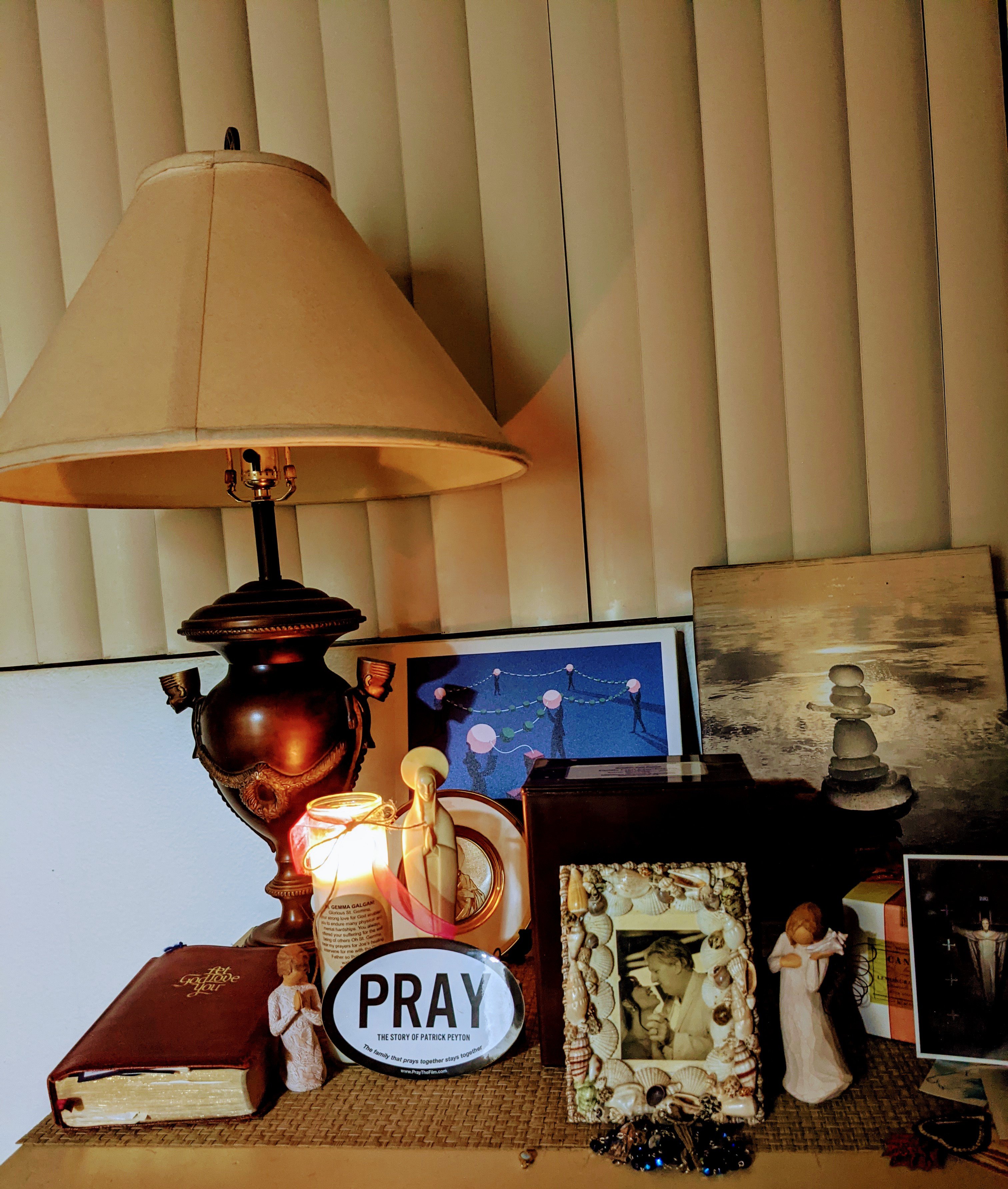 Even though I know that attaching feelings to things can trigger me to hoard, it is just too hard to let things go. The bag from the hospital with the clothes he was wearing still remains in our bedroom. Because those clothes were cut off him they will have to be thrown away at some point, but not yet.
The clothes hanging in the closet still have his scent and on the bad days that I long for a physical connection to him, I bury my nose into his clothing to inhale his presence. His shoes, too, are hard to let go of. Even though he wore a size 14, I slide my feet into his flip-flops at least once a week and walk in them throughout the house like a little girl playing dress-up. The memories are in my mind, but what if I lose my mind? Maybe seeing the items will trigger memories that are forgotten as part of the aging process, so I struggle with letting go.
Click to tweet:
Even though I know that attaching feelings to things can trigger me to hoard, it is just too hard to let things go. #catholicmom
Our Catholic faith prescribes that when someone is cremated as was my husband's wish, that they be inurned*. Having him sit on my prayer table at the foot of my bed gives me such peace. I am not ready to go visit him at the cemetery yet either. In fact, the decision on an urn still needs to be made.
There have been a couple of things I was able to let go of, like his reading glasses, that I donated to the Kiwanis club. The flip-flops he used to wear to garden on our patio were covered in dust and dirt; I found them easy to throw away along with a pair of my shoes when I bought a new pair.
I will move within a year, and it is comforting to know that there is no rush in me letting go of Dude's things and when the move happens, only the things that are really cherished will move with me.
Please continue to pray for me and all those who mourn the loss of a spouse.
The real widow, who is all alone, has set her hope on God and continues in supplications and prayers night and day. (1 Timothy 5:5)
* inurned: placed in an urn or other proper container and buried in a sacred location such as a cemetery, mausoleum, or crypt. Find out more at CremationInstitute.com.
---
Copyright 2021 Sherry Hayes-Peirce
Images: (top) Canva Pro; all others copyright 2021 Sherry Hayes-Peirce, all rights reserved
About the Author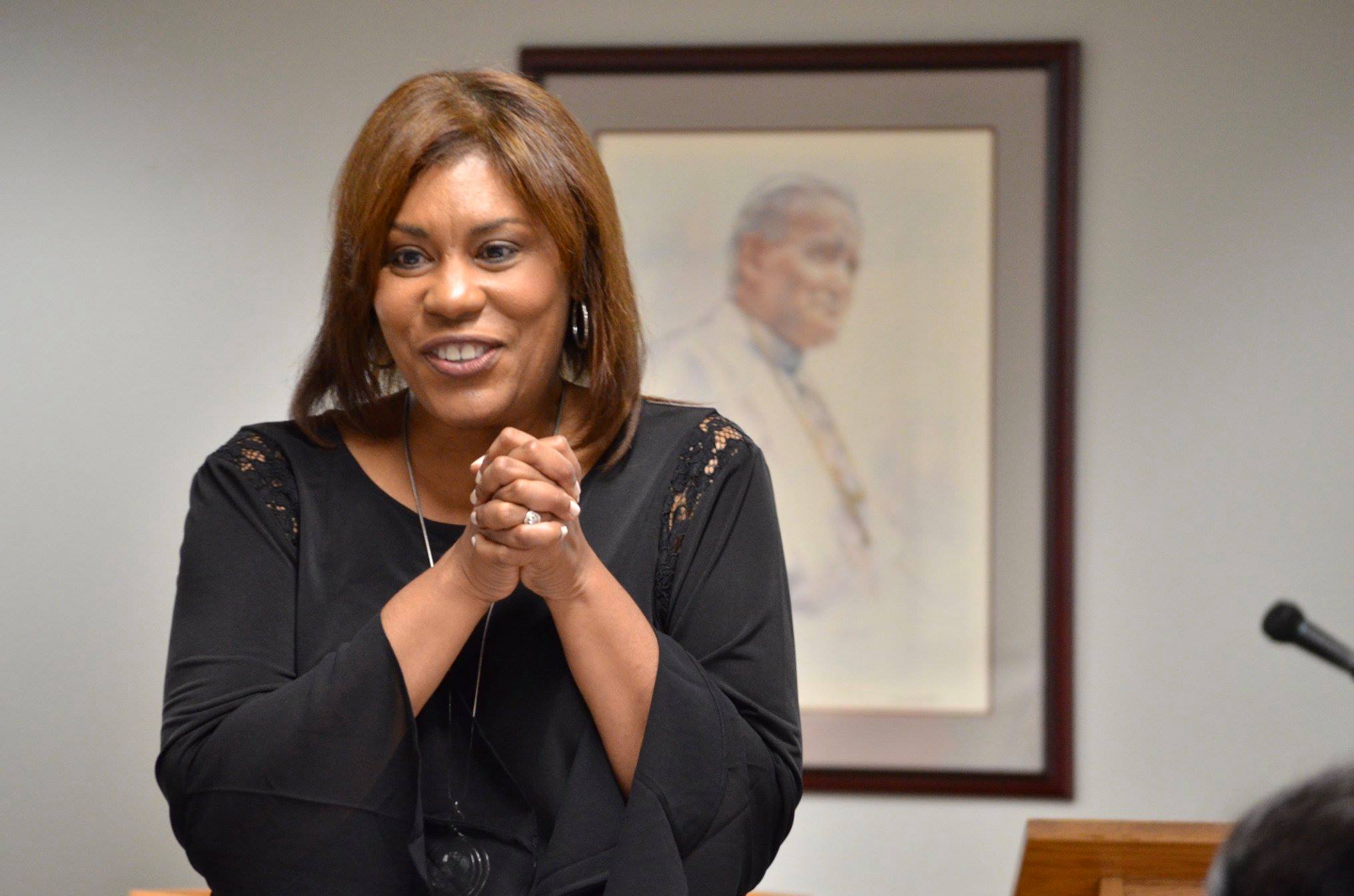 Sherry Hayes-Peirce is a Catholic social media strategist, blogger, conference speaker, podcast guest and contributing author of the Ave Prayer Book for Catholic Mothers. She serves as Digital Engagement Coordinator for American Martyrs Catholic Community in Manhattan Beach, CA, and St. Monica Parish in Mercer Island, WA. Sherry has a devotion to the Sacred Heart of Jesus and is grateful to be a digital disciple of Christ.