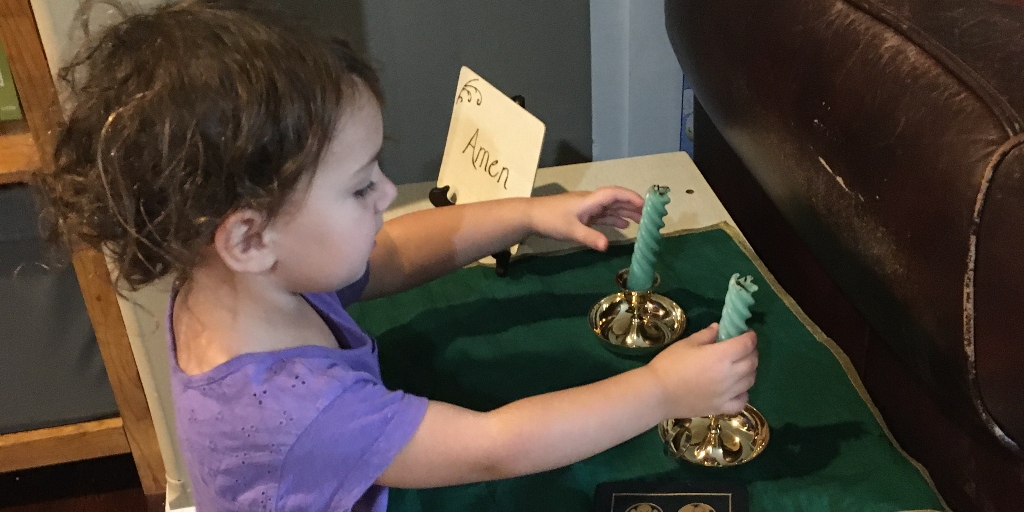 Charisse Tierney describes how families with very young children can create a dedicated prayer space in their home.
Creating a prayer space for your youngest children is a simple way to help them recognize their relationship with God.
The items on our table are simple, but have been carefully chosen to be durable and engaging.
Prayer tablecloths in liturgical colors can be placed in a basket nearby. Little children love folding and placing the appropriate cloth on their table.
Children love candlelight! I find that when I light a candle for them, they are immediately drawn into a state of awe and reverence. Vintage style candlesticks allow them to enjoy the beauty of a flickering flame while protecting the prayer cloth from wax drippings. And with some guidance, even the youngest children can gently snuff out a candle when prayer time is over.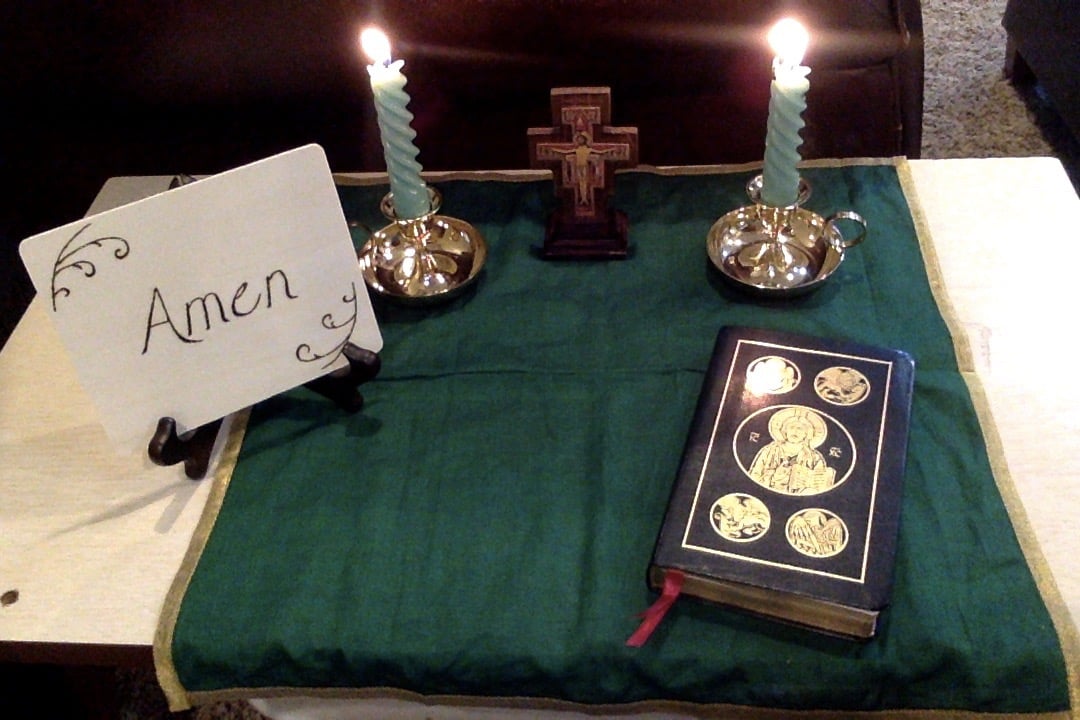 Our Bible is a pocket sized New Testament and Psalms, RSV edition, from Ignatius Press. The smaller size is easy for little hands to hold, and the leather cover, gold edged pages, and ribbon place holders are lovely to look at. While the pages could probably tear easily, I see it as a positive that my 2-year-old has to be reminded to handle her Bible with reverence and care. And although my youngest two children cannot read yet, I've caught them paging through their Bible, seemingly deep in prayerful thought.
I created a prayer card out of a piece of craft wood from a hobby store and used a wood burner to create a simple design. "Amen" is a favorite word of my 2-year-old's right now, and her eyes light up whenever she "reads" her prayer card. And the wood is durable for her to handle.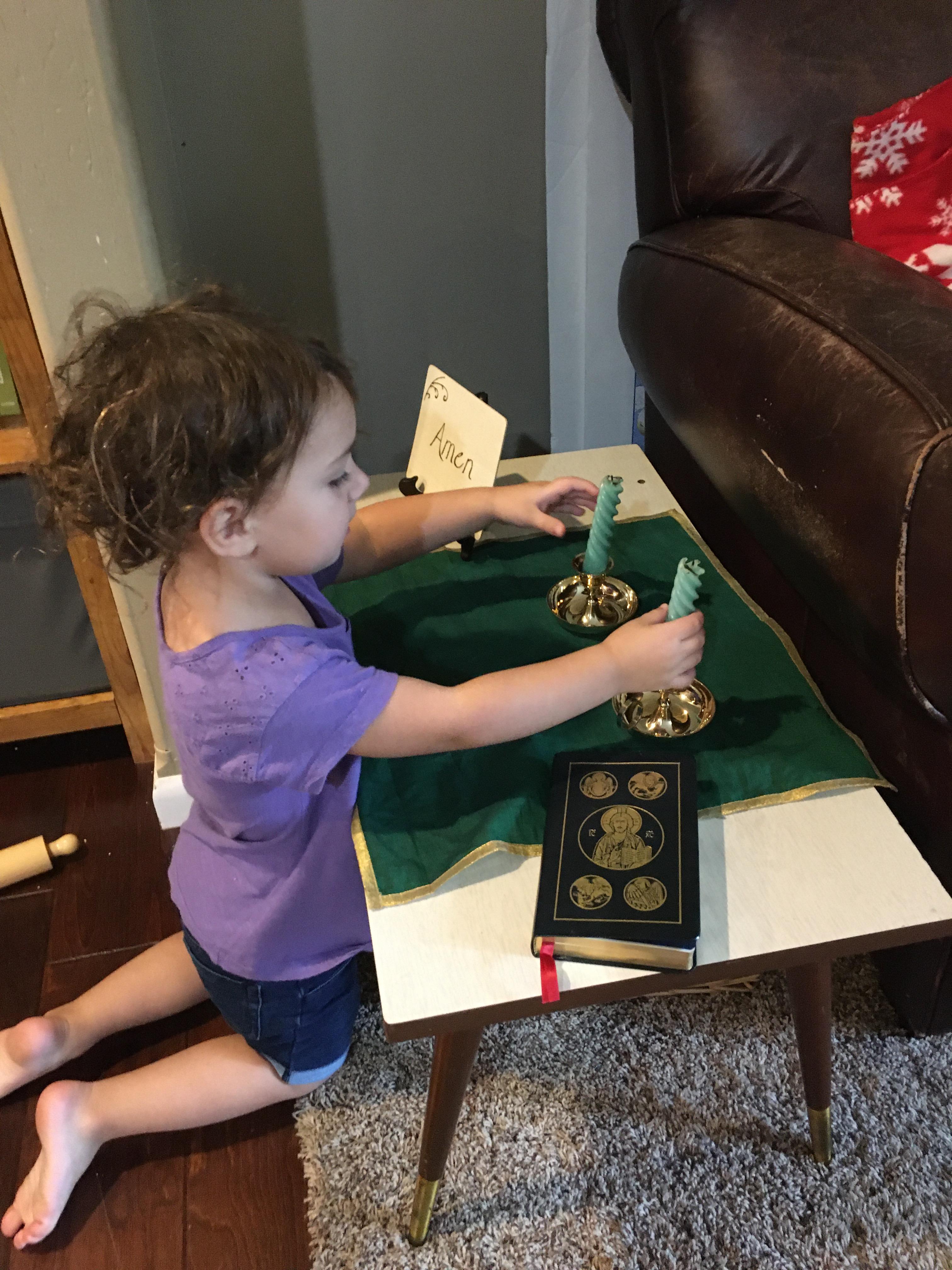 Click to tweet:
The prayer table: a space where anyone can converse with the saints, enliven their spirituality, and encounter the mystery of Christ. #catholicmom
The San Damiano crucifix is a wonderful choice for young children since it depicts the hope of the resurrected Christ, images from the gospels, and icons of saints and angels. St. Basil the Great wrote, "With a soundless voice the icons teach those who behold them." Our children have only to gaze upon the San Damiano crucifix and they will encounter a multitude of teachers much wiser than ourselves.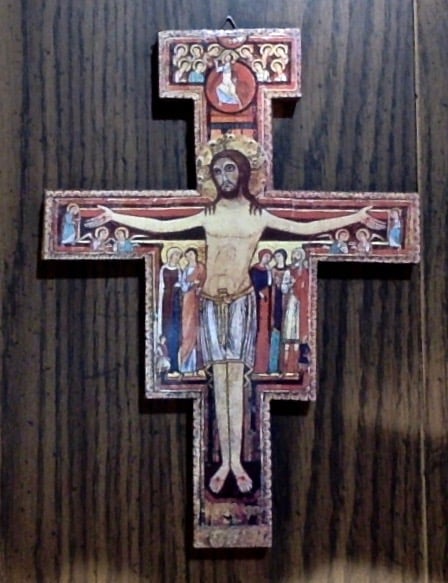 This is, after all, the ultimate goal of the quiet presence of a prayer table in our home. To create a space where anyone can converse with the saints, enliven their spirituality, and encounter the mystery of Christ.
The prayer table is a space where the teaching isn't up to me; it's all Him.
---
Copyright 2021 Charisse Tierney
Images copyright 2021 Charisse Tierney. All rights reserved.
About the Author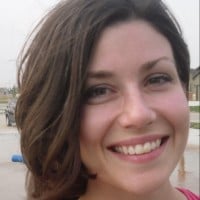 Charisse Tierney lives in Wichita, Kansas, with her husband Rob and seven children. Charisse is a stay-at-home mom, musician, NFP teacher, and a Catechesis of the Good Shepherd catechist. She is also a contributing author to The Catholic Mom's Prayer Companion and Family Foundations magazine. Charisse blogs at Paving the Path to Purity and can be found on Facebook.