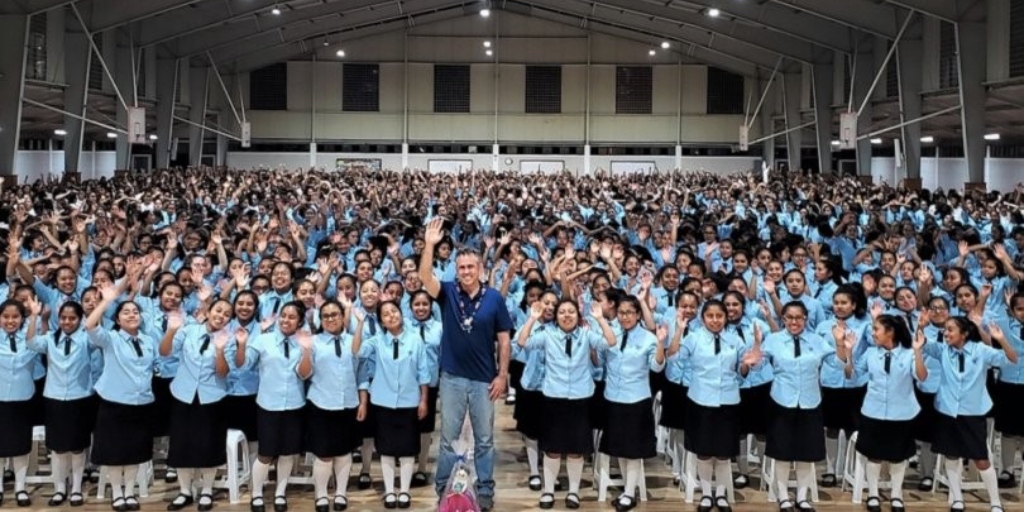 Patti Maguire Armstrong describes the work of religious sisters who care for children and rescue them from human trafficking.
"I have ten children," I said through tears, speaking into a microphone, "but I wish I could have 3,200 more." It was my heart talking after being sung to by the 3,200 girls who live at Girlstown in Chalaco, Mexico this past summer. The girls are among 20,000 other poor children in seven countries being cared for by World Villages in Boystowns and Girlstowns. In Mexico, there is a Boystown in Guadalajara.
My husband and I were on pilgrimage to the Basilica of Our Lady of Guadalupe in Mexico for our 40th wedding anniversary. Our son Luke, who lives in Guatemala, had joined us. Kevin Wells, an fellow author and friend, had shown me videos of his time at Mexico's Girlstown while researching a biography on the founder of World Villages, Venerable Fr. Aloysius Schwartz. (affectionally known as Fr. Al.) When I realized it was less than an hour from the Basilica, we made arrangements to visit.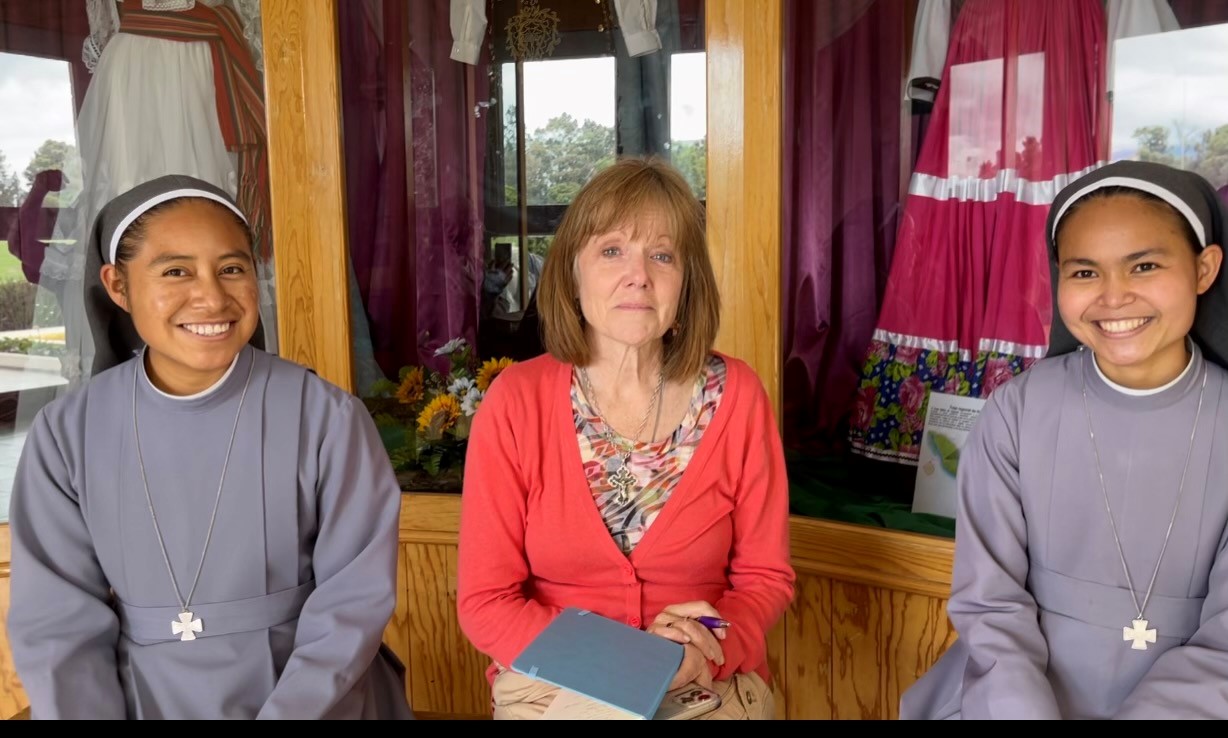 I'm not easily moved to tears, but the power of 3,200 voices of angels — seriously, I think every girl's guardian angel had joined in — singing to honor our anniversary, was overwhelming. Sisters Martha and Gemma had come to pick us up in a van. During the drive, they explained that the sisters go two-by-two into places of extreme poverty and brokenness where human trafficking often snare girls and boys too. In families with at least two other children, invitations are extended to interested 12-year-olds to receive a well-rounded education and upon graduation, a scholarship to universities or trade schools.
"One girl who just joined us was brought by her uncle who rescued her from human trafficking," Sr Gemma explained.
The gentle Sr. Martha and high-spirited Sr. Gemma, graduates of Girlstown — one in Mexico and the other from the Philippines — showed us around that day. An Olympic-sized pool, athletic courts, track and fields, sewing machines, computers, groves and fields of fruits and vegetables, a walk-in oven to accommodate rolling shelves with 7,000 small loaves of bread a day, spoke of the depth of their care. Easy laughter and ready waves around every corner testified to the results.
"This is where my girls stay," Sr. Gemma explained, showing us a dorm room filled with two-dozen bunks. Her eyes belied a seriousness beyond her mid-twenty age. This is her vocation — mothering these girls. Every child's story is different, but hearts wounded in a myriad of ways are immersed in the motherly love of the sisters, the Blessed Mother, and Jesus, living among them.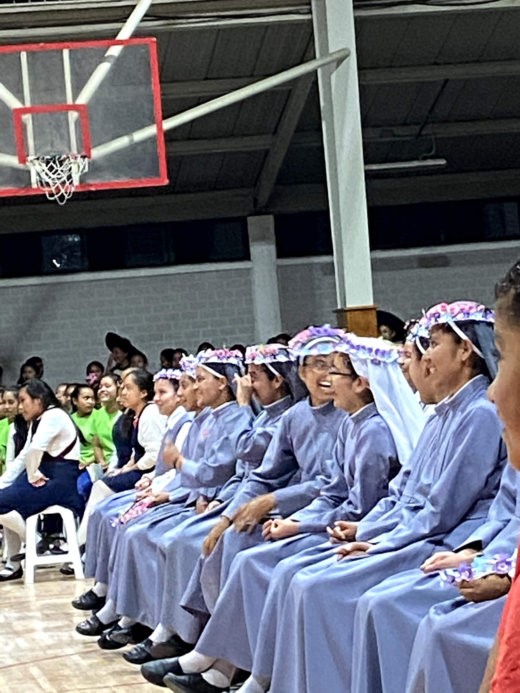 How Sisters of Mary Began
Fr. Al began caring for poor orphans in Korea, inspired by the Church approved apparitions of the "Virgin of the Poor" in Banneux, Belgium. The Washington, D.C. native often visited the site in the mid-1950s as a seminarian studying theology at Louvain Catholic University in Belgium. In a chapel at the site one evening, he vowed to spend the reminder of his life serving the poor and forgotten.
"On December 8, 1957, in war-decimated Korea, he looked into the faces of poor children and for the first time saw that 'eyes burned with a fierce, scared, hunted-animal expression.'" Wells wrote in the biography Priest and Beggar: The Heroic Life of Venerable Aloysius Schwartz. "It haunted him, so he worked at its removal."
Fr. Al's vow grew into World Villages which has graduated 150,000 students and the founding of the Sisters of Mary and an order of brothers who turn their own lives over to serve the children. They are broken beyond their understanding — especially fatherlessness and sexual abuse.
The humble sisters whom I met carry those crosses, dying to themselves and giving their lives for the rebirth of these children into lives of love, faith, and opportunity. Their congregations bring the light of Christ into precious souls throughout South and Central America and the Far East. Loving mothers know the sacrifice and love beyond understanding of our motherhood. The Sisters of Mary commit to that as their vocation.
Click to tweet:
Loving mothers know the sacrifice and love beyond understanding of our motherhood. #catholicmom
The experiences of encountering 3,200 girls, precious children of God, and the sisters who care for them, impressed upon me the immensity of turning to Our Blessed Mother. Fr. Al changed the world and the Church, saving souls and revitalizing the Church, families and communities by a simple yes and through the smallest and most humble of his children.
Fr. Al gave himself over to our Blessed Mother, agreeing to serve the poor through her and the impact has been incalculable. The Sisters of Mary continue that yes, offering motherhood to poor children; again, with incalculable results. And Kevin Wells is living his own yes to God through the Blessed Mother and under the mentorship of Fr. Al himself. After experiencing World Villages, he left his job with the family business and is working full-time spreading the message of Fr. Al and telling the world about World Villages.
To become a part of Father Al's "yes," visit WorldVillages.org.
Watch this video to learn more about Kevin Wells.
To book Kevin as a speaker, visit ThePriestsWeNeed.com.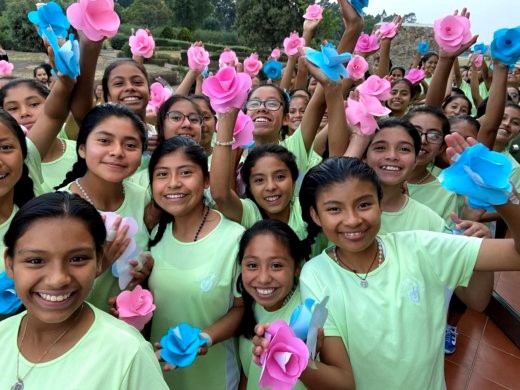 ---
Copyright 2021 Patti Maguire Armstrong
Images (from top): Kevin Wells with residents of Girlstown, copyright 2021 Kevin Wells, all rights reserved, used with permission; Patti Armstrong with Sisters Martha and Gemma, copyright 2021 Patti Maguire Armstrong, all rights reserved; the Sisters at a Girlstown assembly, copyright 2021 Kevin Wells, all rights reserved, used with permission; residents of Mexico's Girlstown, copyright 2021 Kevin Wells, all rights reserved, used with permission.
About the Author