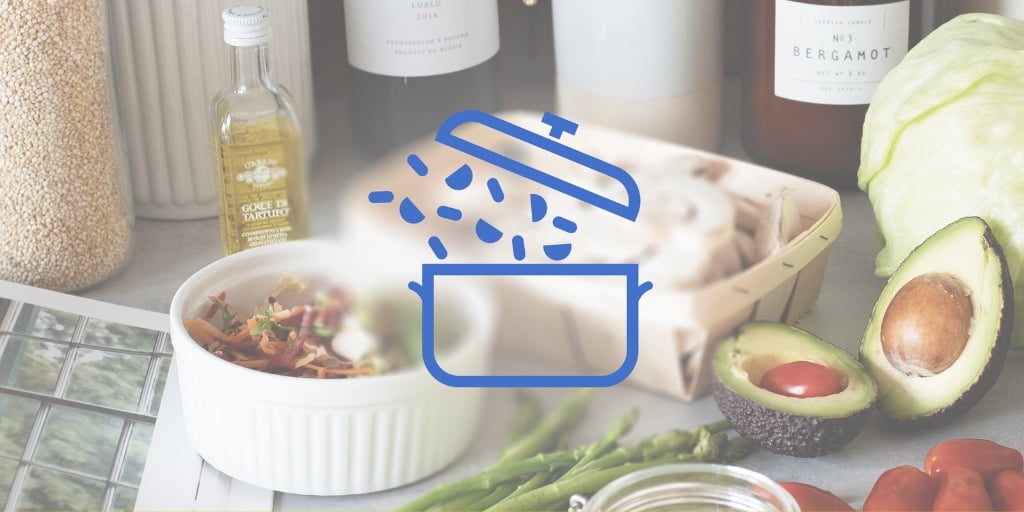 The Solemnity of St. Joseph is not a Meatless Friday! Barb Szyszkiewicz shares a recipe that's part sandwich, part pizza.
It's the Solemnity of St. Joseph: a day for feasting, and (because it's a Solemnity) not a Meatless Friday! Here's a hearty lunch or dinner recipe that's part sandwich, part pizza, and all delicious.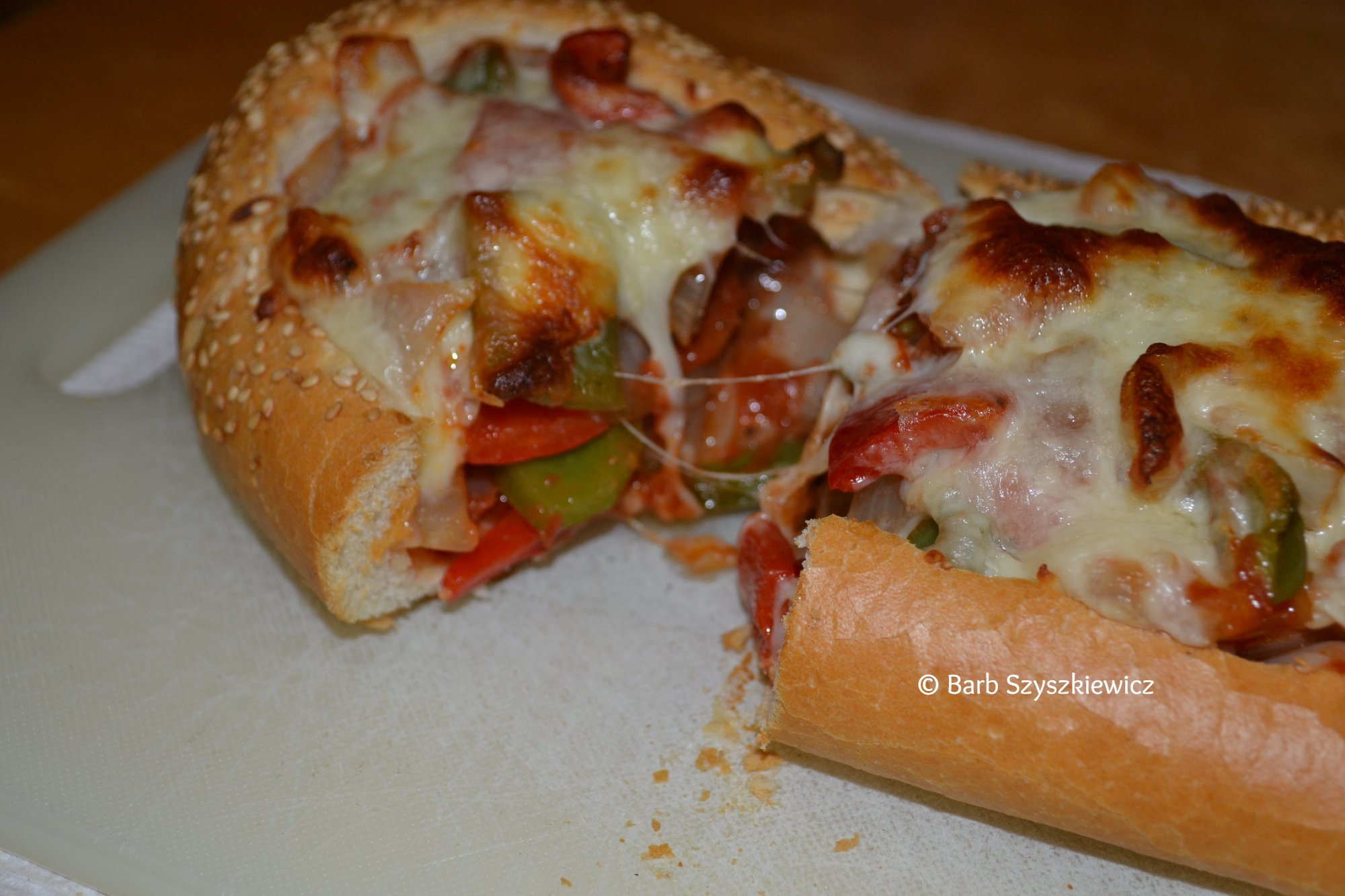 Sausage & Pepper Bread Boats
Makes 4 servings
4 8-inch Italian rolls or 1 long loaf of Italian bread
4 links Italian sausage (sweet or hot), fully cooked (see note)
1 tbsp olive oil
1 medium onion, diced
1 red bell pepper, chopped
1 green bell pepper, chopped
2 cloves garlic, minced
¼ tsp crushed red pepper (or to taste)
1 cup spaghetti or pizza sauce
1 cup mozzarella/Provolone shredded cheese blend
¼ cup Parmesan cheese
½ tsp dried oregano OR 4 large fresh basil leaves, chopped (optional)
Slice sausage links in half, then turn flat side down on the cutting board and slice into half-moons.
Sauté onion in olive oil until it begins to soften. Add bell pepper, garlic, and crushed red pepper. Cook until pepper becomes tender. Stir in sausage and spaghetti sauce and simmer a few minutes until sausage is heated through.
Cut along the top of the rolls or bread loaf to form the shape of a boat. Scoop out most of the bread from inside to leave a shell, making sure it's sturdy enough to hold the filling.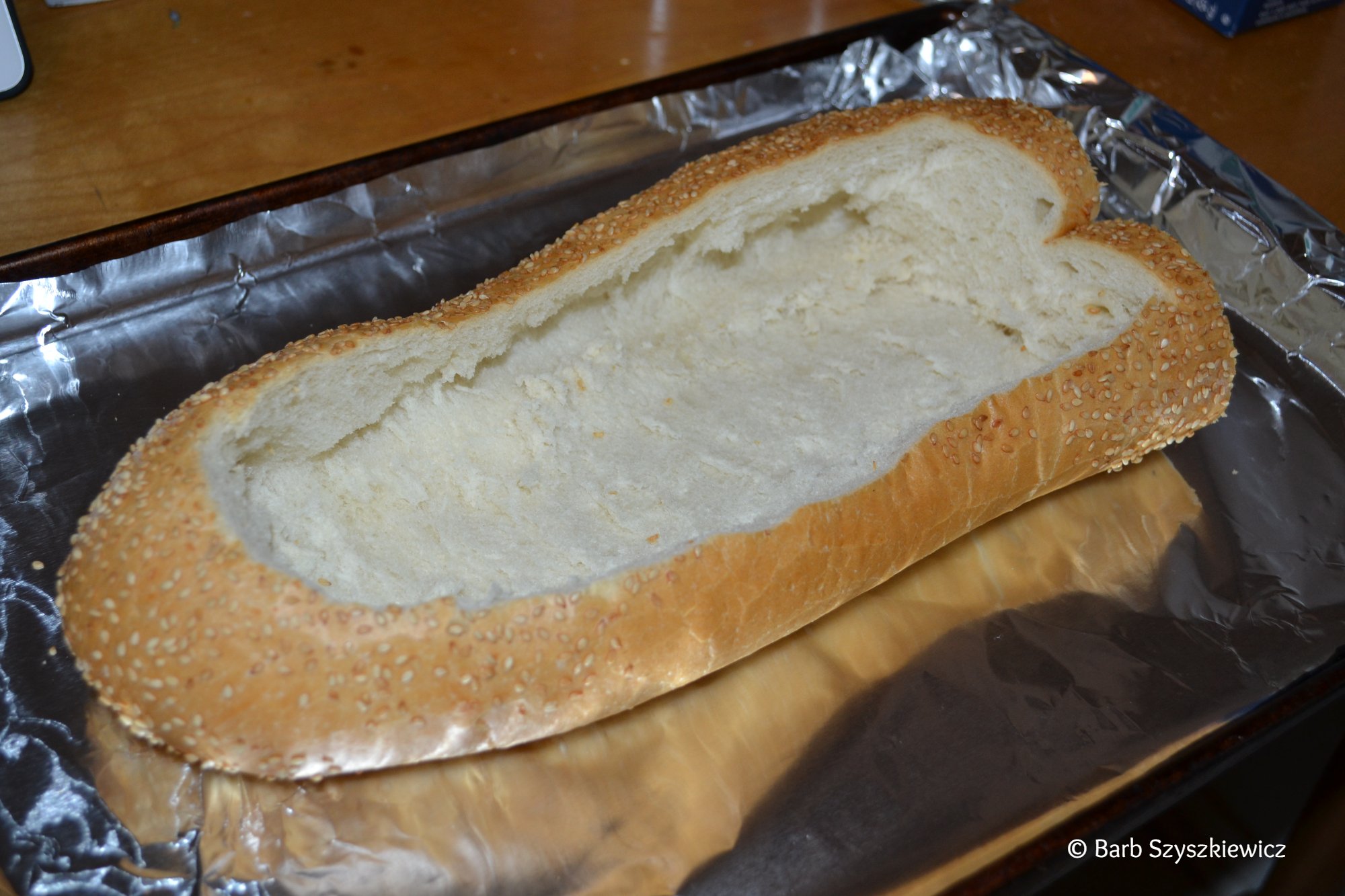 Place bread shells on foil-covered baking sheet. Preheat oven to 350.
Scoop filling into shells and spread evenly.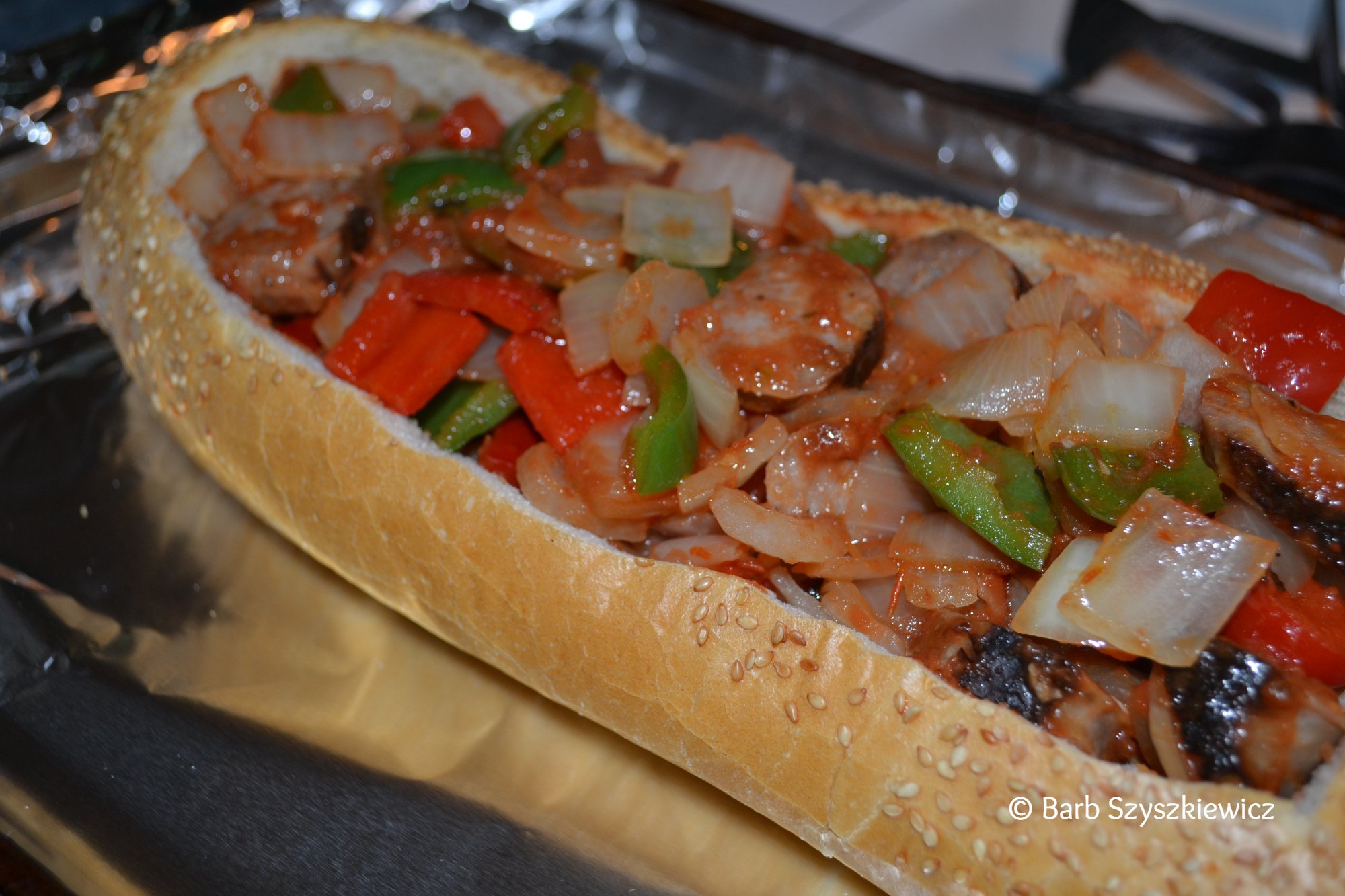 Top with cheese. If desired, sprinkle dried oregano or fresh basil on top of the cheese.
Bake about 10-15 minutes, until cheese melts and just begins to brown.
If using a full loaf of bread, allow to sit about 5 minutes before slicing.
Note: To cook the sausage, place links on a foil-covered baking sheet. Bake at 400 for 20 minutes. Allow to cool before slicing.
A hearty lunch or dinner recipe that's part sandwich, part pizza, and all delicious. #catholicmom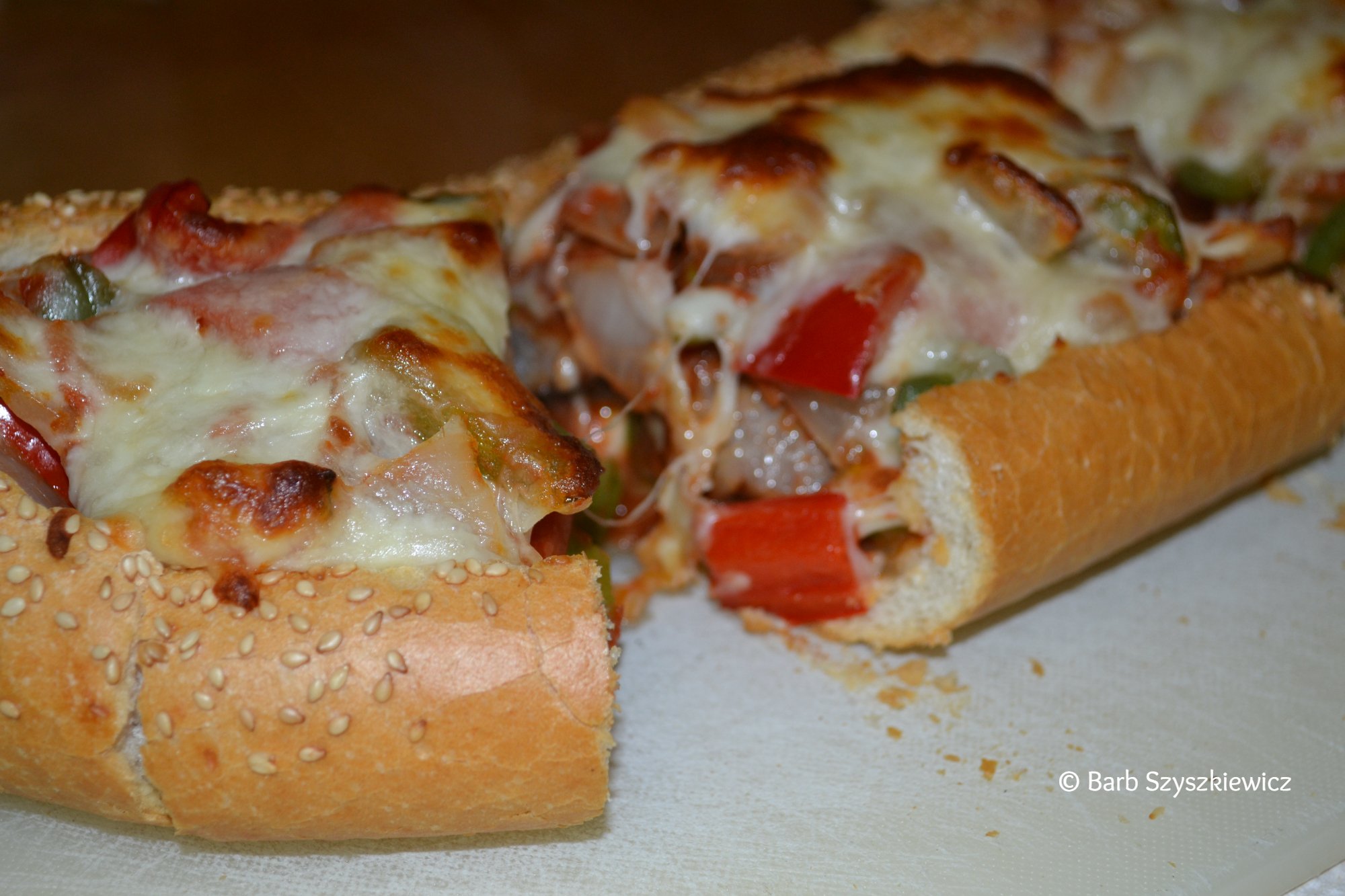 ---
Copyright 2021 Barb Szyszkiewicz
Images copyright 2021 Barb Szyszkiewicz, all rights reserved.
About the Author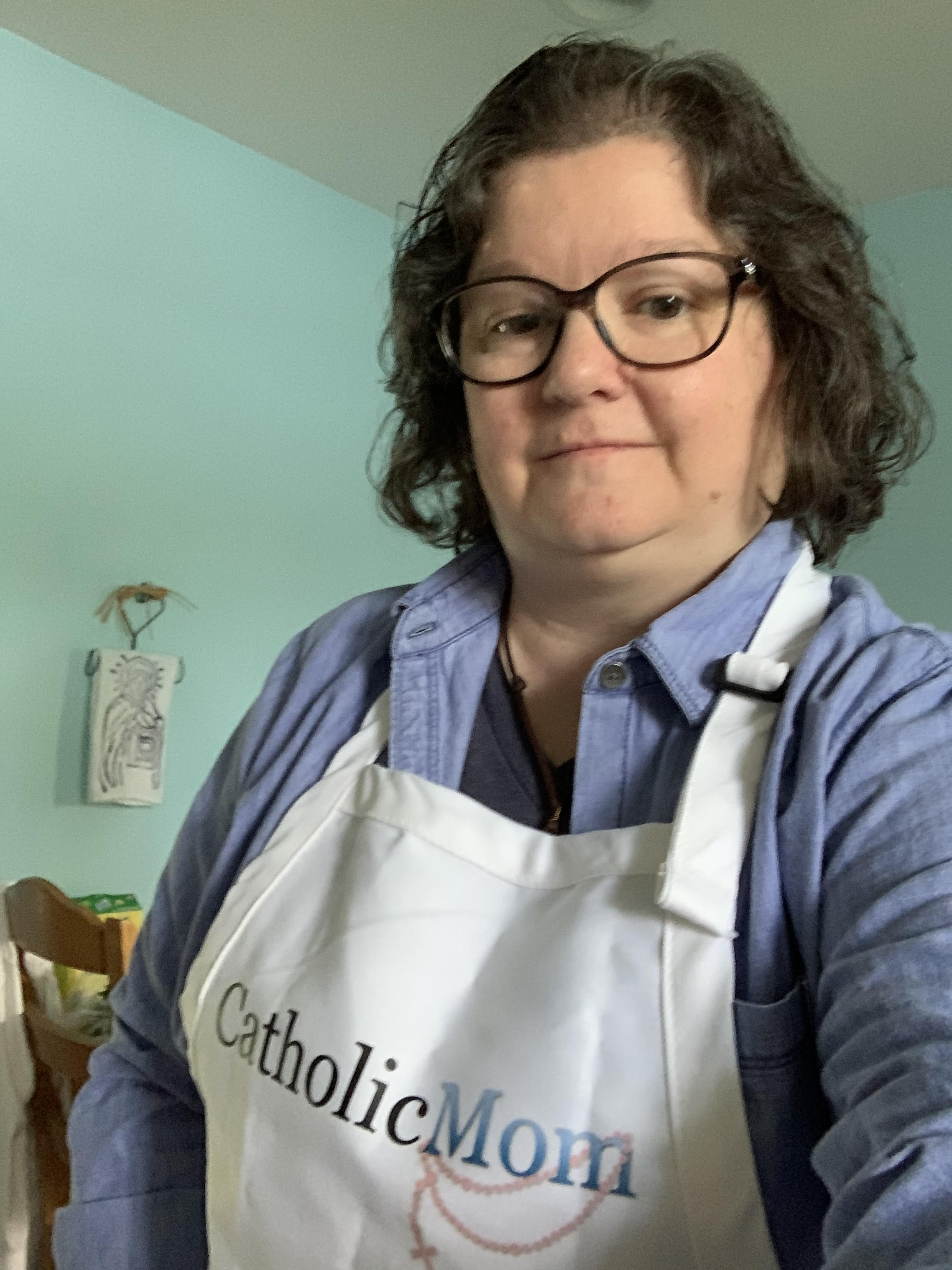 Barb Szyszkiewicz is a wife, mom of 3 young adults, and a Secular Franciscan. She is editor at CatholicMom.com. Barb enjoys writing, cooking, and reading, and is a music minister at her parish and an avid Notre Dame football and basketball fan. Find her blog at FranciscanMom and her family's favorite recipes with nutrition information for diabetics at Cook and Count. Her booklet, The Handy Little Guide to Prayer, is available now from Our Sunday Visitor.