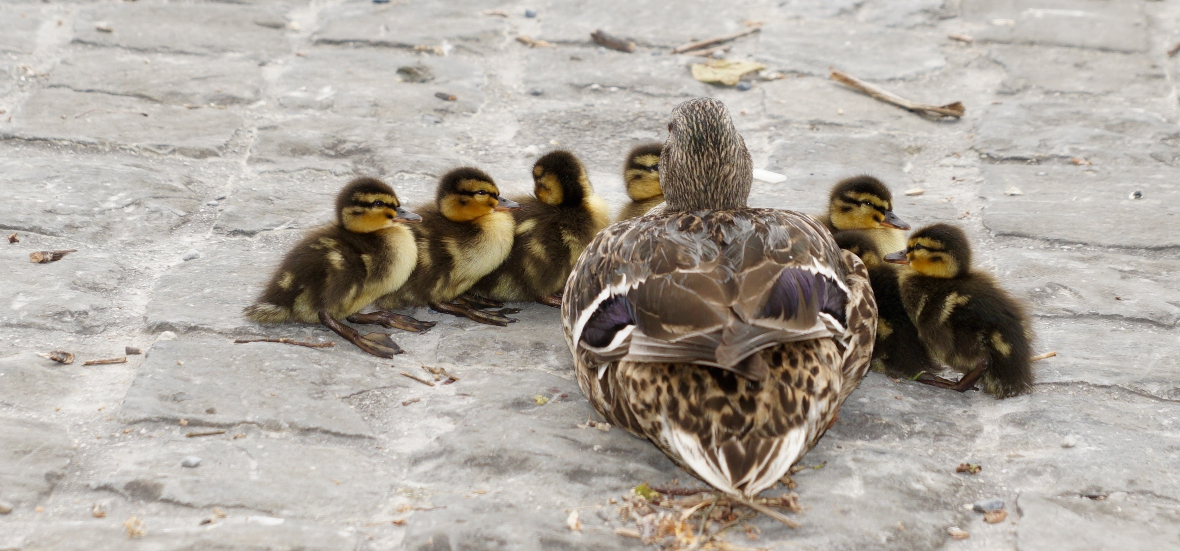 In troubled times, Sherry Hayes-Peirce prayed for the gift of peace -- and God sent a family of ducks.
What happened to the hopes and great expectations of the year of 2020? There were so many articles about the year's number being analogous with the measurement for perfect vision. I was anticipating it would be a year of focus and clarity in my life. So much for that!
With more than half the year gone, I yearn for the focus and clarity that was foretold. Each day I wake up with the dread of what will happen next! It is so hard to find peace in the midst of so much turmoil in our world. Yet, my daily time in prayer has served as a life preserver when it seems like I can't keep my head above water, drowning in the deluge of depressing news.
It feels as if there has been a shift in our world, like the ones we have read about in our social studies books. Certainly, future editions will have a chapter titled "Before COVID-19 and After COVID-19." Before COVID-19 ("BC"), my days were predictable, my prayer time scheduled and my sense of peace ever present.
Since March when all my best-laid plans were shattered, I have constantly had to design new plans and establish a new focus almost daily. A constant stream of anxiety and adrenaline have fueled purpose-driven tasks in my role as a digital disciple for my parish and in my personal life. Creating and searching for positive messages that can be shared as part of the digital conversation going on in the feeds of social media pages I manage and my own personal ones too.
The most difficult time for me was the thirty-something days of Lent when I was trying to engage people online who were accustomed to in-person experiences and traditions of the season. Prayer during this time was really important for inspiring me to translate these in-person experiences into digital ones that were truly engaging. The sadness I felt during Holy Week was buoyed by my pastor, who survived COVID-19, returning to ministry after more than a month.
Following Easter, though, there wasn't really a true focus for me. I longed for the Eucharist and connecting in person during the Mass experience, things were starting to open up -- then another bomb dropped: the days of unrest sparked by the death of George Floyd. As a person who identifies as a Catholic Black American who considers herself as "moderate," the TV news, social media feeds, familial divided conversations, and underlying fear literally shattered my already heavy heart.
I cried out during my prayer time, "Lord, please send me some peace." Then He sent the ducks! In the complex where I live we have a man-made stream that goes through it, and although we've lived here for four year we'd never seen a duck.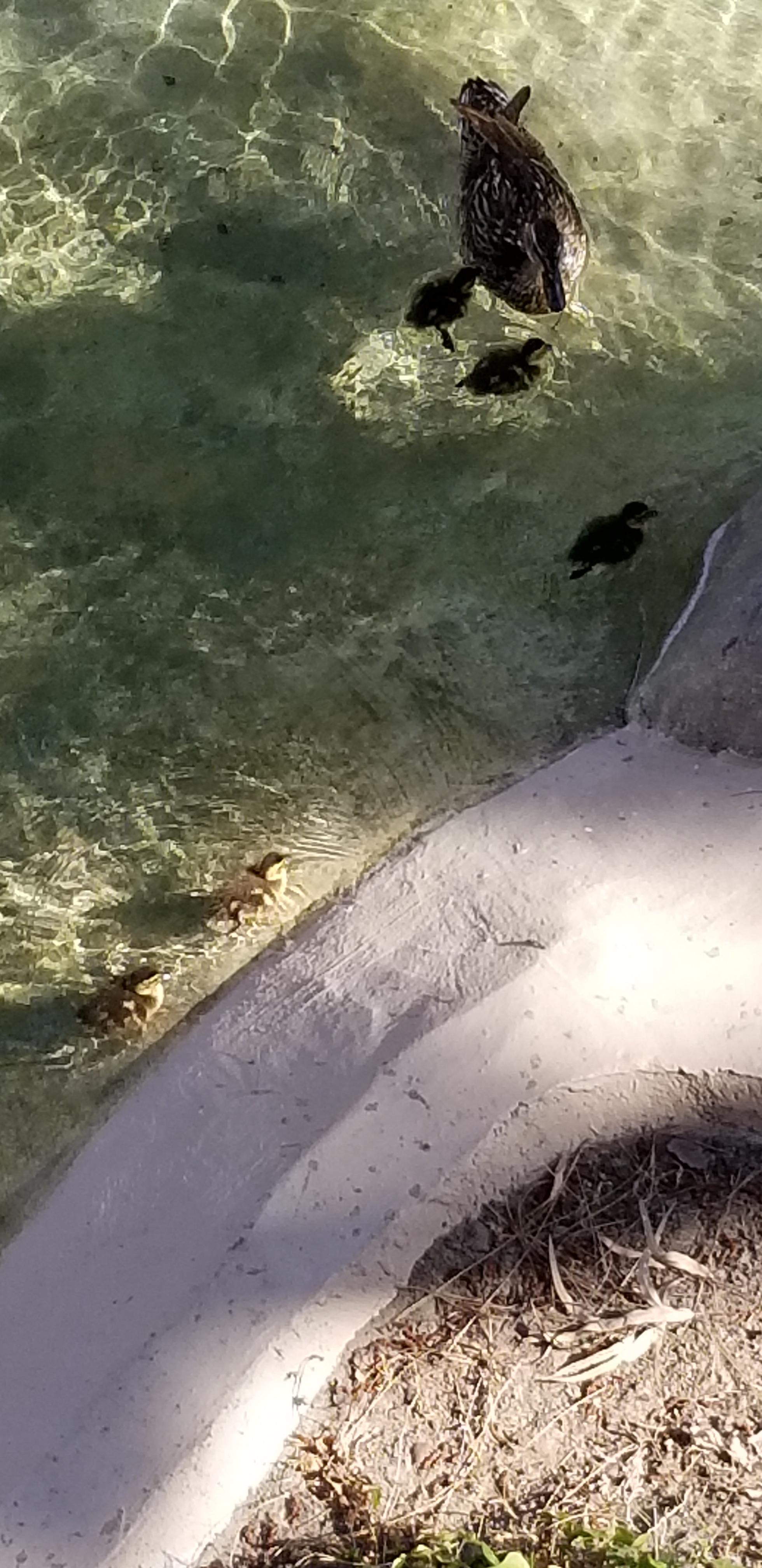 My help comes from the Lord, the Maker of heaven and earth (Psalm 121:2)
We live about a mile from the beach and in a city, so to have this kind of exposure to nature could only be the answer to my prayer. It started when I saw a mama duck, with five little ducklings in tow waddling on the little bridge just below my deck. My heart and mind were filled with wonder, happiness, and joy. I watched the mama duck nudge each one into the water, and they paddled fiercely to stay afloat. The ducklings were small and furry, with little white dots on the fur -- so cute! The Mama honked as she glided through the different pools of water in the stream and the ducklings immediately followed her in lockstep.
No matter what trial presented itself in the days following the arrival of the duck family, the feeling that gripped my body released when I heard the ducks. Every evening and sometimes in the morning before I'd leave for work, there they were. Then after a couple of weeks the five ducklings dwindled to four. I was sad, thinking about what could have happened. While we hadn't seen ducks in our complex, we had seen cats, squirrels, skunk, coyotes, hummingbirds, parrots, and possum. So, in the circle of life it was probably dinner for another animal family.
I delighted each day in seeing little changes. Seeing the first hint of the fur morphing into feathers, the ducklings squeaking back to their mother, diving under the water, and the pride in watching the vigilance of the mama duck. Just sheer peace poured over me in the presence of this beauty of nature.
"God passes through the thicket of the world, and wherever His glance falls He turns all things to beauty." (St. John of the Cross)
This past week we saw the family take flight for the first time. What a thrill to have watched this, it was as exciting as seeing my grandson take his first steps on WhatsApp! My mind immediately thought upon seeing them fly away, "here goes my daily dose of peace and joy -- back to the doldrums." But, while sitting in Adoration a few days later, I reflected on something my mother has always called me to do when troubles rise; leave your troubles at the foot of the cross and leave them there -- really leave them there!
In years past I've struggled mightily to leave my troubles at the foot of the cross. This time, though, maybe age and experience of blessed assurance have helped me trust God in things I can't control. My biggest lesson of living in the midst of this swirling storm of events is that only God is in control. So what I left at the foot of the cross was my sense of peace.
I did pretty well for a few weeks, but then a dear co-worker was diagnosed with a brain tumor. Prayers of course were offered that the tumor would be benign and it was just a scare, but it was malignant and fast growing. Again, my mind, body, and spirit felt as though they were under attack -- but I remembered my peace is at the foot of the cross.
Come to me, all you who are weary and burdened, and I will give you rest. Take my yoke upon you and learn from me, for I am gentle and humble in heart, and you will find rest for your souls. For my yoke is easy and my burden is light. (Matthew 11:28-30; emphasis mine)
I guess the kind of focus and clarity needed was in my spiritual life, because without it I never would have made it through this far. Thanks be to God for my faith!
My biggest lesson of living in the midst of this swirling storm of events is that only God is in control. #catholicmom
---
Copyright 2020 Sherry Hayes-Peirce
Images (top to bottom): Pexels (2016); copyright 2020 Sherry Hayes Peirce, all rights reserved.
About the Author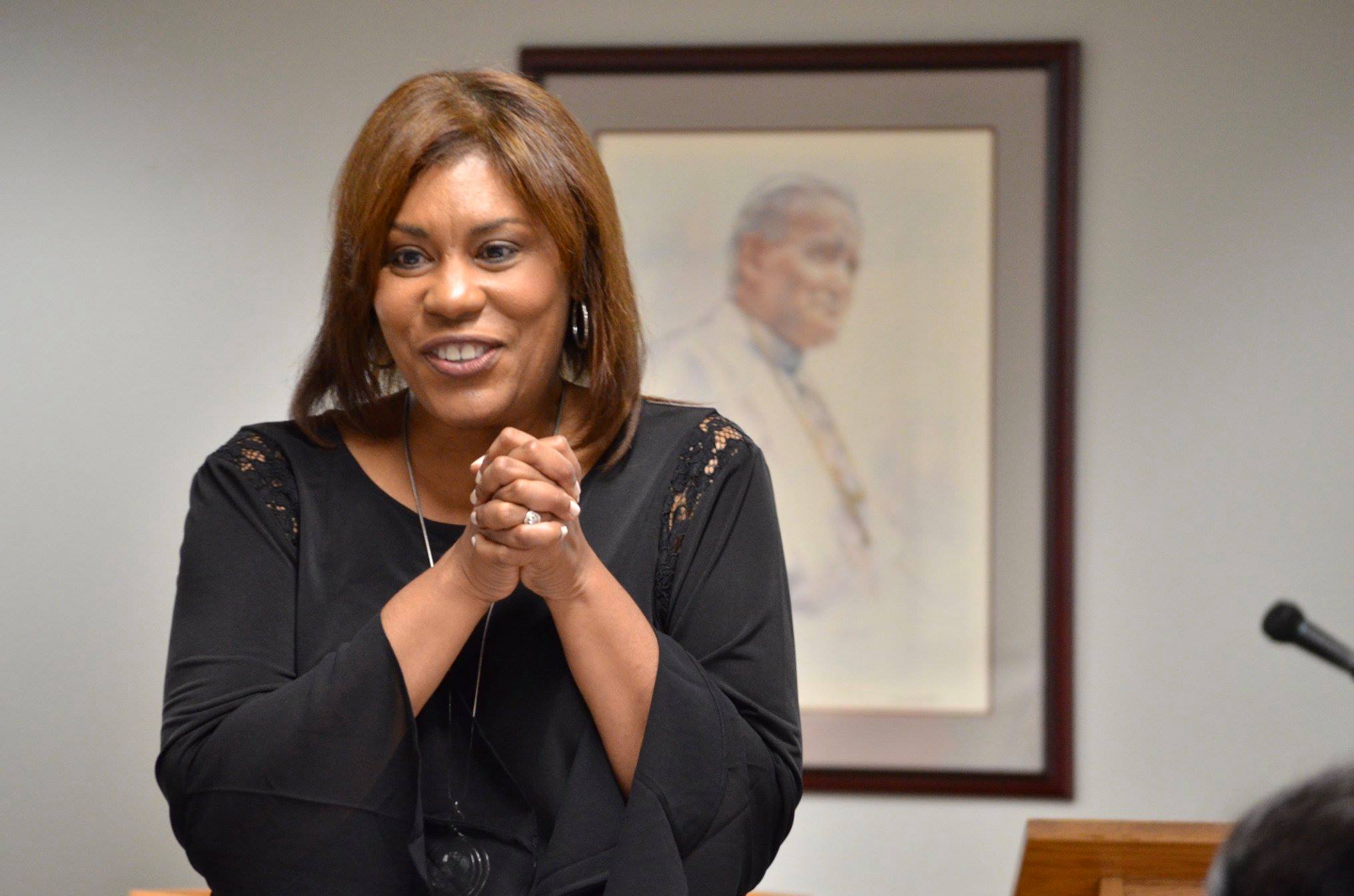 Sherry Hayes-Peirce is a Catholic social media strategist, blogger, conference speaker, podcast guest and contributing author of the Ave Prayer Book for Catholic Mothers. She serves as Digital Engagement Coordinator for American Martyrs Catholic Community in Manhattan Beach, CA, and St. Monica Parish in Mercer Island, WA. Sherry has a devotion to the Sacred Heart of Jesus and is grateful to be a digital disciple of Christ.