Most days, Rose Folsom doesn't feel much when she prays the Magnificat in evening prayer. Yesterday, it took on a life of its own.
---
Have you ever had a prayer that you say all the time suddenly "bloom" in your heart and take on a meaning you never noticed before? That happened the other day with the Magnificat, and I want to share that little gift with you.
My soul proclaims the greatness of the Lord.
My soul is created to proclaim the greatness of a Lord, not the greatness of myself.

My spirit rejoices in God my Savior.
My spirit is not created to rejoice in what I have accomplished, or what I have, or what I look like. I am created to rejoice in God, Who is love.

For he has looked with favor on his lowly servant.
I rejoice because God has looked on me with His favor and His mercy. He has created me in His own image to love and to be loved; to know, love, and serve Him. I rejoice in Him because everything good I have comes from Him; all my hope is in Him. I rejoice because He rejoices in me.
The Lord ... will rejoice over you with gladness, and renew you in his love. (Zephaniah 3:17)

From this day all generations will call me blessed: the Almighty has done great things for me,
It is the Almighty's action in me, and that alone, that makes me blessed, that helps me to do anything important and connected with eternity. All good that I have ever done or ever will do is because God is working through me.

And holy is his Name.
Everything holy in me, everything God-like that I aspire to comes from Him, imitates Him, and reflects Him shining through me.


He has mercy on those who fear him in every generation.
I revere His awesome power to do good through me if I just say "yes." I have no power to do good on my own independent from Him. I pray for the grace to receive His mercy and to show that mercy to everyone He puts in my path today.

He has shown the strength of his arm, he has scattered the proud in their conceit.
God cannot be overpowered or outdone. His strength and his strength alone is my strength. When I feel scattered, it means that I am trying to use my own strength, which is no strength at all. I rely entirely on God's power to do good in my life.


He has cast down the mighty from their thrones, and has lifted up the lowly.
The more I remind myself and try to live out my own powerlessness, the greater power I have to do good because I am emptying myself of my own pride, my own will, my expectations, my desires, making room, as Mary did, to be filled up with God's eternal power.


He has filled the hungry with good things, and the rich he has sent away empty.
The "good things" God fills us up with are His very self. When He fills us in the sacraments, in prayer, and in service, we are filled with God's own peace, knowing that He has our backs and it is He who is accomplishing all we are doing.


He has come to the help of his servant Israel, for he has remembered his promise of mercy,
the promise he made to our fathers, to Abraham and his children forever.
God's promises are beyond our comprehension in their scope and depth of love. And all His promises are ours if we say with Mary, "Let it be done to me according to your word." Our yes is the golden key that opens God's heart—that opens heaven on Earth, that opens eternity to us—beginning here and now.
Click to tweet:
What happens when the Magnificat suddenly leaps off the page and takes on a meaning we never saw before? #catholicmom
---
Copyright 2022 Rose Folsom
Images: Deposit Photos, licensed by author
About the Author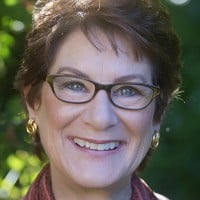 Rose Folsom is founder of VirtueConnection.com, where she helps Catholics get closer to God by discovering how to practice virtues like patience and forgiveness. Join her membership group, Virtue Circle. She's a convert and Lay Dominican who speaks, blogs, and leads retreats fueled on prayer and York peppermint patties. She and her husband, Fred, live in Silver Spring, Maryland.