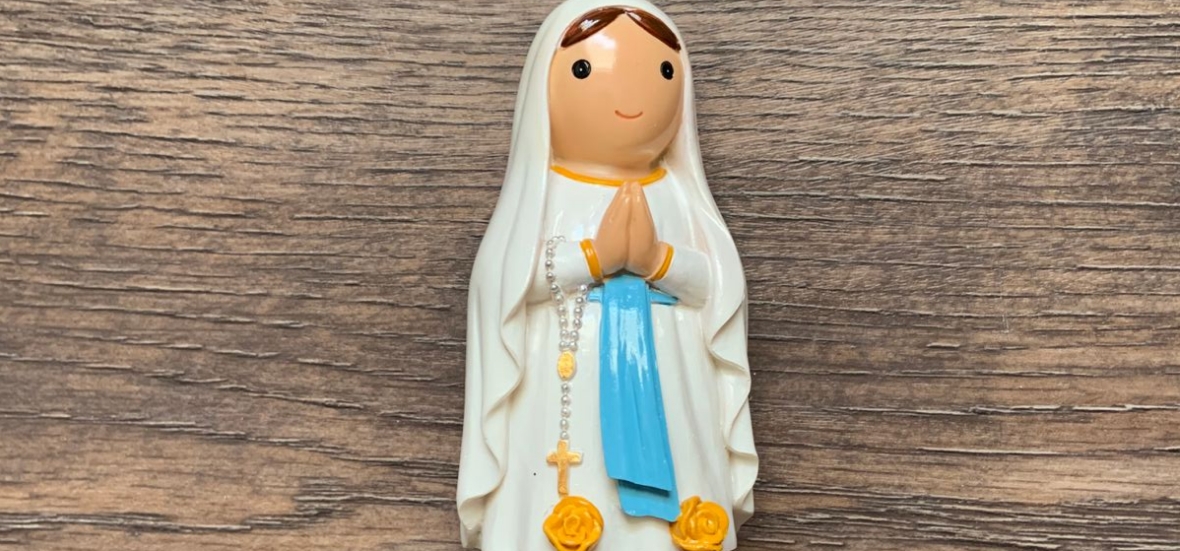 Barb Szyszkiewicz reviews a new collection of sturdy, educational saint statues from Little Drops of Water.
On a shelf in my office, I have a wooden statue of the Blessed Mother, with only 2/3 of a halo and no hands. Its delicate construction was no match for my exuberant children (but I can't bear to get rid of it).
Saint statues are wonderful evangelization tools for children, especially when they're created with little hands in mind. I've been a fan of Little Drops of Water's collection of figurines for children since I first saw prototypes in 2014. They're the brainchild of a young girl who's about the same age as one of my kids, and who wanted her little brother to have saint statues he could touch, hold, and carry around.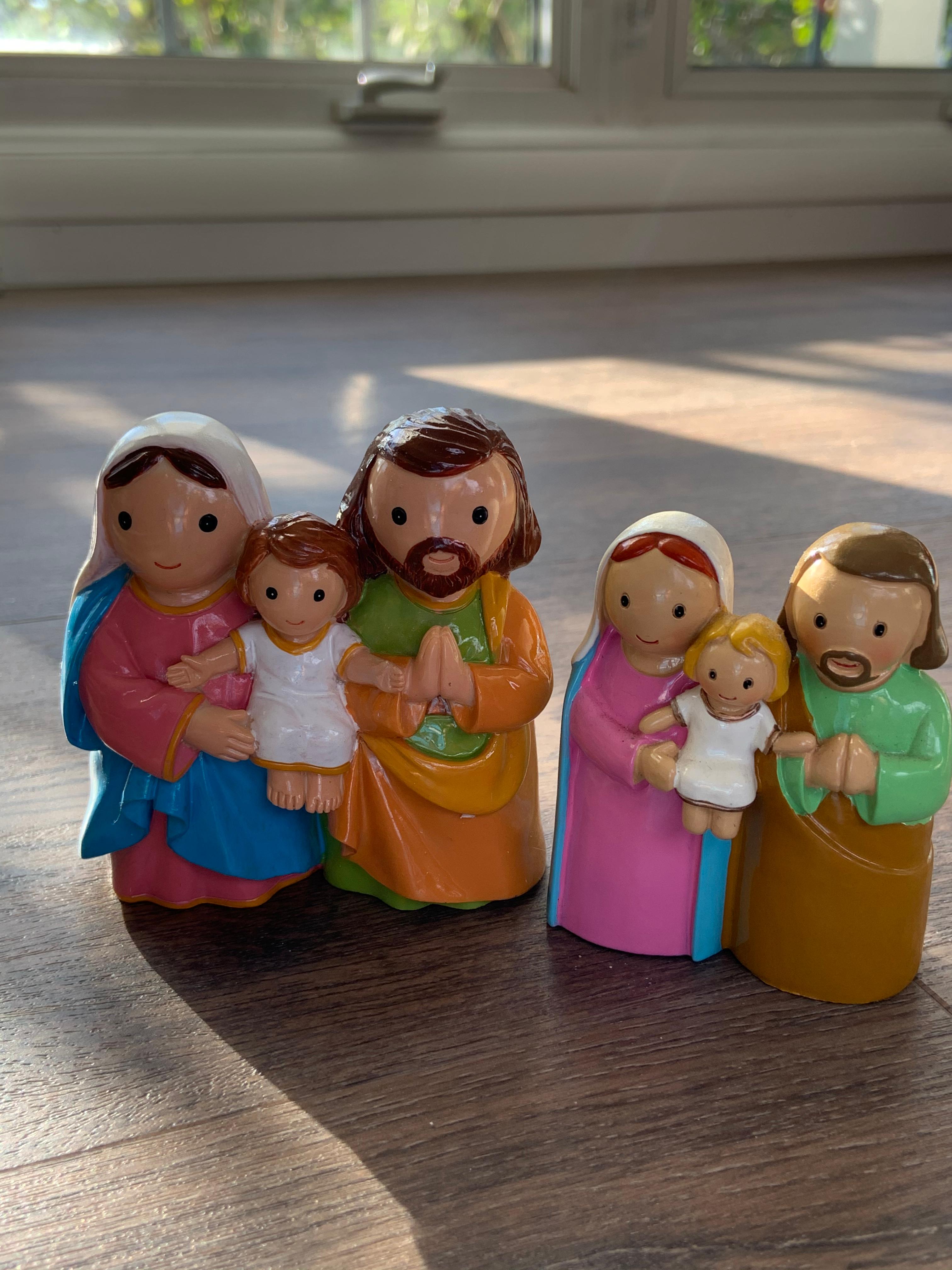 On the left in the picture above, you'll see the new collectors edition of the Holy Family statue; on the right is one from the original product line. The newer statues are thicker, taller, and heavier. The larger design also allows for more detail.
The figure on the right has been sitting on my kitchen windowsill for about five years now. The colors aren't faded at all, and despite a few tumbles into the sink, the statue isn't even chipped. These are definitely something I'd feel comfortable handing to a small child, or keeping within a child's reach in my home.
Each Little Drops of Water statue is packaged in a gift box, with information about the saint on the back. Many of the descriptions on the boxes end with a question; for example, the Holy Family box reads, "Mary and Joseph both said yes to God and became a loving family. How can we say yes to God everyday?"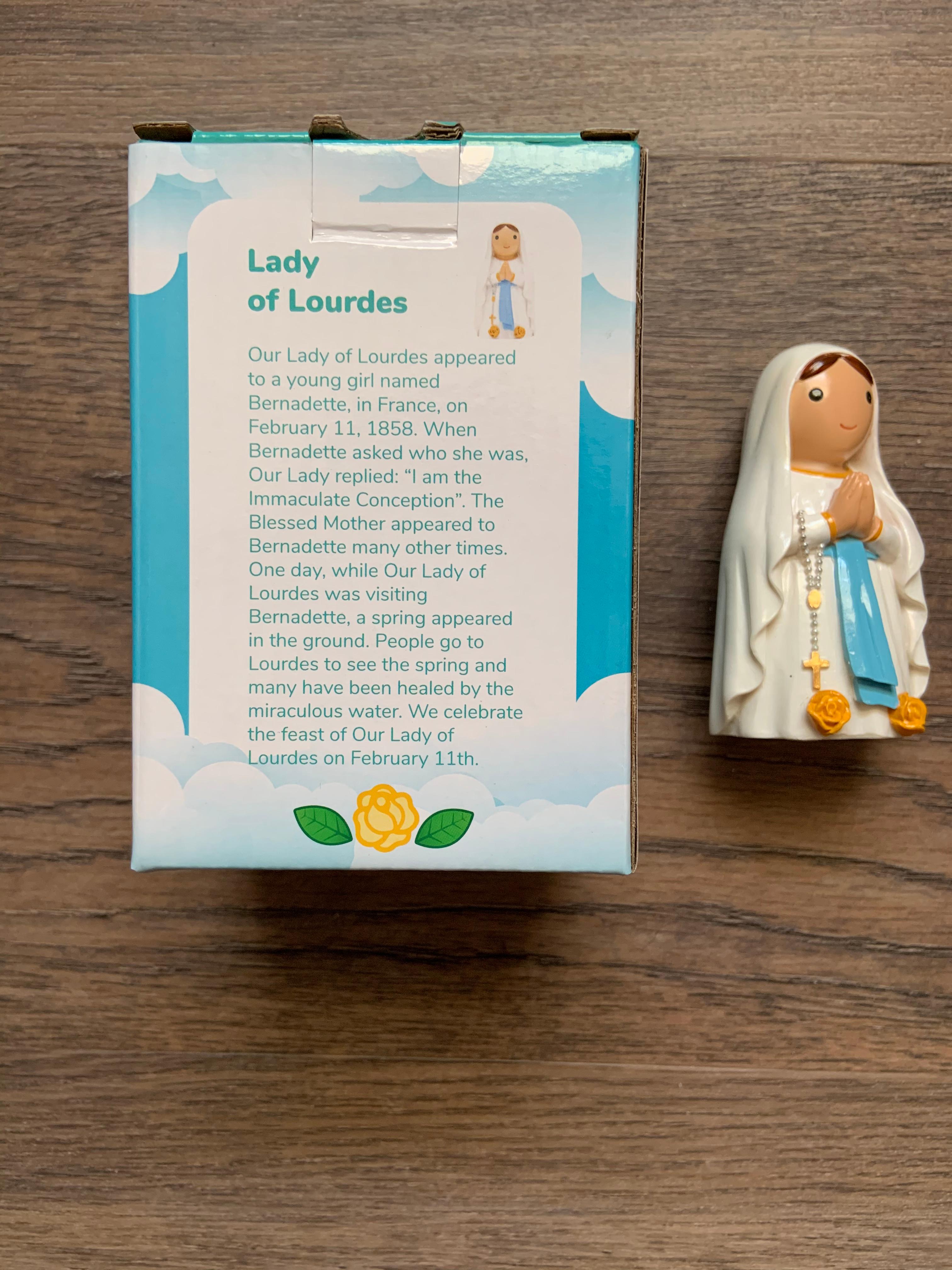 The new collection of Little Drops of Water includes not only statues, but durable Rosaries for little boys and girls. The crosses on the Rosaries are double-sided, as is the tiny angel in the place of the usual medal. (And the angel is shown praying the Rosary as well -- so sweet!)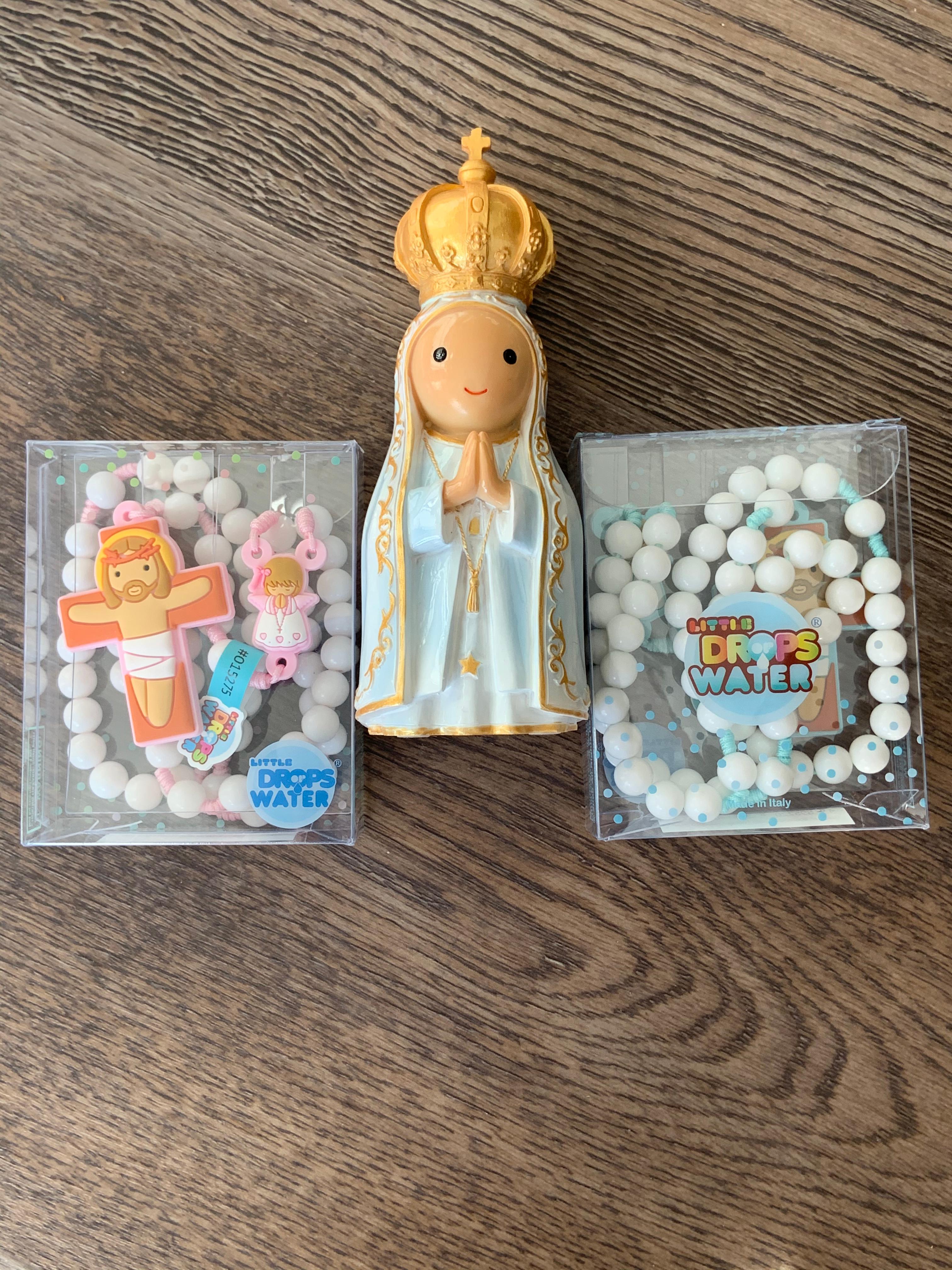 CLICK TO TWEET
Saint statues are wonderful evangelization tools for children, especially when they're created with little hands in mind. #catholicmom
Little Drops of Water statues were made with children in mind, but they've captured the heart of this grownup as well. I've mentioned that I keep the little Holy Family statue on my kitchen windowsill. I have a few other statues in my office, and I use them as prayer reminders, assigning special intentions to particular saints. Best of all, I don't have to worry if one of them gets knocked over as I move around piles of books. They don't break!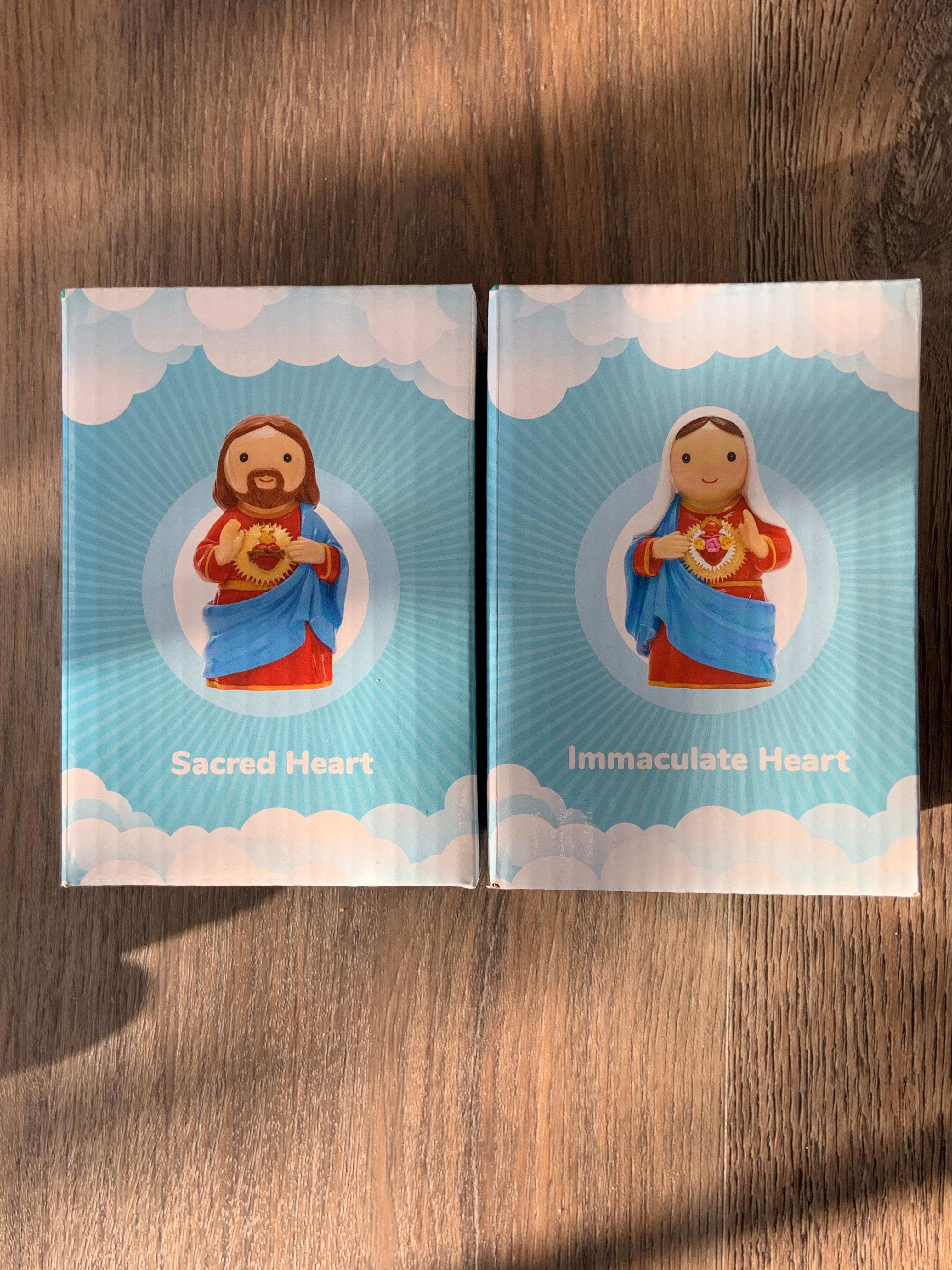 I love that among the new statues, you'll find the Sacred Heart of Jesus and Immaculate Heart of Mary.
If you're looking for a child-friendly, unbreakable Nativity scene, Little Drops of Water has several options to choose from.
These statues, Rosaries, and more can be purchased at Little Drops of Water's online store, as well as other online and brick-and-mortar Catholic shops.
---
Copyright 2020 Barb Szyszkiewicz
Images copyright 2020 Barb Szyszkiewicz. All rights reserved.
About the Author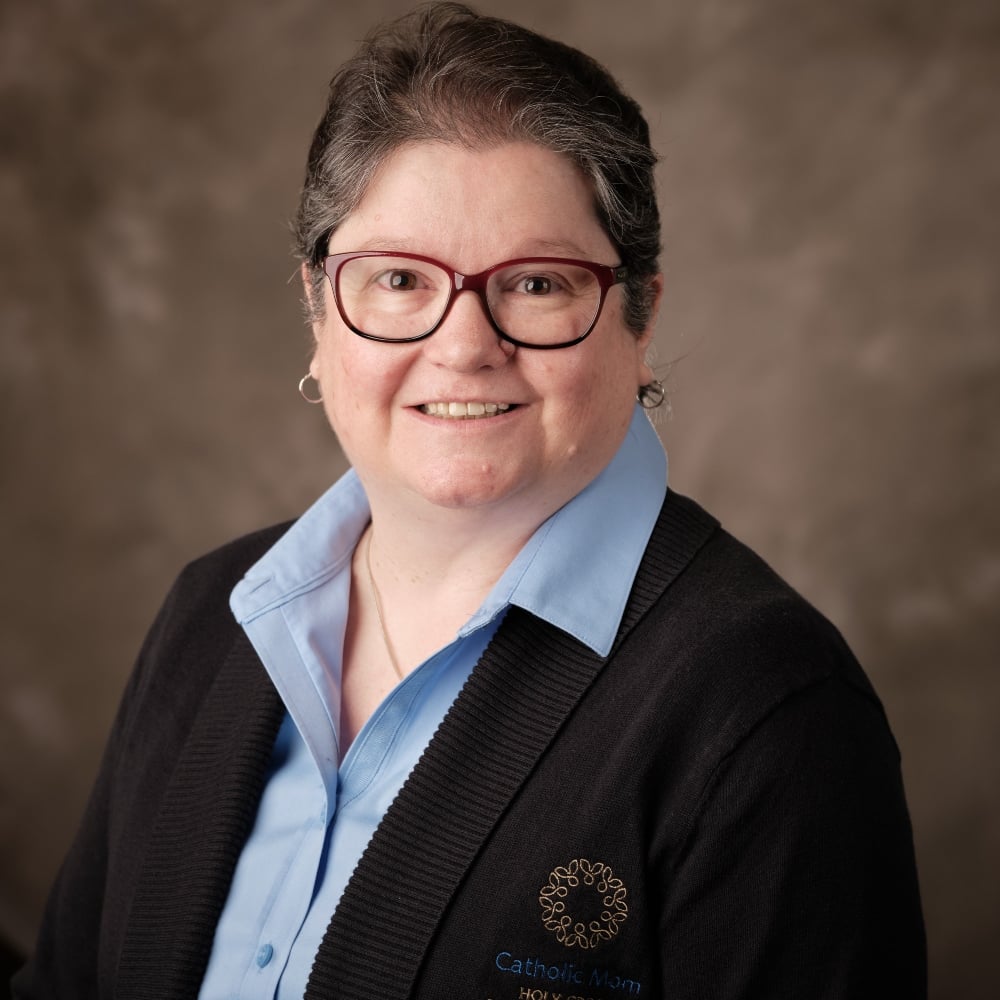 Barb Szyszkiewicz is a wife, mom of 3 young adults, and a Secular Franciscan. She is editor at CatholicMom.com. Barb enjoys writing, cooking, and reading, and is a music minister at her parish and an avid Notre Dame football and basketball fan. Find her blog at FranciscanMom and her family's favorite recipes with nutrition information for diabetics at Cook and Count. Her booklet, The Handy Little Guide to Prayer, is available now from Our Sunday Visitor.